Archive for the 'Rubber Stampede' Category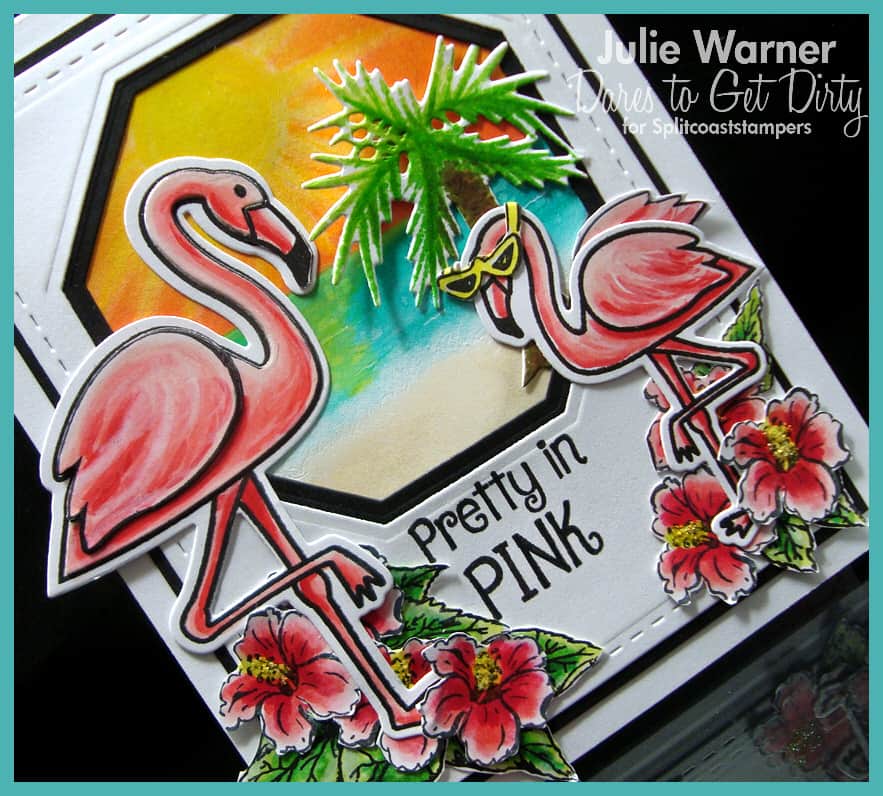 This was made for my DTGD challenge & we'd love for you to join in so for all the details go to the Dare to Get Dirty Forum ..but you'll need to be a Fan Club member. It's sooooo easy!
While I can't give you the challenge details here I can share how I made this card. These flamingos are so pretty & they begged to come home & live w/ me. I love birds so how could I refuse? I put them into my Misti, stamped them Memento, colored w/ Copics , added a few white highlights w/ a Prismacolor pencil, then over stamped w/ Versafine. After die cutting w/ the matching dies (well…they were a set!), I stamped, colored & fussy cut a bunch of hibiscus to add at their feet.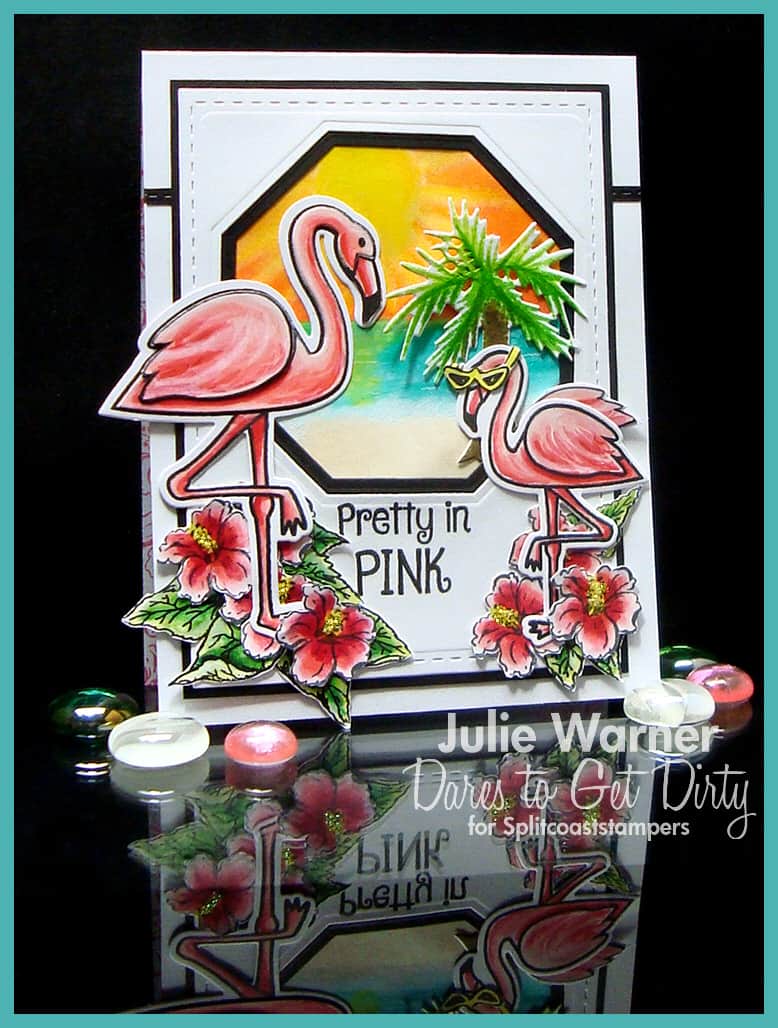 For the window scene, I die cut the octagon in white layer, added a slightly smaller black octagon frame then sponged the scene onto the white octagon I cut out. I used Prismacolor pencils to add the sunlight on the water & the surf at the water's edge. The stamped, die cut palm tree (part of the flamingo set) was added & the greeting stamped between the flamingos. The little stitched black strip on the card front had to be added because I did what I do when I get in a hurry, & I scored the card front in the wrong place. So..I had to have something to cover the weird score line.  😉 

I'm also adding this card to the Simon Says Wed. Challenge – Anything Goes!
Here are the Copics I used.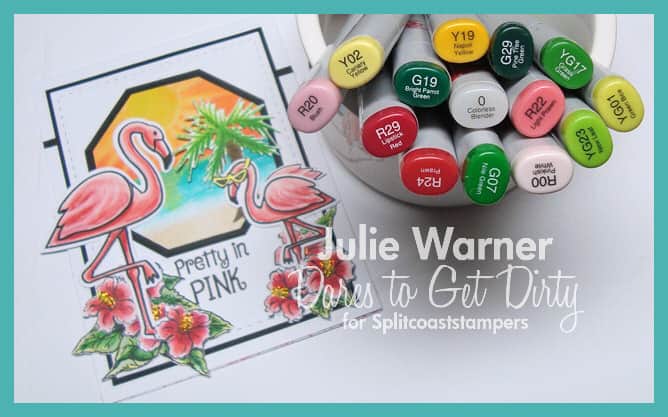 Thanks so much for stopping by!


Supplies:
Stamps: The Stamps of Life – Flamingos 2 Stamp, Rubber Stampede – hibiscus
Paper: X-Press It white, Staples 110# white, black
Ink: Memento tuxedo black,  Versafine onyx black (to over stamp after coloring), Distress ink antique linen, Kaliedacolor Caribbean sea, desert heat
Accessories:  TSOL flamingo dies, Spellbinders A2 matting basics B, sm & lg octagons, Lil' Inker stitched rectangles, long & skinny stitched rectangles, Copic markers, Misti, stickles, Prismacolor pencils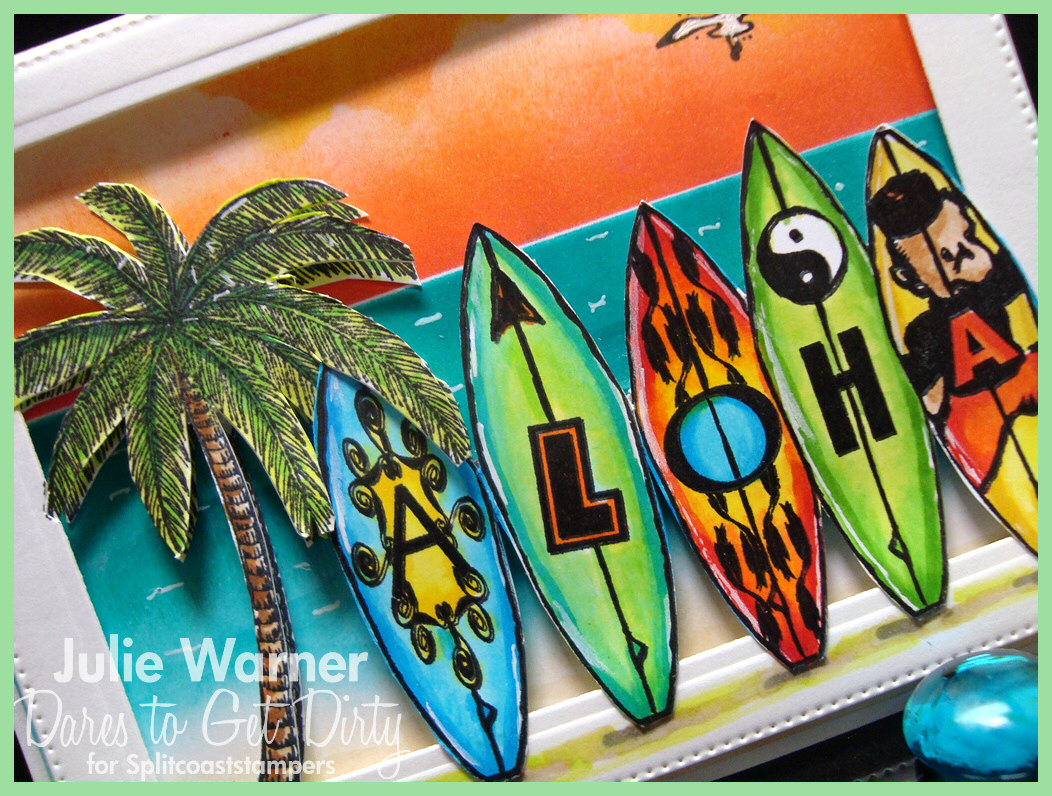 It's day 2 of Dare to Get Dirty on Splitcoast and this is for MY (justwritedesigns) Challenge! The details are HERE, but you'll need to be a Fan Club member…it's easy, just click to find out how.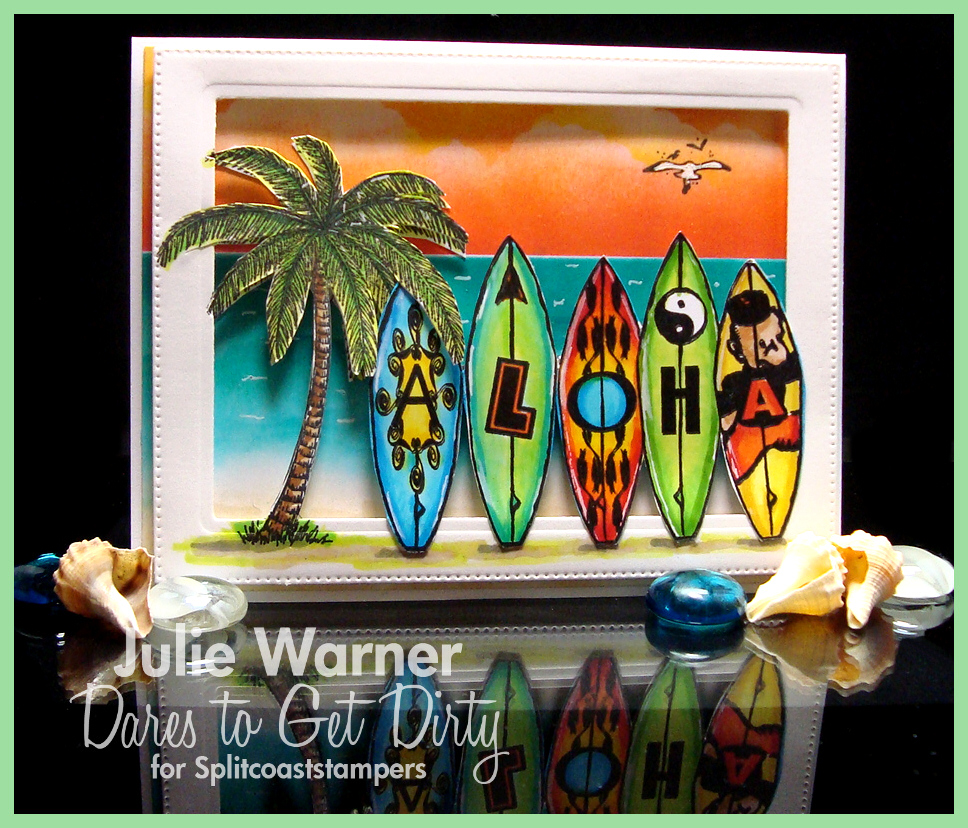 I had a lot of fun making this card. It's just my style..fun, enough detail to keep me interested, a little coloring, a little fussy cutting & colorful! I started with the background. After masking off the water area, I sponged in the very orange sky using a cloud stencil I made w/ scallop scissors on a piece of acetate. The little seagulls were stamped & I used a white gel pen on the big one. The mask was reversed to cover the sky then I sponged in the water & added the highlights. I added just a touch of sand color at the very bottom. (The palm tree was also stamped on the background as well as the frame.)

Then I stamped, colored & fussy cut the surfboards. The top palm tree is actually part of the white frame. A little technique I call "into the window" and here's a short tutorial showing how I did it. After stamping the palm tree where I wanted it & coloring it, I first die cut the large, outer frame, then determined the areas around the palm tree I would have to cut in order to slip the corner of the die under it. It turned out to be almost all of it, lol. There are actually only 2 places where the tree is still attached to the frame. (Click any pic to make it larger.)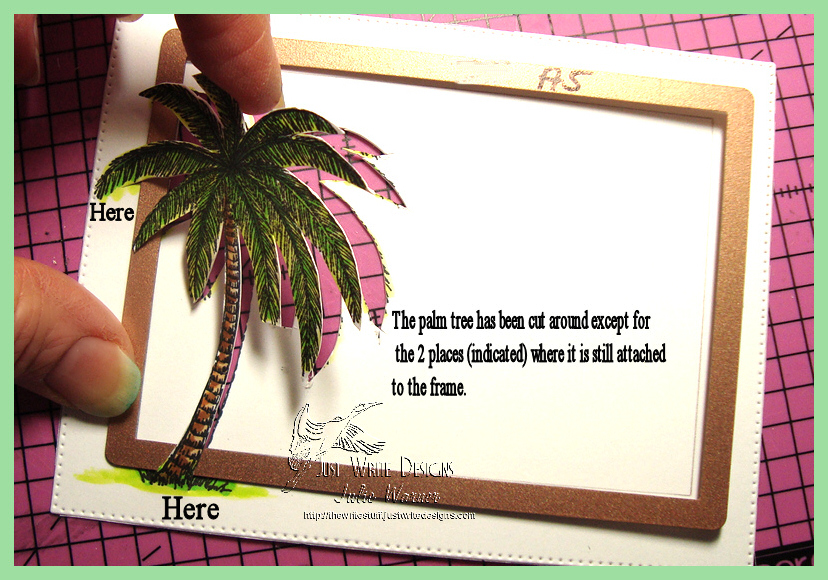 Please pay no attention to my blue tipped fingernails, lol. That always happens when I sponge images. The inside frame die is in place & with the corner under the tree, I ran it thru the Big Shot.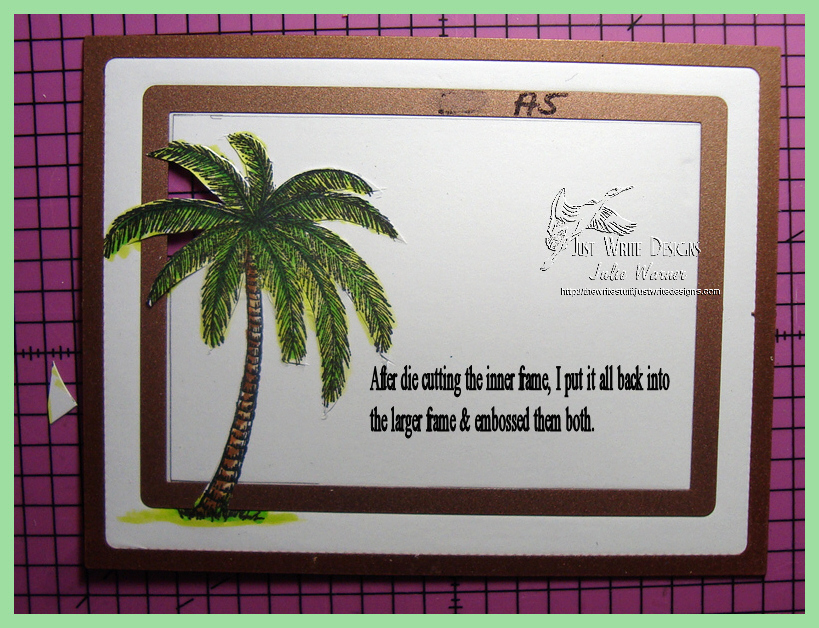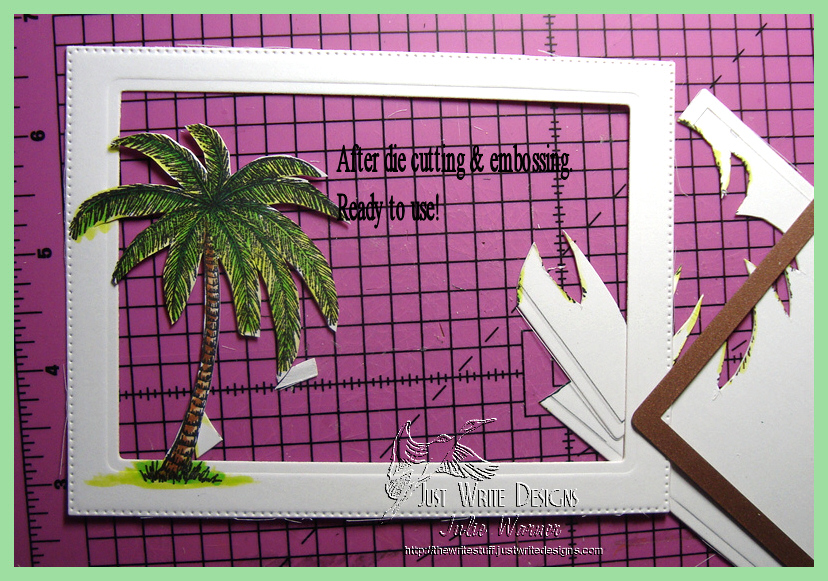 All die cut & embossed! I cut 2 more heavy frames & used a little foam tape to elevate the frame & surfboards above the background.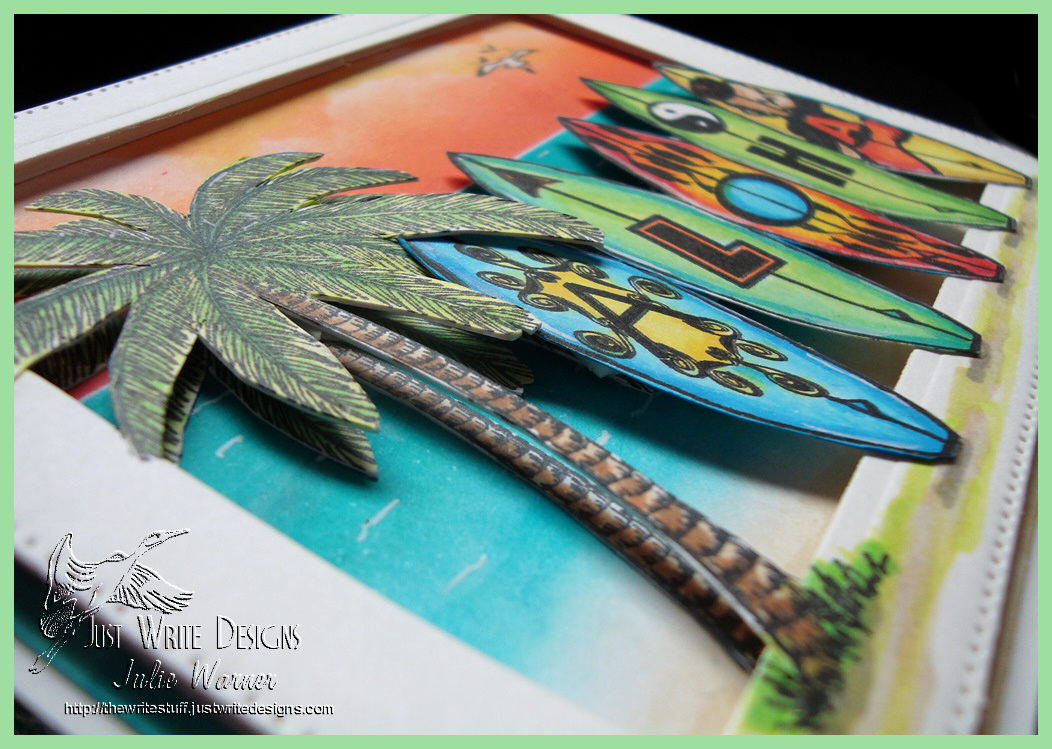 And here's a look at the inside. More sponging & I left off a greeting for now. Have to decide who it's going to!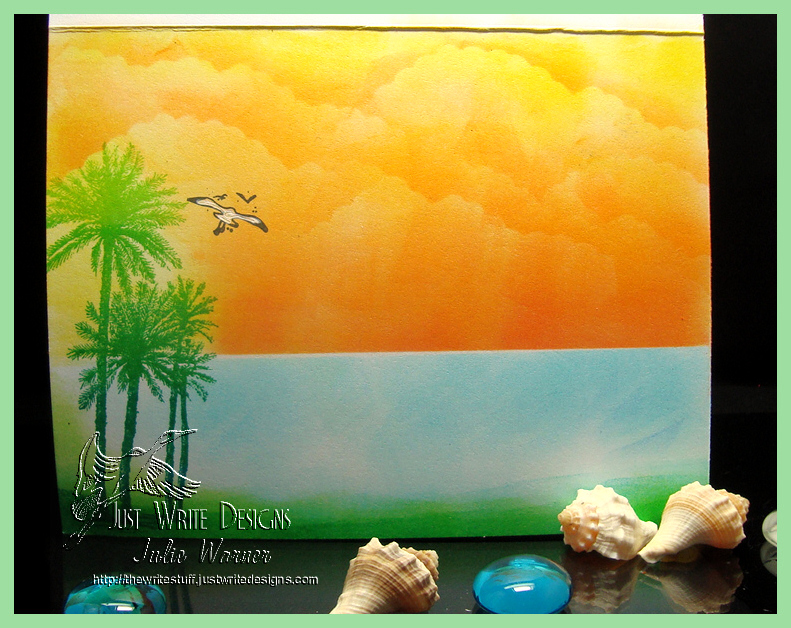 And these are the Copics I used.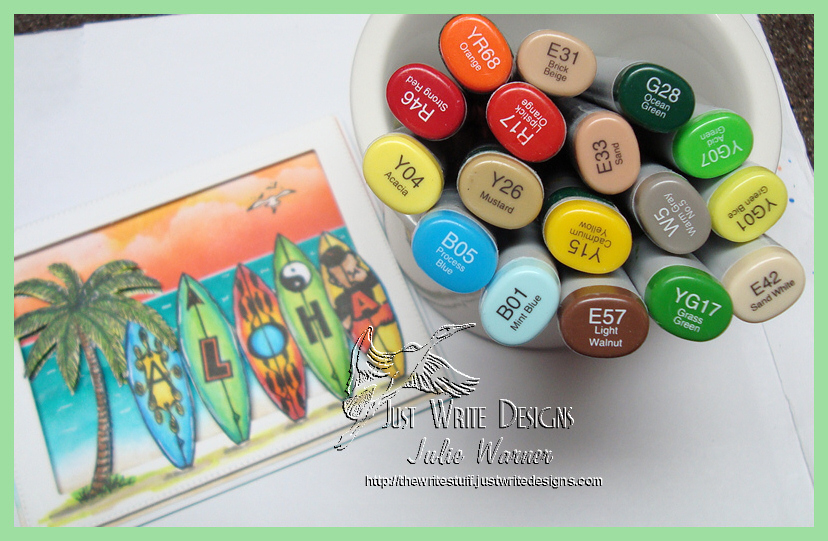 Thanks so much for stopping by!


Supplies:
Stamps: DRS Designs – Seagulls (from Seaside Dock image), Palm Tree (Rubber Stampede), Surfboards (Inkadinkado) inside – Palm Trees (Cherry Pie)

Paper: Neenah white, X-Press It
Ink: Memento tuxedo black,  Versafine onyx, Kaliedacolor desert heat, caribbean sea, Distress Inks peacock feathers, antique linen
Accessories:  ODBD Flourished Star Pattern dies, Spellbinders A2 matting basics A, Copic markers, white gel pen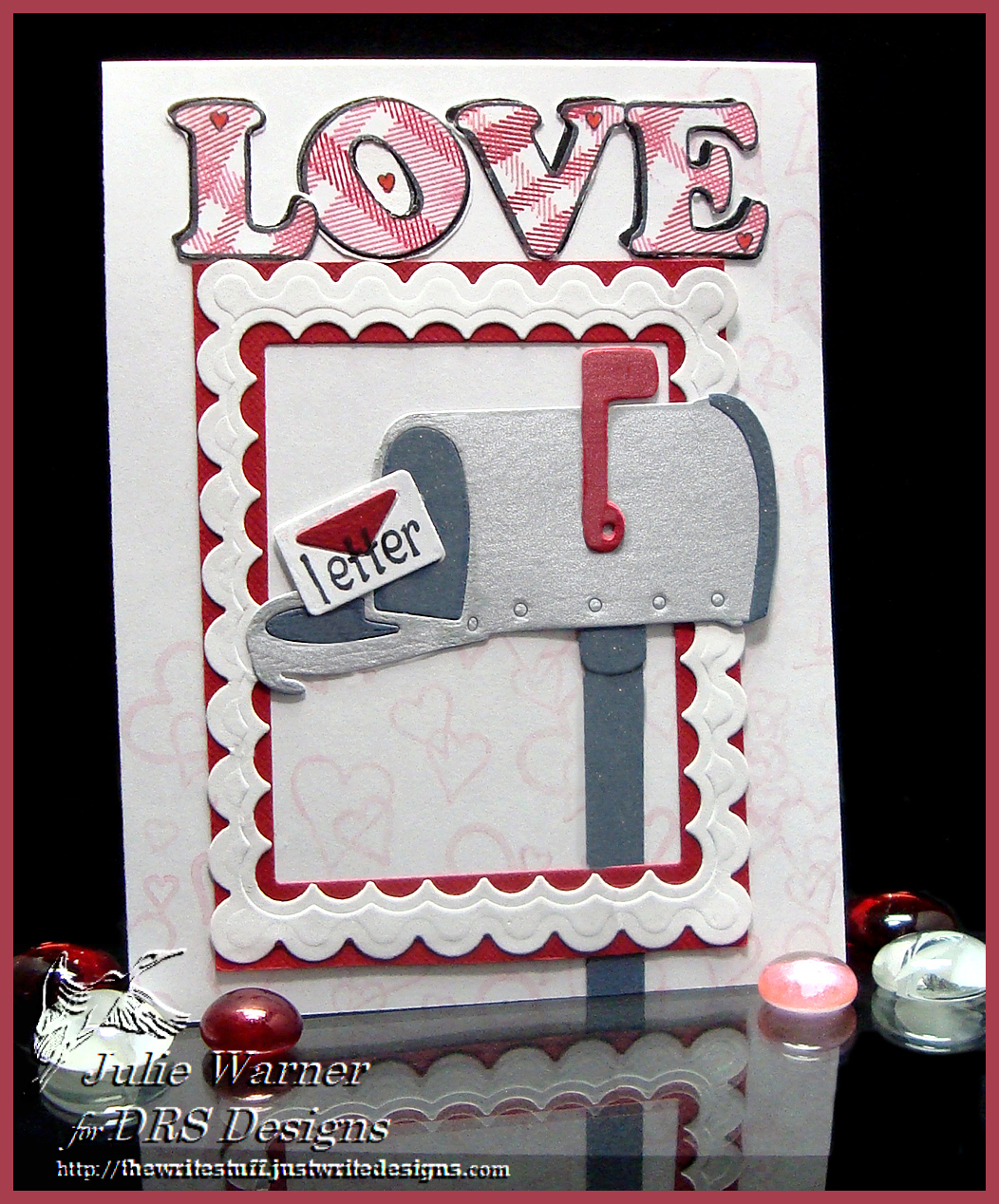 Today, I'm combining a few challenges from Splitcoast…first my card is for the Free For All (F4A206), to have LOVE somewhere on your project.
For the big LOVE letters on top, I stamped the 
woven plaid
 in a couple of directions, using a couple of pink/red colors, then stamped the 
stacked love
 image on top and fussy cut the letters.
On the 4.25 x 5.50 card front, I stamped the 
heart background
 diagonally using the light pink ink. The  fun mailbox is a die cut and I used a metallic silver, a metallic flecked gray and shimmery red card stock to cut it and assembled them together. On the little letter, I stamped parts of a new greeting (Hug a Nurse, You'll Heal Better…coming soon!) and I used a stamp positioner to add the L in place of the B in Better to create the word Letter. The white scallop and narrow red frames were left overs and I stacked them and arranged the LOVE on top and the mailbox thru the frames.
Supplies:
Stamps: DRS Designs – Stacked Love, Woven Plaid, Interlocking Heart Background
Ink:  Memento tuxedo black, love letter & angel pink, Colorbox rouge & warm red chalk inks
Paper: white, shimmer red, metallic silver, metallic flecked gray
Accessories:  Quickutz mailbox die, Spellbinders scallop rectangle & rectangles dies
For a couple of the following Altered Book pages, this first one is for the MIX53 challenge, Layers.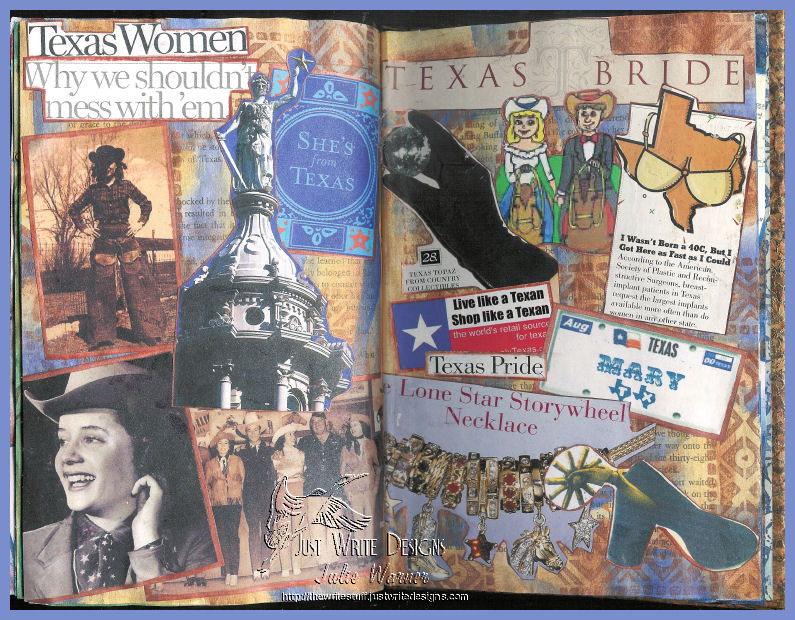 These are all pages from an altered book I made a while back for my sister's birthday. Since we were born and raised in Texas, I chose to start with the book "Texas" by James Michener. I used quite a bit of text from it, but also a ton of pictures from magazines, especially Texas Monthly, clip art and stamps from a whole bunch of companies. I started by removing some pages and gluing other pages together for stability, then used a variety of colors of acrylic paints to base coat the pages. Then I would use a variety of ink colors and stamped images to create the backgrounds. Then the collage work started with all of the images. This is just a few of the pages…the entire book is around 45-50 double pages with all manner of pockets, fold outs, telescoping images, tags and pull outs. Some tell the history of Texas, some are on individual cities and regions of Texas..some tell about personal family history &  experiences, recipes, music & some are just for fun.

I love all the fun images on this page..the only thing that always bothered me is the misspelling of "y'all" on the left page. I cut this out for the size, went ahead and used it, but it still bothers me. I guess the typist just had her contractions confused, since as every Texan knows, y'all is "you all" and the apostrophe goes after the y. And just to be clear, "y'all" is singular, "all y'all" is plural, lol.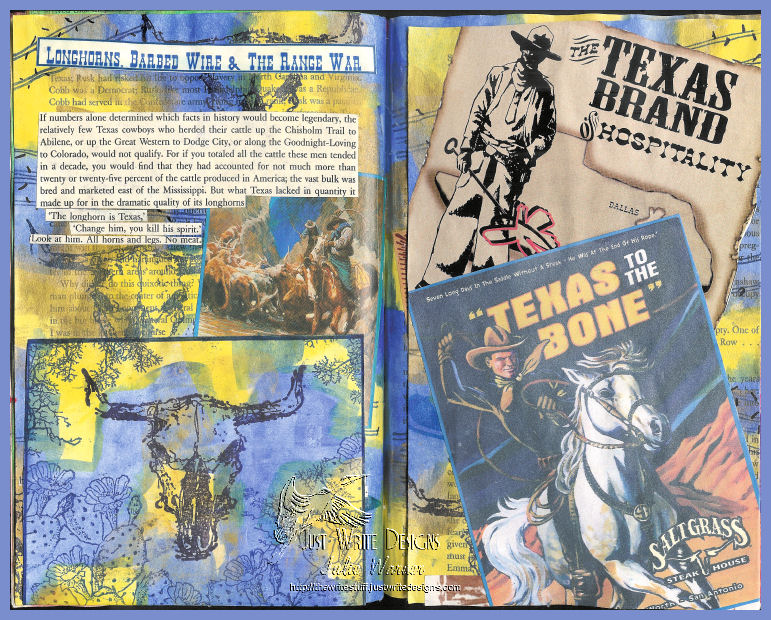 And this page is also for the Ways to Use It (WT464), Horses as well as the Mix53.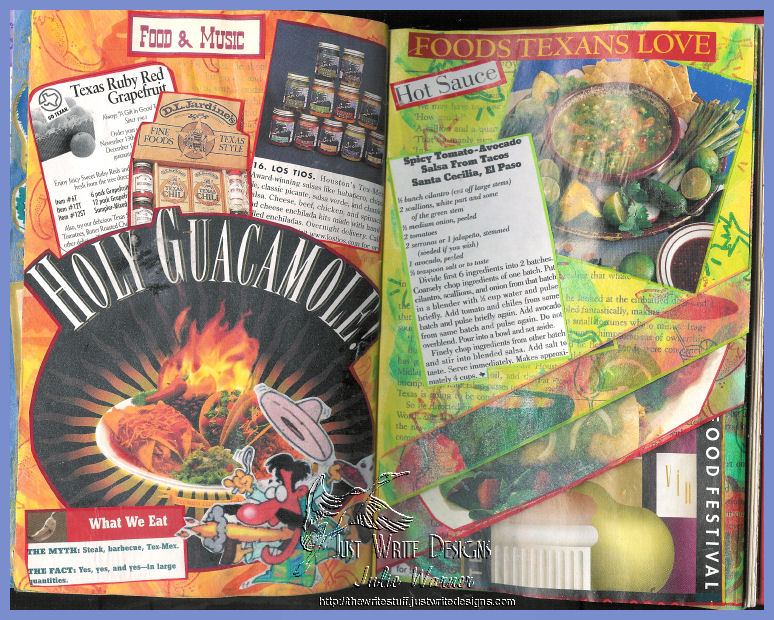 This is a group of pages (see the angle cuts on the right?) that have a bunch of recipes and pictures of Tex-Mex food and restaurants.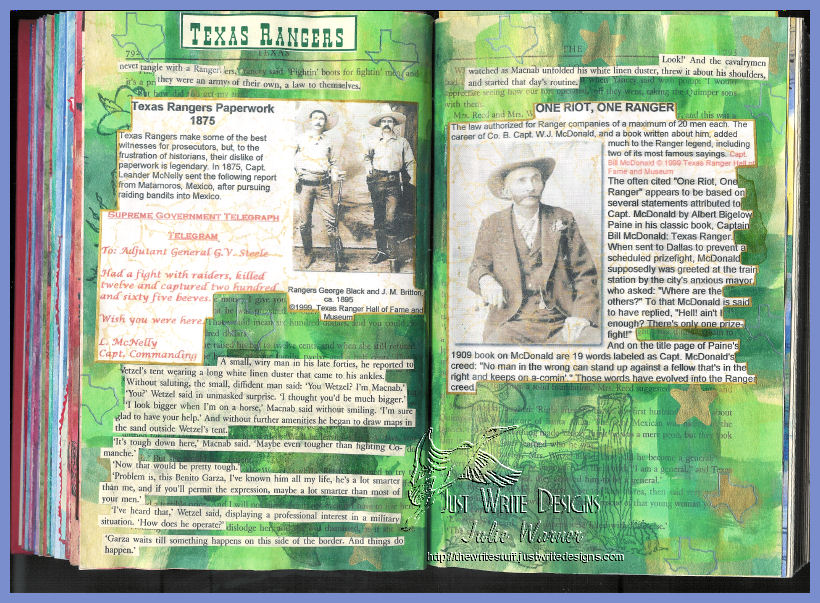 This is a couple of fun stories about Texas Rangers and since we have an ancestor who was a Ranger, it was fun to include it.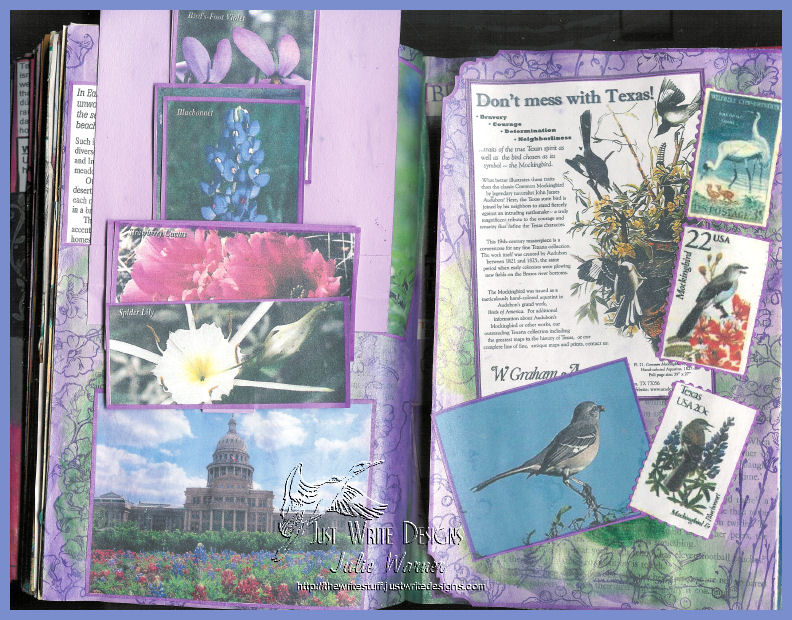 Some Texas wildflowers, state bird and postage stamps.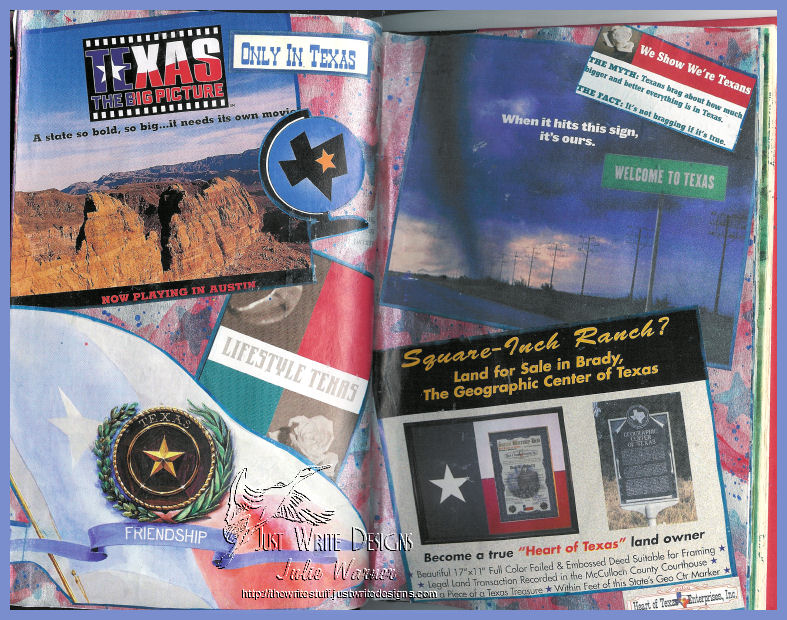 Another page with pretty pictures but I don't know if you can still buy a little piece of Texas as this ad says.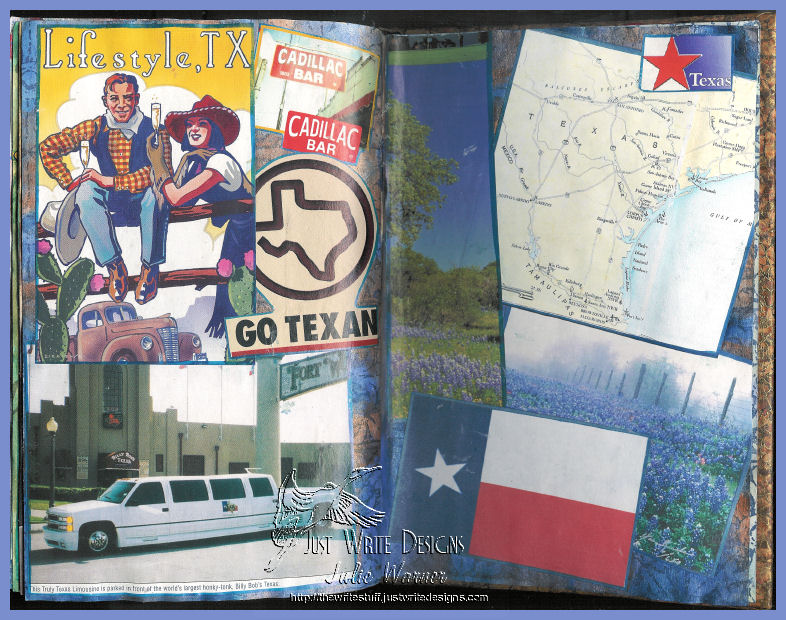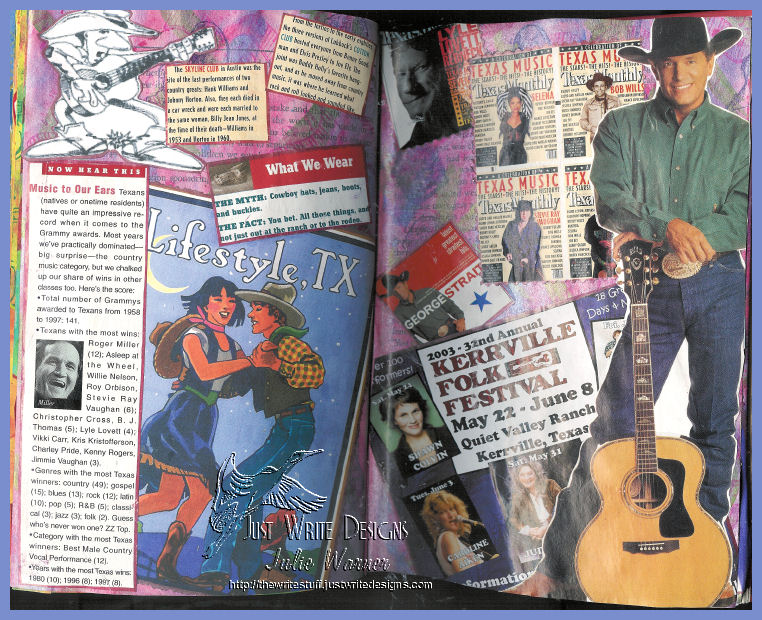 And here we have some Texas music! Is there anything better? I've been to the Kerrville Folk Festival and it was always fabulous! And just interesting to me, but one of my cousins lived down the street from one of the ZZ Top members (I won't say which, lol) and Buddy Holly was a cousin of my dad's (so I guess he was cousin too) and they were born on the same day, same year. How cool!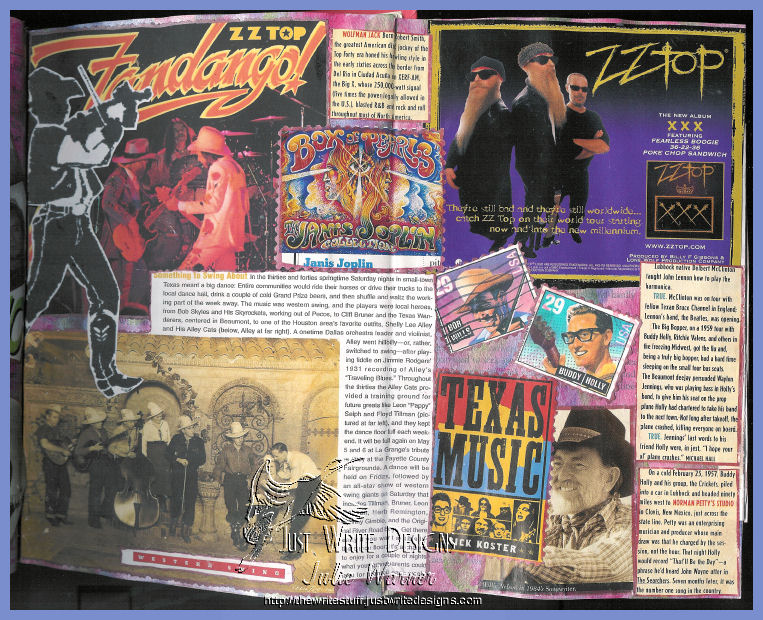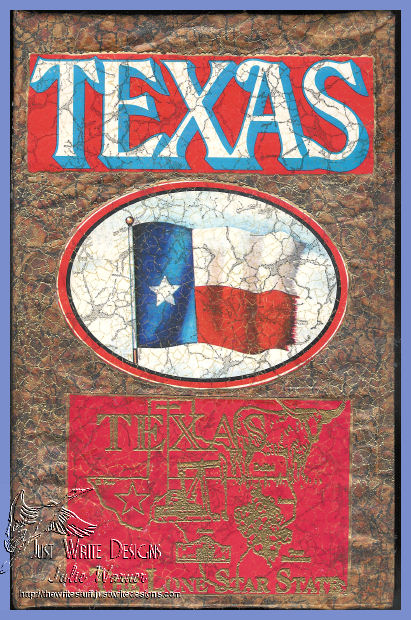 And this is the cover. Like I mentioned, these are just a few pages, but I hope you enjoyed them!
Thanks so much for stopping by!