Archive for the 'Deadbeat Designs' Category


For the Splitcoast Inspiration Challenge (IC658), we are to chose a souvenir from our state or country. So I chose my home state of Texas since I have stamps for that state. And as everyone knows, Texans are pretty proud of their state. Remember the old saying..."Don't ask a man if he's from Texas. If he is, he'll tell you. If he's not, you'll just embarrass him." I was inspired by THIS postcard depicting the town where I grew up..though I was a little disappointed they spelled it wrong  😕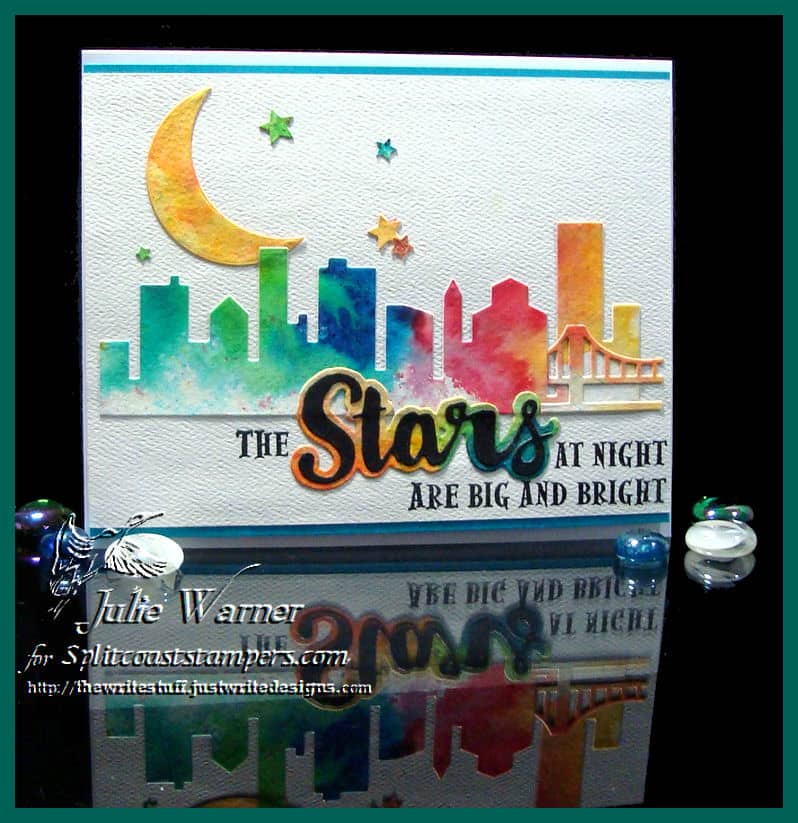 To make my Corpus Christi (aka: Sparkling City by the Sea) skyline card, I made a bg w/ Brushos then die cut the silhouette skyline. I used another skyline die that had a bridge (because Corpus has the big Bay Bridge) & added a piece of it to the right side. I also die cut the moon & stars & the Stars word to insert it into the greeting. The inside of the card has the "Deep in the Heart of Texas" part. Now all you fellow Texans (& a few who want to be, lol) will be singing that song. You're welcome!!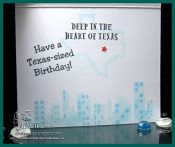 Thanks so much for stopping by! Have a great weekend, y'all! 



Supplies:
Stamps: Deadbeat Designs (greeting)
Paper: Staples 110# white, water color, small strips of teal
Ink: VersaFine onyx
Accessories: MFT Stars & Wishes/Count the Stars dies, Memory Box silhouette skyline die, Recollections constellations dies, Momenta skyline dies, black detail embossing powder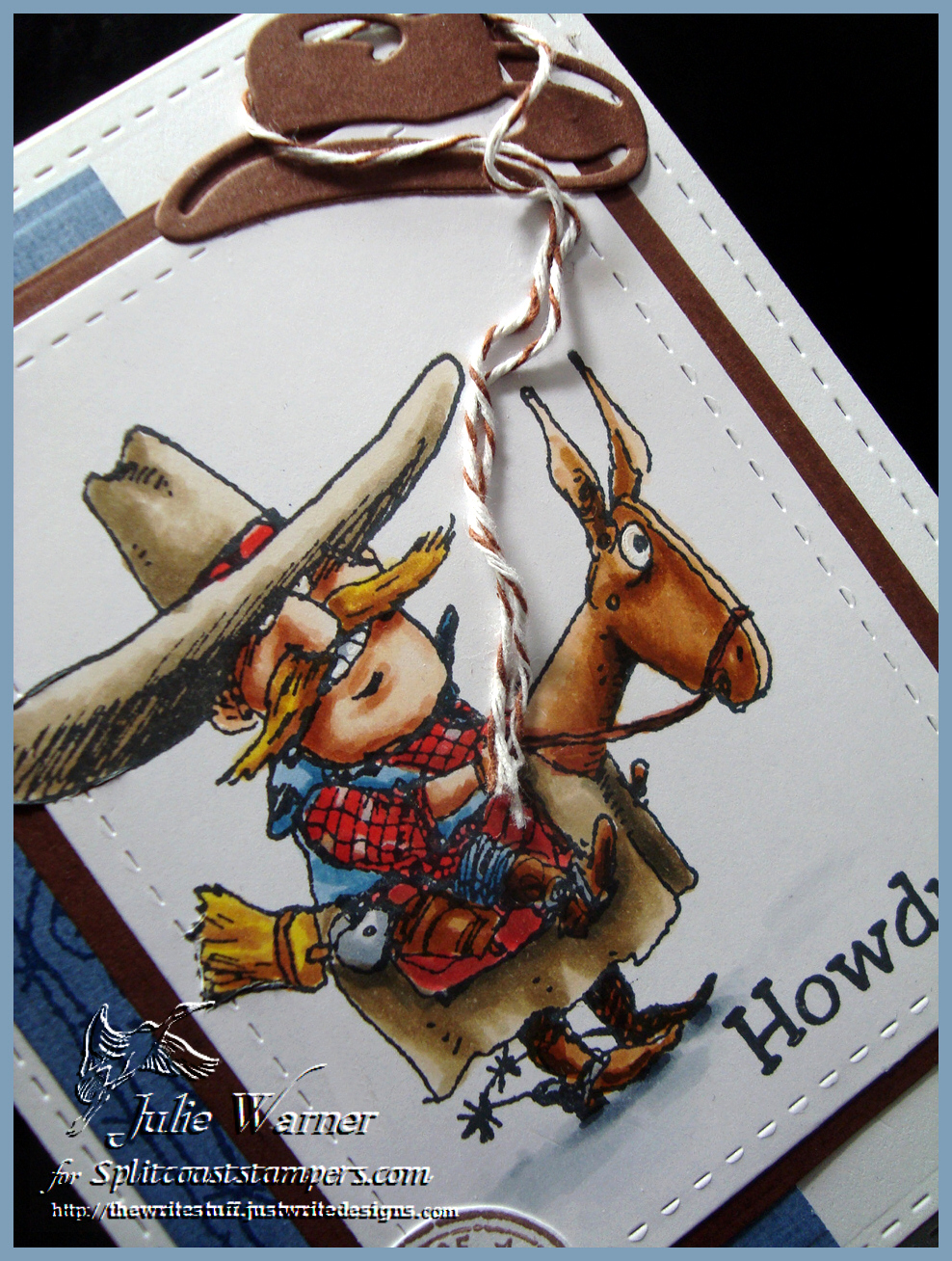 A big congrats to Cathy, the newest Featured Stamper on Splitcoast (FS419)! She has such a wonderful gallery and it was hard to chose just one. I finally went with THIS card to case. I kept the layout but flipped sides with the embellishment additions, used different images and made mine a birthday card instead of Christmas.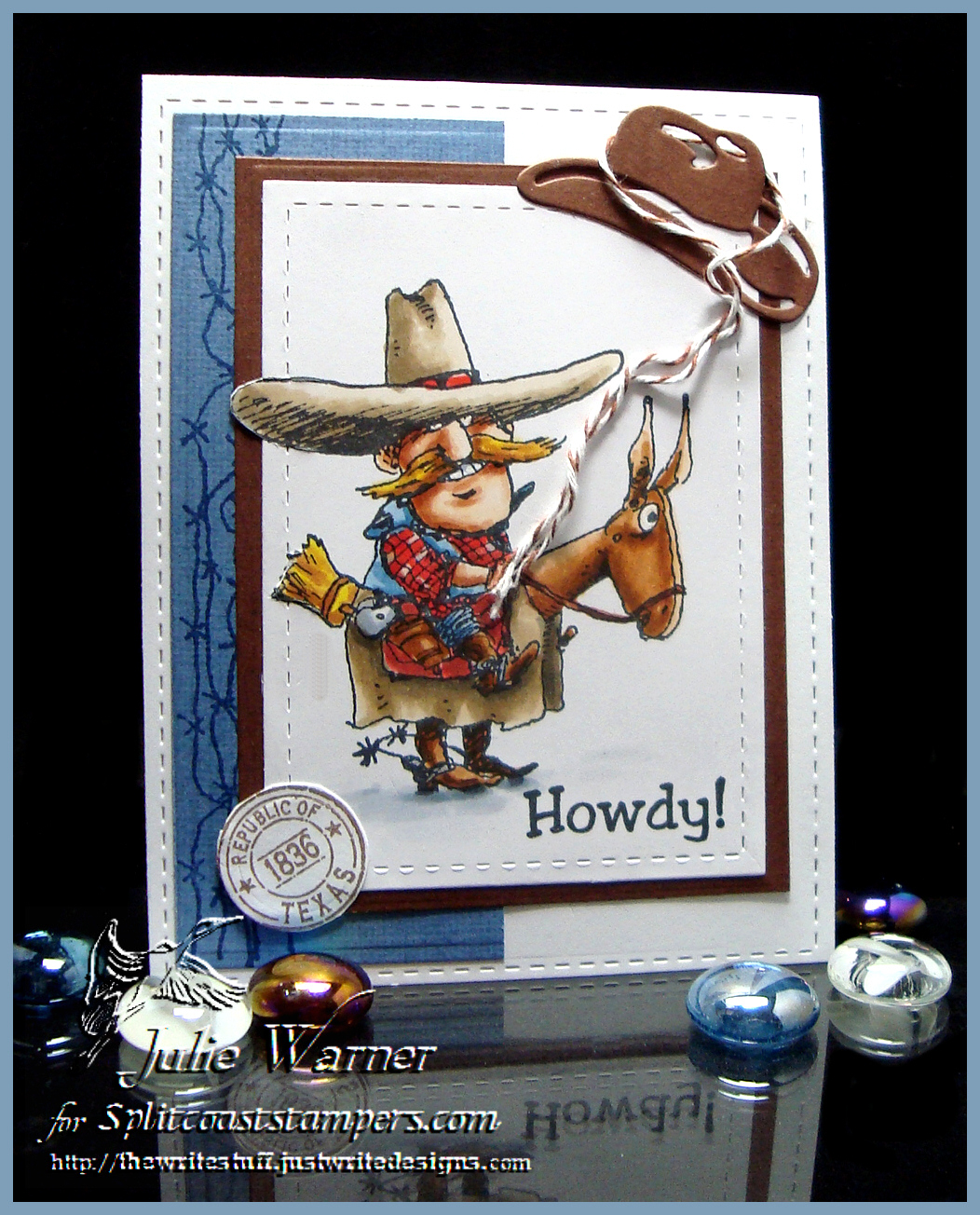 A while back, I used another Deep Red Stamps image ( a beautiful Chevelle) which I think they must have liked because they were kind enough to send me another image. Being a native Texan, this funny little cowboy really appealed to my sense of humor and I know he will be terrific for cards going to my family still in Texas. So I colored him, die cut using a little out of the box technique with a stitched rectangle, added a greeting and some more layers. I die cut the hat and made a lasso out of twine. I tell you, this ol' cowpoke and the expression on the "fake" horse's face just crack me up.
Here's a peek at the inside and also the colors of Copics I used.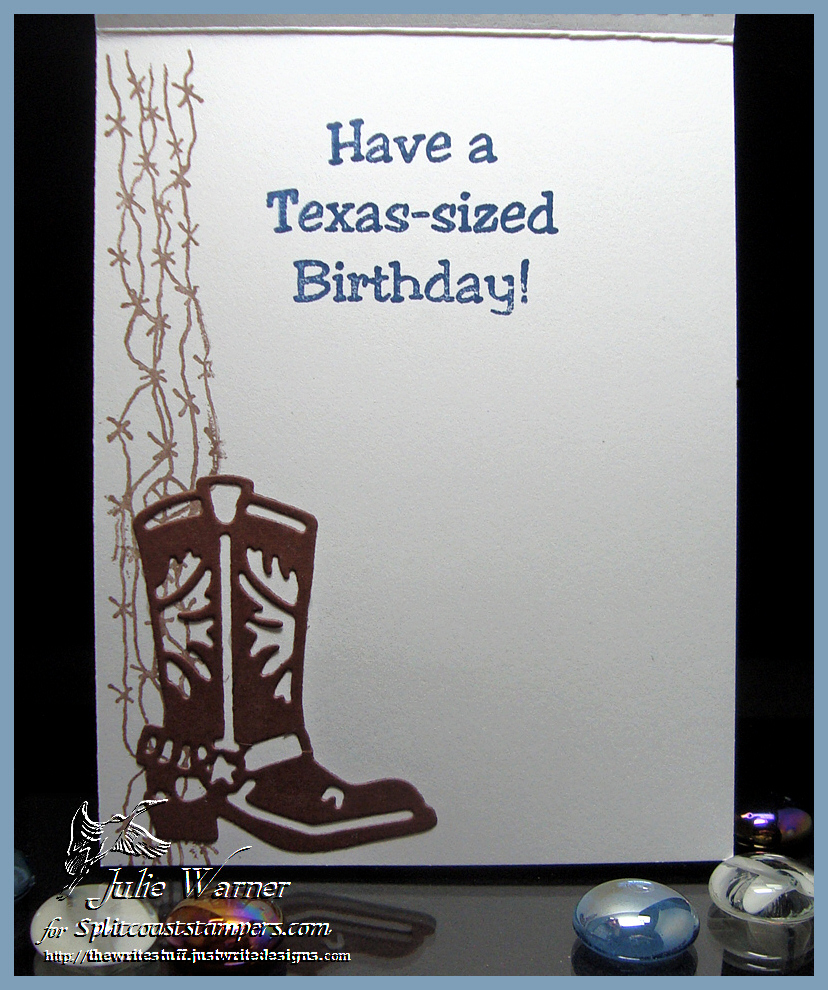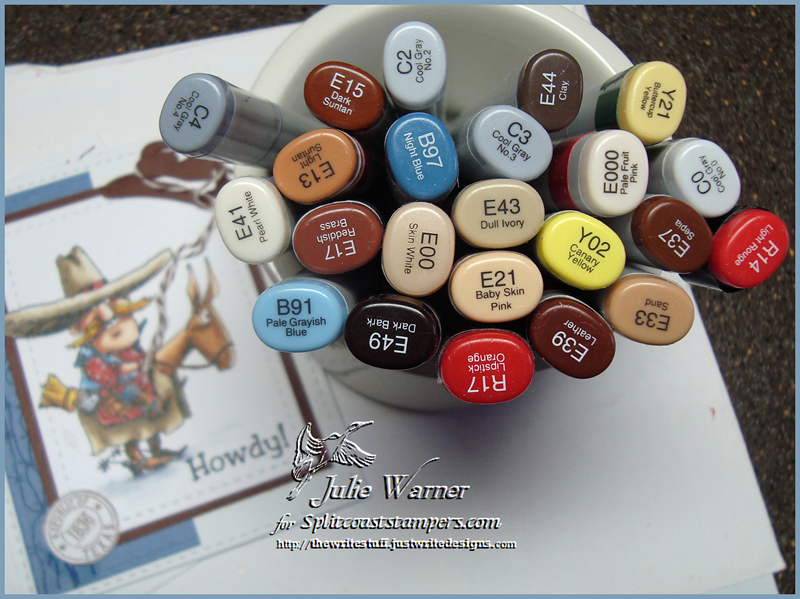 Congrats again, Cathy! Thanks so much for stopping by!


Stamps: Deep Red Stamps- Cowboy, Deadbeat Designs –Texas Post, Jam'n Stamps- Barbed Wire Border & Texas Sized Birthday
Paper: X-Press It white, chocolate textured, dusty blue textured
Ink: Memento tuxedo black & rich cocoa, Adirondack denim
Accessories: Copic markers, Spellbinders matting basics B,  & circle dies, Lil' Inkers stitched rectangle dies, Tessler Designs cowboy hat & boot dies, twine
SaveSave
Inspired by……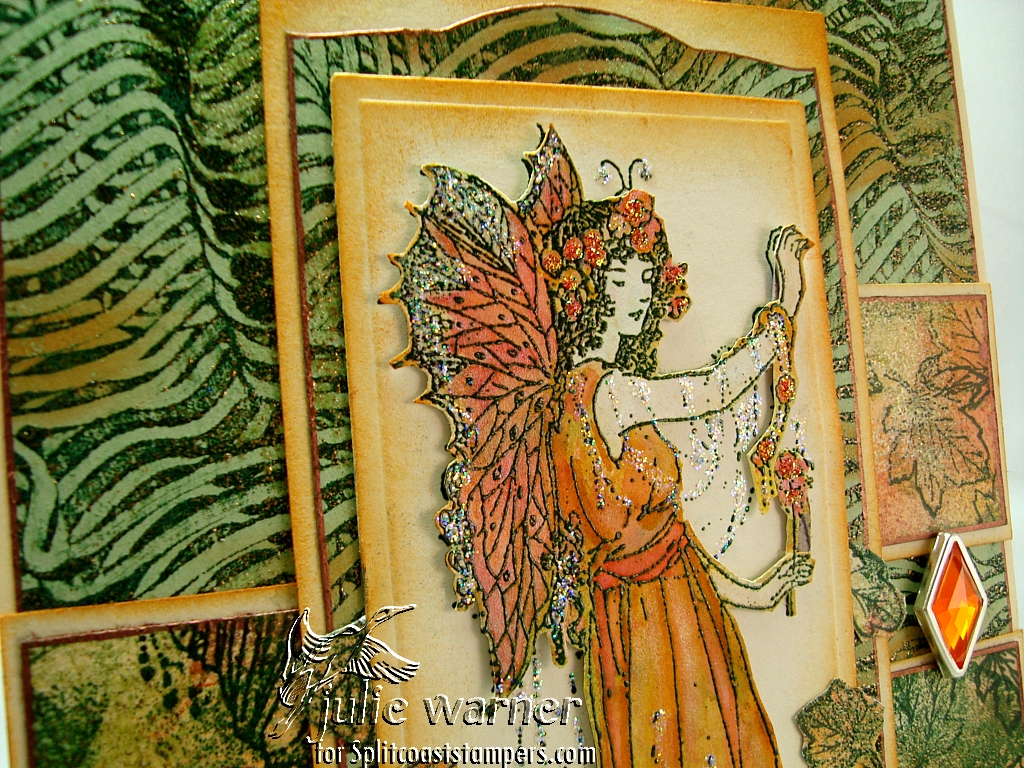 Good Morning! 
A couple of weeks ago, my dear friend and fabulously talented paper crafting artist, Kittie Caracciolo honored me on her blog as an artist she is inspired by!  I was so thrilled and honored by her post!


Kittie is well known in crafting circles and on Splitcoast Stampers. She joined Splitcoast in 2004 and was inducted into the Dirty Dozen in 2007. We first became friends through the challenges on Splitcoast shortly after I joined in 2007 and I've always been inspired by her fabulous style and genuinely sweet personality. Kittie is a wonderful water colorist and ultra talented dimensional paper artist. She serves on the Impression Obsession design team and is a new member of the Splitcoast Featured Stamper Challenge hostesses. If you've never visited her blog, KittieKraft, pull up a chair and prepare to be amazed.
Along with this honor, Kittie asked that I answer a few questions and share a couple other artists who inspire me.
Here are the questions!
1. What am I working on?
Even when I'm not working on a release or a challenge (I love the challenges!), I'm always working things out in my head. Right now, I'm preparing for the Our Daily Bread designs release tomorrow and also a new release for DRS Designs. That means new Thanksgiving & Christmas images/dies! I also serve on the design teams for Serendipity Stamps, North Coast Creations and as one of the Hostesses for the Splitcoast Featured Stamper Challenge on Sundays.
2. How does my work differ from others of its genre?
That's a really tough question…I'm not sure it does. Friends tell me they recognize my cards before they even see the closeup but at the same time, they're never sure what to expect… that's it's different every time. I love working with a lot of styles of images & I love to make my own backgrounds. My three biggies when designing are color, composition and construction. The main one being color. I adore color and especially contrasts. Most of the time I rely on my coloring skills to carry the card. And I love to try different techniques.
Here are some of my favorites from over the years (click on any picture to make it larger or go to original post info):
I feel driven to create and since I'm just a bit impatient, I love the almost instant gratification of creating cards..my mini artworks. I started out in water color but that grew to include a lot of other mediums. As long as I'm able to color, the method or medium doesn't really matter. Creating for me is fulfilling, frustrating (when it doesn't work as planned), and always gives me a sense of accomplishment when the project is finished.
4. How does your creative process work?
Usually with something I see. It could be a magazine picture or one on the internet..or a card that has a technique that I want to try. A lot of times I look at an image I want to work with and an idea or finished design will appear in my head. Sometimes it works out just as I envisioned, but most of the time it morphs and evolves as I work on it. If I get stuck, I work on backgrounds. I find they usually get me going and sooner or later, I'll pull one out and it will be perfect for what I need at that time. I never throw things out, lol. Even if I'm not crazy about it as a whole, parts or pieces of it will usually end up in another project.
And now I get to nominate a couple of lovely ladies who are not only friends, but always so inspiring to me!
Karen Dunbrook – Snippets

I first met Karen when we were on the Innovative Stamp Creations design team in 2009 and our friendship continues through Splitcoast. Karen is always a favorite in the Splitcoast Challenges…her remarkable CAS (clean & simple) style is easily recognized. Karen currently does design work for Penny Black and is a regular in the SCS Challenges. From conversations/emails I know Karen has a super busy life as a caregiver for a group of little ones which doesn't leave her a lot of extra time. If you haven't, check out her blog Snippets and her SCS Gallery. You'll be floored by her beautiful creations!
Jenny Gropp – One Krafty Kat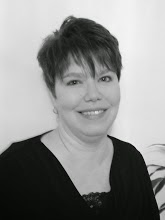 Jenny & I first met around 2010 or 2011 (in real life, yay!). There are a group of us in the Atlanta area and we usually get together a couple of times during the year. Recently, we all went to the CHA Hobby Show in July. Jenny and I are on the Serendipity Stamps design team and we were also on the Outlines Rubber Stamps design team. Jenny is a super talented Copic colorist and super sweet lady. She also serves on the design teams for Impression Obsession, Perfect Paper Crafting and Impressive Ideas (a stamp store where she teaches classes and handles the purchasing). If you haven't, check out her blog One Krafty Kat and you will be amazed at her creativity! 

Thank you so much for stopping by! I hope you've enjoyed this post and you'll be inspired to check out the blogs of Kittie, Karen & Jenny!