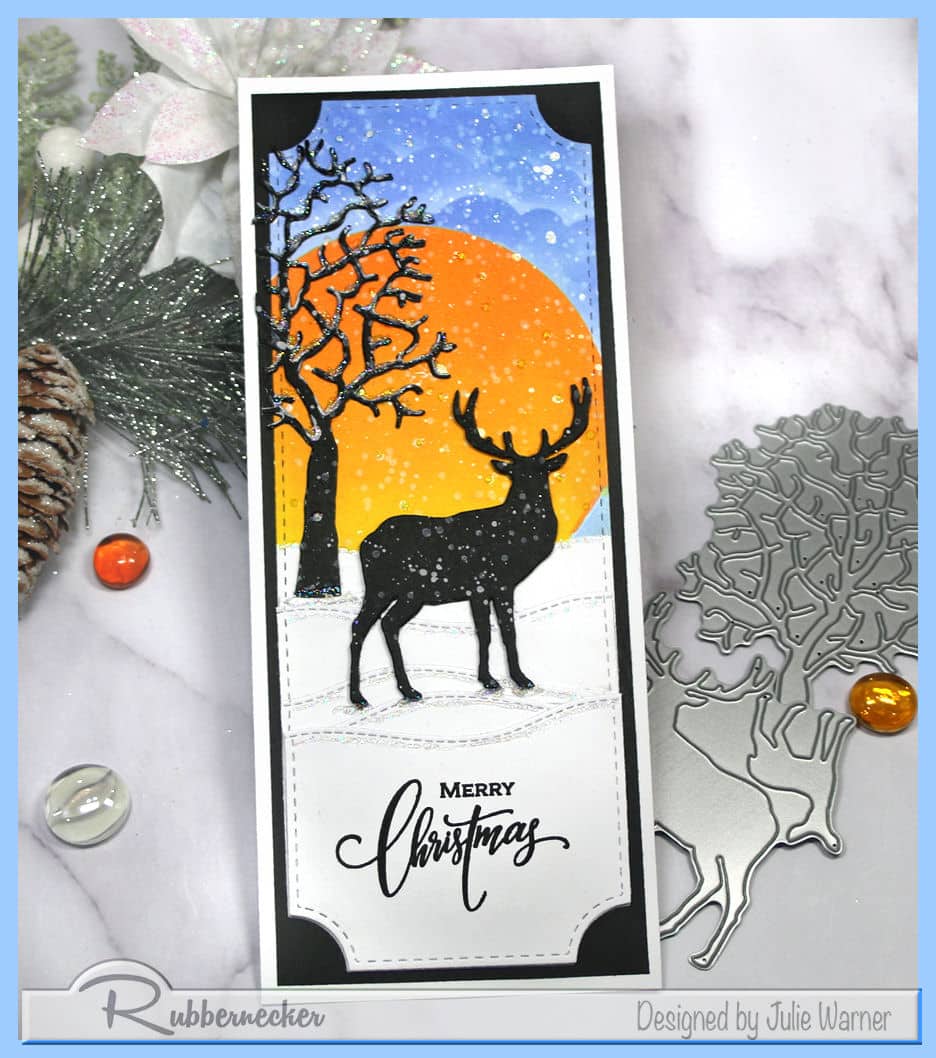 Welcome to November!  And it's time for the Splitcoaststampers Fan Club Nov Christmas Challenge! We have a year of new Christmas Challenges!  You'll need to be Fan Club member but that's easy…just click the blue link to find out how. Bet you're wondering what the challenge theme is..I'd love to tell you but you'll have to go see for yourself. AND..it's also time for the Featured Stamper Challenge (FS717) so I'm combining both challenges for this card plus I have another card for just the FS.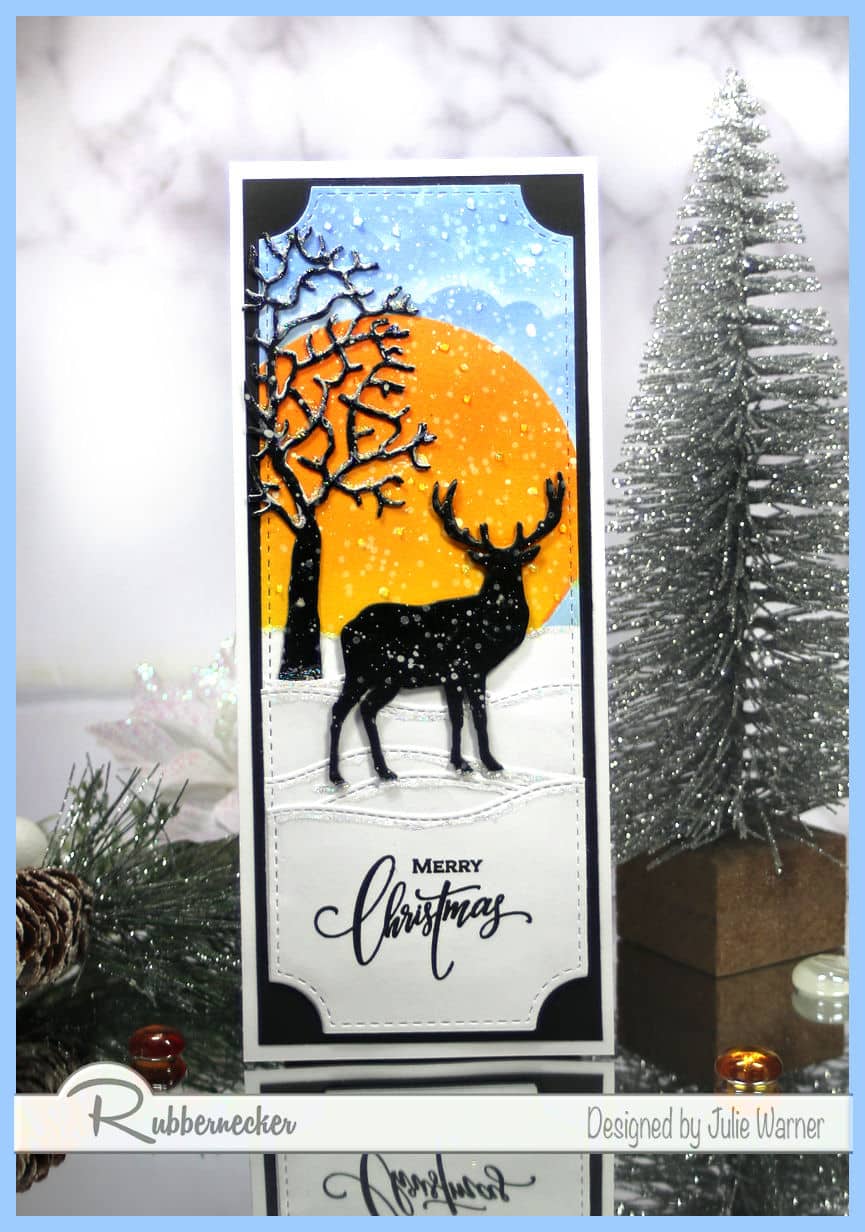 On my first card, I cased THIS card of Mary's. I kept the sunrise/sunset scene w/ the silhouette image, but I used die cuts instead of a stencil, made mine a slimline Christmas card & used slightly different colors.
After die cutting the deer & tree out of black, I die cut the white slimline ticket shaped panel & a few more bottom sections out of white. I used a stitched hill die to cut those extra bottoms into snowbanks. I used a large circle die to cut a reverse mask out of copy paper & used it to sponge in the sun. For the sky, I used the negative part of the slimline cloud die to add some cloud like shapes to the sky. The deer & tree were popped up slightly using cardboard die cut w/the same dies. White acrylic paint & a paintbrush was used to splatter the falling snow then I used some stickles in areas for a little sparkle.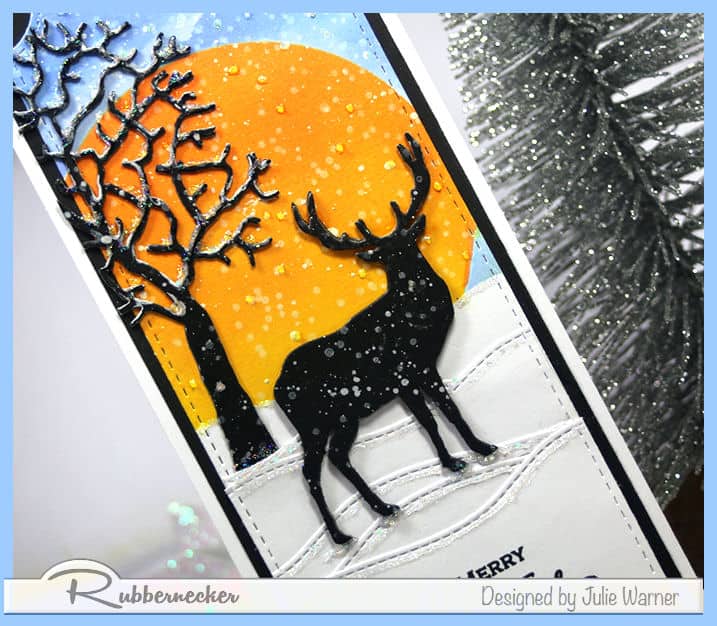 Supplies for this card:
Stamps:

Rubbernecker Stamps:
Christmas Phrases Lg/Sm
Paper:  Staples 110# white, black
Ink:
Rubbernecker Color Fuse inks: set #1, set #2 & set #7, Versaclair nocturne
Accessories:
Rubbernecker Stamps: Deer Family,Winter Tree, 
Slimline Ticket Stitch,

Slimline Clouds,Stitched Hills, Circlesdies, Crossover II

,

Stickles,
white acrylic paint, stickles,

MISTI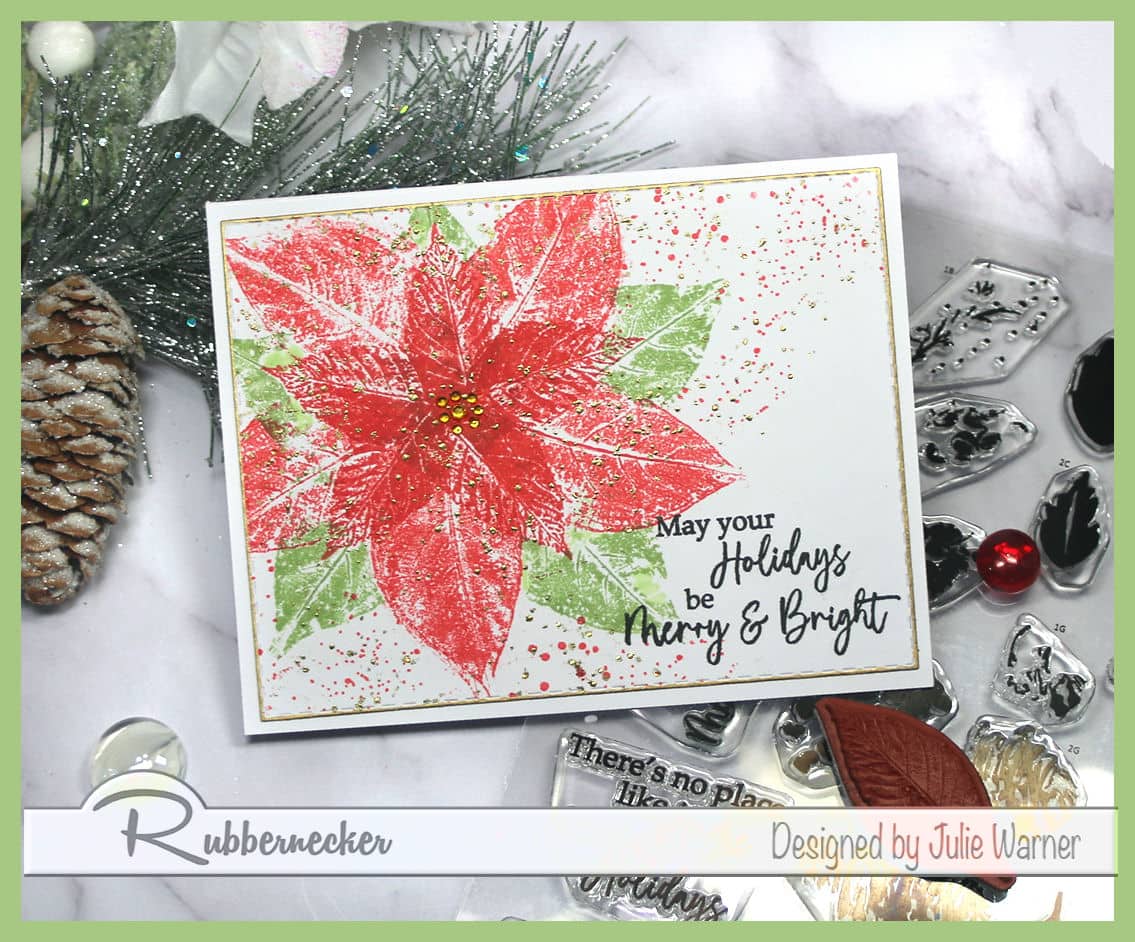 My second card is a little different & I chose THIS card of Mary's to case. I kept the Christmas theme & making a poinsettia out of a leaf image, but I also used a real leaf to "print" the larger petals & only made one large poinsettia instead of many smaller ones.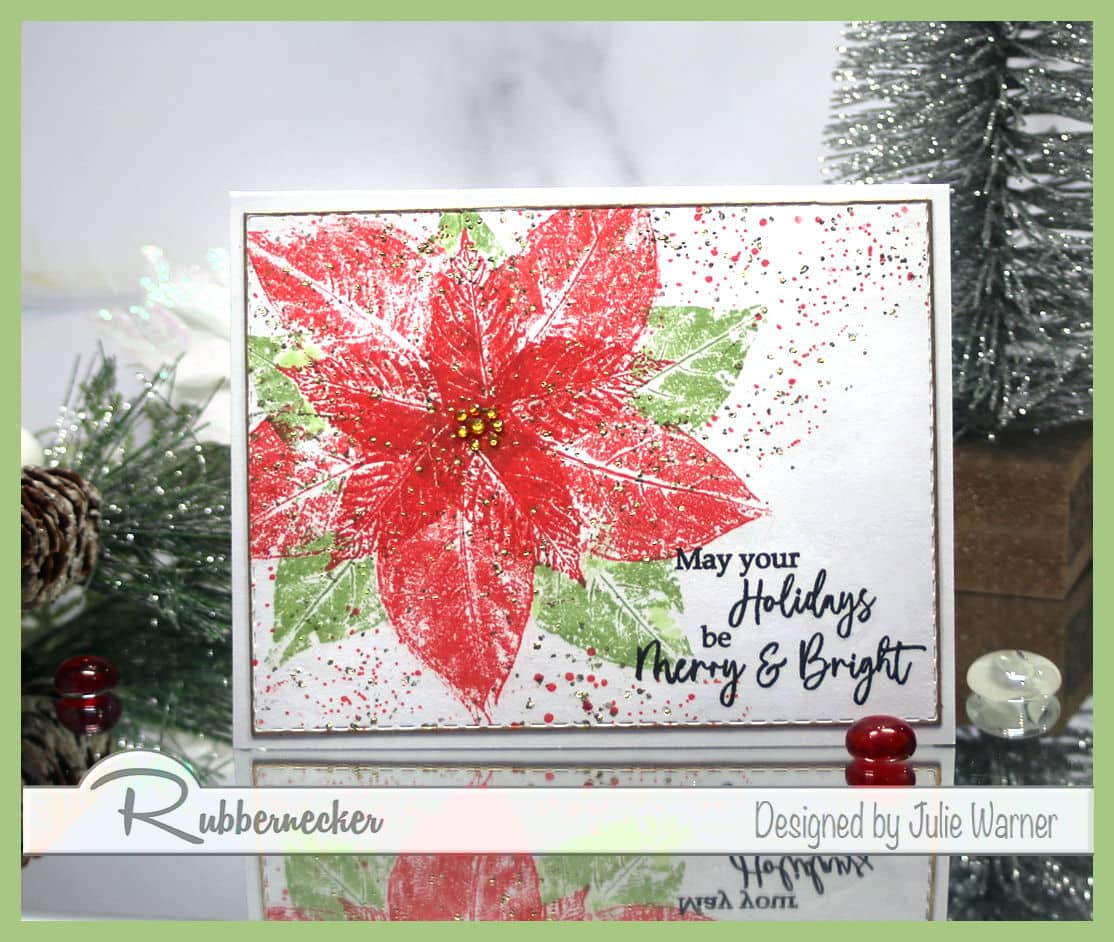 I started w/ my die cut white panel & some real leaves I picked off one our Crape Myrtle trees. The shape reminded me of poinsettia petal, but these are a lot sturdier & easy to print. Here's a pic of the leaves as they looked when I picked them.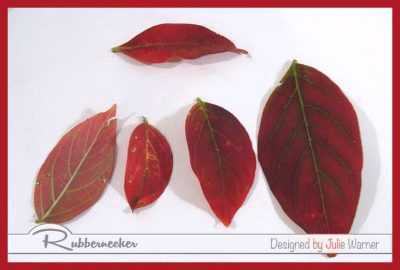 I inked a leaf by rubbing the crimson inked over the leaf, placing it ink side down on the panel, then gently rubbing over the backside w/ a paper towel. If you press or rub too hard, you lose the vein detail, so be gentle if you try this.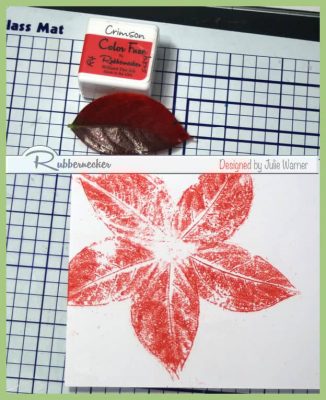 This is how it looked after I printed the leaf 5 times. I'm not worried about the ink smudges because I'd already planned on using a splatter stamp to add some interest. With the base layer of petals done, I inked part of another leaf w/ the moss ink, masked the red petal w/ the actual leaf, & printed the green leaves. Then I took a leaf rubber stamp, inked it w/ the crimson & stamped it for the smaller, top layer of petals.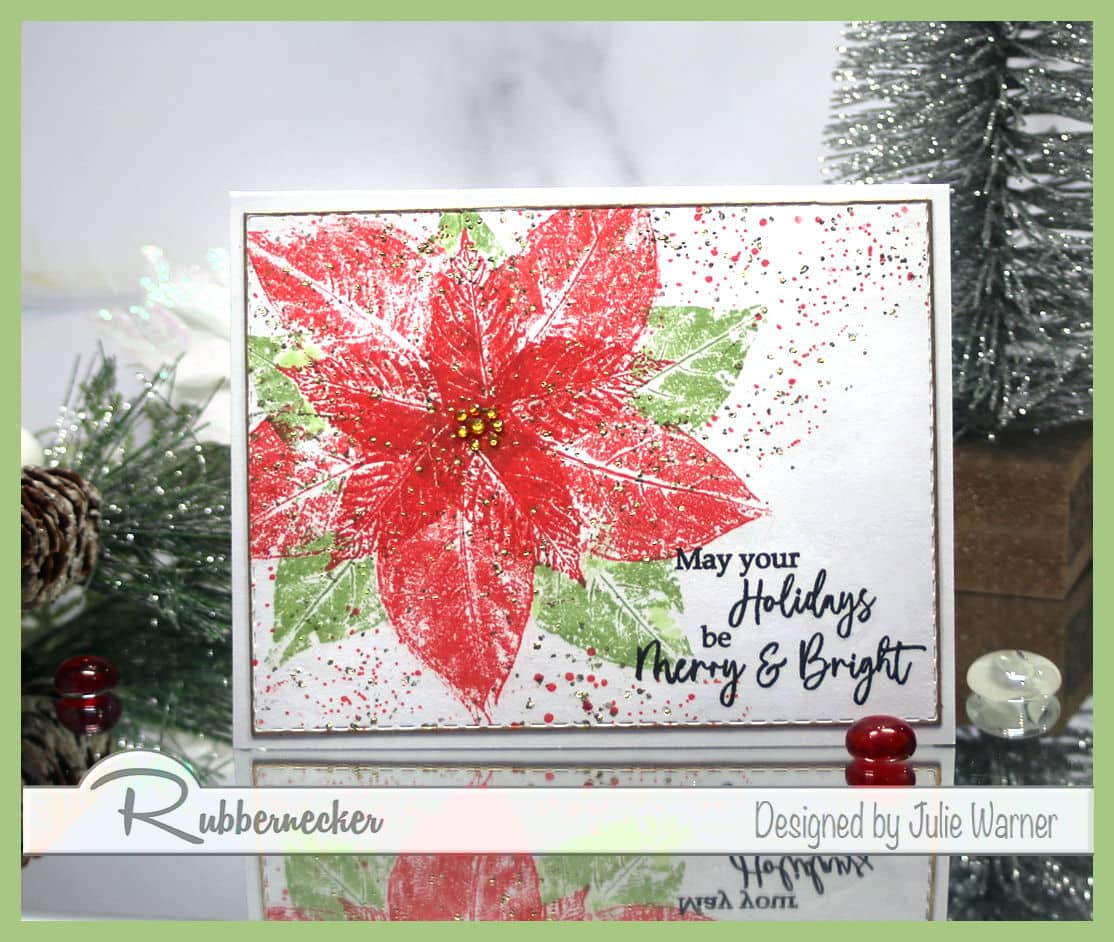 The splatter was stamped once w/ scarlet & again w/ gold ink & heat embossed w/ gold powder.  I used a gold leaf Krylon pen around the edges, added the greeting & some gold gems in the center of my poinsettia.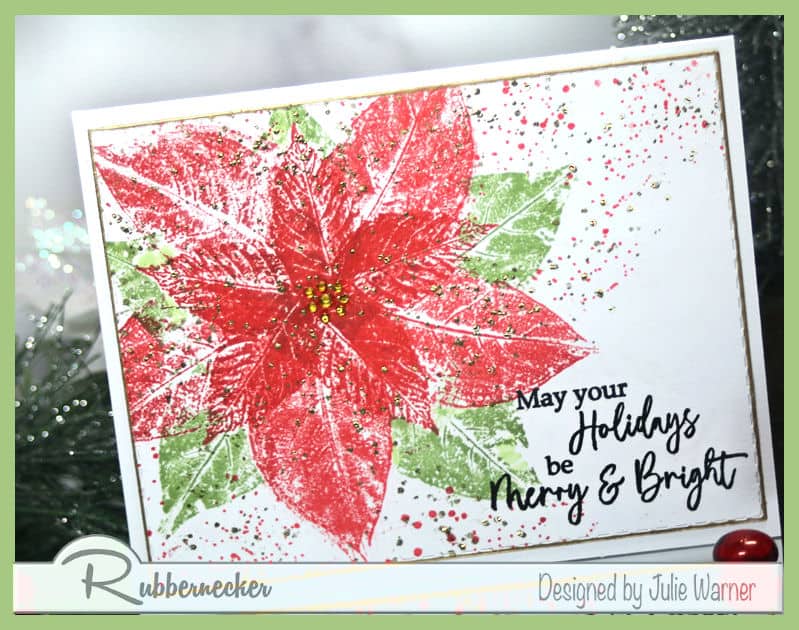 Supplies for this card:
Stamps:

 Rubbernecker Stamps:
Leaf set,
Winter Bouquet
,
Splatter Bg
Paper:  Staples 110# white
Ink:
Rubbernecker Color Fuse inks:

set #4

 & set #10, Versaclair nocturne,
Encore Ultimate metallic gold
Accessories:Rubbernecker Stamps:

Rectangle Stitch

dies, Mirror Gold embossing powder, Crossover II, Crape Myrtle leaf, gold rhinestones, Krylon gold leaf pen,

MISTI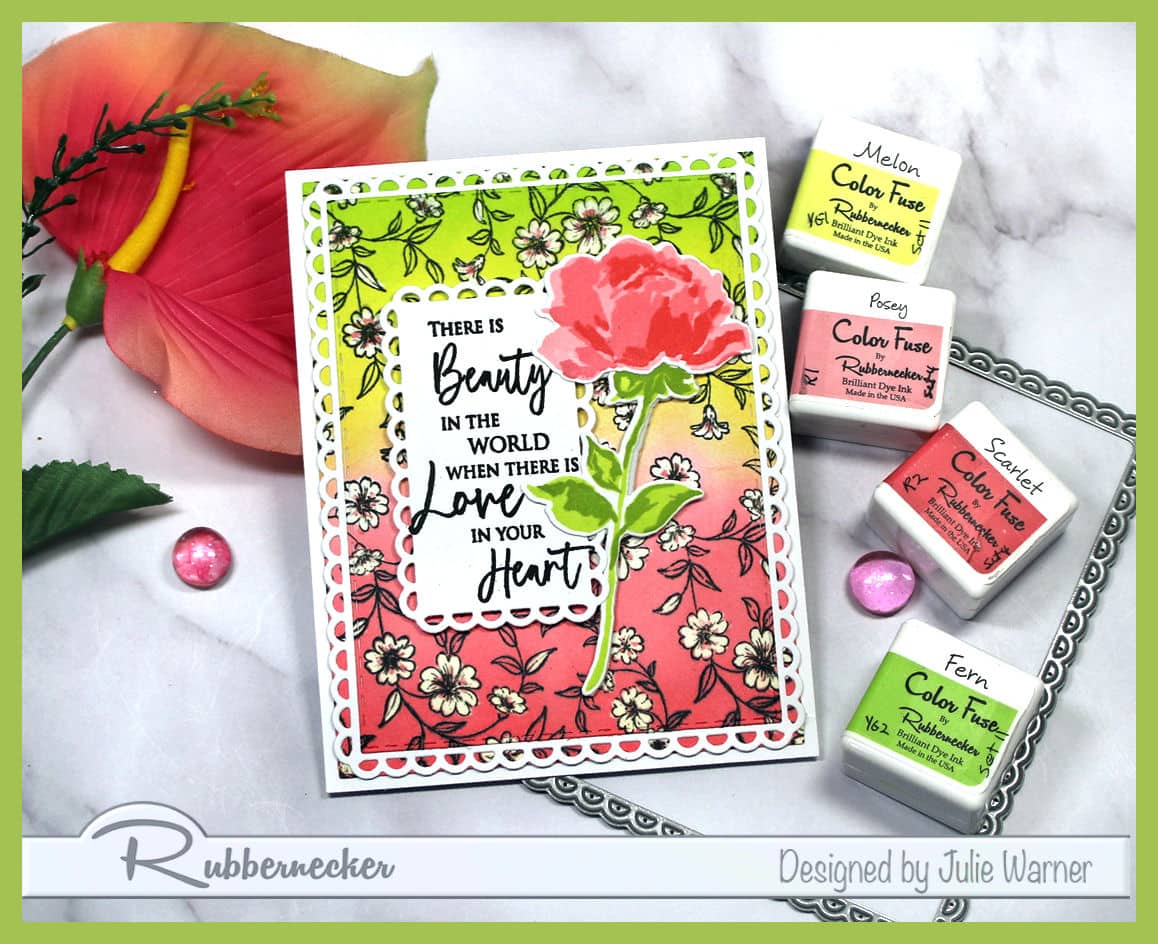 It's my honor to host the Splitcoast Featured Stamper Challenge (FS715) & a big congrats to Marianne! She has a lovely gallery & I chose THIS card to case. I kept the overall floral w/ the greeting on top, but I used different images & colors & instead of coloring the flowers, I colored the bg & bleached the flowers.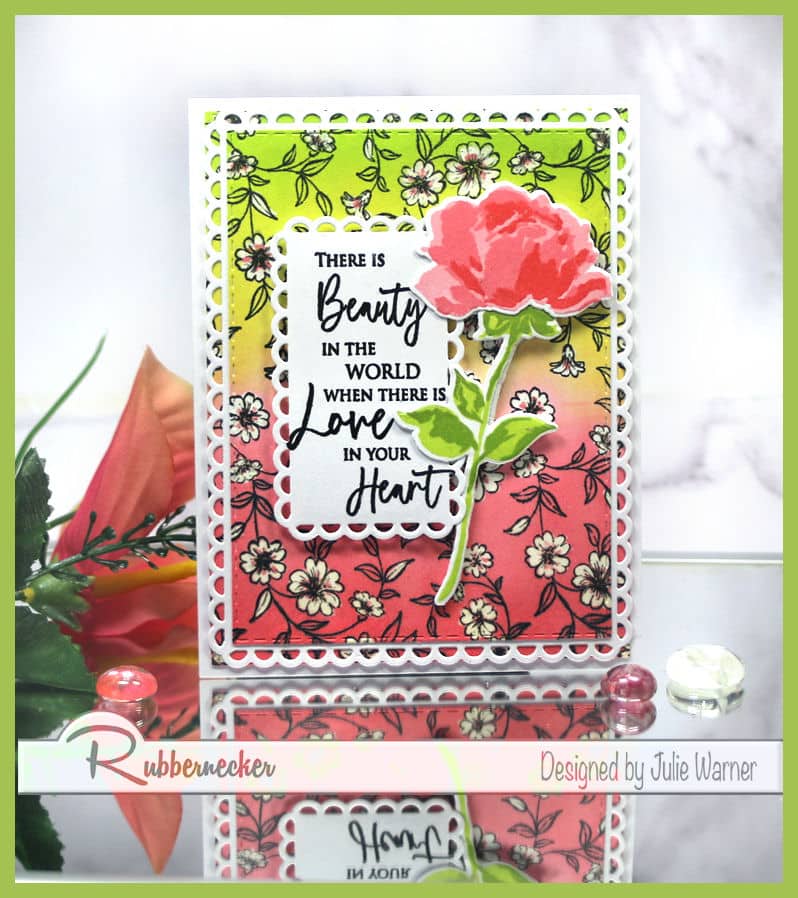 I started by sponging a white bg, with greens from the top down & pinks from the bottom up. When I'm using two opposite colors like this, I usually leave a very pale to mostly white area in the middle so I don't end up w/ an ugly color. After stamping the floral bg image on top, I used a tiny, synthetic paint brush & bleach to remove color from the flowers & few of the leaves. If you try this, make sure your brush is synthetic because bleach will totally destroy natural hair brushes. It was die cut twice, using the largest & next smaller stitched rectangle dies. The white half scallop layer was inserted in between, then attached to the card front. The 4 part layered rose was stamped w/ the same pink & green inks & die cut. The rose & greeting are popped up on fun foam.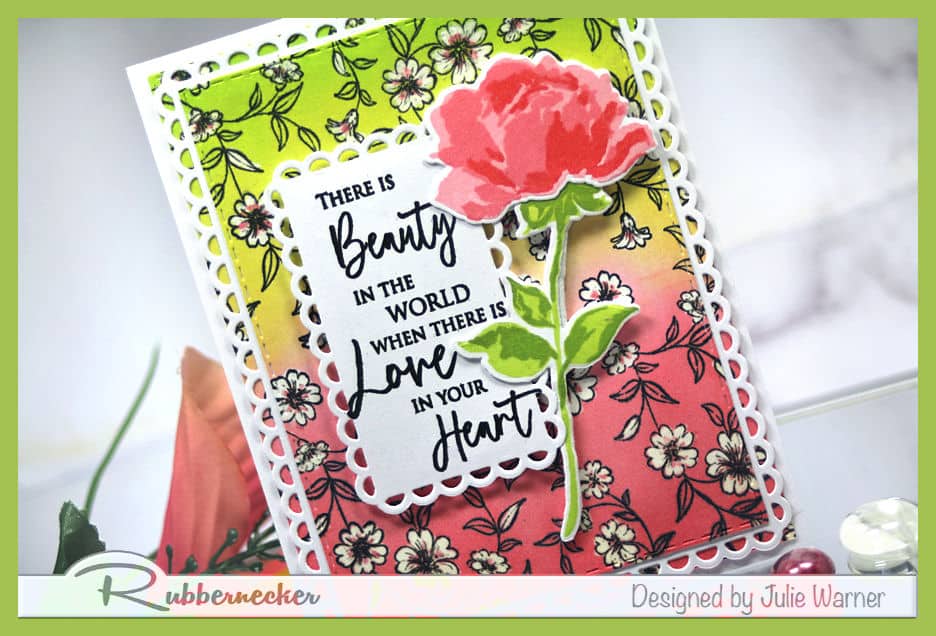 Thanks so much for stopping by!


Supplies: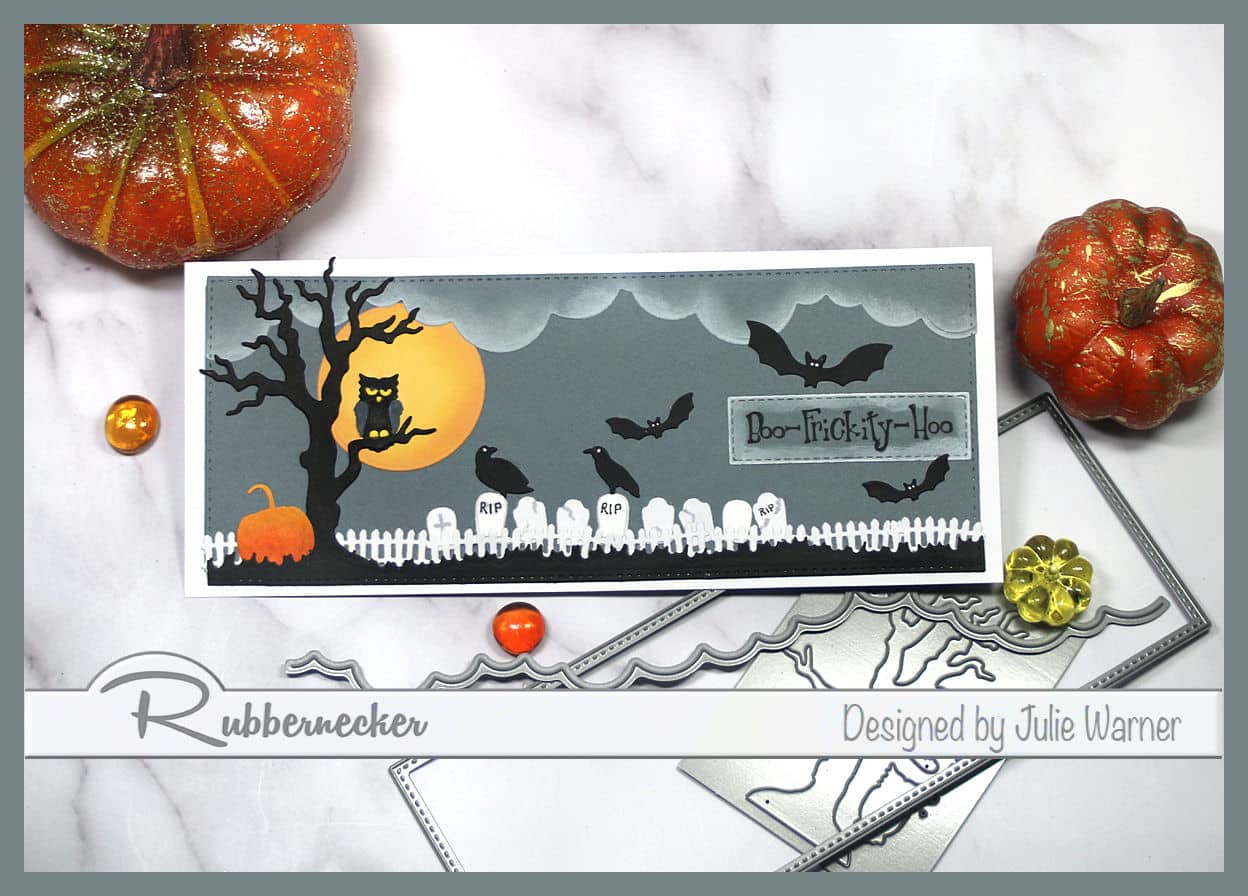 For the Splitcoast Inspiration Challenge (IC776), we are headed to Halloween Costumes. Some really spooky stuff there & I was inspired by THIS picture.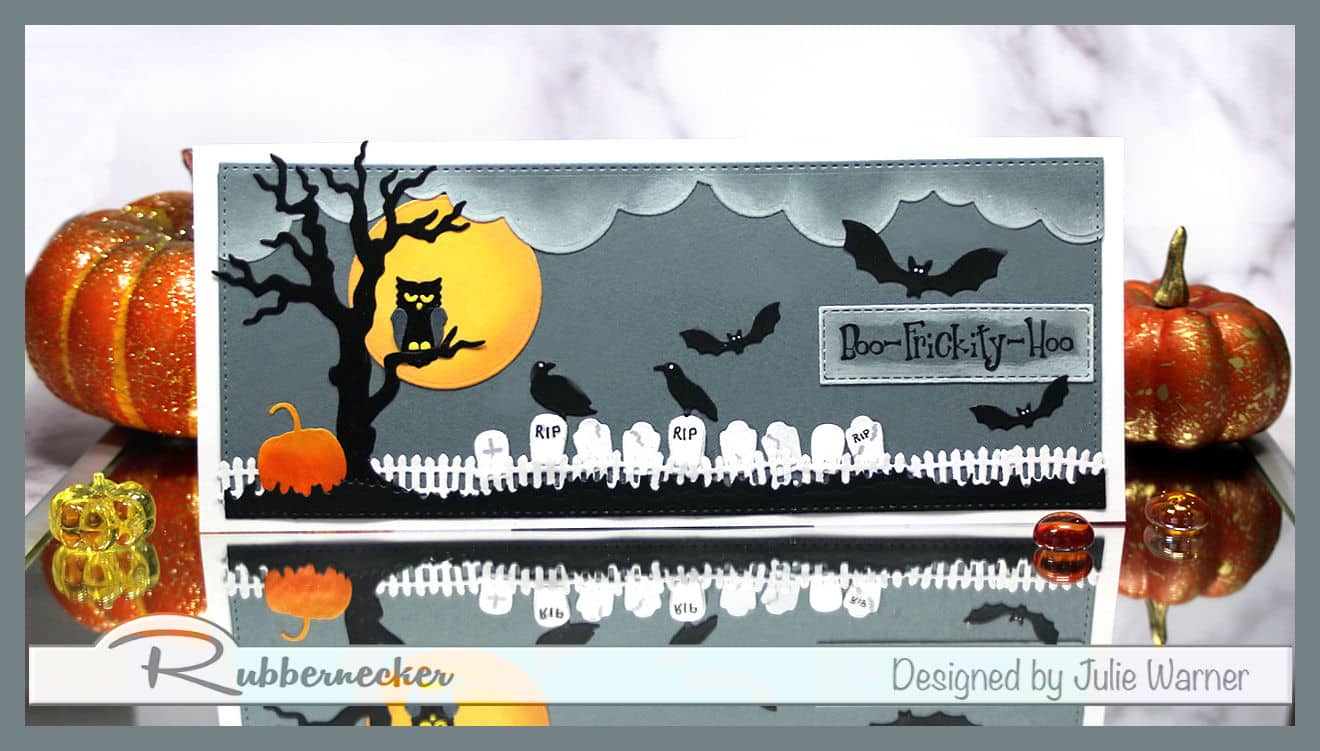 For my spooky scene, I die cut the grey bg & all the crows, bats, tree & owl out of black. The moon is just a largish yellow circle & I sponged some orange ink around the edges. The white fence & tombstones were die cut & I wrote RIP on a few of them & added cracks to others (these are all part of the Spooky House die) . I had a sponged piece of yellow/orange & die cut the pumpkin out of it. For the clouds at the top, I sponged on some picket fence Distress ink on the edges in order to have them show up a little more. Then it was just a matter of piecing everything all together. The only stamping on this was the greeting & I sponged the edges of it, too. The eyes were added on the crows & bats using a white Posca paint pen.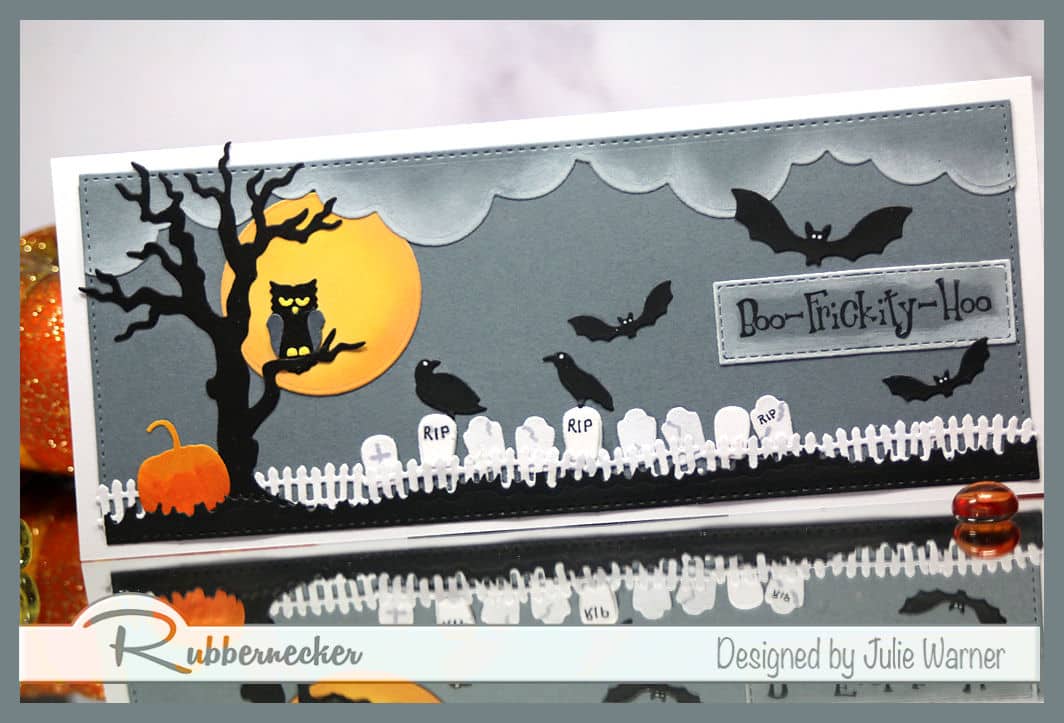 Thanks so much for stopping by!


Supplies:
Stamps:
Rubbernecker Stamps: Boo Frickety Hoo
Paper:  Staples 110# white, black, yellow, grey
Ink: Versaclair nocturne, Distress ink picket fence,

Color Fuse Ink set #2
Accessories:
Rubbernecker Stamps: Owl & Halloween Tree, Slimline Nested Stitch,Slimline Grass, Slimline Clouds, Bats & Spiderwebs, Spooky House,Scarecrow,Pumpkins & Ivy dies,

Posca Paint Pen