Archive for the 'Music' Category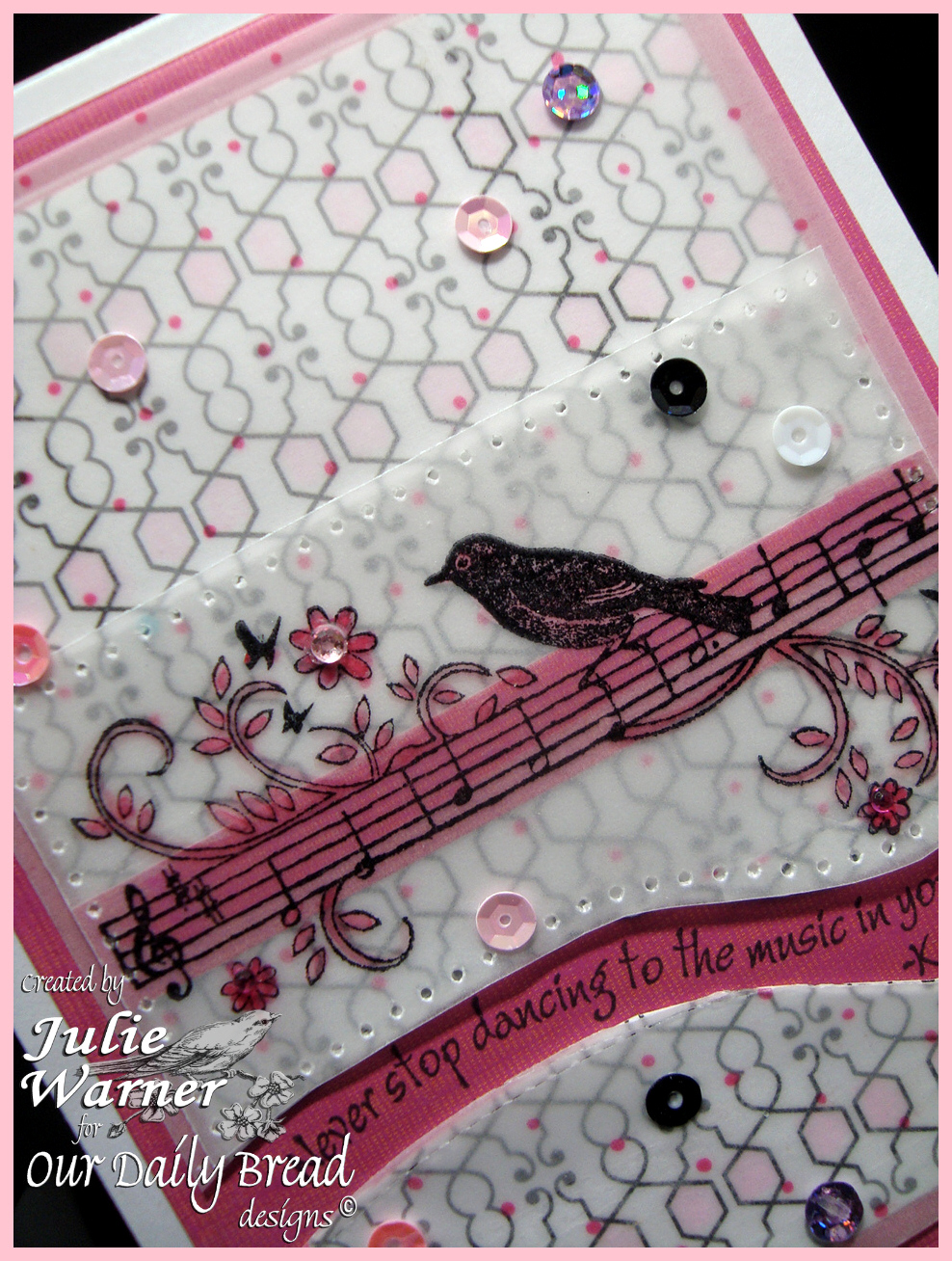 I'm back with another card for the Color Challenge (CC516) and this time I'm also combining it with the Technique Challenge (TLC519) to put the sentiment "down under". For the dessert option on the Color Challenge, it was to use vellum. I actually have two different vellums on mine..the one covering the dp is a white w/ melon mambo pink dots all over it. I also have a plain white vellum strip with the bird and music stamped on it. I colored it on the backside and pierced all around the edges.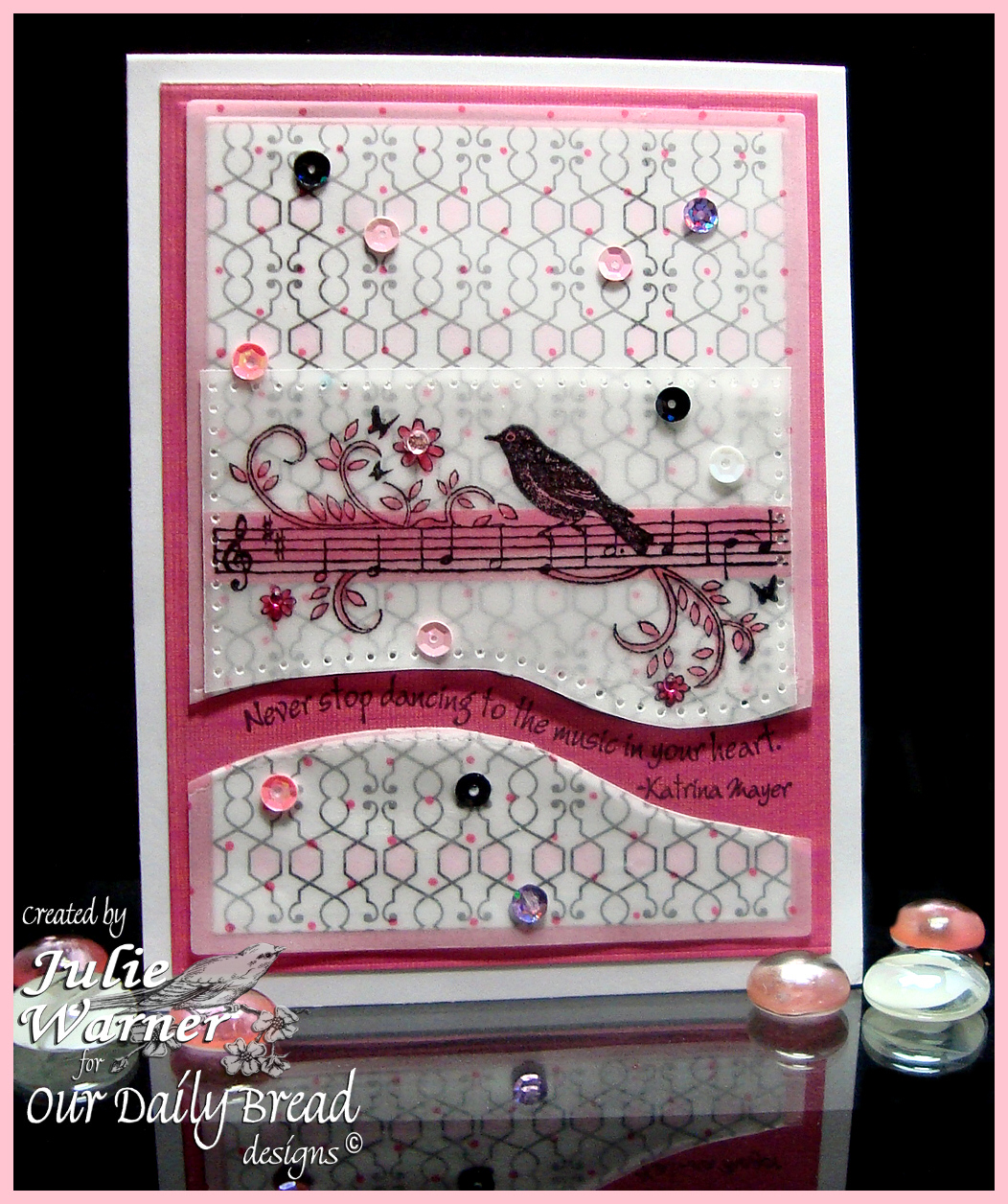 The dp behind the pink dotted vellum is only black & white but I added a little light pink to some areas. The layers were all die cut then I cut a curved separation at the bottom in order to stamp the greeting on the bottom layer of dk pink dp. I added some sequins and a few gems for sparkle.
Thanks so much for stopping by!


Supplies:
Stamps:
Our Daily Bread designs – Music Speaks
Paper:  white, dp (dk pink =Basic Grey -Kneehighs, black/white print – Glitz), pink dot vellum, white vellum
Ink:  Stazon black
Accessories:  Spellbinders A2 matting basics A&B,  Copic markers, sequins, pink gems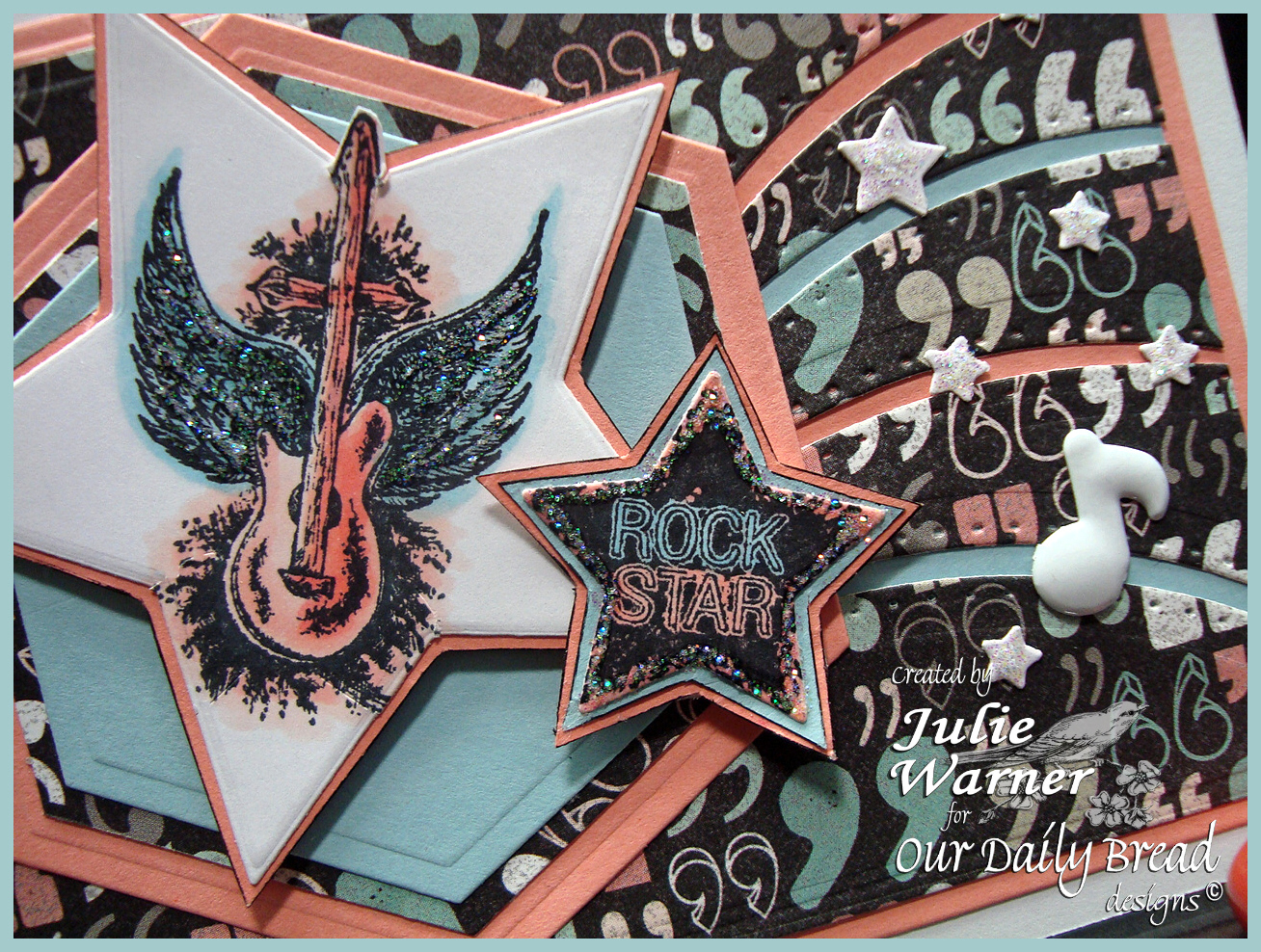 Happy New Year!! Welcome to the January Release for Our Daily Bread designs!  We have some very cool sets and dies for you this month and we know you're going to want them all! 
Prize Information: – 
Three randomly selected winners will each receive a $25 gift certificate to the ODBD Store, to be used toward the purchase of ODBD Stamps found in the "stamps column" of the website just for commenting on the Design Team cards!  You have until January 2, 2015 at 9:00 p.m. EST to leave your comments on the Designers Blogs for a chance to win!  The Winners will be posted on the ODBD Blog on January 3rd, so be sure to check back there to see if you won!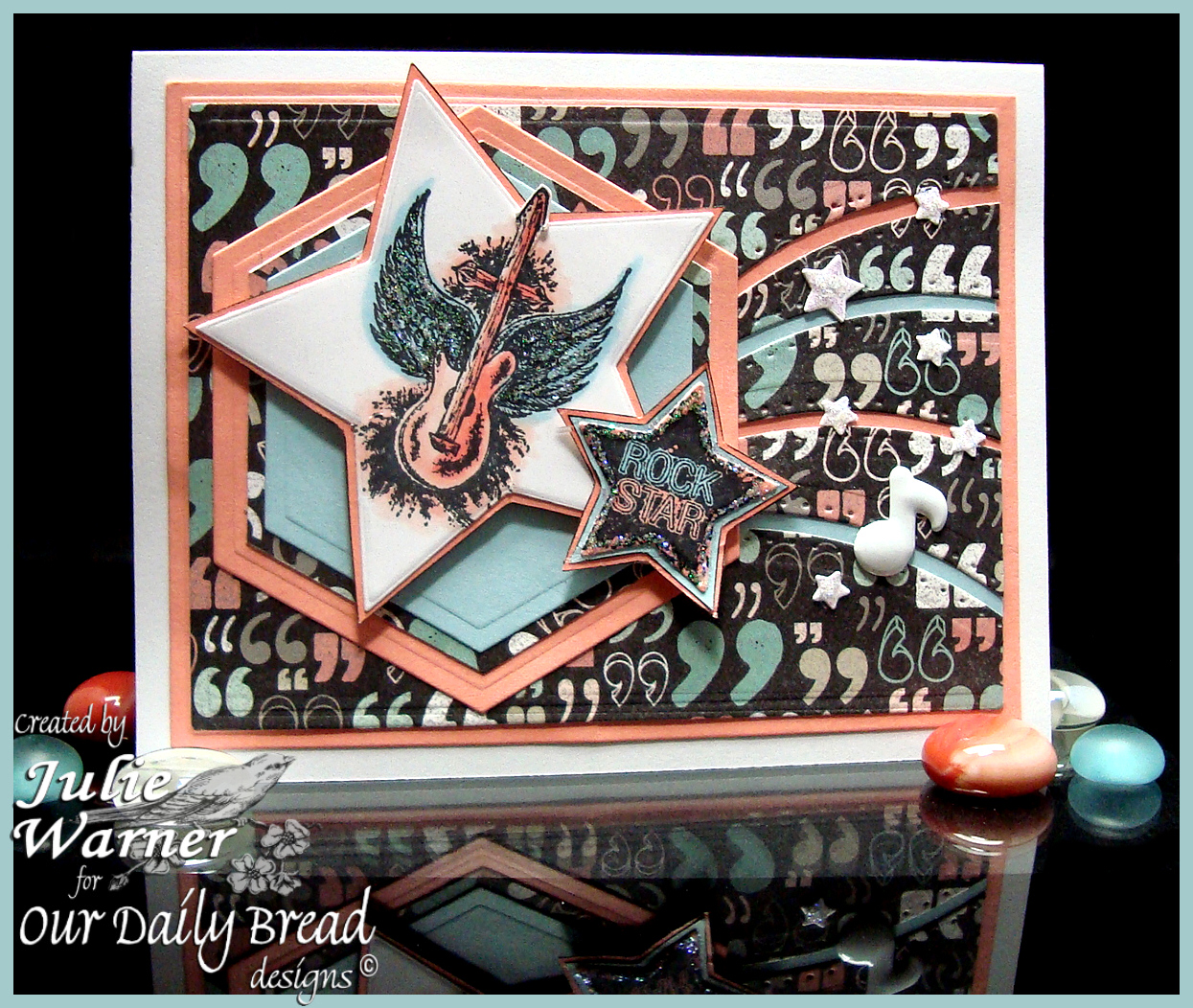 On my first card, I'm using the wonderful, grunge style Rock Star set. I know this set will look great on masculine and teen birthday cards and while it does have an edgy, grunge thing going, somehow it still looks a little clean when I get hold of it, lol. Guess I'm just not a grunge type, but it does show that you don't have to distress it a bunch to have a fun look.
After stamping and adding a little color, I die cut the guitar using an out of the box technique and the largest star from the Sparkling Star dies. I used a smaller star for the greeting then added a little stickles to them. The layers behind the stars were fussy cut. The background was die cut on the right side four times w/ a curved die then strips of peach & aqua inserted underneath and few more die cut stars on top. The finished card is 5.50 x 4.25 and these are the Copics I used.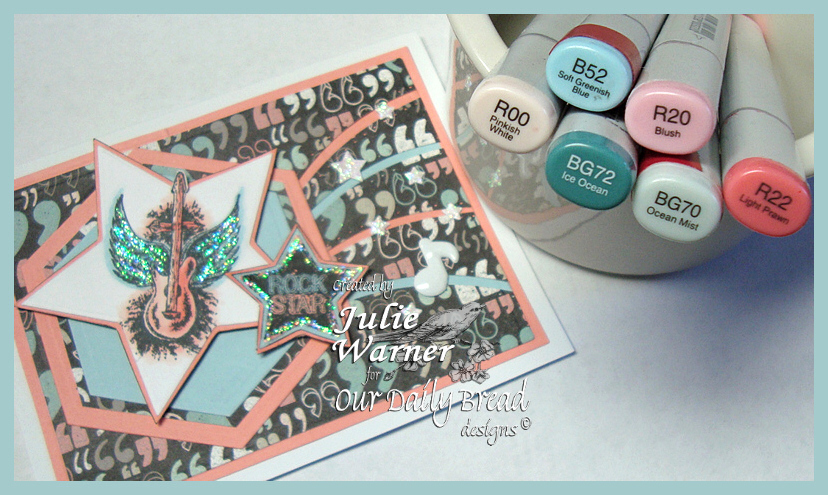 I usually forget to show you the inside, but I remembered on these. Here's a little look at this one using some of the left over frames and pieces from the front.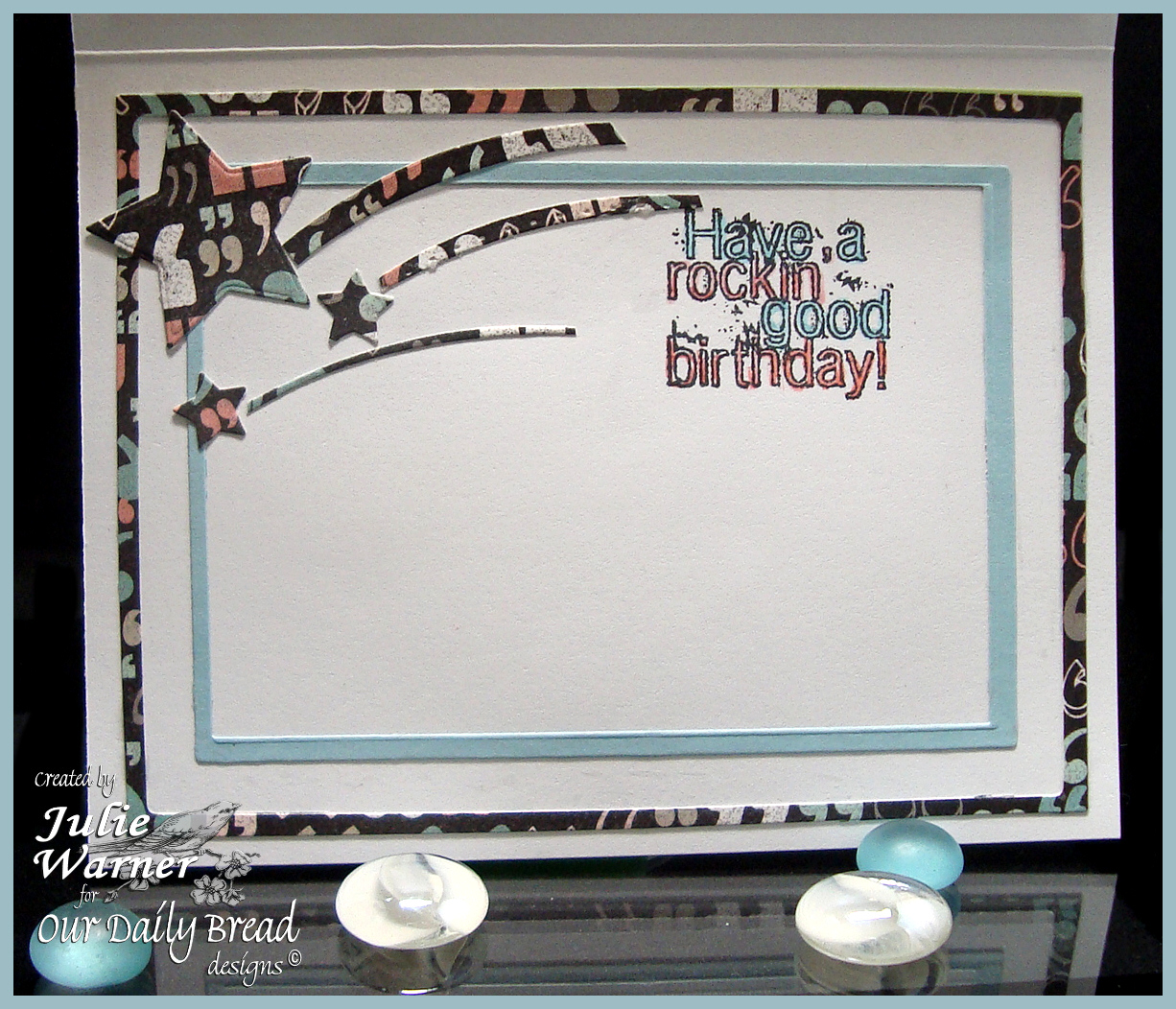 Stamps:
Our Daily Bread designs – Rock Star
Paper:  white, aqua, peach, dp (MME – Cut & Paste)
Ink:  Memento tuxedo black
Accessories: ODBD Sparkling Stars, Spellbinders A2 matting basics A&B, hexagon, curved border dies, Copic markers, stickles, white eighth note brad
On my second card, I'm using the Music Speaks, Just a Note sets along with the new Faithful Fish Pattern die.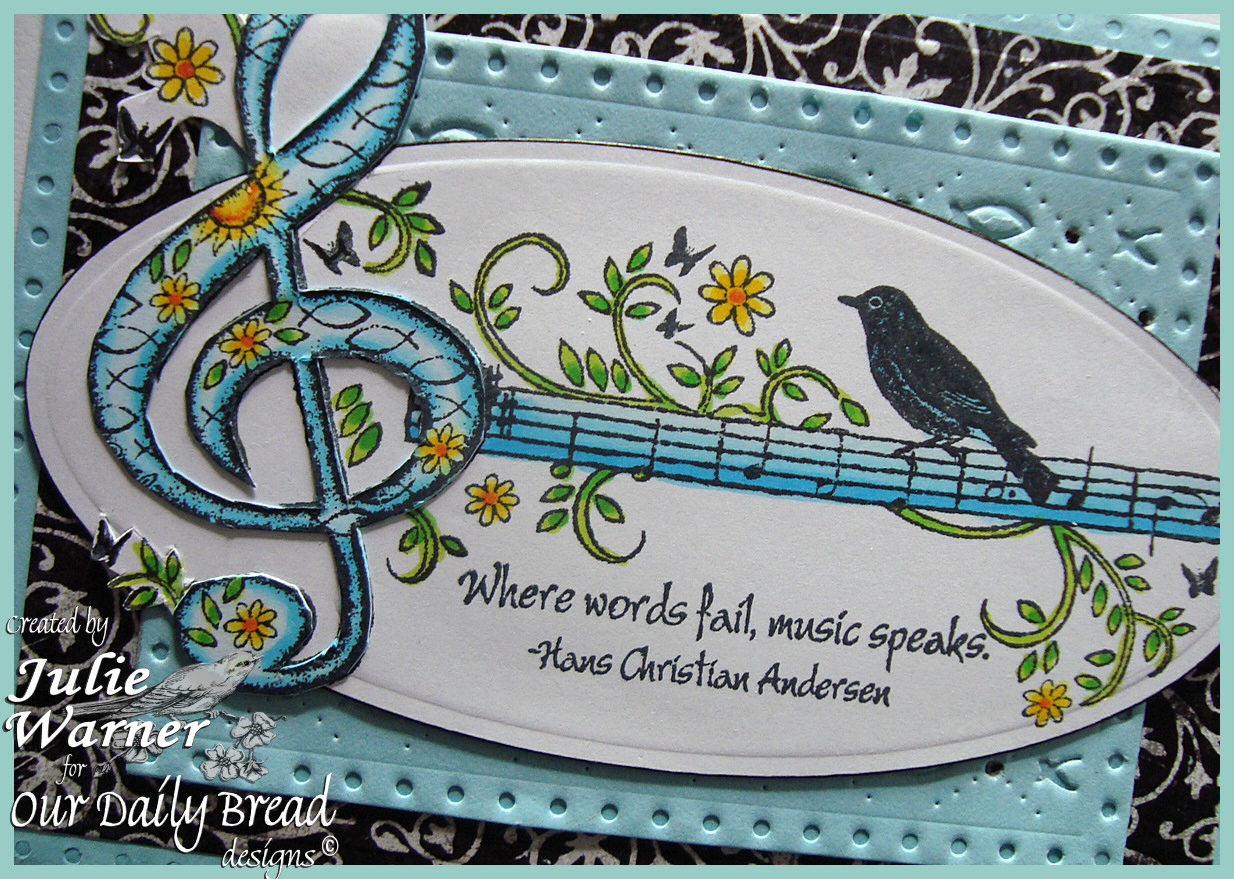 The large treble clef was stamped, colored & fussy cut. I stamped part of the image on another piece, masked it a bit and stamped the bird & music bar. After coloring I die cut it and added the die cut & embossed fish pattern behind it. I actually die cut this twice out of the aqua and on the smaller one, I cut it across the middle and shortened it. Since the long oval covers the seam, you don't even see it.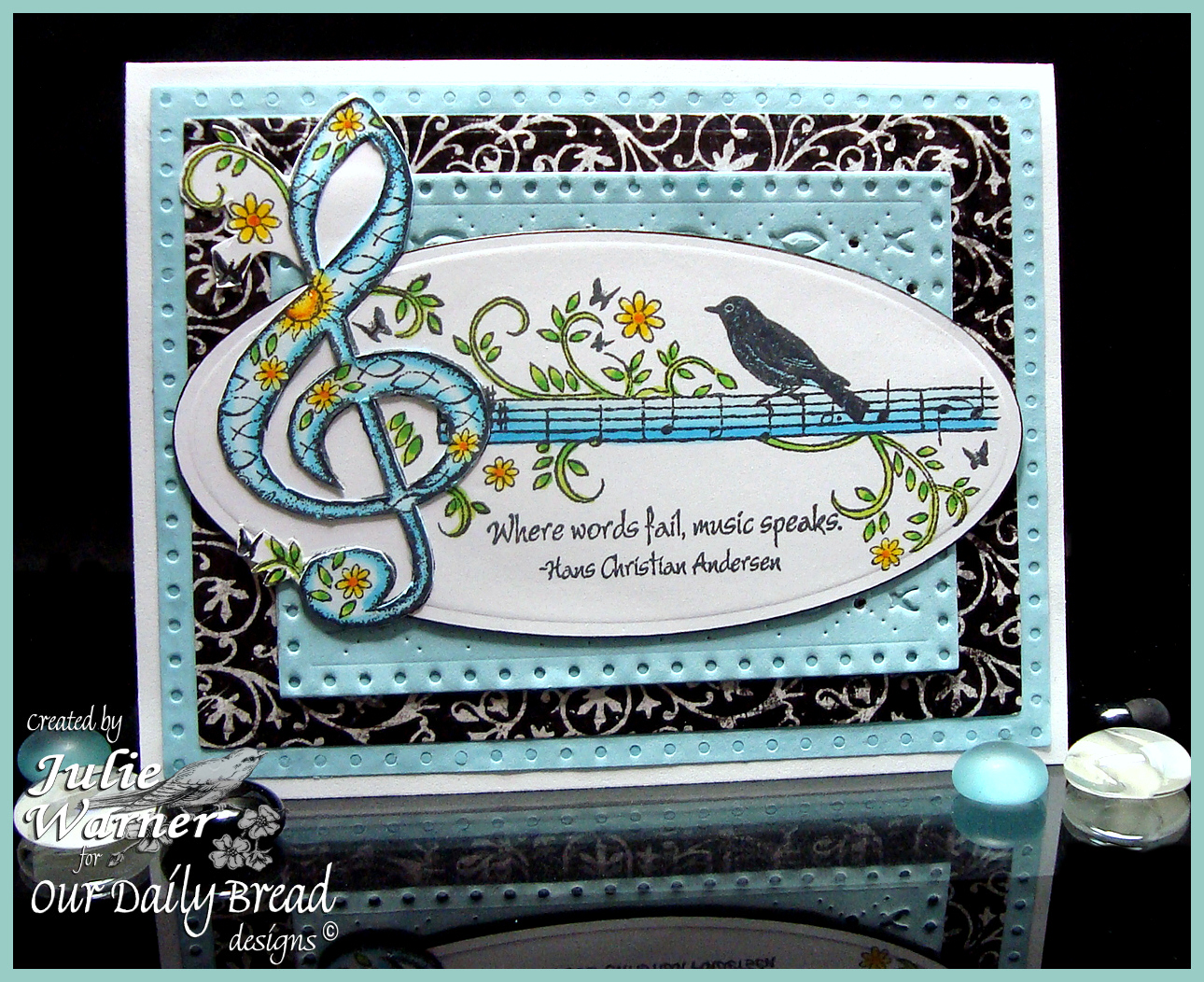 In between the two aqua layers, I put a piece of the Chalkboard paper collection. The finished card is 5.50 x 4.25 and these are the Copics I used.
And here's a peek at the inside.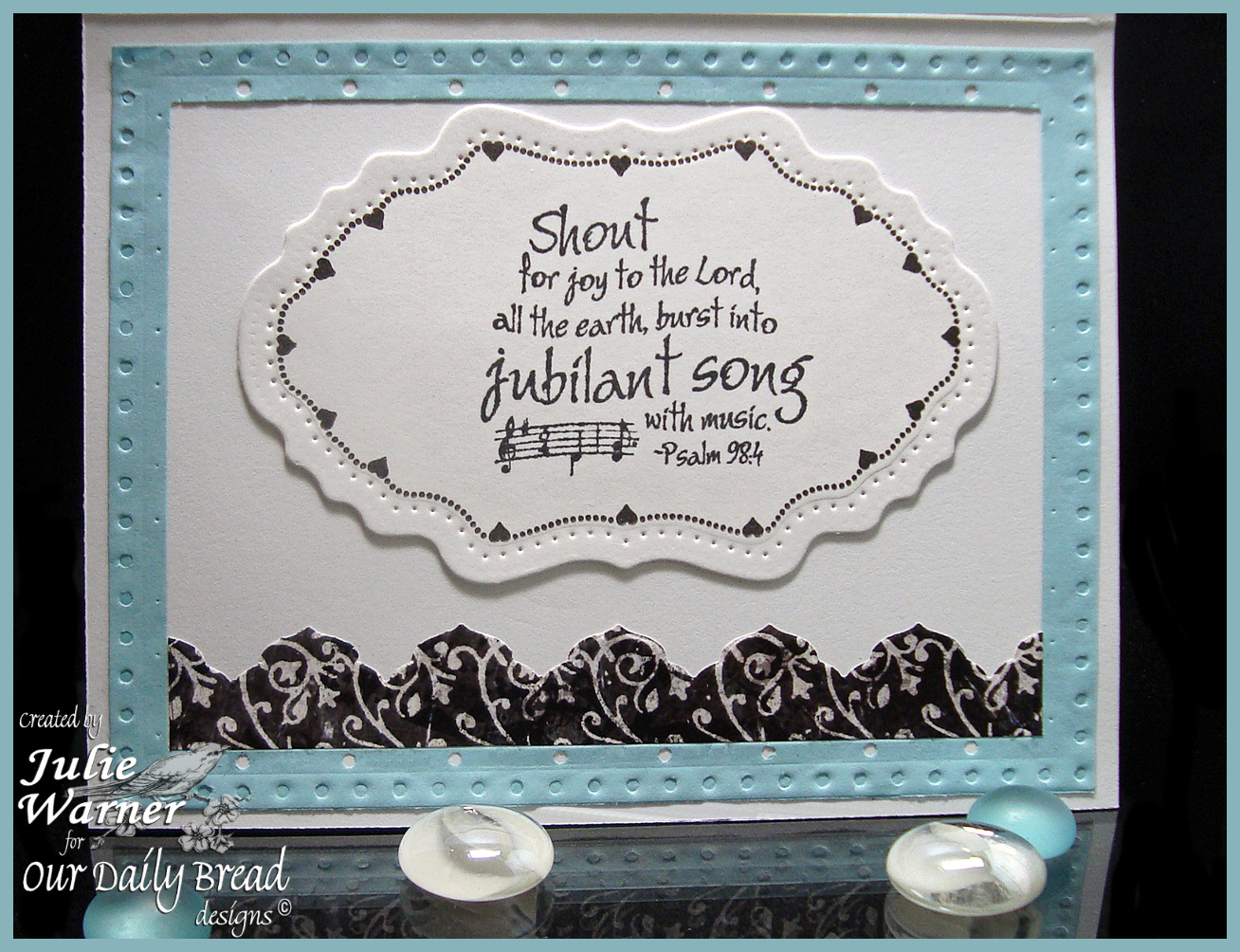 Stamps:
Our Daily Bread designs – Just A Note, Music Speaks, Flourish Label Borders
Paper:  white, aqua, dp (ODBD Chalkboard collection)
Ink:  Memento tuxedo black
Accessories: ODBD Faithful Fish Pattern, ODBD Vintage Flourish Pattern, ODBD Antique Labels & Border dies, Spellbinders A2 matting basics A&B, mega oval dies, Copic markers, stickles
Please be sure to visit all of the DT blogs and comment so you'll be entered to win!
Thanks so much for stopping by! Have a Happy, Healthy, Prosperous & Creative New Year!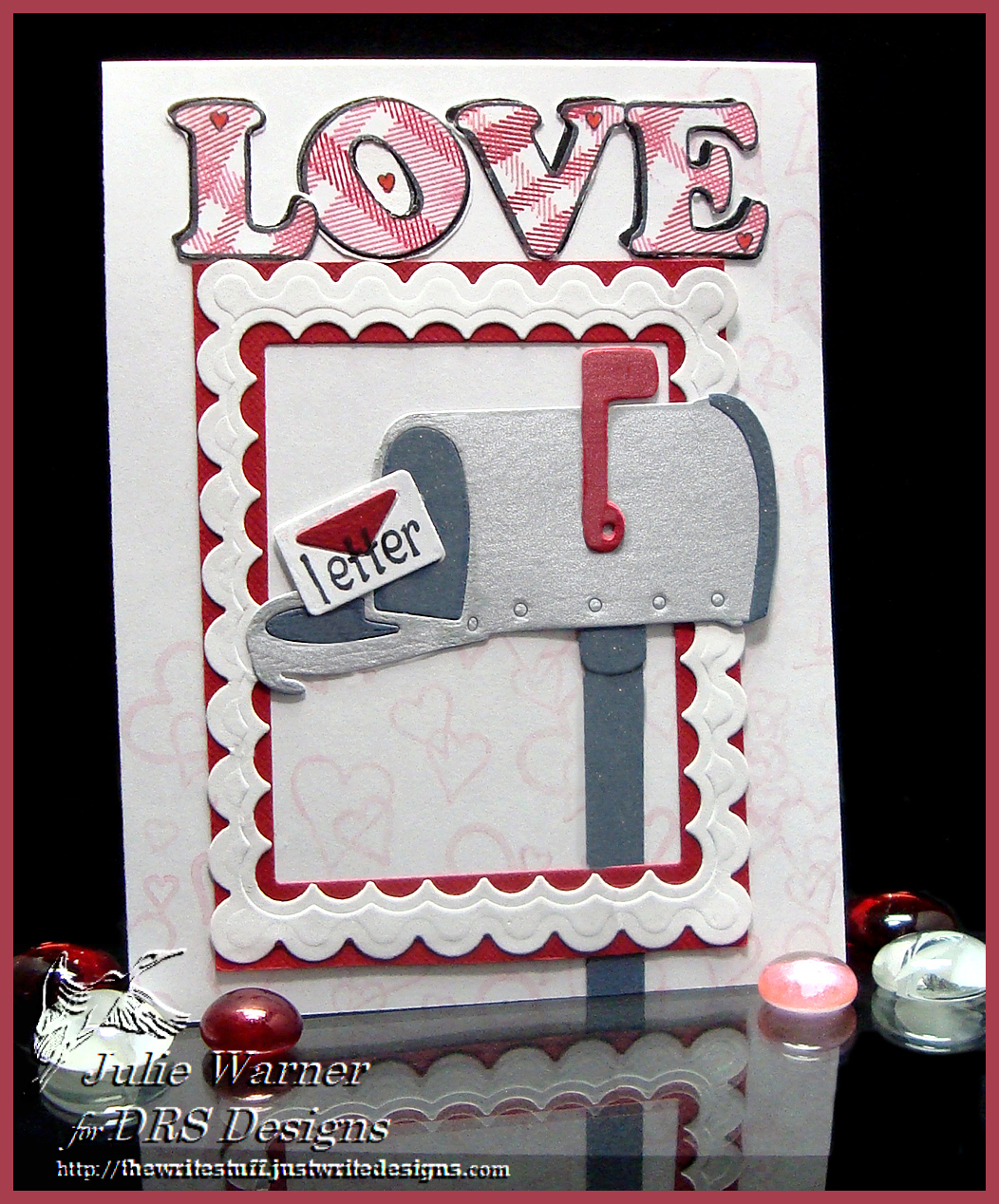 Today, I'm combining a few challenges from Splitcoast…first my card is for the Free For All (F4A206), to have LOVE somewhere on your project.
For the big LOVE letters on top, I stamped the 
woven plaid
 in a couple of directions, using a couple of pink/red colors, then stamped the 
stacked love
 image on top and fussy cut the letters.
On the 4.25 x 5.50 card front, I stamped the 
heart background
 diagonally using the light pink ink. The  fun mailbox is a die cut and I used a metallic silver, a metallic flecked gray and shimmery red card stock to cut it and assembled them together. On the little letter, I stamped parts of a new greeting (Hug a Nurse, You'll Heal Better…coming soon!) and I used a stamp positioner to add the L in place of the B in Better to create the word Letter. The white scallop and narrow red frames were left overs and I stacked them and arranged the LOVE on top and the mailbox thru the frames.
Supplies:
Stamps: DRS Designs – Stacked Love, Woven Plaid, Interlocking Heart Background
Ink:  Memento tuxedo black, love letter & angel pink, Colorbox rouge & warm red chalk inks
Paper: white, shimmer red, metallic silver, metallic flecked gray
Accessories:  Quickutz mailbox die, Spellbinders scallop rectangle & rectangles dies
For a couple of the following Altered Book pages, this first one is for the MIX53 challenge, Layers.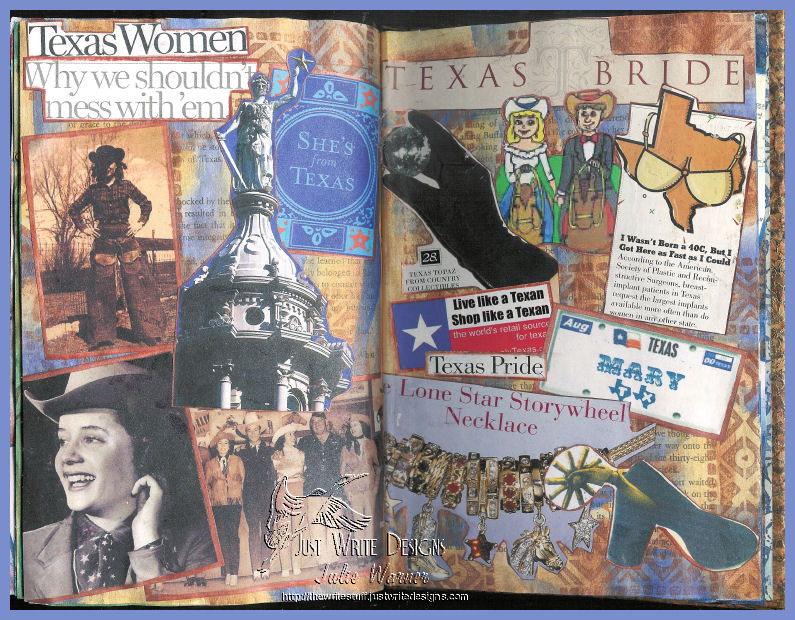 These are all pages from an altered book I made a while back for my sister's birthday. Since we were born and raised in Texas, I chose to start with the book "Texas" by James Michener. I used quite a bit of text from it, but also a ton of pictures from magazines, especially Texas Monthly, clip art and stamps from a whole bunch of companies. I started by removing some pages and gluing other pages together for stability, then used a variety of colors of acrylic paints to base coat the pages. Then I would use a variety of ink colors and stamped images to create the backgrounds. Then the collage work started with all of the images. This is just a few of the pages…the entire book is around 45-50 double pages with all manner of pockets, fold outs, telescoping images, tags and pull outs. Some tell the history of Texas, some are on individual cities and regions of Texas..some tell about personal family history &  experiences, recipes, music & some are just for fun.

I love all the fun images on this page..the only thing that always bothered me is the misspelling of "y'all" on the left page. I cut this out for the size, went ahead and used it, but it still bothers me. I guess the typist just had her contractions confused, since as every Texan knows, y'all is "you all" and the apostrophe goes after the y. And just to be clear, "y'all" is singular, "all y'all" is plural, lol.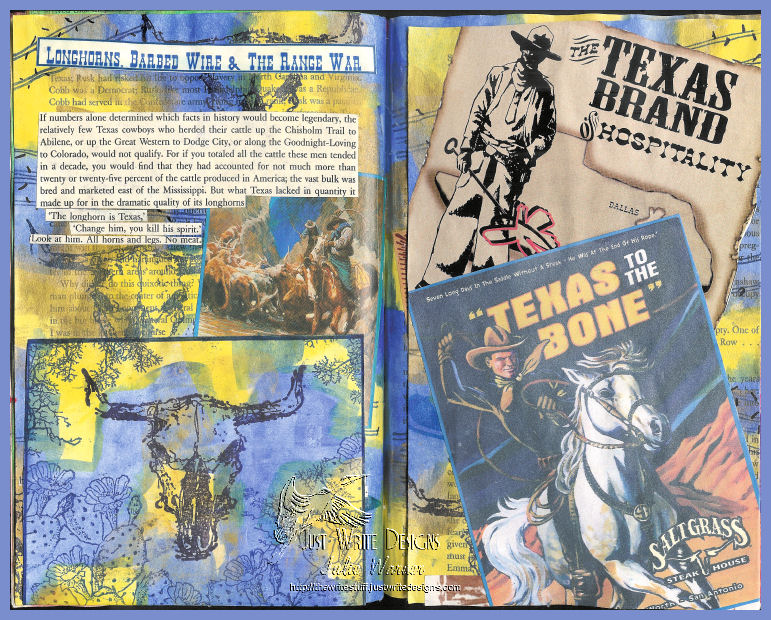 And this page is also for the Ways to Use It (WT464), Horses as well as the Mix53.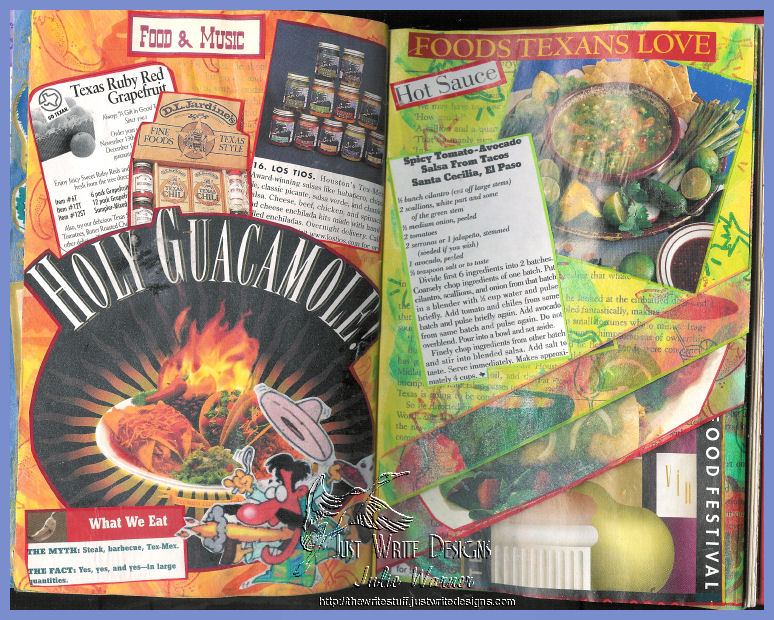 This is a group of pages (see the angle cuts on the right?) that have a bunch of recipes and pictures of Tex-Mex food and restaurants.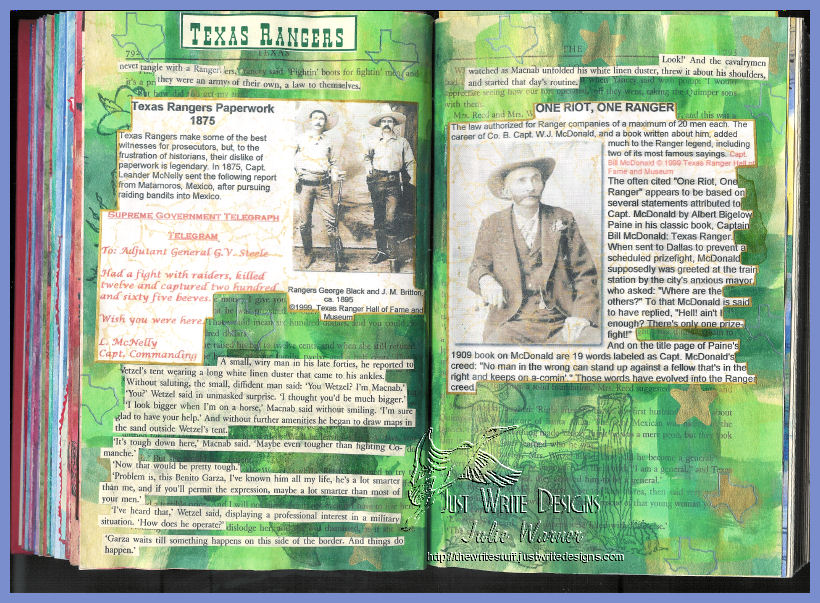 This is a couple of fun stories about Texas Rangers and since we have an ancestor who was a Ranger, it was fun to include it.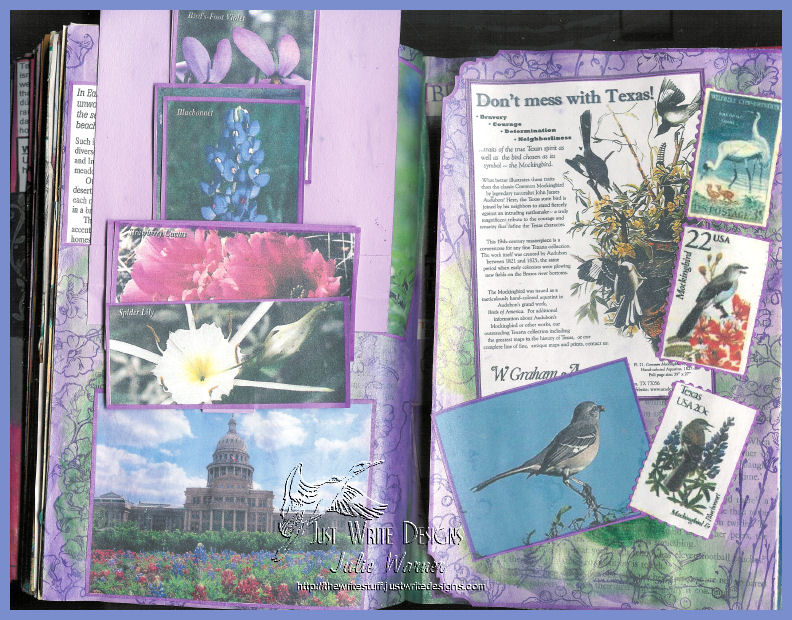 Some Texas wildflowers, state bird and postage stamps.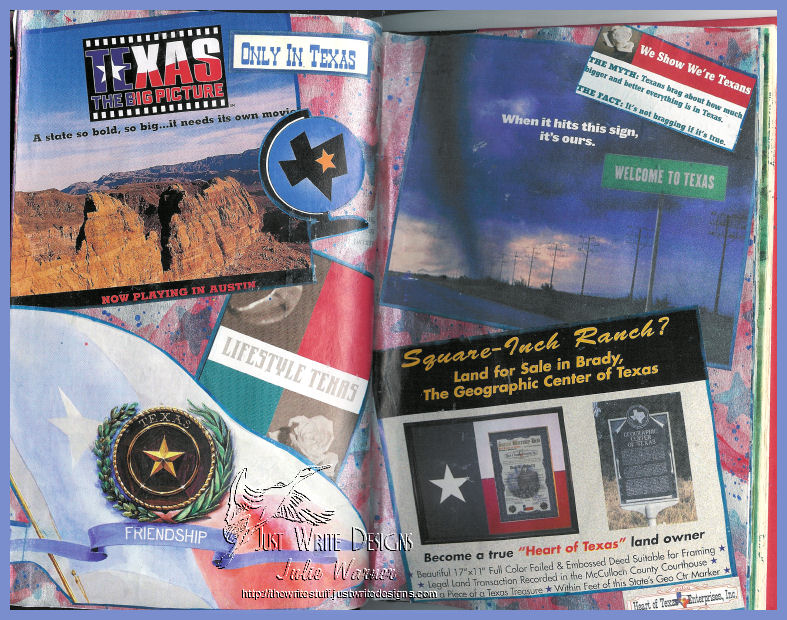 Another page with pretty pictures but I don't know if you can still buy a little piece of Texas as this ad says.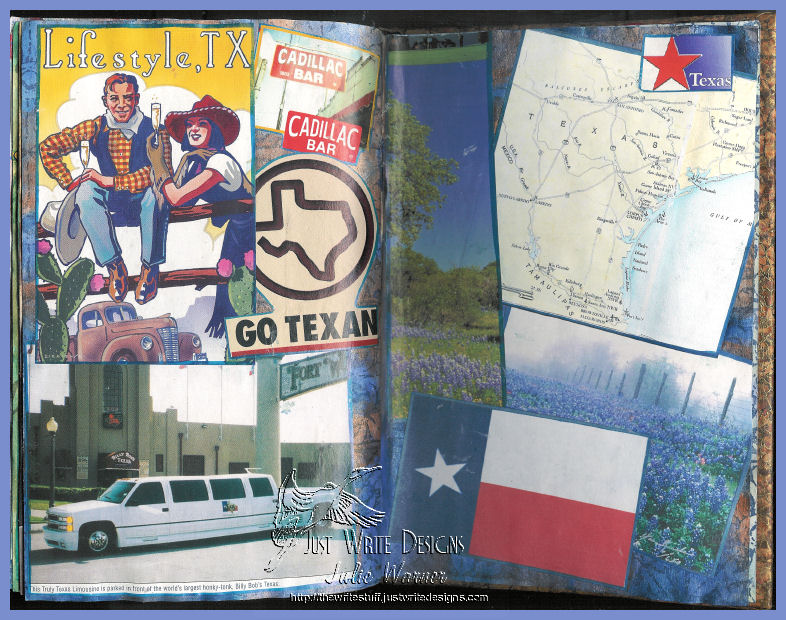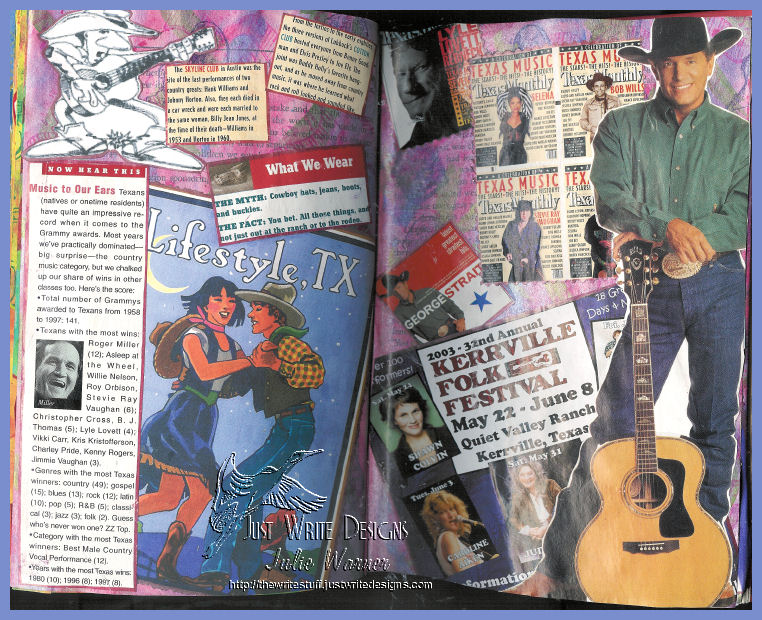 And here we have some Texas music! Is there anything better? I've been to the Kerrville Folk Festival and it was always fabulous! And just interesting to me, but one of my cousins lived down the street from one of the ZZ Top members (I won't say which, lol) and Buddy Holly was a cousin of my dad's (so I guess he was cousin too) and they were born on the same day, same year. How cool!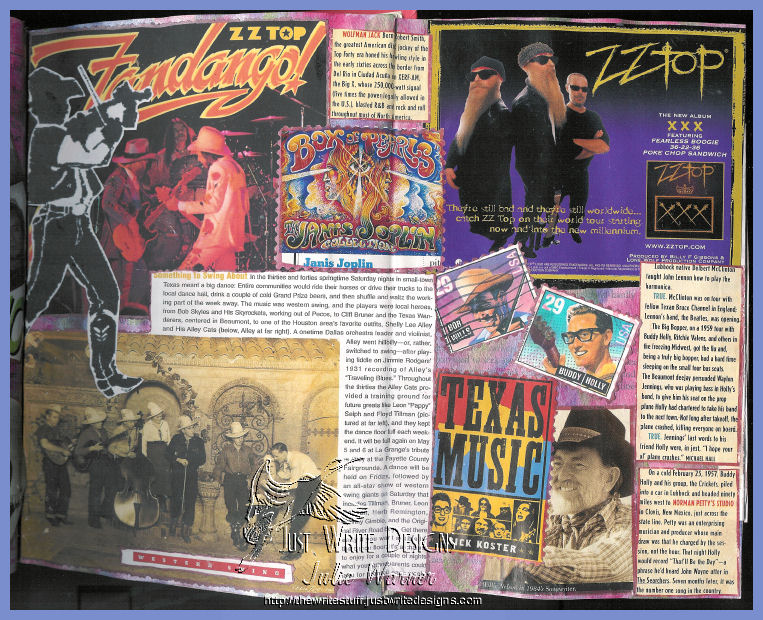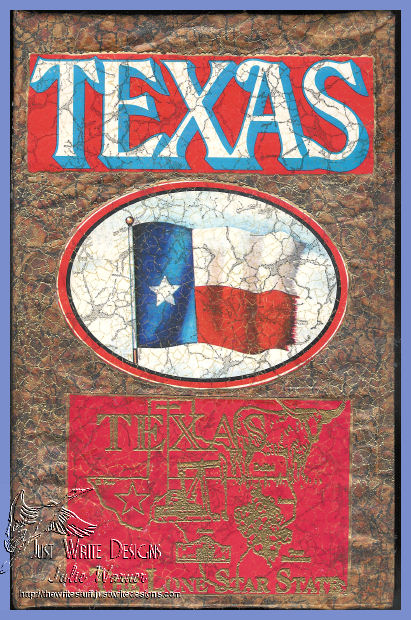 And this is the cover. Like I mentioned, these are just a few pages, but I hope you enjoyed them!
Thanks so much for stopping by!