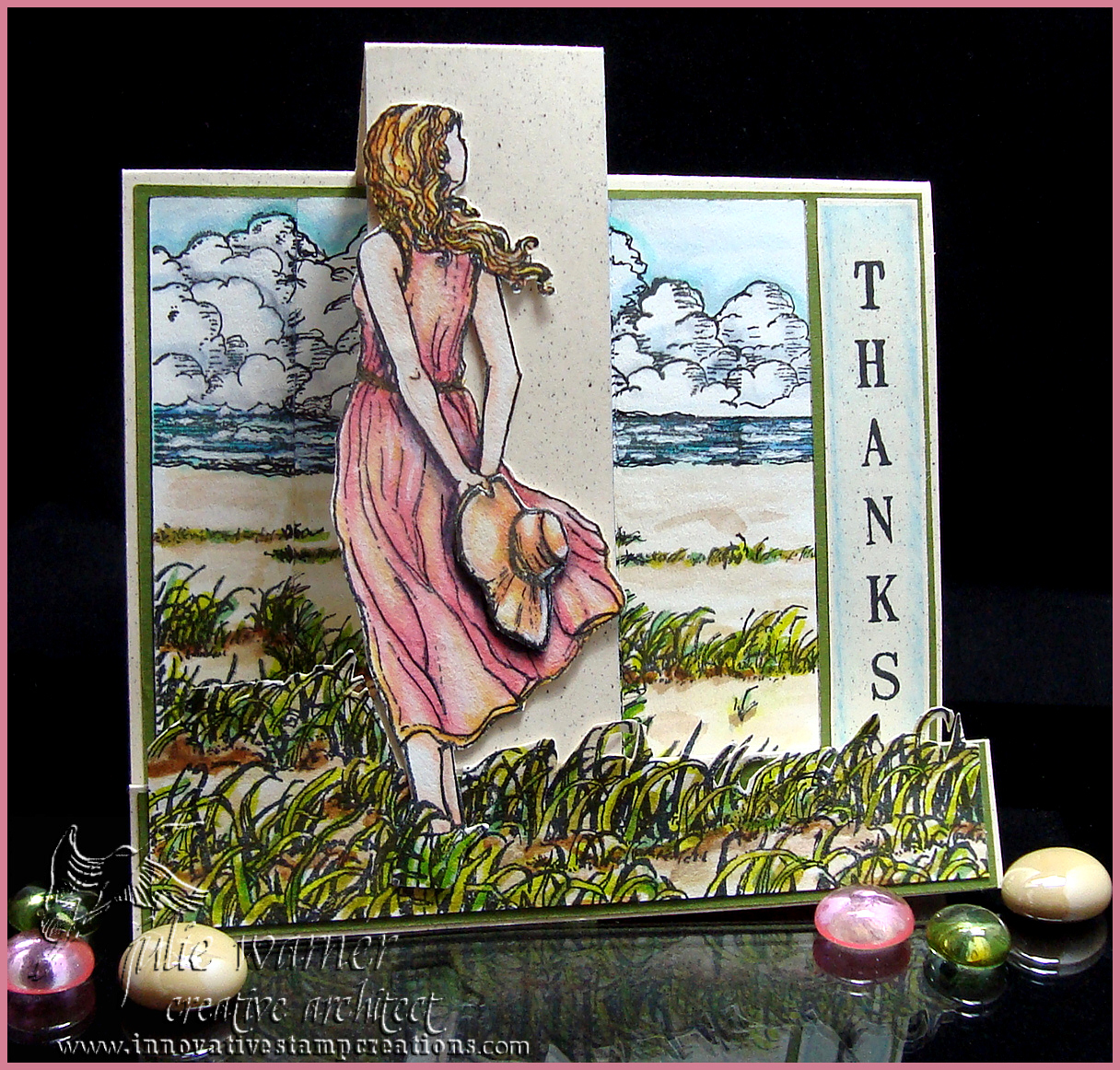 Today, we're featuring  Friendship II . What a lovely image! Originally, she was part of the beach background, but I cut her out and pieced the scene behind her to make it bigger.  I patterned my card on a Center Step Card but I made a few changes. Mine is not directly in the center- it's offset to the left. And the center pop out section has another fold at the same place the rest of the card folds. I had to add this because the beach scene covers up the opening behind the girl.  I also added more of the foreground beach grass to the bottom "step". Everything was colored w/ markers. The finished card measures 5.5 x 5.5 (at the tallest point).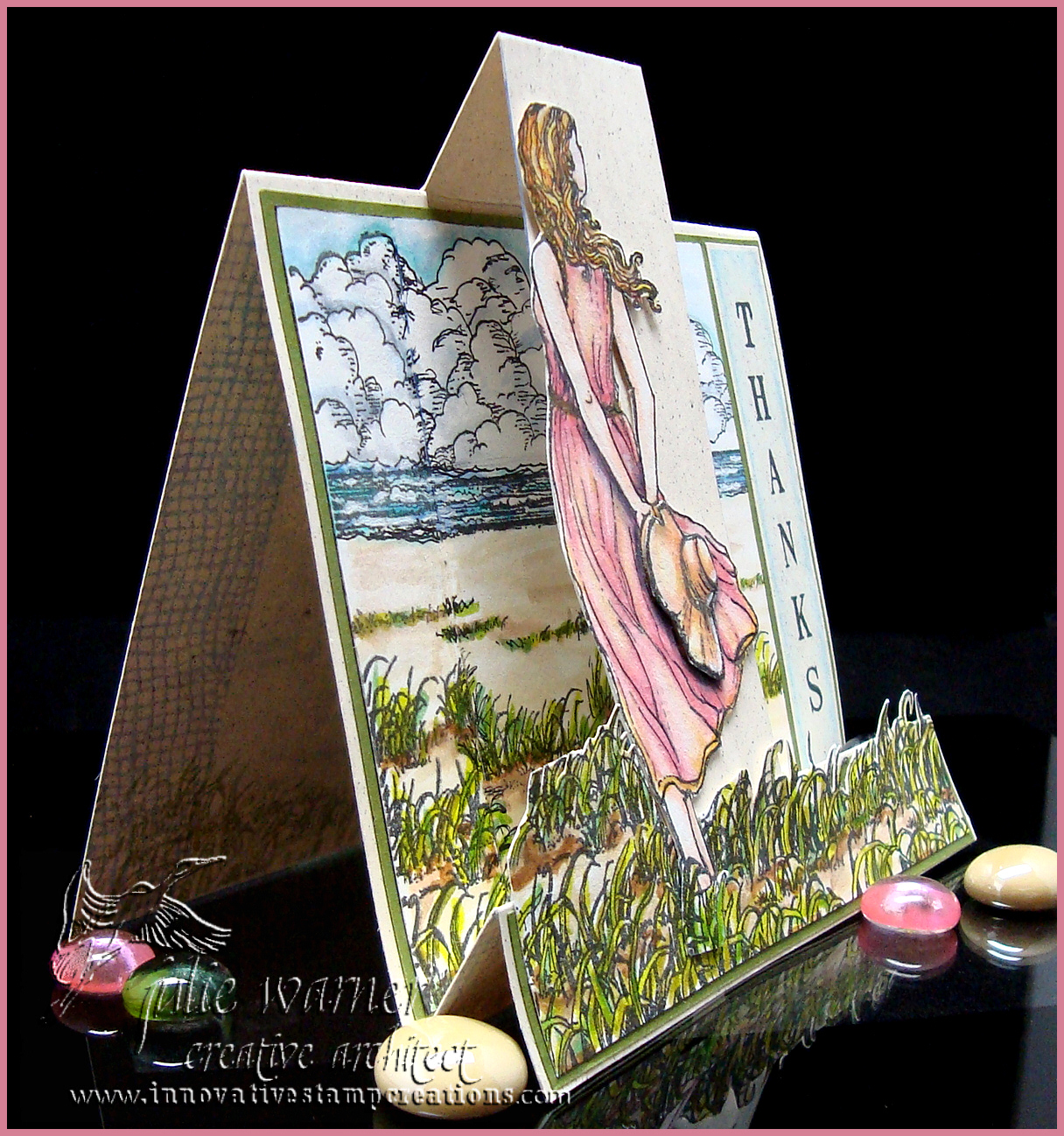 stamp sheet size: 8 1/2 x 5,  Lady on the beach size: 4 x 5
Sayings on Friendship II sheet:
Best Wishes
Thanks
Hello
Just for you
Moments of friendship make a beautiful day
Thanks so much for stopping by!


Supplies:
Stamps: ISC – Friendship II
Paper: water color, oatmeal speck, olive
Ink: VersaFine Onyx, Memories sky
Accessories: Tombow markers, Scor Buddy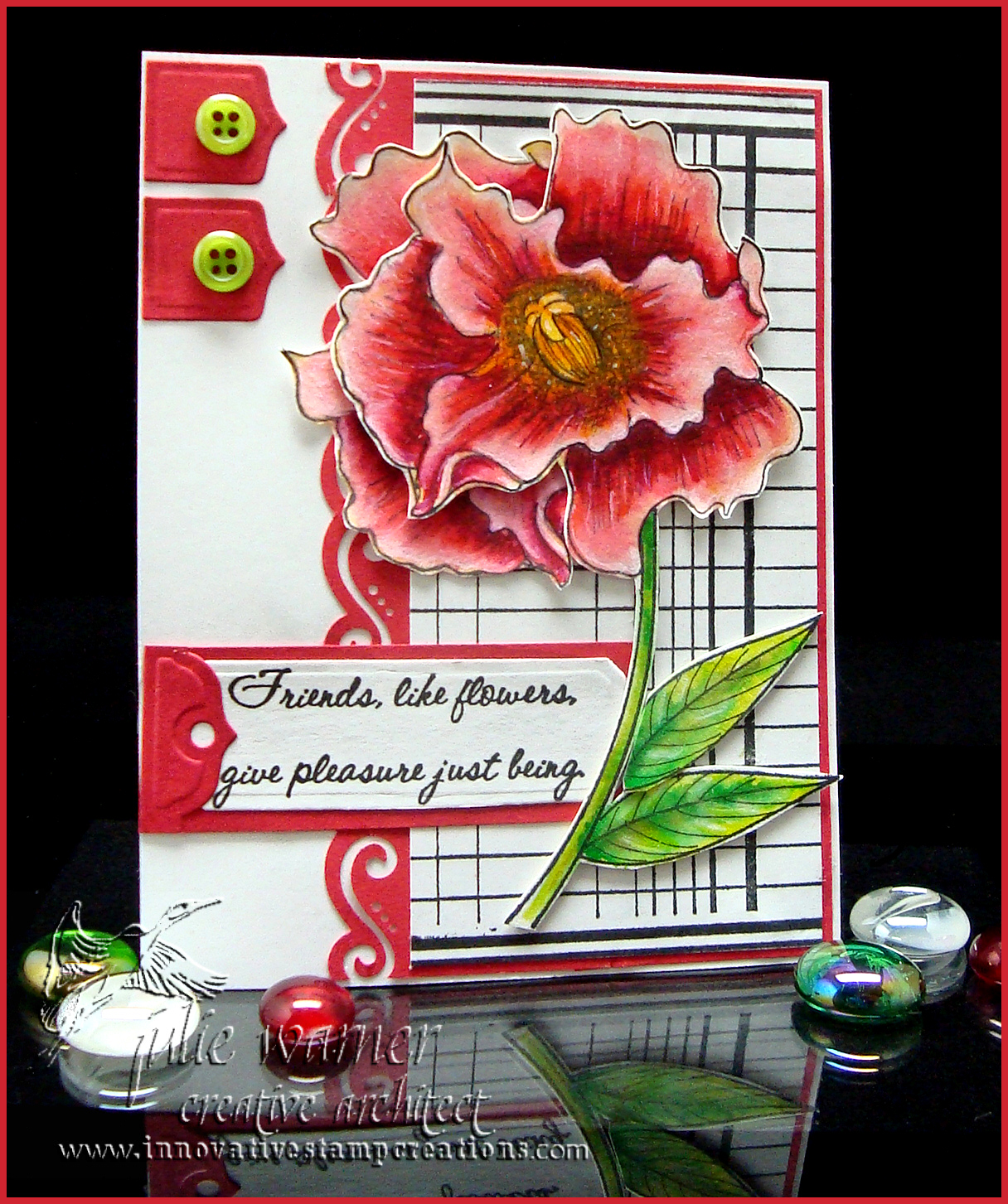 Today we're featuring  Friendship Flowers II.   There are two large flowers, a lily and a poppy, and I'm using poppy on my card.  I stamped it twice, colored both w/ markers, cut one complete poppy and a portion of the flower petals and one leaf from the second.  The partial flower was attached under the main flower and I attached it to a large background stamped with the Ledger image. The sentiment was die cut using a tag die and I added some little red banner die cuts and buttons. I used a border punch for the red layer and the finished card measures 4.25 x 5.50.
Info about Friendship Flowers: sheet size: 5 x 8 ½ -Lily Flower size; 3 x 6 -Poppy Flower size: 2 3/4 x 5
Sayings on Friendship Flowers II sheet:
Friends like flowers give pleasure just being.
Color=Joy
Sending You Happiness
Friend
Thanks so much for stopping by!

Supplies:
Stamps: ISC – Friendship Flowers II, Background Series Ledger
Paper: white, red
Ink: VersaFine Onyx
Accessories: border punch (EK Success), Tombow markers, Spellbinders tags & banner basics 2 dies, buttons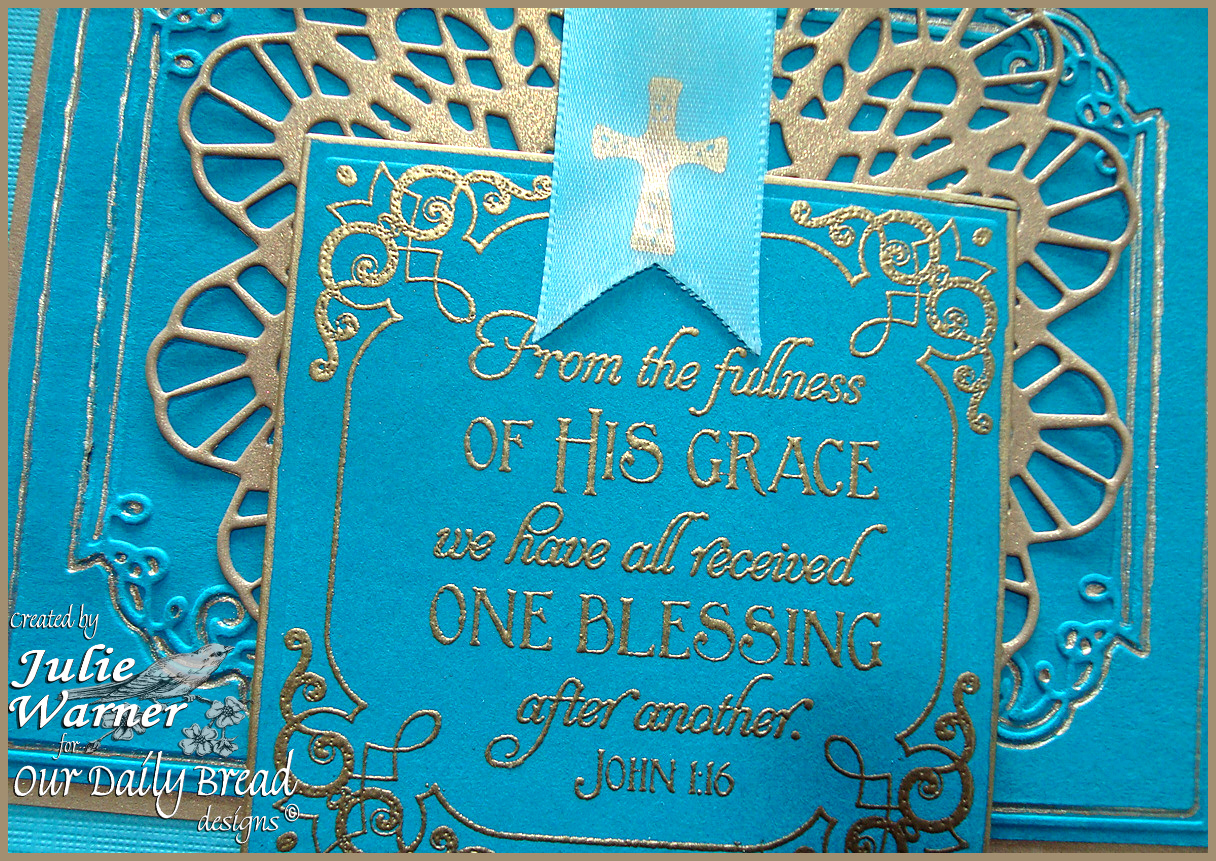 I'm excited to share a card I made with the brand new Our Daily Bread designs release, the customer favorites Scripture Series 2!  As part of our third year anniversary celebration, customers submitted their favorite Scriptures that they would like to use on a card, and after much thought the winners were chosen and made into this special edition set.

For my card, I gold embossed the scripture and frame on teal card stock and die cut it using a Spellbinders square die.  I used a Cheery Lynn Italian Flourish die on the gold card stock and this was a breeze to cut using my Grand Calibur. The large teal layer was embossed with a Cuttlebug folder and I used a gold gel pen to trace the lines. The gold cross ribbon was white but I used a marker to dye it to match my card.
To see the full release, as well as samples made by the winners of the contest whose verses were chosen, and to hear their stories of why they chose the verse they did, please visit the Our Daily Bread designs Blog!  Also, the Design Team has created samples for your inspiration with these Scriptures.  Here is the list of participants.  There are hidden prizes along the way, so be sure to leave a comment on each one for a chance to win! 
 Sabrina
 Fran
 Lisa
 Becca
 Angie
 Sandee
 Dawn
 Connie
 Marie
 Pat
 Grace
 Lori
 Chris
 Julie (you are here!)
 Debi
 Gemiel
 Patter
 Silke

Thanks so much for stopping by!

		
		
			


			


		
	


Supplies:




stamps: ODBD - Scripture Series 2, Scrolly Borders




paper: teal, metallic gold, turquoise textured 




ink: Tsukineko Encore Ultimate Metallic gold




accessories: detail gold embossing powder, Spellbinders square die, 
Cheery Lynn Italian Flourish die, Cuttlebug Grace's Frame embossing 
folder, Krylon gold leafing pen, gold gel pen, ribbon, 
Tombow turquoise marker