Archive for December, 2011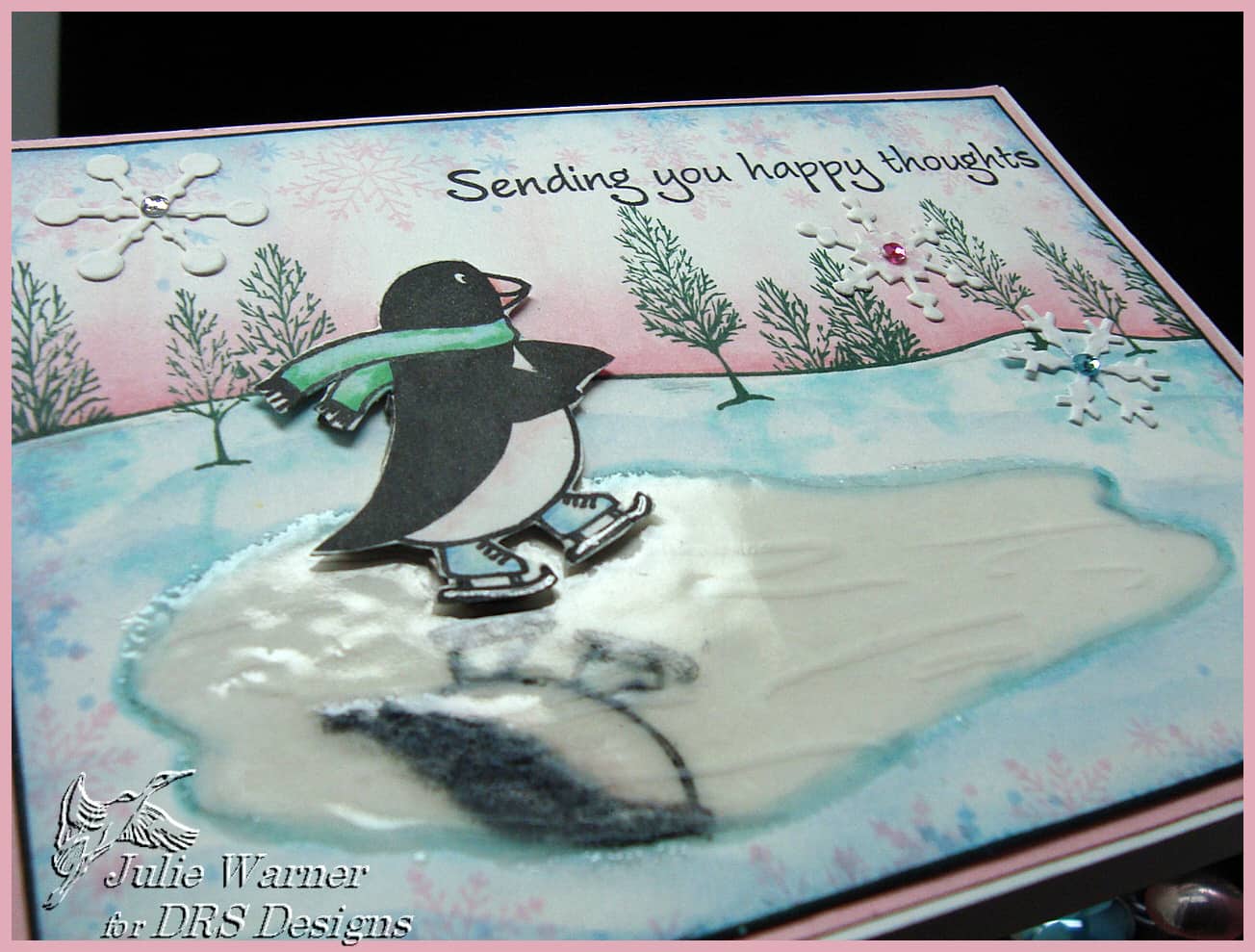 Best of 2011 Happy Friday before Christmas! 
Are you ready? I always plan to be ready ahead of time. Best laid plans, right! Like this happy little fellow, my best plans are skating away, but at least the happy thought is there!
For my skating scene, everything except the cut out and added penguin was done on the one layer. I started by stamping the tree line then masking the snow and sponging the sky. There's just something about a pink winter sky that I really like so I tend to use this color for winter skies. I flipped the mask to cover the sky and sponged in some snow w/ a lt blue ink. All except the pond. I penciled in where I wanted it and left it white. A little shading was added around the trees w/ markers.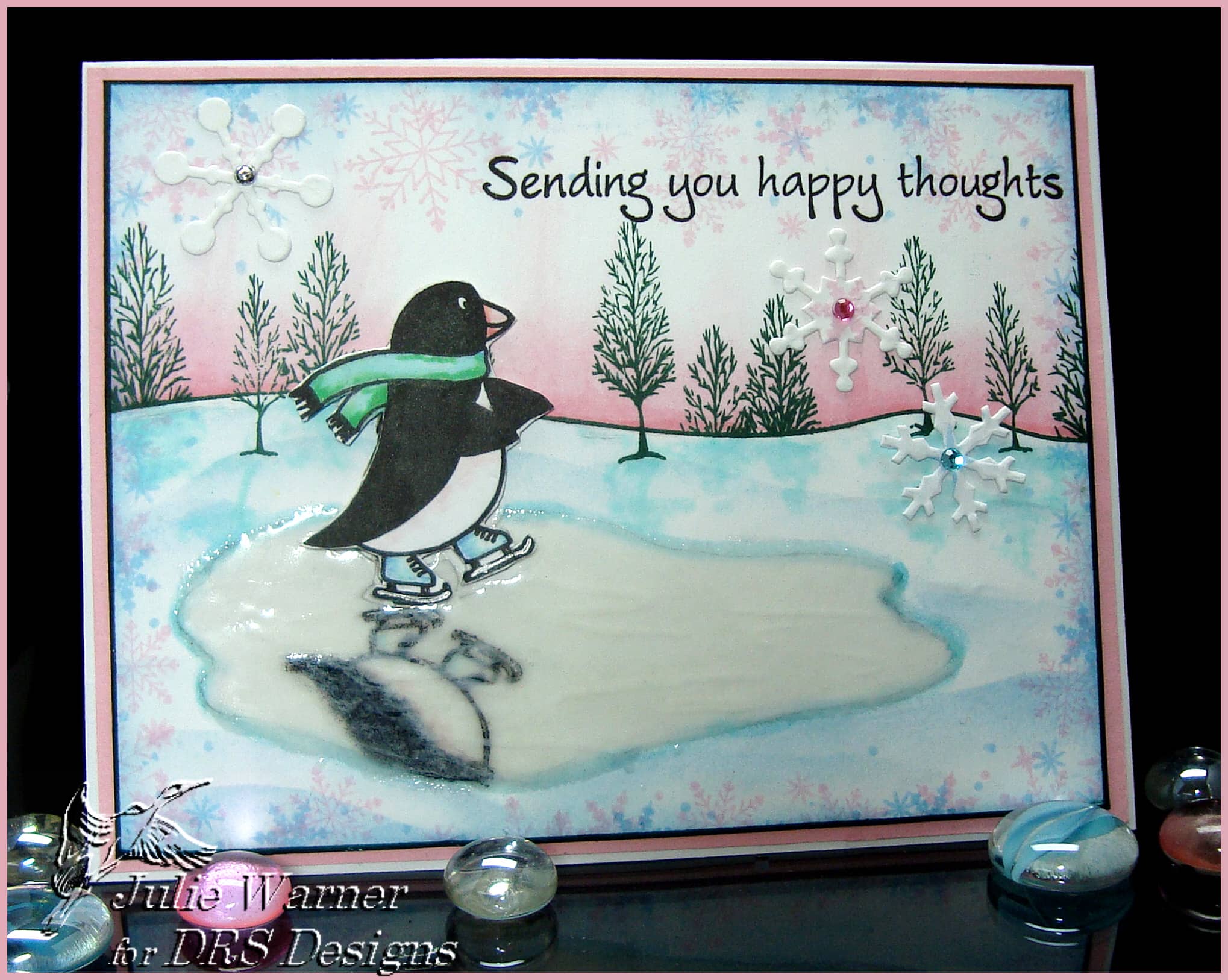 After I determined where my skater would go, I stamped him again on the plastic sheet of my SAMJ (stamp-a-ma-jig), lined up the foot under where his right foot is, masked the edge of the pond, and stamped the reflection using the image on the SAMJ sheet as the stamp. It's really harder to describe than it is to do. It's just a simple reflection technique. After that, I covered the pond using a VersaMark pen and embossed w/ clear powder twice. Then I added a few scribbles w/ a white Permapaque marker and embossed w/ another coat of clear ep. We used to call this super embossing. It really makes it look like an icy pond.
Thanks so much for stopping by!


Supplies:
stamps: Interlocking Snow Bg, Snow Background, Tree Line Border, One Line Happy Thoughts greeting, Skating Penguin
paper: white, pink
ink: VersaFine onyx, Memento angel pink & summer sky, Archival library green (for the tree line)
accessories: VersaMark pen, SAMJ, clear embossing powder, Tombow markers, Cuttlebug snowflake die, rhinestones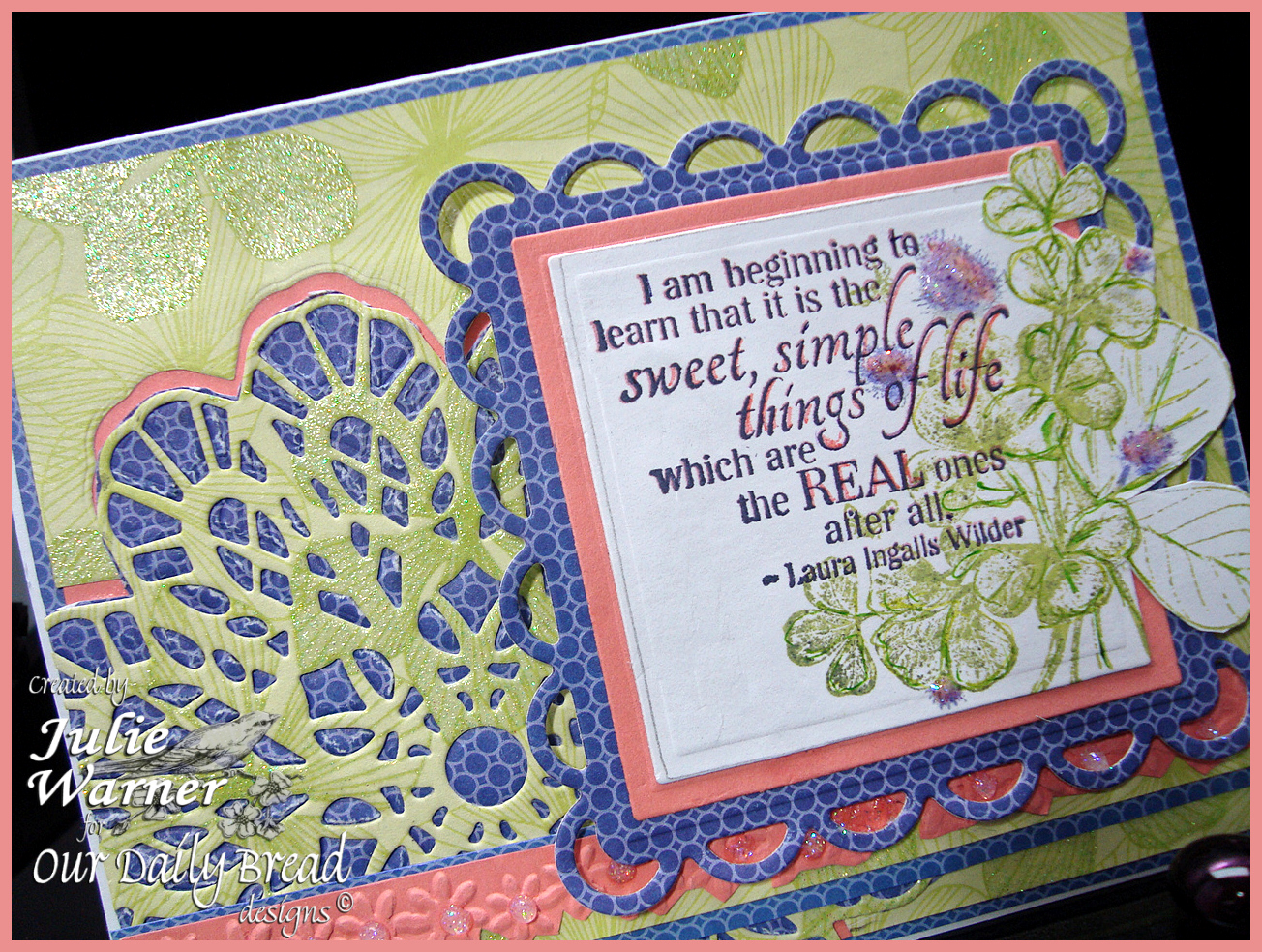 Best of 2011
It's almost Christmas! Only a few more days! Are y'all ready? I still have lots of wrapping and baking to do. Not really sure why I'm always behind, but no matter how well I think I plan, it always comes down to the wire. And there's always that one gift that goes missing. According to the tracking, it's been doing a winter vacay in Colorado since Dec 13. How do I get a deal like that, lol?
I made this for today's Sketch Challenge (SC364) and yesterday's Color Challenge (CC354) at Splitcoast. Wonderful sketch and it turns out the colors are kinda nice together. Not sure I would have ever come up w/ the combo, but it's growing on me.
All images are Our Daily Bread designs. With these colors, I figured I would have a tough time trying to make a last minute Christmas card, so I packed that idea in pretty quickly and went w/ a spring card. I inked the clover w/ the lime ink, wiped off the little clover blooms and inked them w/ a wisteria marker. The sentiment was stamped first w/ the rose coral ink then lined up and stamped again w/ the grape ink. I used a coral marker to highlight a few of the words.
I die cut it using the out of the box Nestie technique and added a coral layer and lacy square layer out of dp.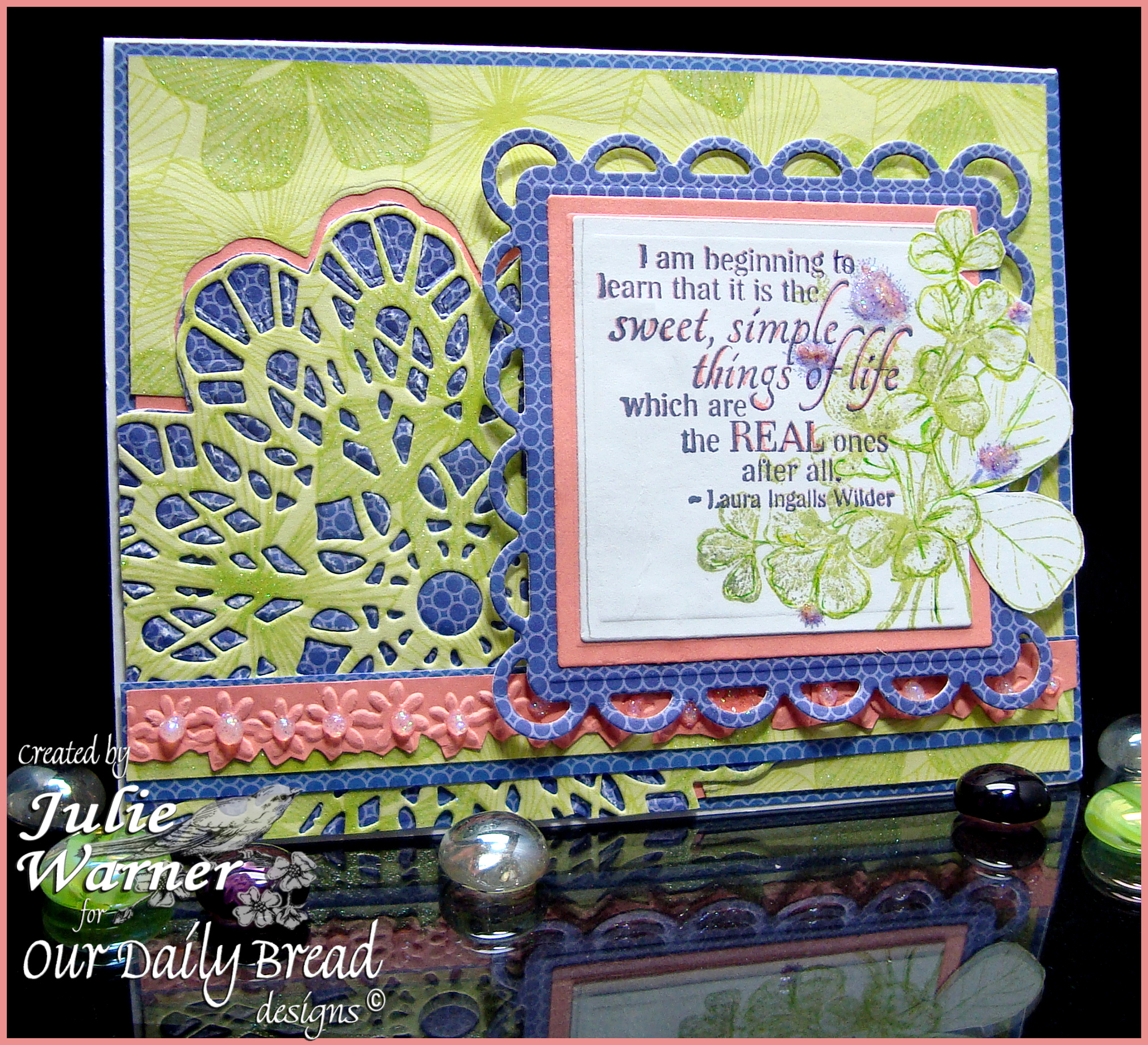 For the circular element on the left, I die cut a piece of sparkly lime dp using a Cheery Lynn die. I used the same die on a piece of wisteria colored dp but did the emboss only. I attached the lime die cut on top and trimmed around the edges. Not really sure how this came about, but I put a coral like piece of c/s under the area I cut out of the lime and attached the die cut back on top, but a little off.
I added a cuttlebug embossed strip across the bottom, w/ a little stickles and attached to a 5.50 x 4.25 card.
Thanks so much for stopping by!



Happy Holidays!
Supplies:
Stamps: ODBD – Simple Things
Paper: white, dp (all SEI – On the Coast collection), some coral like c/s
Ink: Archival grape, Colorbox rose coral & lime chalk inks
Accessories: Spellbinders squares & lacy squares dies, Cheery Lynn Italian Flourish die, Cuttlebug With Love border folder, Tombow markers, stickles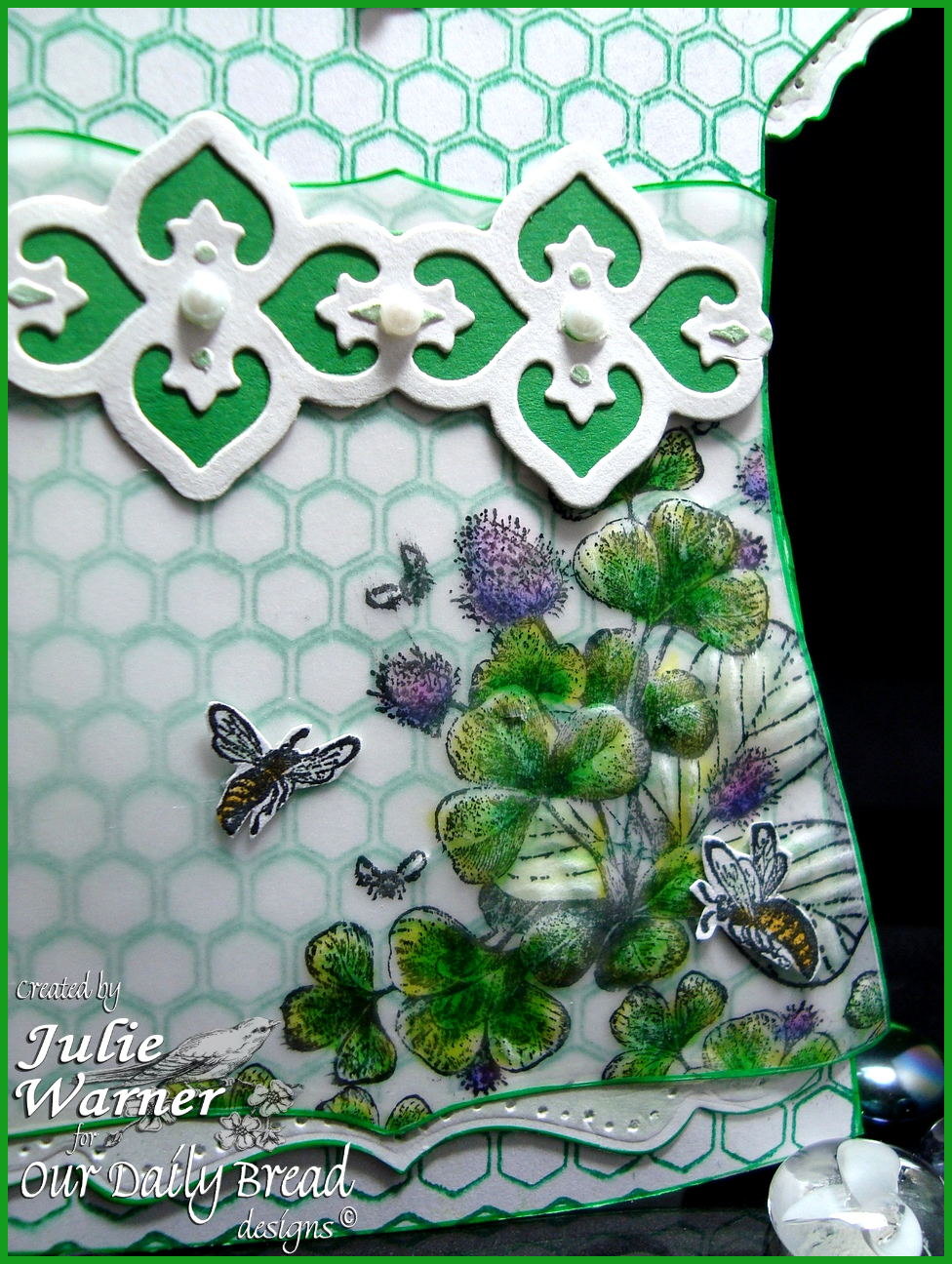 How timely for today's Ways to Use It Challenge (WT353)!  We are to pick a favorite and base our card on it. When I was looking thru the FS gallery for Peggy this last Sunday, I came across a couple of her cards Venetian Dress and Easter Dresses.  The funny thing is, her Easter Dresses were a case of some Easter Dresses I made! It reminded me how much I liked these little dresses, so this is a case of a case, lol.
I had to hunt, but the dress pattern for this is still available here: Dress Pattern. The images I used here are all from Our Daily Bread designs. After printing and cutting the card into the dress pattern, I stamped the front w/ the honeycomb bg. For the apron, I used vellum and stamped the clover in the lower right corner.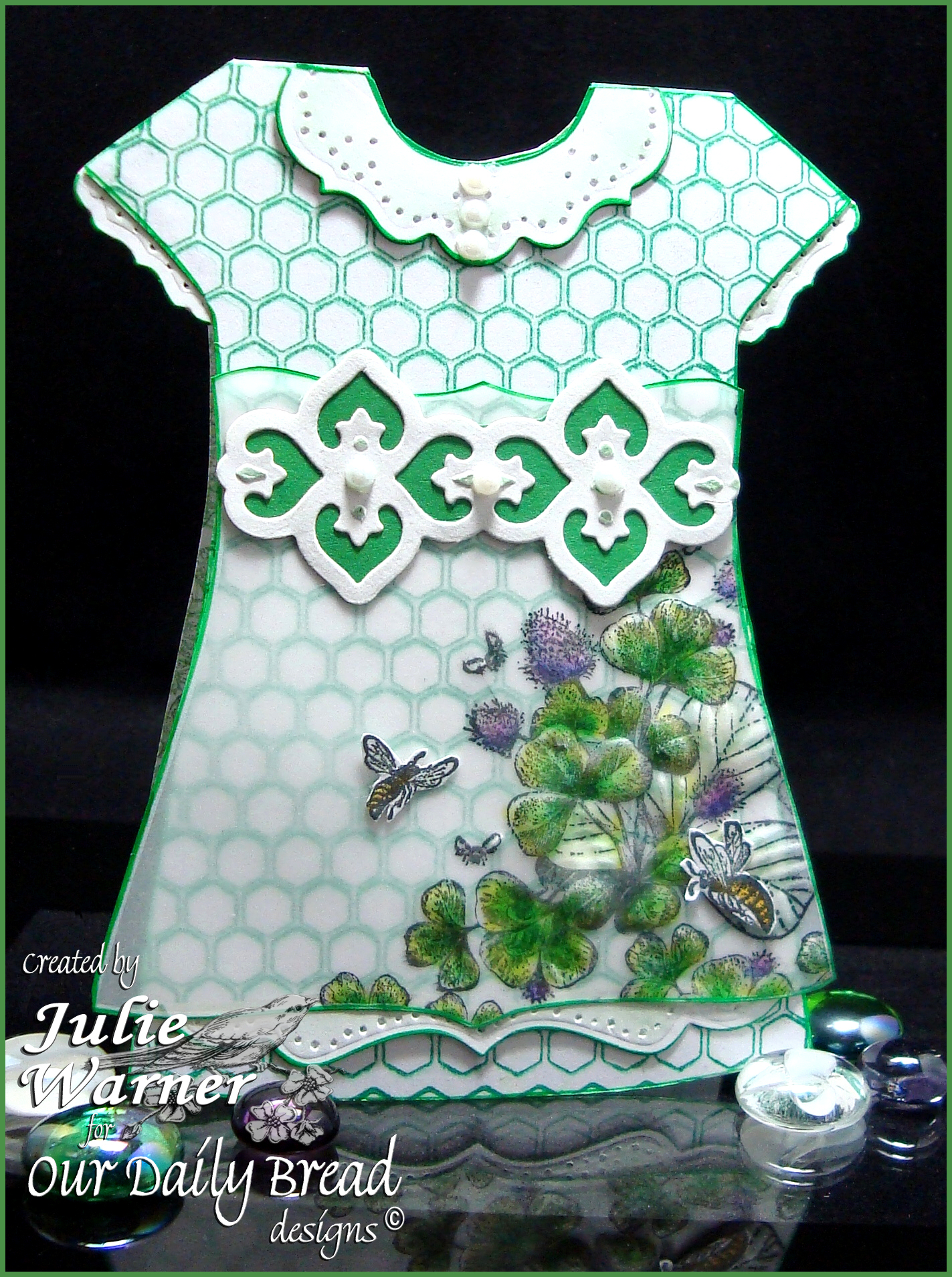 With a stylus, I debossed the vellum for a little depth then used markers on the backside. The belt was die cut and I added a green band underneath. For the bottom of the apron, the sleeves and the collar, I used little pieces I die cut using the Spellbinders labels. The card fits in an A2 (4.25 x 5.50) envelope.
Thanks so much for stopping by!


Supplies:
Stamps: ODBD – Simple Things, Honeycomb Bg
Paper: white, small strip of grass green, vellum
Ink: Ancient Page coal, Brilliance gamma green
Accessories: Spellbinders labels 17 & 20, Spades borders, Tombow markers, pearls, Galaxy green marker