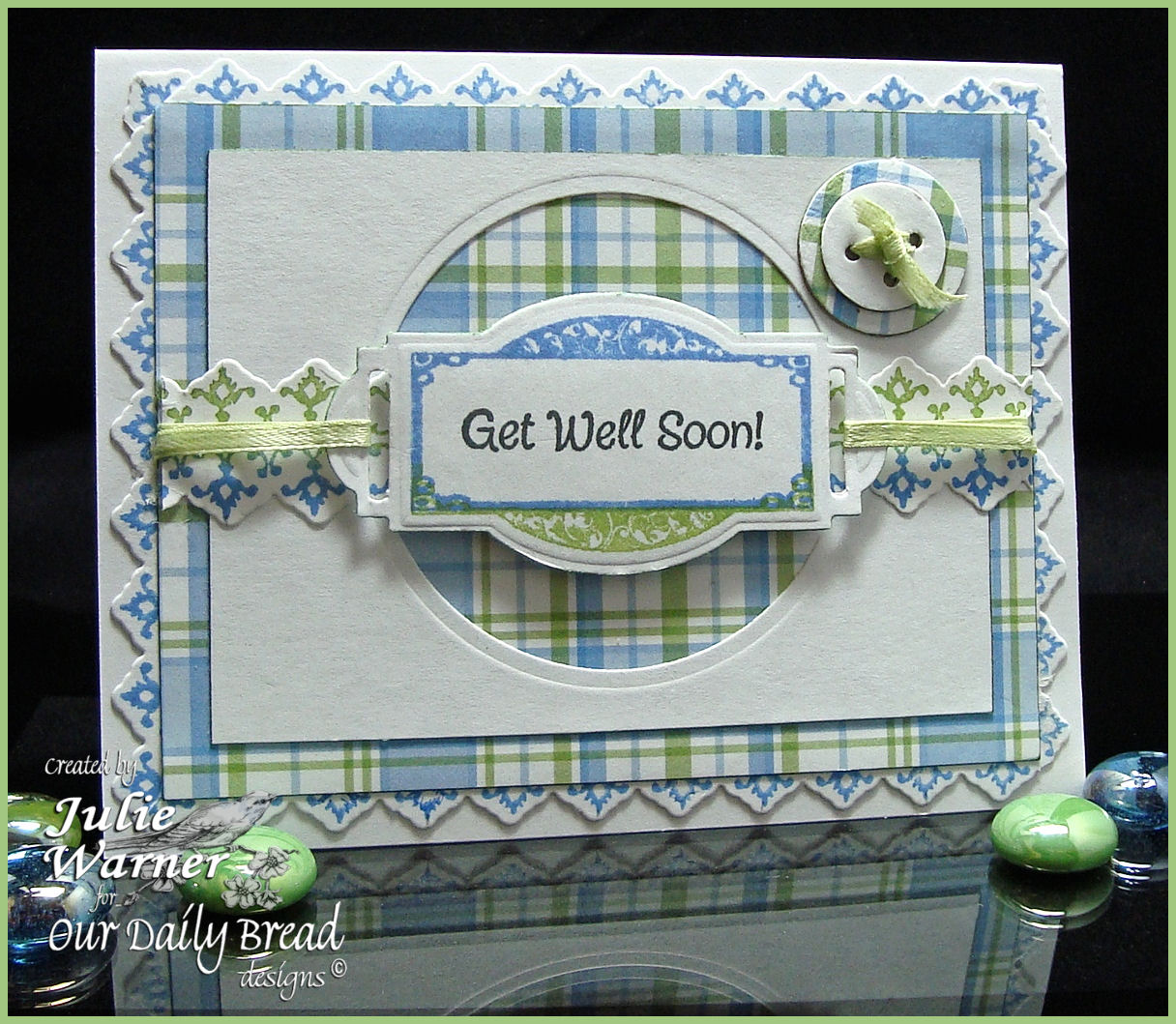 Don't you love a Free for All, anything goes? That's exactly what today's Free For All (F4A66) challenge is about today at Splitcoast. I'm guessing there will be a LOT of entries in this gallery! I know I'll probably have a few.
For my get well card, I'm using some dp that was given to me probably a year ago. I love these colors. All images are Our Daily Bread designs. This came together pretty quickly, I had the white w/ the circle cut out of it just sitting on my table and for fun, I put it on top of the dp. I'm kinda liking this, lol. I stamped the top part of the image w/ the blue, turned it around to create a fancy bottom w/ the green ink. (The image is normally a straight line across the bottom; just like the coordinating Spellbinders die.) I did a version of the resizing technique w/ the die by cutting only the top section, turning the die around and cutting it again so that the curved section is on top and bottom.
I added a die cut vintage border behind it and also all around the edge of the dp. The finished card measures 5.5 x 4.25. The die cut button was added on the upper right. I was going to put it on the left, but I had to cover an inky accident, lol. Oh well.
Thanks so much for stopping by!

Stamps: ODBD – Mini Tags 1 & 2
Paper: Neenah white, plaid dp (Making Memories – Ethan plaid)
Ink: VersaFine onyx, Distress Ink stormy sky, Ancient Page leaf green
Accessories: Sizzix button die, Spellbinders ribbon tags trio 3 & circles dies, ODBD Vintage Border die, SAMJ (stamp-a-ma-jig)
Instead of a new release, this month we're taking images of our choice and reworking, or using them again. Betsy says she gets a lot of request for more art using some of the butterfly images. We all buy images, maybe use them a few times, then move on to new stuff.  So this month, we're using images from our stash and let me tell you, I used a whole bunch of different images from a lot of different releases. And I'll mention here that NO Designer Paper was used. A lot of background images and inks were used to create the different looks.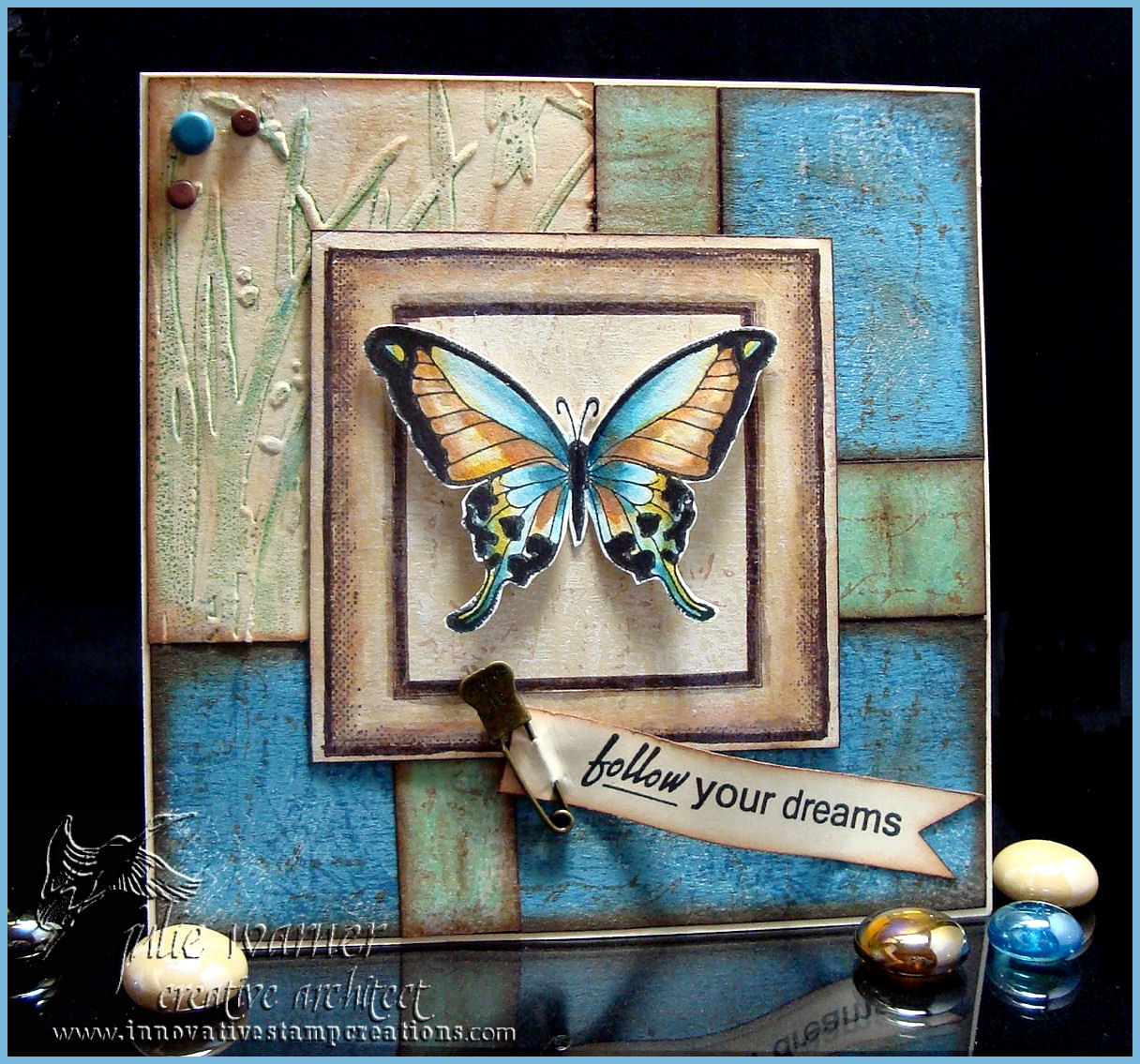 For inspiration on this first card, Betsy provided a link to a couple of pictures and I chose this Montage. I went very literal for my card. For the blue and green background, I used several texture background images from Textured  Backgrounds and Dimensional Elements Edges 1.  For the tan panel, I colored the inside of the embossing folder w/ a green marker and embossed it. All edges were sponged w/ the tea dye and chocolate inks. The frame was shortened to fit the central panel using a SAMJ and after coloring the butterfly w/ markers, I cut it out and attached it on top. The finished ivory card measures 5.5 square.
Supplies:
Stamps: ISC -Textured  Backgrounds,  Dimensional Elements Edges 1, Beautiful Butterflies III, Fruitful (frame), Tropics (greeting)
Paper: ivory, blue, sage, tan
Ink: VersaFine Onyx, Ancient Page chocolate, Distress Ink Tea Dye, Colorbox white pigment
Accessories: Cuttlebug Bird Call embossing folder, Tombow markers, brads, small pin, SAMJ (stamp-a-ma-jig)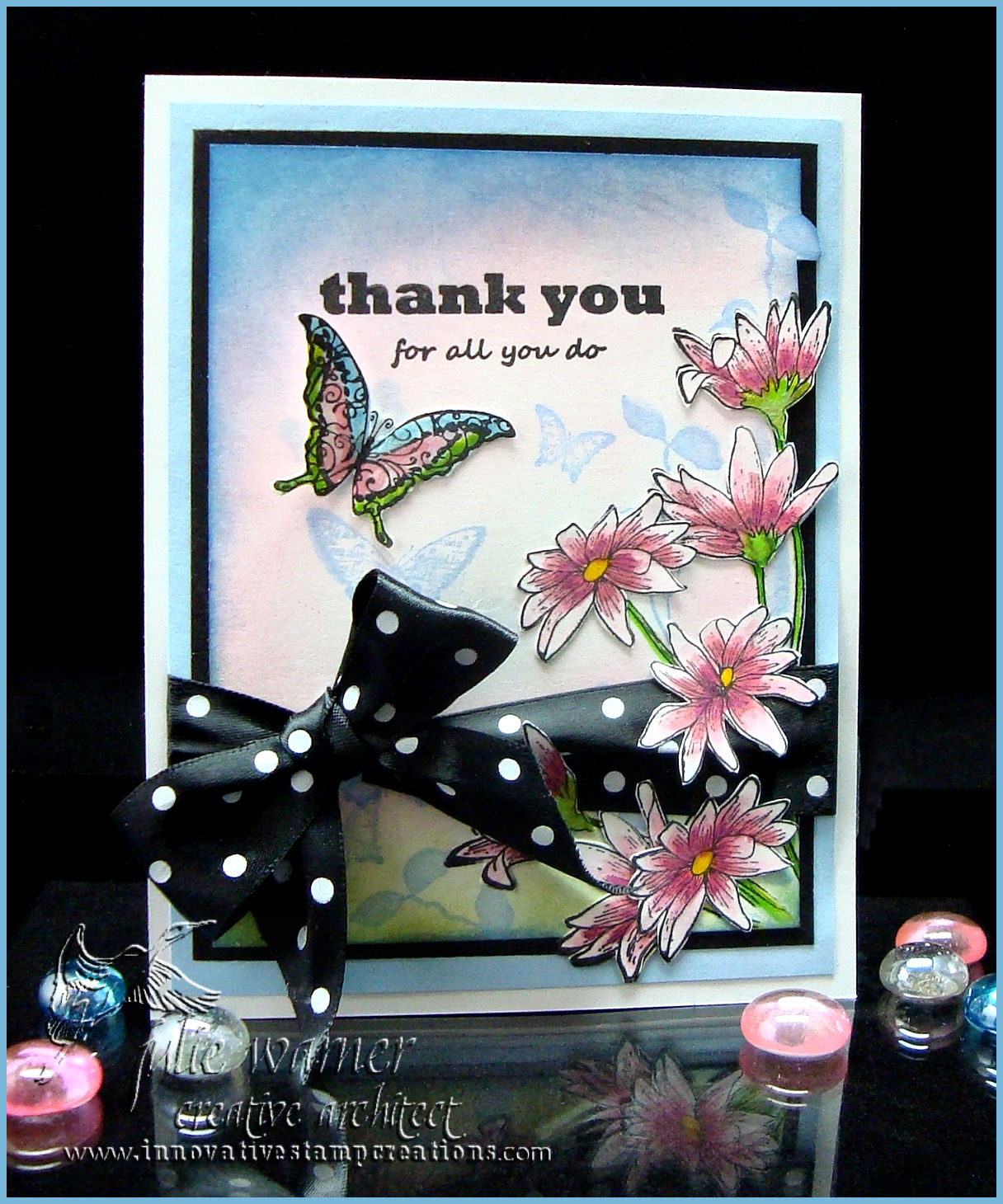 On the second card, I used sponging and masking to create the main panel. A while back, I saw this card by TheresaCC when she was the featured stamper at Splitcoast. I loved the layout but didn't have a chance to try it out until now. I stamped and masked the daisies and background leaves then stamped the daisies again on a separate piece of c/s. When I saw that the ribbon placement would cover the original images, I cut out the second set and attached them on top. The pink, blue and green inks were sponged onto the white panel w/ the image masks in place. The finished card measures 4.25 x 5.5.
Supplies:
Stamps: ISC – Oriental Nature Elements, Nature Silhouettes II, Nature Silhouettes III, Artful Décor, Silhouette Butterfly ATC, Marvels of Nature III (tiny butterflies)
Paper: Neenah white, baby blue, black
Ink: VersaFine Onyx, Memories soft baby blue & baby pink, Distress Ink shabby shutters, Colorbox baby blue pigment ink
Accessories: Tombow markers, wide polka dot ribbon
Thanks so much for stopping by!


For today's Ways to Use It Challenge (WT323) at Splitcoast, I went the easy route today and used a song for inspiration. I needed a grad card for my nephew and while making it, I kept hearing "Pomp & Circumstance" the whole time, lol. Since I was in the band all the way thru school, I bet I've played this song a million times.
All images are Sparkle N Sprinkle. Anyway, I gold embossed the greeting and diploma and die cut w/ a Spellbinders circle. The ruffled gold is two cupcake liners that I split, removed the middles and put them together to form a lg circle. I used a MS diamonds edge punch on the black glitter dp and formed a circle w/ it. The final part of the medallion is just strips of metallic gold ribbon attached to the back. (I didn't have time for a video, but I did take some pics so hopefully soon, I'll have them up for you to see.)
The black glossy layer is backed w/ a gold glitter dp layer. On the white layer, I used the CB swiss dots on top and the QK stripe label on the bottom. The stripes are very visible because I used them to line up and attach narrow strips of black and gold glitter dp. I saw some glitter striped dp in the store but it was the wrong color so I made my own to match. Finished card measures 5 x 6.5 (A6).
Thanks so much for stopping by!


Stamps: Sparkle N Sprinkle – Graduation set 435
Paper: Neenah white, black glossy, black glitter & gold glitter dp
Ink: Encore UM gold
Accessories: detail gold ep, Spellbinders circle, Martha Stewart diamond edge punch, gold ribbon, Krylon gold leafing pen, mini gold foil cupcake liners, Cuttlebug swiss dots ef, Quickutz stripes label ef