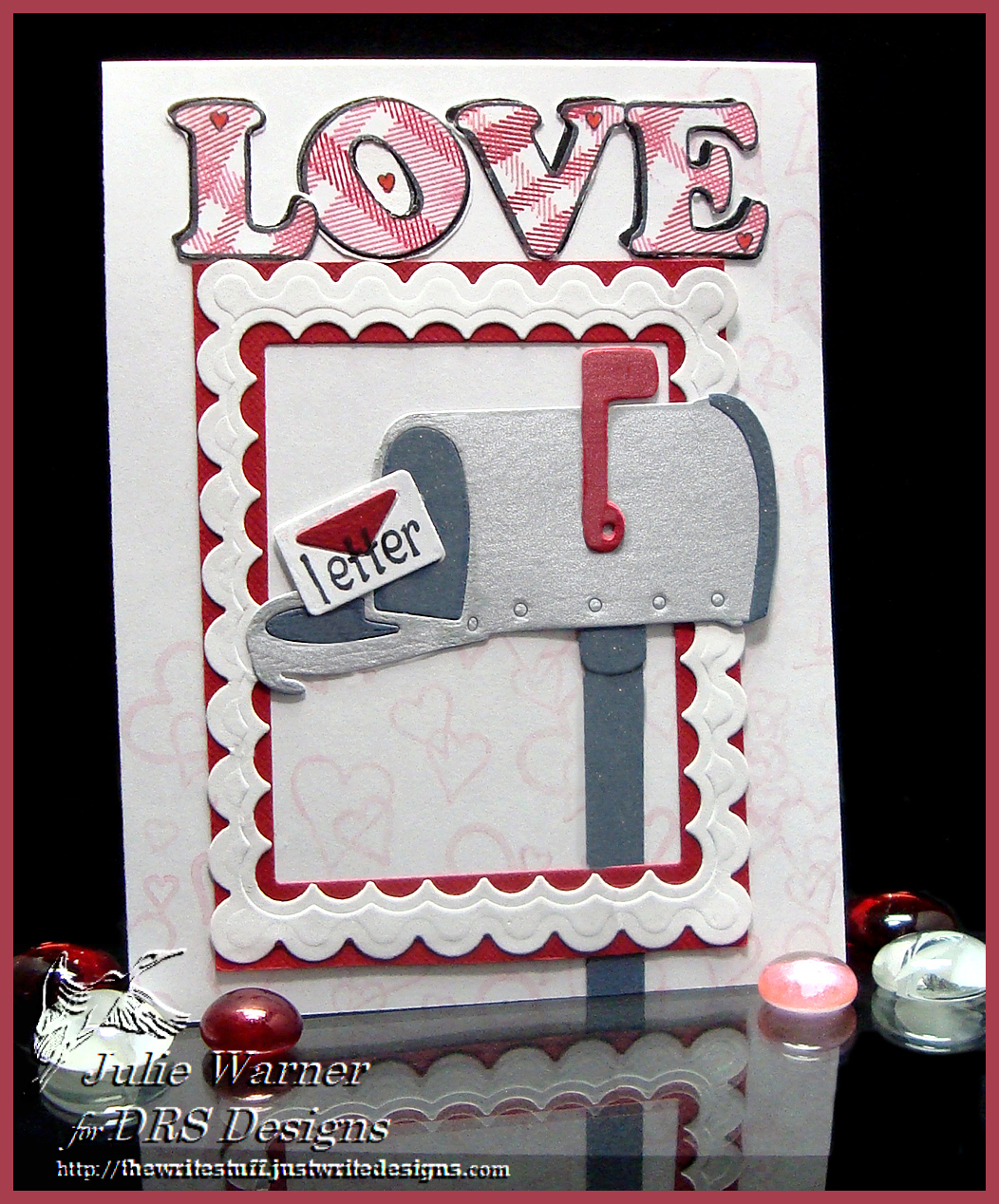 Today, I'm combining a few challenges from Splitcoast…first my card is for the Free For All (F4A206), to have LOVE somewhere on your project.
For the big LOVE letters on top, I stamped the woven plaid in a couple of directions, using a couple of pink/red colors, then stamped the stacked love image on top and fussy cut the letters.
On the 4.25 x 5.50 card front, I stamped the heart background diagonally using the light pink ink. The  fun mailbox is a die cut and I used a metallic silver, a metallic flecked gray and shimmery red card stock to cut it and assembled them together. On the little letter, I stamped parts of a new greeting (Hug a Nurse, You'll Heal Better…coming soon!) and I used a stamp positioner to add the L in place of the B in Better to create the word Letter. The white scallop and narrow red frames were left overs and I stacked them and arranged the LOVE on top and the mailbox thru the frames.
Supplies:
Stamps: DRS Designs – Stacked Love, Woven Plaid, Interlocking Heart Background
Ink:  Memento tuxedo black, love letter & angel pink, Colorbox rouge & warm red chalk inks
Paper: white, shimmer red, metallic silver, metallic flecked gray
Accessories:  Quickutz mailbox die, Spellbinders scallop rectangle & rectangles dies
For a couple of the following Altered Book pages, this first one is for the MIX53 challenge, Layers.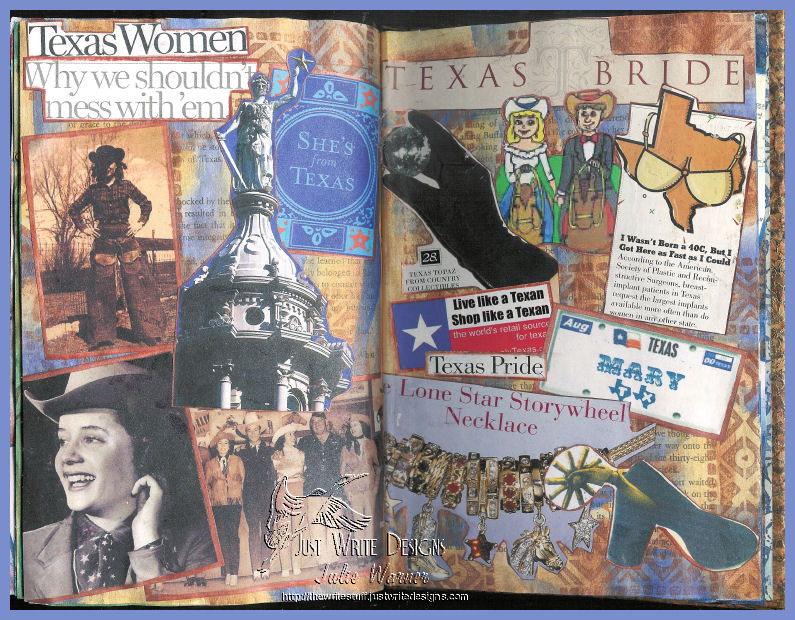 These are all pages from an altered book I made a while back for my sister's birthday. Since we were born and raised in Texas, I chose to start with the book "Texas" by James Michener. I used quite a bit of text from it, but also a ton of pictures from magazines, especially Texas Monthly, clip art and stamps from a whole bunch of companies. I started by removing some pages and gluing other pages together for stability, then used a variety of colors of acrylic paints to base coat the pages. Then I would use a variety of ink colors and stamped images to create the backgrounds. Then the collage work started with all of the images. This is just a few of the pages…the entire book is around 45-50 double pages with all manner of pockets, fold outs, telescoping images, tags and pull outs. Some tell the history of Texas, some are on individual cities and regions of Texas..some tell about personal family history &  experiences, recipes, music & some are just for fun.

I love all the fun images on this page..the only thing that always bothered me is the misspelling of "y'all" on the left page. I cut this out for the size, went ahead and used it, but it still bothers me. I guess the typist just had her contractions confused, since as every Texan knows, y'all is "you all" and the apostrophe goes after the y. And just to be clear, "y'all" is singular, "all y'all" is plural, lol.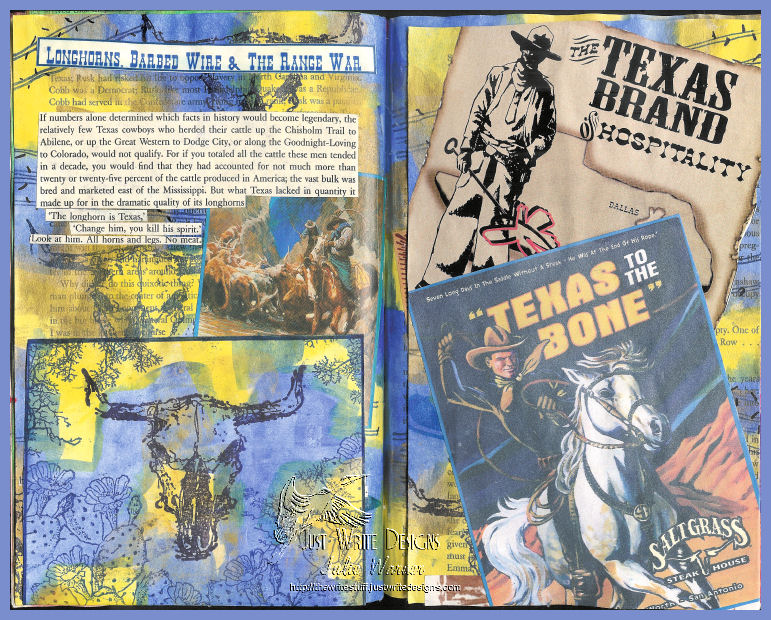 And this page is also for the Ways to Use It (WT464), Horses as well as the Mix53.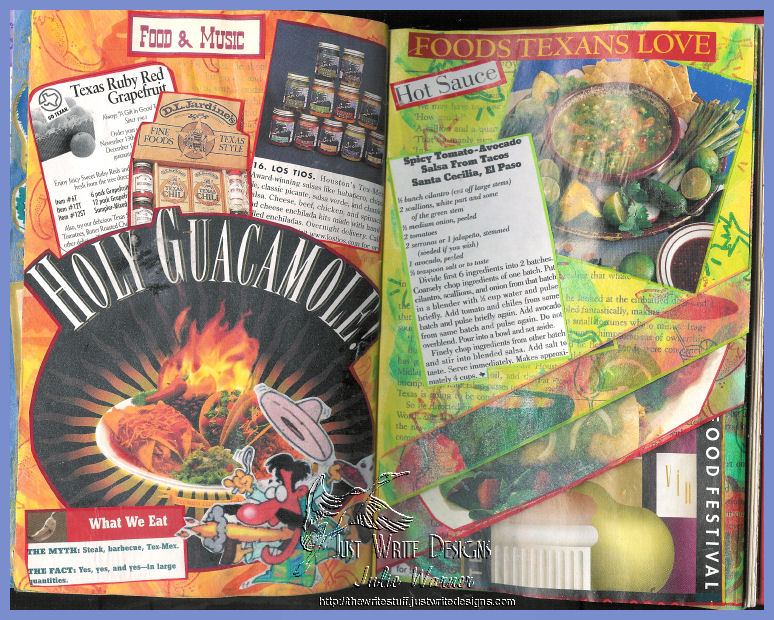 This is a group of pages (see the angle cuts on the right?) that have a bunch of recipes and pictures of Tex-Mex food and restaurants.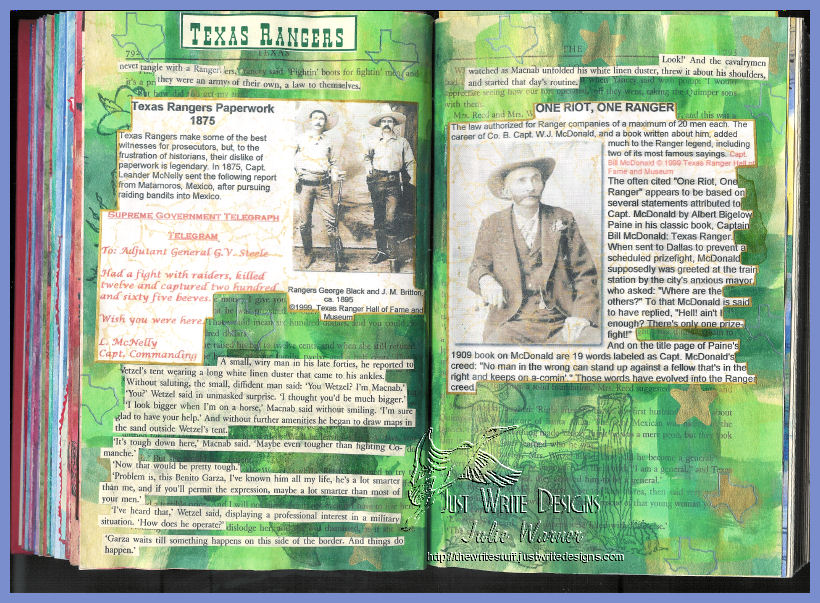 This is a couple of fun stories about Texas Rangers and since we have an ancestor who was a Ranger, it was fun to include it.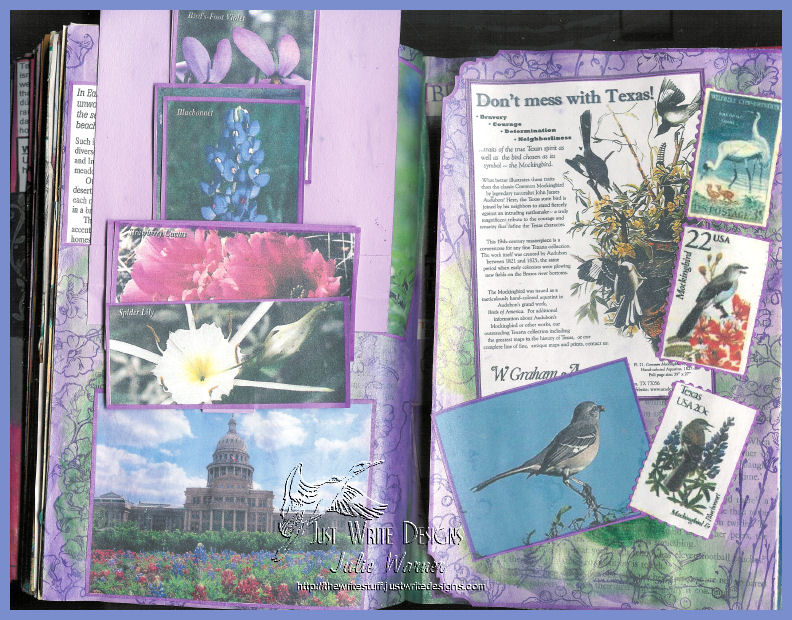 Some Texas wildflowers, state bird and postage stamps.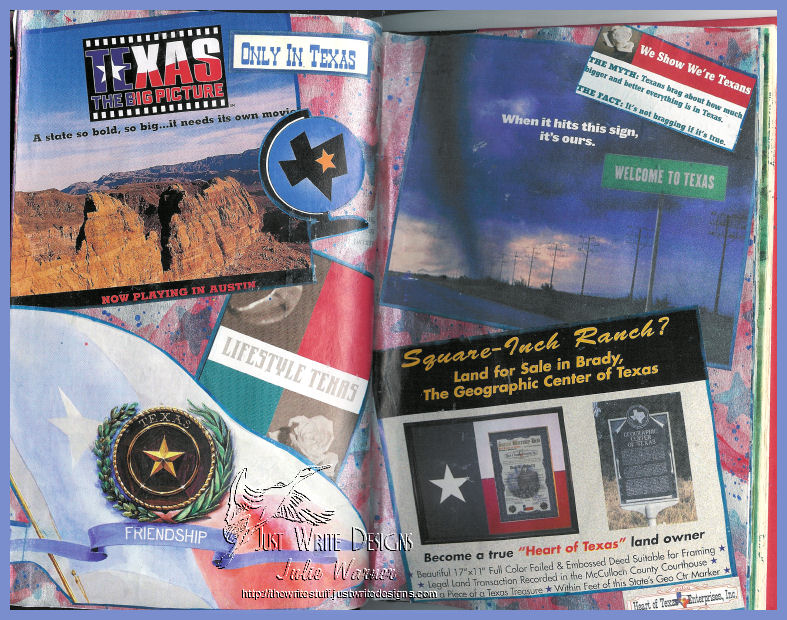 Another page with pretty pictures but I don't know if you can still buy a little piece of Texas as this ad says.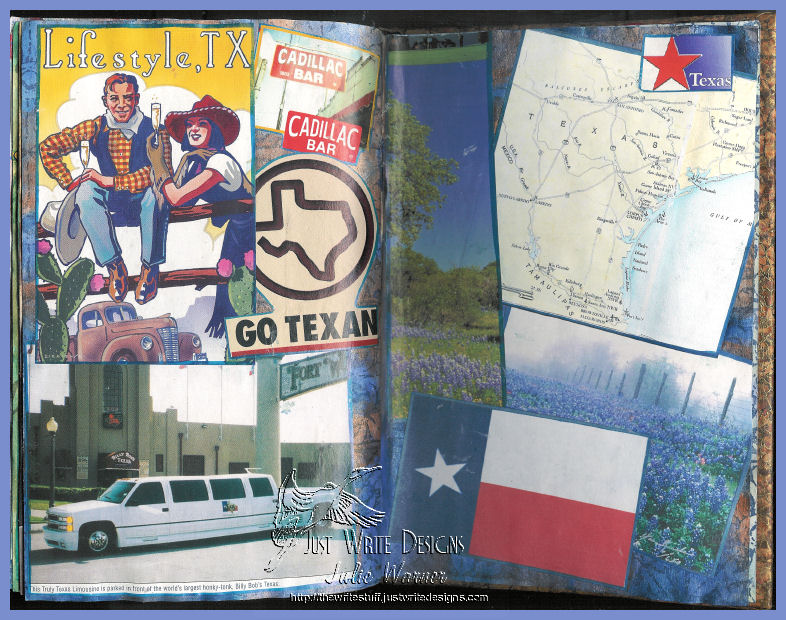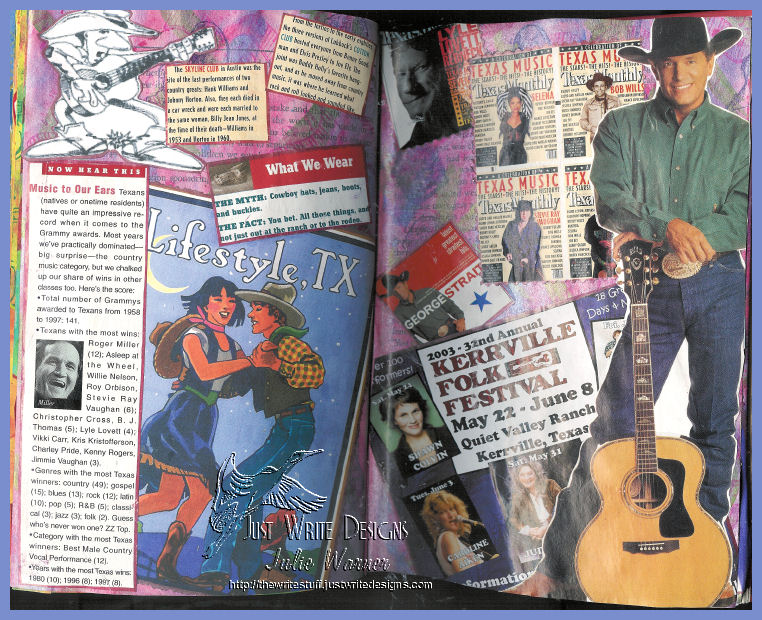 And here we have some Texas music! Is there anything better? I've been to the Kerrville Folk Festival and it was always fabulous! And just interesting to me, but one of my cousins lived down the street from one of the ZZ Top members (I won't say which, lol) and Buddy Holly was a cousin of my dad's (so I guess he was cousin too) and they were born on the same day, same year. How cool!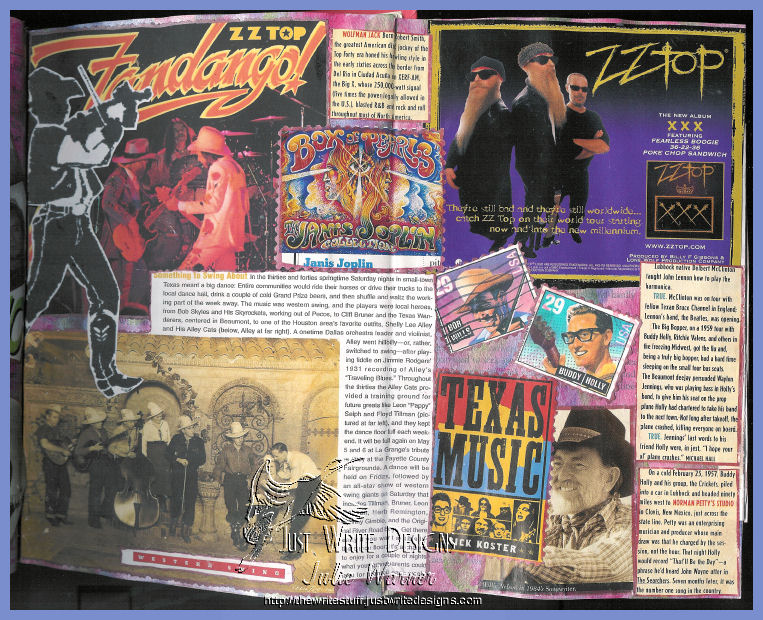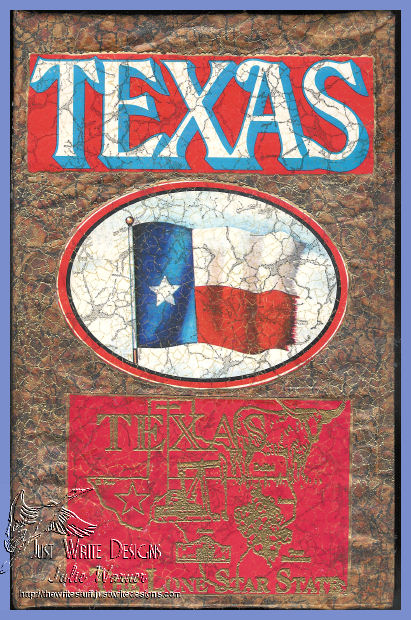 And this is the cover. Like I mentioned, these are just a few pages, but I hope you enjoyed them!
Thanks so much for stopping by!