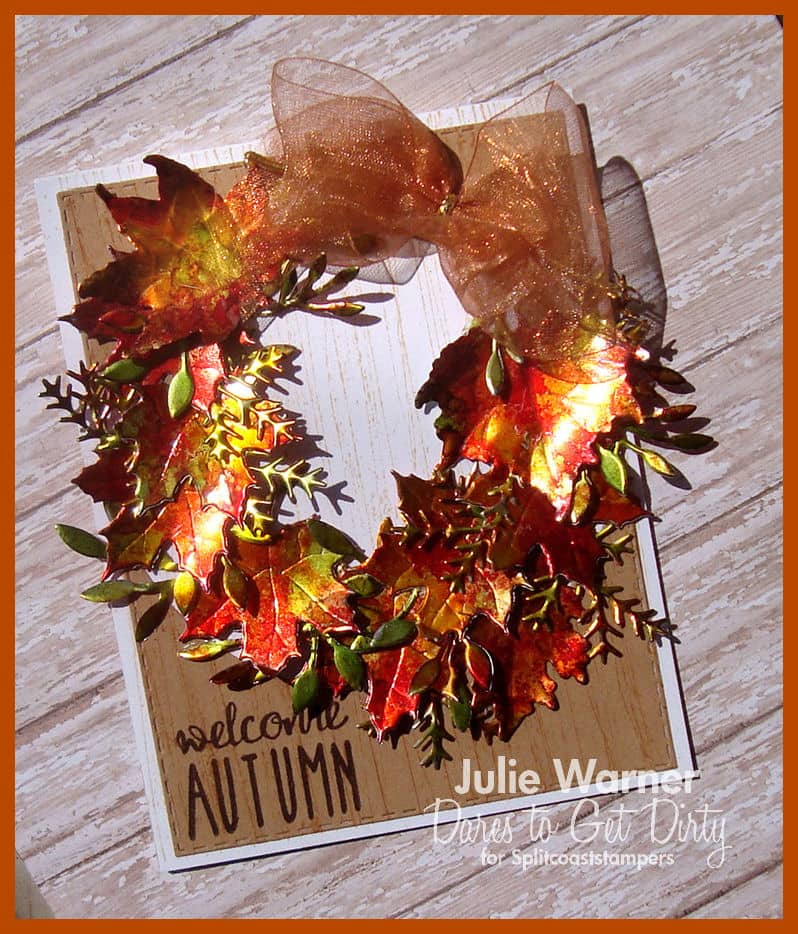 I made this for the Splitcoast Inspiration Challenge (IC714) & also for Joanne's Dare to Get Dirty Challenge.You can find all the details for the challenges HERE. You'll need to be a Fan Club Member, so click the blue link & find out how. For the IC, my inspiration was THIS. 

This wreath took me quite a while to make. If I had used paper for the leaves, it would have been easier but if you always take the easy route, you probably miss all the good scenery. Anyway, that's my story & I'm sticking to it. So what did I use for the leaves?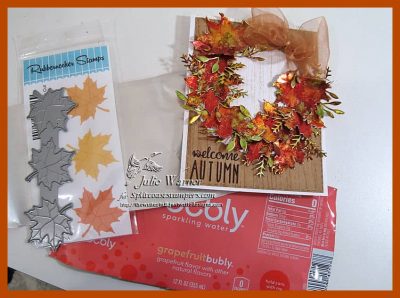 Some aluminum soda type cans! These were sparkling water cans & I'm here to tell you, they don't make these cans like they used to. They are much thinner & very easy to cut & also to die cut. I turned over the can pieces & used the aluminum colored side. After die cutting, I was going to coat them w/ paint first, but I forgot. So I used alcohol inks to colors them. They're really bright & shiny (but also sharp!). I used a woodgrain image on the backgrounds & added a sheer copper bow to finish it.
Here's the inside.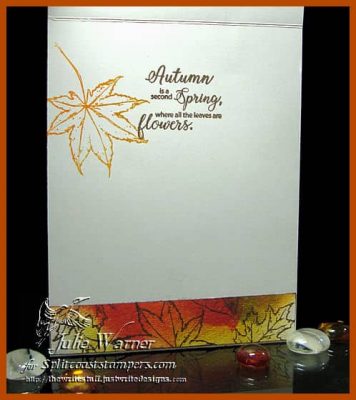 Thanks so much for stopping by!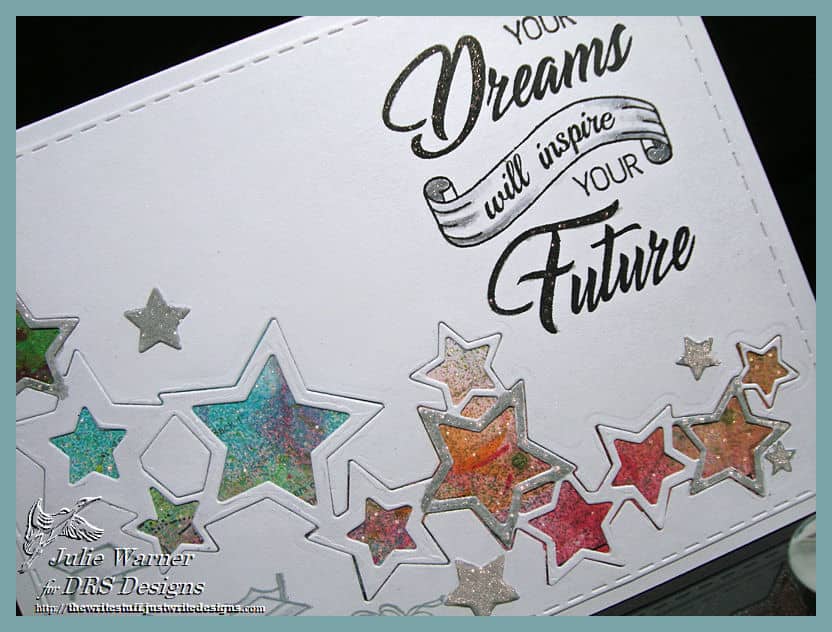 It's my turn & my pleasure to host the Splitcoast Featured Stamper Challenge this week! So a big congrats to Catherine, the newest Featured Stamper. She has a lovely, fun gallery & I saw many I wanted to case..but I finally chose THIS. (I actually saw a lot of cards w/ stars!) I love the stars, so I kept those, but used a die instead of a stamp for the stars, used different colors & made mine a graduation card.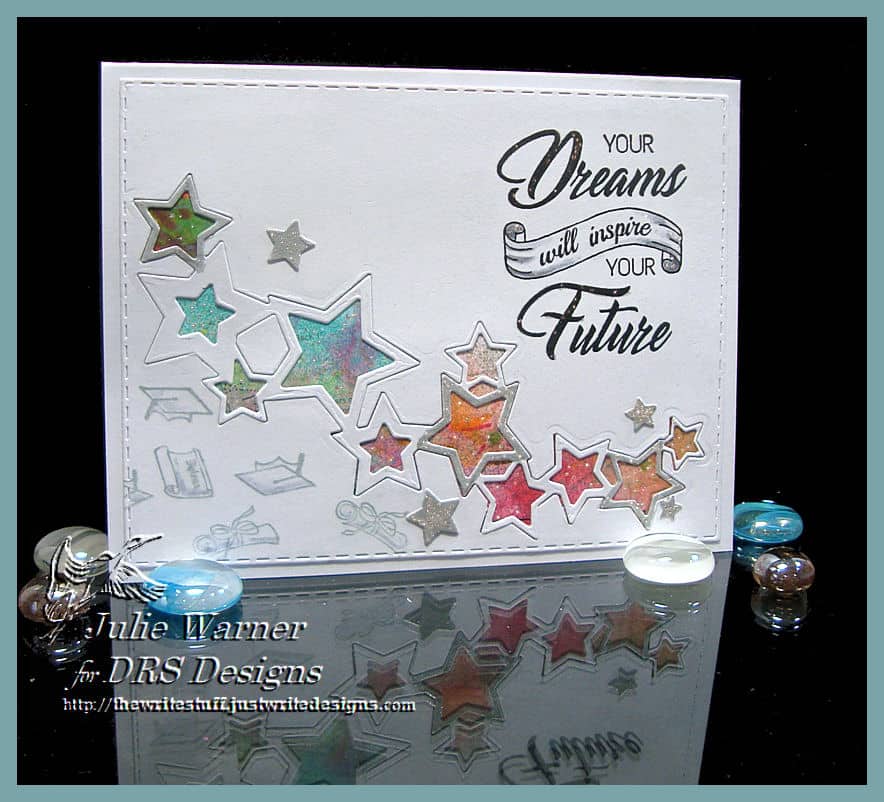 My card is pretty CAS, I had a bg…actually a lg white envelope that I kept under my card stock when I was sponging, spraying & what not, & it looked so pretty & glittery, I saved it. I die cut the Stars out of the front & added the bg behind it. I put the white outline back in place & used a silver Wink of Stella on some. It was really surprising to me how much sparkle it added in comparison to the clear I used on the capital letters of the greeting & a couple of the other white star frames. I added some diplomas & mortarboards in the left corner.
Here's the inside.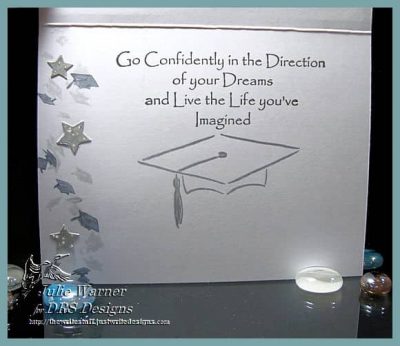 Thanks so much for stopping by!

Supplies:

Welcome to April & to the Splitcoaststampers Fan Club April Christmas Challenge! I'm part of the challenge team again this year & the bonus is I'll have a bunch of Christmas cards finished in plenty of time for Christmas this year. You'll need to be Fan Club member but that's easy…just click the blue link to find out how. Bet you're wondering what the challenge theme is..I'd love to tell you but you'll have to go see for yourself.

For my Christmas Wishes card, I used an embossing folder on the white bg, then paper pieced some strips for a faux woven bg. I used part of a box of Christmas cards I bought that are supposed to have a picture inserted so the entire back is 5×7 piece of this heavy weight Christmas print w/ little red foil accents. After I glued them, I embossed it all again.  The rest was just die cutting the holly out of green glitter card, the Wishes & backing oval out of red glitter card, then attaching a red foil frame over the bg. 
Here's the inside.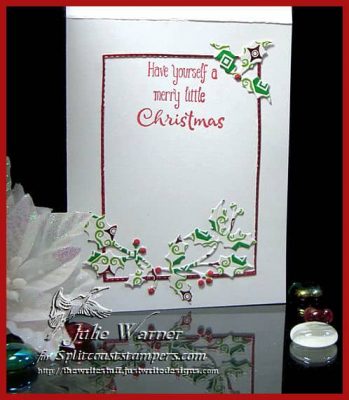 Thanks so much for stopping by!


Supplies: