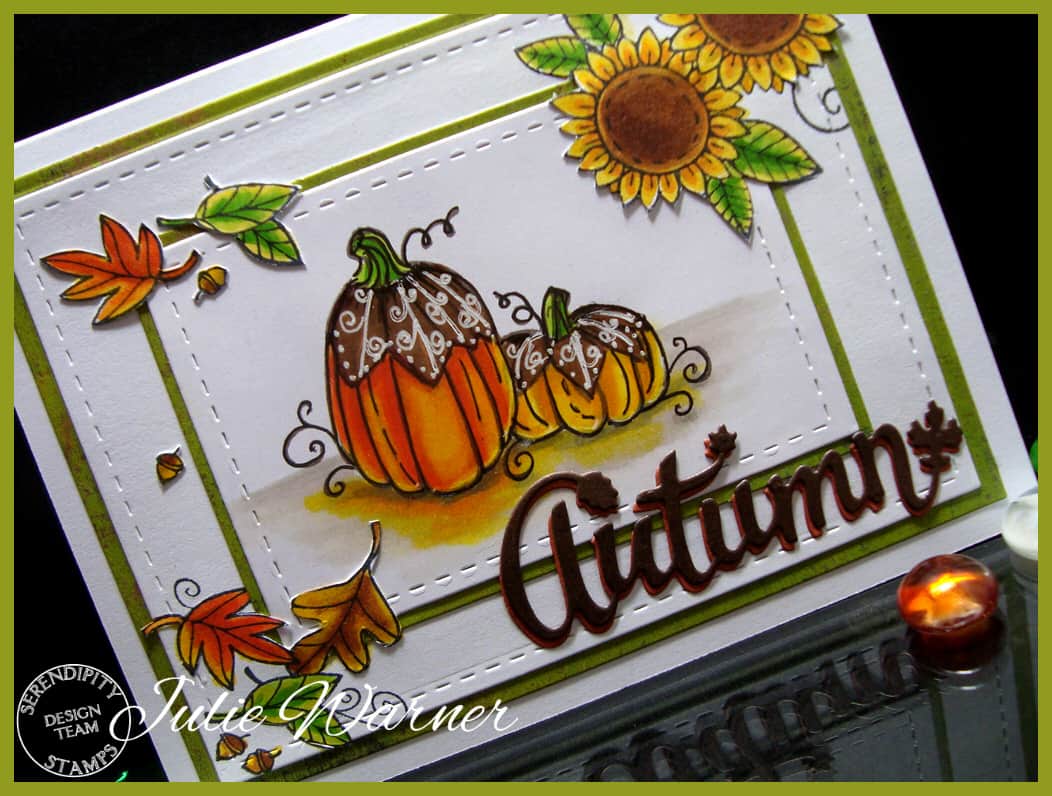 Today's Color Challenge (CC598) is perfect for a fall card…cajun orange, curry yellow, chocolate & garden green. The dessert is to make a fall themed project.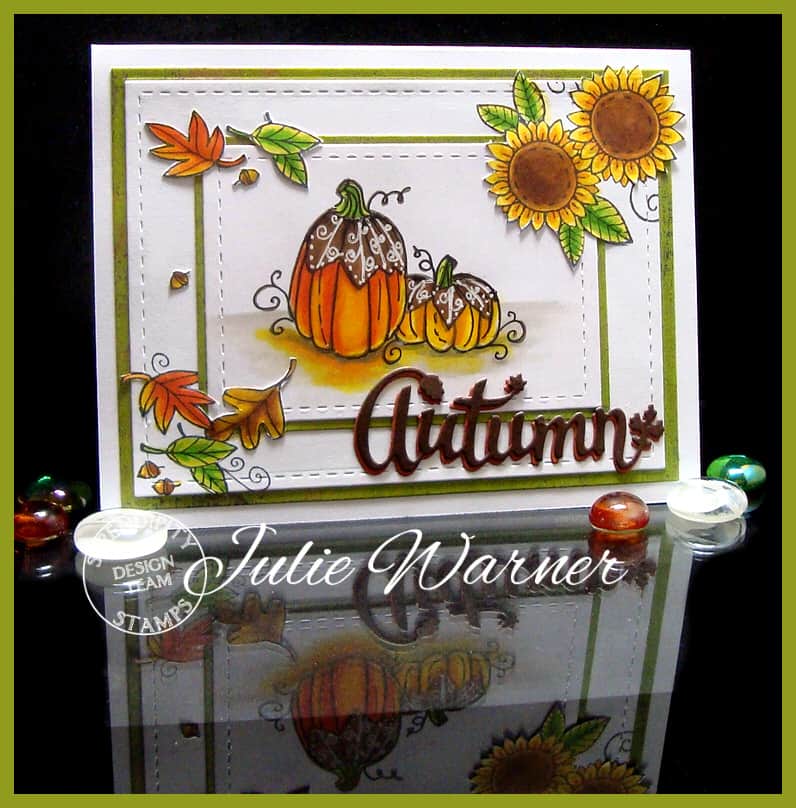 For my autumn/Thanksgiving themed card, I started w/ the cute little pumpkins. Yeah, I know just stamping & coloring would be the normal way to go. Sigh…but I remembered seeing some pumpkins w/ another image on top & that stuck in my head. Once stuck, it's there until I try it. So just in case you're interested, here's my practice sheet. I practice on copy paper all the time & usually save these for masks later on.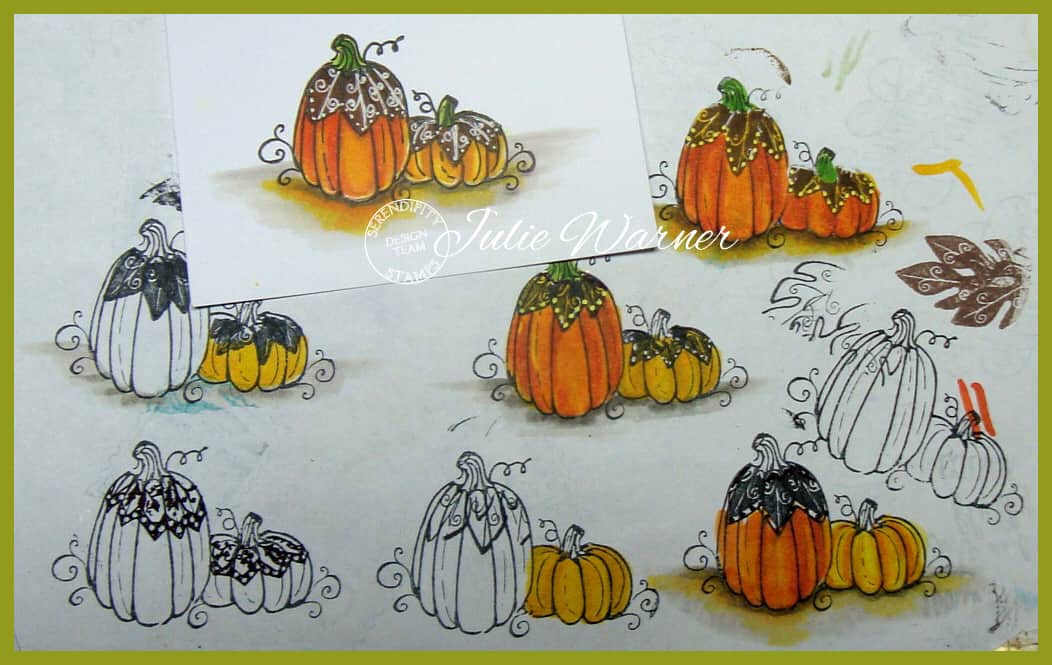 I did some doodling, masking, etc, but finally decided on masking the bottom & stamping the solid leaf (on the mid right) w/ brown ink on top of the pumpkin. After coloring a few to see how they'd look, I noticed that since it was copy paper, some of the color bled out when I added the shadow underneath & I liked it! It kind of looked like a reflection so I also tried to recreate that on the "good" version (upper left, above the watermark). The brown stamped leaf on the top of the pumpkin didn't work out so well, so I went over it w/ a white gel pen & added the dots.
For the background, I stamped the sunflowers in the upper corner & the leaves in the lower left. I had to do a little out of the box to keep them intact. And while I was at it, I also cut around the parts that went into the main image so I could lift them on top. Sigh…I know it would be simpler to just do them separately & glue on top. But apparently I like to choose the road less traveled. Or the one that needs a machete to get through, lol.
Here's a look at the inside & below it are the Copics I used.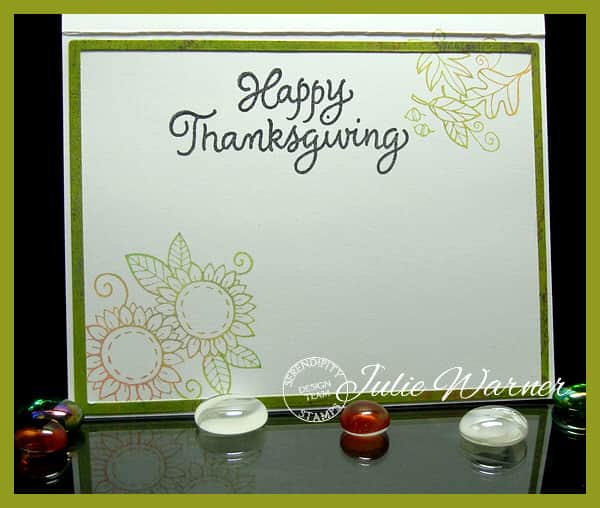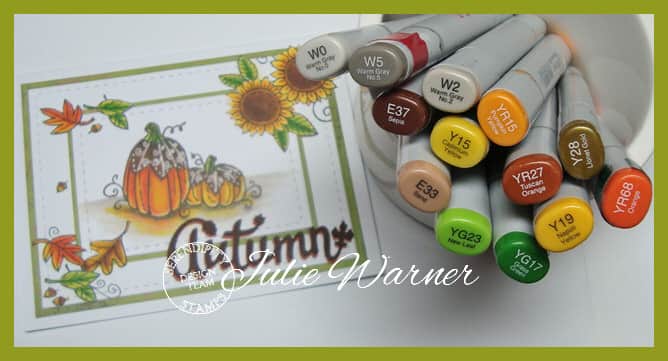 Thanks so much for stopping by!