Archive for the 'Sparkle N Sprinkle' Category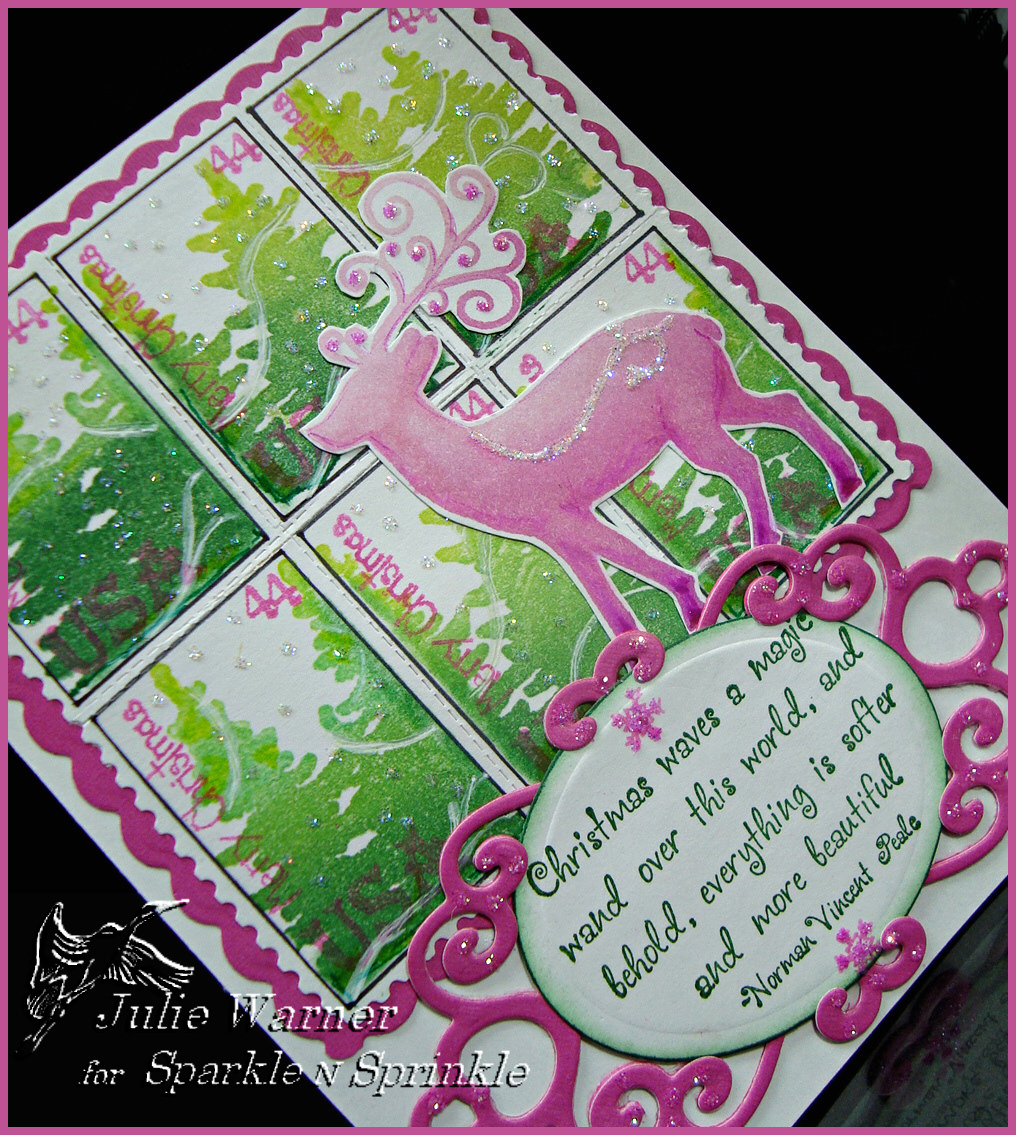 Welcome to the Sparkle N Sprinkle "Sparkling Wintry Sensations" blog hop!
For my sparkling wintry card, I created a sheet of faux postage stamps using the pine forest image and a small, rectangular cut out (or reverse mask). I inked the forest w/ several colors of green pigment inks then stamped it inside the mask. I just moved the mask and repeated 5 more times. The wording and numbers were inked w/ a dk pink marker and stamped on top to complete the "stamp" look. I used a perforating blade in between the stamps and cut the outside w/ postage stamp scissors.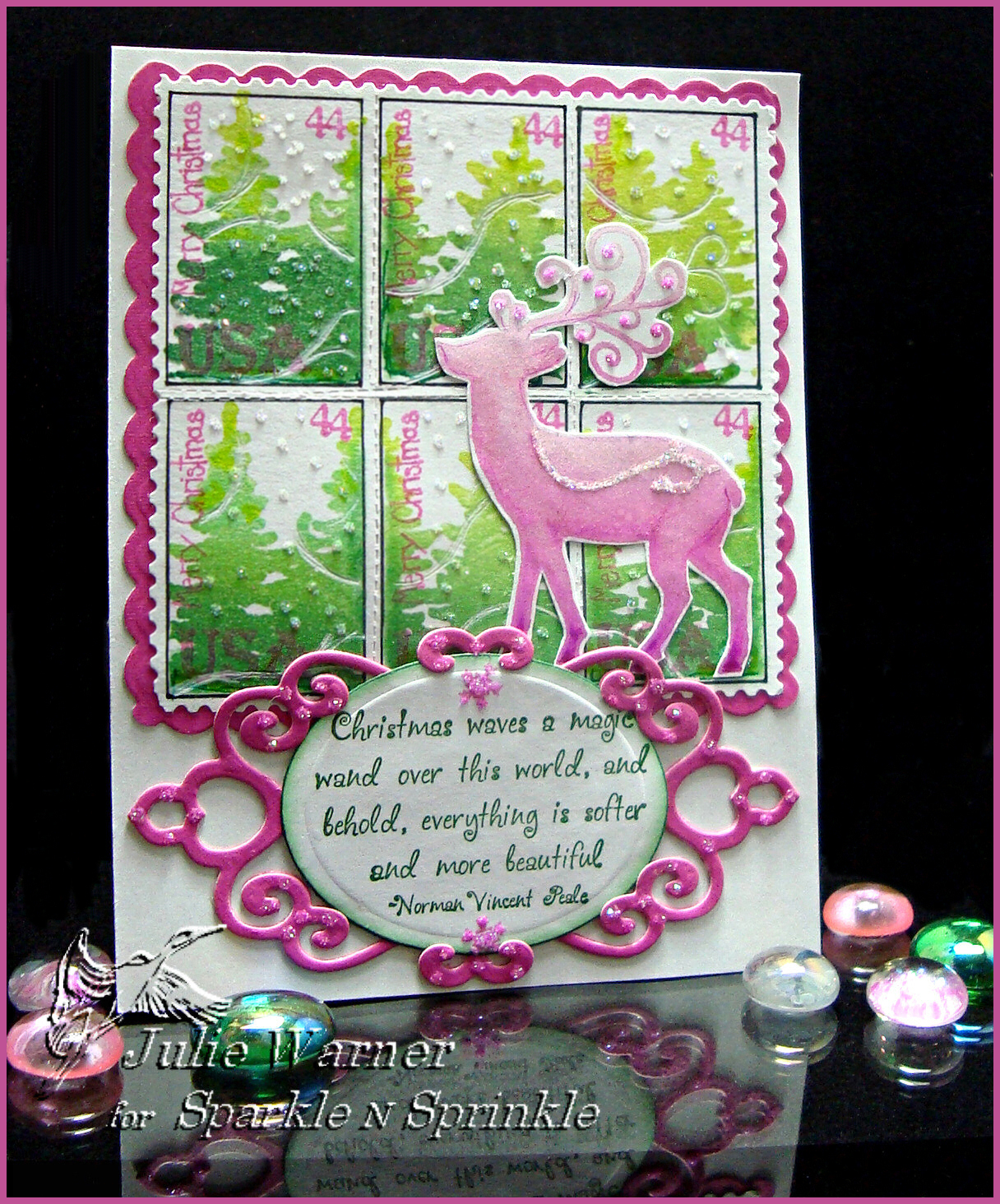 The sentiment was die cut and attached to a fancy tag die cut. (Cutting this die is super easy w/ the Grand Calibur!) The reindeer was inked w/ the pink pigment inks, stamped an cut out. I used a glue pen and Sparkling Snow glitter on the reindeer and to add snowflakes to my postage stamps. I used the Mauvelous glitter on the fancy tag and reindeer antlers. The peony colored layer behind the postage was die cut using a scallop border die. The finished card measures 4.25 x 5.5.
Thanks so much for stopping by!

Supplies:
Stamps: Sparkle N Sprinkle- Pine Forest, Swirly Reindeer, Christmas Magic & snowflakes from set #414; USA & July 4 from set #433; Merry Christmas from set #385
Paper: Neenah white, textured peony
Ink: VersaColor rainforest, Colorbox evergreen, moss green, razzberry & peony pigment inks
Accessories:  Sparkle N Sprinkle glitters in Sparkling Snow & Mauvelous, Tombow Markers, 1/2 " Double Sided "Tear-ific" Tape SAT04, Spellbinders classic ovals & Fancy Tags 2 dies, Quickutz scallop border die, Fiskars
postage stamp scissors, perforating blade, Stamp-a-ma-jig, Grand Calibur
For today's Ways to Use It Challenge (WT323) at Splitcoast, I went the easy route today and used a song for inspiration. I needed a grad card for my nephew and while making it, I kept hearing "Pomp & Circumstance" the whole time, lol. Since I was in the band all the way thru school, I bet I've played this song a million times.
All images are Sparkle N Sprinkle. Anyway, I gold embossed the greeting and diploma and die cut w/ a Spellbinders circle. The ruffled gold is two cupcake liners that I split, removed the middles and put them together to form a lg circle. I used a MS diamonds edge punch on the black glitter dp and formed a circle w/ it. The final part of the medallion is just strips of metallic gold ribbon attached to the back. (I didn't have time for a video, but I did take some pics so hopefully soon, I'll have them up for you to see.)
The black glossy layer is backed w/ a gold glitter dp layer. On the white layer, I used the CB swiss dots on top and the QK stripe label on the bottom. The stripes are very visible because I used them to line up and attach narrow strips of black and gold glitter dp. I saw some glitter striped dp in the store but it was the wrong color so I made my own to match. Finished card measures 5 x 6.5 (A6).
Thanks so much for stopping by!


Stamps: Sparkle N Sprinkle – Graduation set 435
Paper: Neenah white, black glossy, black glitter & gold glitter dp
Ink: Encore UM gold
Accessories: detail gold ep, Spellbinders circle, Martha Stewart diamond edge punch, gold ribbon, Krylon gold leafing pen, mini gold foil cupcake liners, Cuttlebug swiss dots ef, Quickutz stripes label ef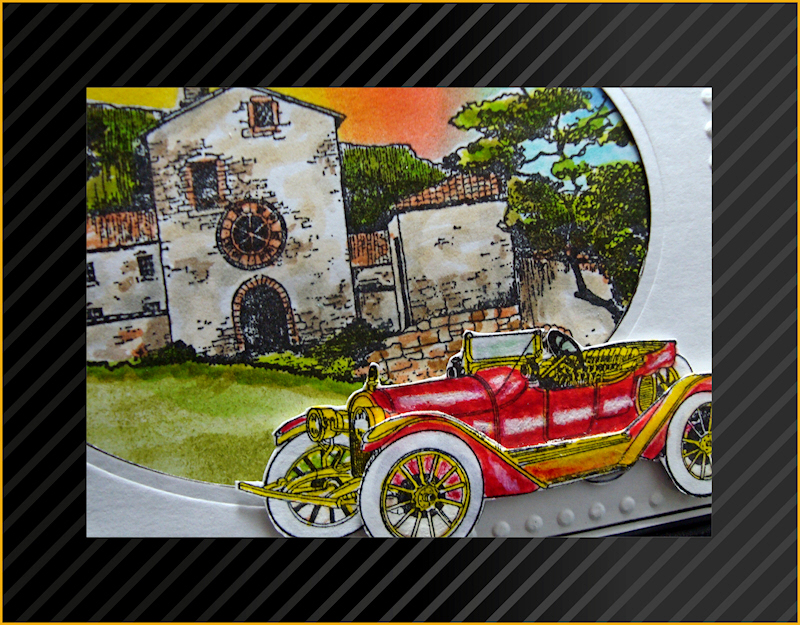 Welcome to our Not so Macho Masculine Blog Hop brought to you by the Sparkle Team of Sparkle N Sprinkle!
If you arrived here from Barbara Bruder's blog, you are in the right place! If not, you'll probably want to go to the SNS Blog and start from the beginning.
I'm going to share two different cards made using the same set, 1900 Cars set 285. For the travel card above, I used two different map papers, a new banner die set and labels 17  from Spellbinders. The antique autos on both cards were colored using a combination of  markers and Prismacolor pencils. For the Travel greeting, I used a bookplate die and bowed it slightly when I attached it.
On the Classic card below, I cut out the roadster and also an extra left side (facing the viewer) and layered it on the base image for a little extra dimension. The background scene was stamped, masked, sponged and then colored w/ markers. The white frame used a lg oval Spellbinders die and a dot border embossing folder which I used a stylus to hand emboss around the frame.  Both cards measure 5.5 x 4.25. The Travel and Classic cards w/ full instructions are also on the SNS website.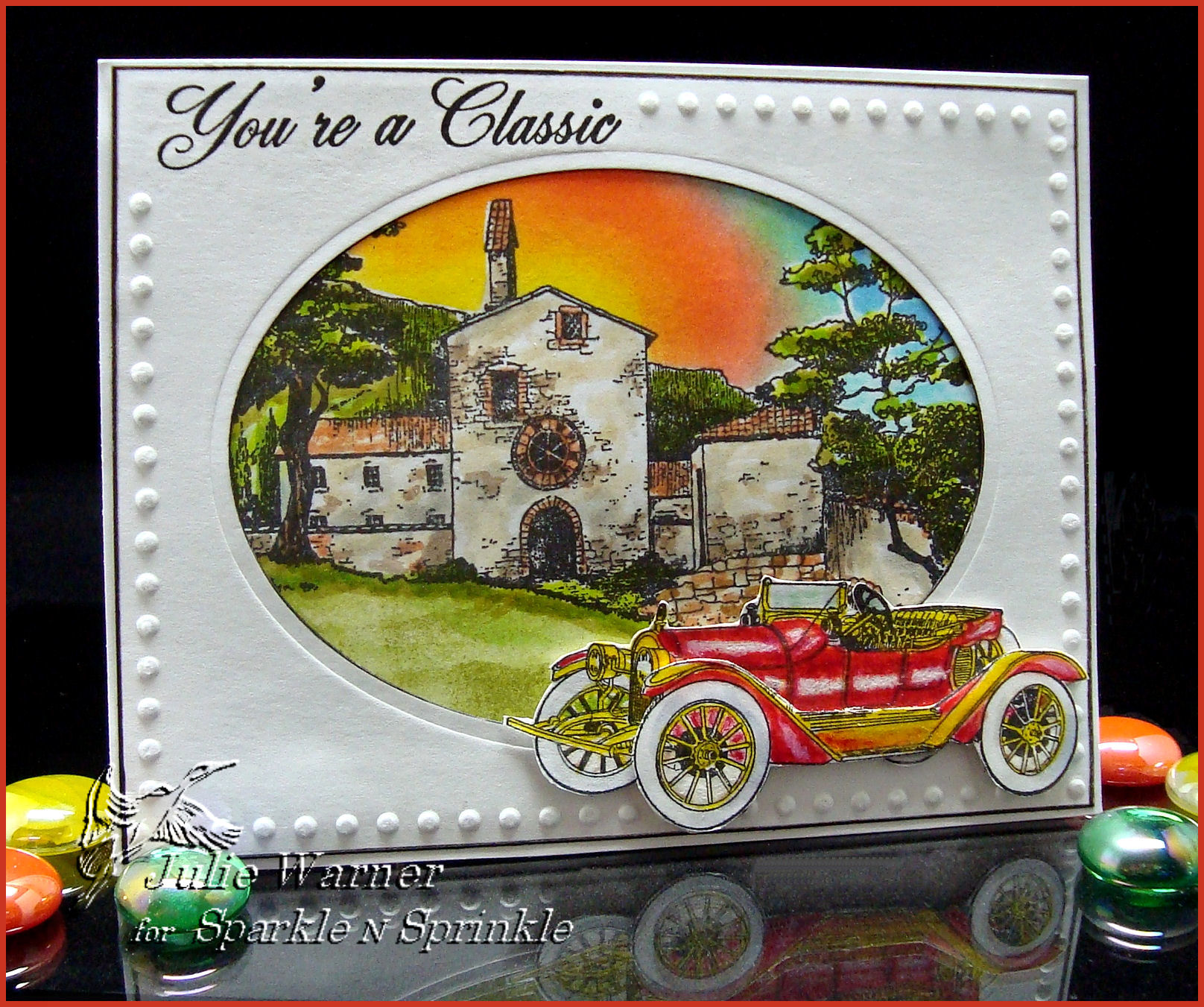 Your next stop will be Jill Jacobson's Blog, so hop on over! By the way, the product you can win from my blog is a jar of Berry Pudding Glitter Tinsel. If you haven't tried it, please check it out. It's fabulous! And this color is just scrumptious! Thanks so much for stopping by!

Supplies:
Stamps: Sparkle N Sprinkle – 1900 Cars, Scenery set 349 (for Classic card)
Paper: Neenah white, dk red,  2 different designer/map papers
Ink:VersaFine Onyx, Kaleidacolor Melon Melody, Desert Heat & Riviera  rainbow pads
Accessories:White gel pen, Prismacolor pencils, Tombow Markers, 1/2″ Double Sided "Tear-ific" Tape SAT04, 1/8" Tear-ific Tape SAT02, Spellbinders Labels 17, petite ovals & Banner Basics 2 dies, Sizzix bookplate die, Cuttlebug dot border embossing folder, stylus, sponges, Stamp-a-ma-jig (SAMJ)
More challenges for this:
Stamps R Us – masculine
SCS WT322 -trees, SCS FS223
Kaboodle Doodles – lots of layers
Cards for Men – someone special
Tuesday Throwdown – die cuts
Timeless Tuesday Challenge – anything goes!