Archive for the 'Studio G' Category
It's time again for our Divine Divas Inspiration Challenge! This week, Lori chose some beautiful plates from Acacia.
(I'm also combining this w/ SCS Sketch Challenge.)
I love birds and I knew I had just the right chickadees image from Sparkle N Sprinkle. I stamped them with the chocolate ink and colored them with Prismacolor pencils. I used the Out of the Box Nestie technique (tutorial HERE) to cut them out, but I used a nesting rectangle set from Quickutz. Masking the birds, I sponged on a little of the Neptune ink.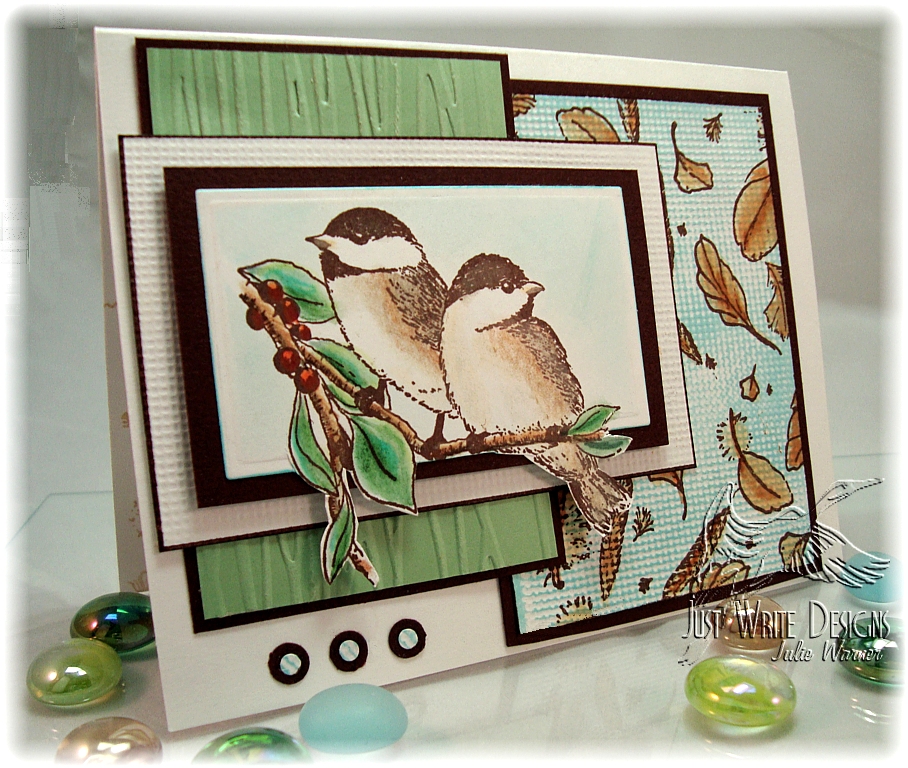 After matting on a chocolate brown layer, I tried something a little different on the white layer. Recently, I tried embossing card stock using a piece of plastic canvas. I liked it so I tried it with a piece of finer mesh vinyl (sold for cross stitch bookmarks). First I lightly misted a piece of white card stock, placed it on the Spellbinders tan embossing mat, placed the vinyl mesh on top and ran it through my Sizzix. I love how it turned out! It looks and feels just like artist canvas. I left the small piece white but on another, I brayered over it with the Neptune ink, stamped my feathers background (Anita's/Sugarloaf) w/ the chocolate ink and colored them in w/ markers.
The green bg was done w/ the forest branches Cuttlebug folder. I added some punched out circles as faux brads.
Thanks so much for looking and please visit the rest of the Divine Diva Team. We would really love for y'all to play along in our challenge. Lori is offering some terrific blog candy for this challenge.
Lori (chanteuse)
Chat (nitestamper)
Chris(glowbug)
Keri (stampinupconsultan)
Angela (mudflapmamma)
Supplies:
stamps: Sparkle N Sprinkle, Anita's
paper: white, chocolate, wild wasabi
ink: Ancient Page chocolate & Neptune
accessories: markers, Prismacolor pencils, CB forest branches folder, Quickutz nesting rectangles, vinyl canvas, 2 sizes of hole punches, foam tape, brayer

This tutorial came about after an ongoing discussion with Roxie at SCS about our methods of doing the Out of the Box Nestie Technique. We each were using this technique, we just went about it differently.  (6/23/10 Edited to add: Roxie now has a blog and here is her version of this technique.)  I promised I would take some pictures to show my method.
(Click on any image to enlarge.)
For Step 1, I stamped my image(s) and selected the Nestie shapes I might want to use. I selected the sizes of the circle and rectangle that were slightly smaller than my image in order to get the Out of the Box look I want. Usually, I just cut this frame out of white copy paper, but I'm using a light blue in order to be more visible here. The only reason I use a cut template and not the actual die is because of the 1/8″ difference in size. The inside of the die will be 1/8″ further into your image than the template. Most of the time this won't matter, but on some of the more intricate ones I've done, it did make a difference.
For Step 2, place the frame around the image and lightly trace the frame with a pencil.
In Step 3, I use a craft knife to cut the areas which will be Out of the Box. In order to insert the Nestie die under this area, I have to start the cut inside the circle. I cut very close to the image outline and continue around the image to other side.
The Out of the Box area is cut. Note that the very top is just a rough cut for now. I don't want it to be too unstable when I insert the Nestie die. I will go back and finish trimming this area with detail scissors after I've cut and embossed the Nestie circle.
In Step 4, I insert the die under the Out of the Box area I've cut out. With the die under this area, it will not be cut or embossed. Test fit your die before cutting to make sure you have cut your image deep enough to allow the die to be inserted on your pencil lines.
Now I will remove the die and finishing trimming the top area.
My Out of the Box is ready for coloring. It doesn't really matter if you color your image before or after. I have done it both ways. With this method, it has worked the first time for me and I haven't had to do it over. If my Out of the Box area has a lot of cutting inside the shape, I will usually add a little scotch tape to the back after it's cut and embossed. This just stabilizes the area and really makes the cut disappear.
I'm including this picture to show you my detail scissors. Quite a few people have commented on my detail cutting so I wanted to include this. The little orange pair of scissors have small, curved blades. You can see they are only about 4″ in length but the small curved tips make cutting a breeze. I've done a lot of decoupage and these scissors are invaluable. Fiskars made these, but cuticle scissors work, too. Another trick is to remember to turn the paper, not the scissors, when you are cutting.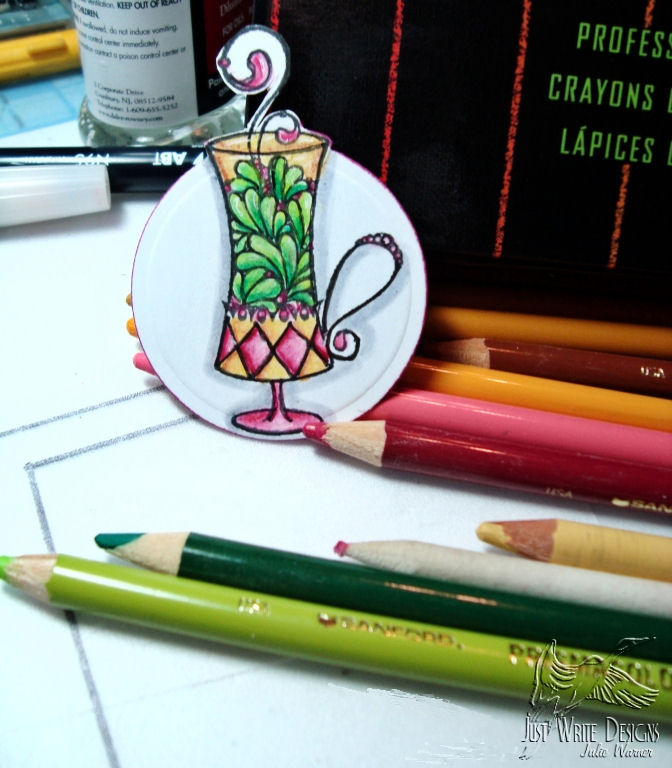 All done! This was colored with Prismacolor Pencils and OMS (odorless mineral spirits, aka Gamsol).
Thanks for looking and I hope you try this fun technique. Here's the finished card I made with this fun image.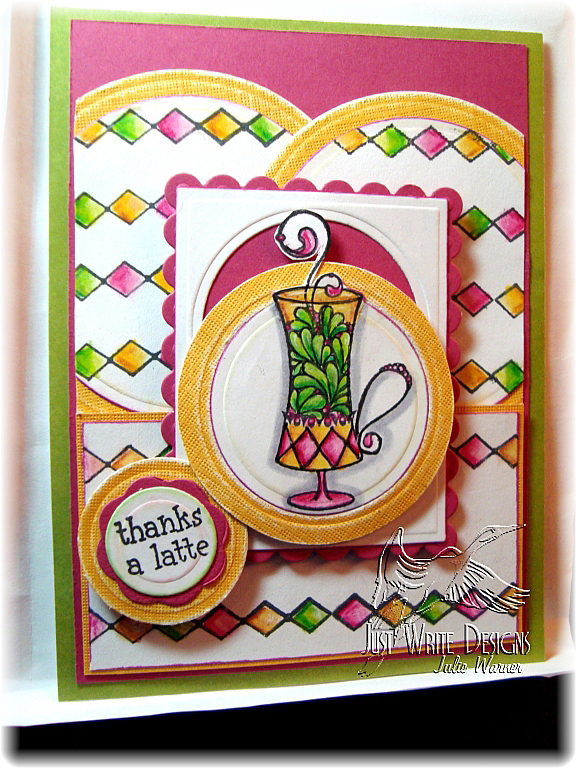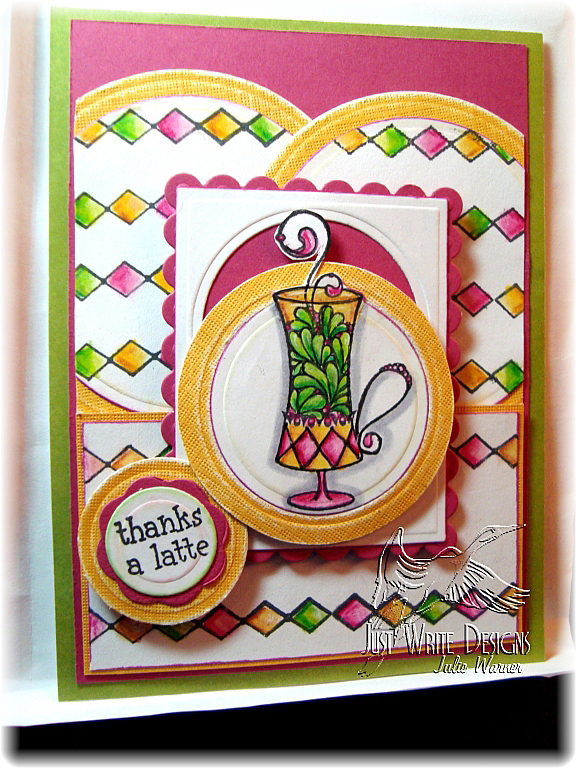 Love the sketch, but the circles gave me a little trouble. I see now that maybe the circles weren't supposed to overlap. Oh well.
I stamped the latte cup (IO), made a template of the circle die and lightly penciled around the image. The top part of the image I cut around w/ a craft knife so I could slip the circle die underneath it so it wouldn't get chopped off. Then I cut and embossed the nestie as usual. Roxie and I have had an ongoing discussion about our different methods of doing this nestie out of the box thing. I promised I would do a tutorial as a pic is worth a thousand words. So, I took pics as I did this one and hopefully, I'll have tutorial to go w/ this tomorrow.
Anyway, I stamped the rows of diamonds (SG) on the bottom band and more on the two pieces that became my overlapping circles. I colored everything w/ Prismacolor pencils and Gamsol (Odorless Mineral Spirits).
On the m.mustard layers, I used an emery board to sand the edges. I placed one of these layers behind my latte cup then attached it, slightly lower, to the negative frame left when I cut it out (I placed a rect nestie around the circle when I cut it.)
I used the scallop nesties to cut a red frame for my image and also the greeting.
Supplies:
Stamps: Impression Obsession, Studio G
Paper: white, rose red, old olive, DCWV mat stack = to more mustard
Ink: AP coal, primrose
Accessories: gamsol, Prismacolor pencils, nestie circle, scallop rectangle and rectangle sets, foam tape