Posts Tagged 'SparkleNSprinkle'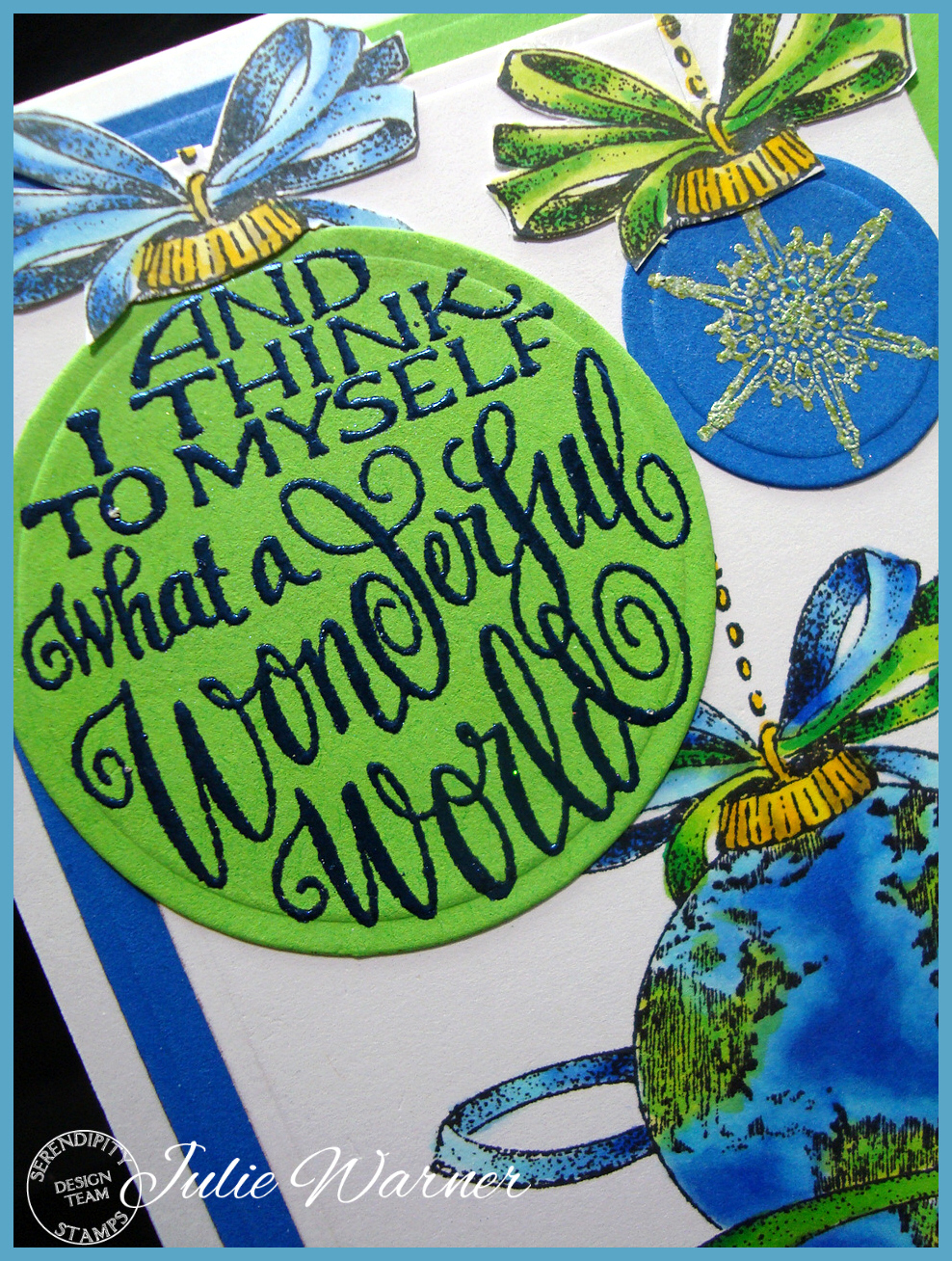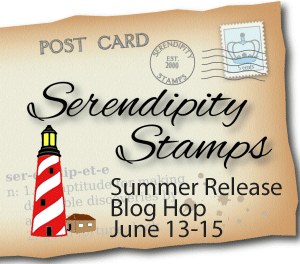 Welcome to the Serendipity Stamps Summer Release Blog Hop!  Today is Day 2 and we are featuring a bunch of brand new images and dies! The focus today is on the verse &  backgrounds. As a reminder, one random commenter will chosen to win a $20 gift certificate to the Serendipity Store! The last day to comment is June 18th and the winner will be announced on June 19th on Mary's Blog. And we have a couple of specials, too. Free mini grab bag with $20 purchase and some free small word stamps come with many of the word dies!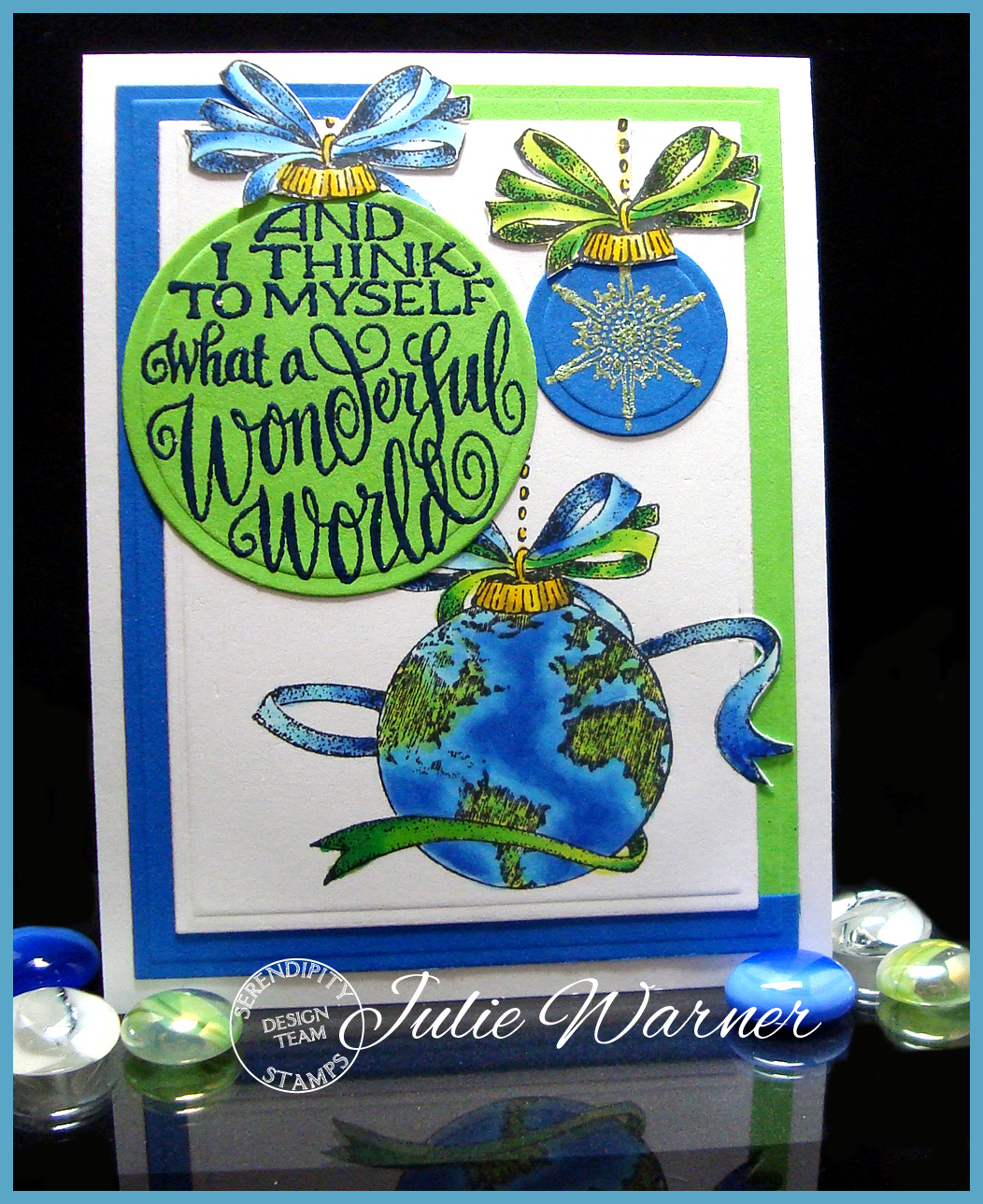 For my card today, I'm using one of the new verses,  And I Think To Myself. Don't know about you, but I can't stop hearing that song in my head. I thought it would make the perfect ornament to pair with the Earth Ornament. The verse was stamped w/ white pigment ink and embossed with a shimmery blue velvet embossing powder. The little snowflake was also embossed using a sparkly willow green powder. They were die cut with circle dies and added to the stamped, colored earth ornament. The large panel was also die cut and I used a little bit of my out of the box technique. I also stamped two more of the bow top of the earth ornament, colored and fussy cut them. 
The divided back layer is a result of having just sections left of each color, so I attached them together and die cut with a matting basic die. The finished card is 4.25 x 5.50 and these are the Copics I used.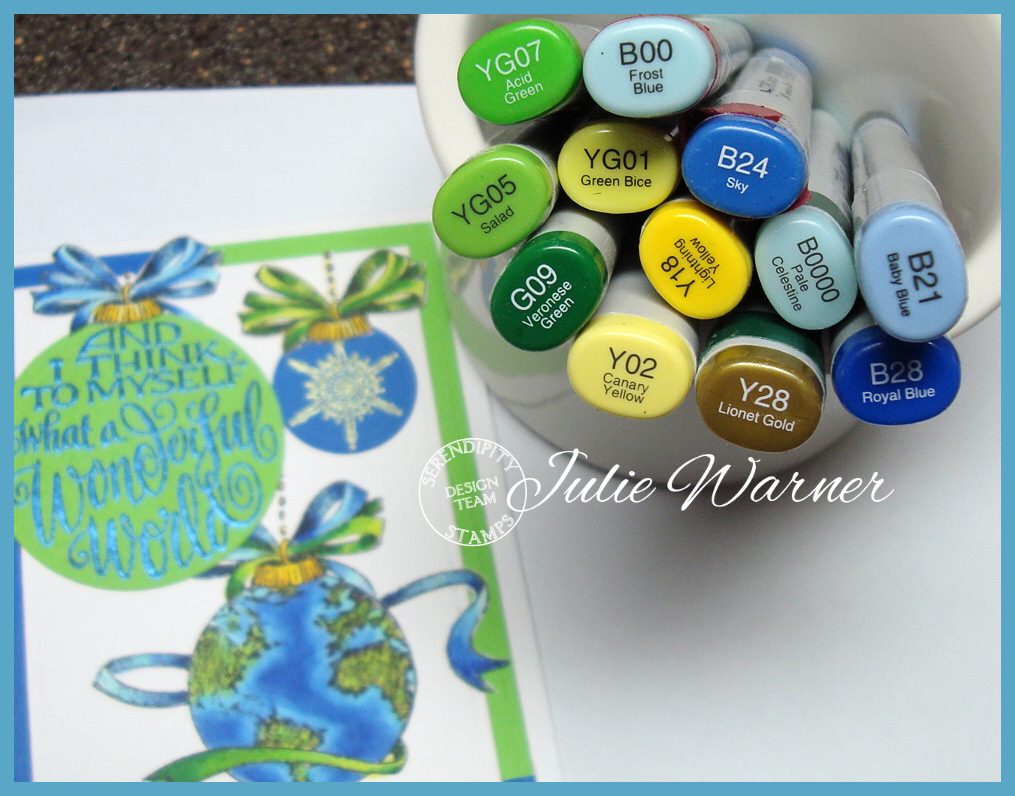 Please be sure to stop and comment on all the DT blogs so you'll be eligible to win!
Mary's Blog
Vickie Zimmer
Jeanne Jachna
Jenny Gropp
Julie Warner
Karen Amidon
Marybeth Lopez
Miriam Napier
Thanks so much for stopping by!



Supplies:
SaveSave
You should be! It's been Dare to Get Dirty Challenge week all week long on Splitcoast and there's still time to play along. Come on, wouldn't you love to play in the dirt pile with some of the Dirty Dozen current and Alumni? Take the challenge!
Last year, I hosted a couple of challenges, but this year I provided some samples for a couple of the challenges. This card is for Karen Barber's DTGD11 challenge for 8/5/11. You can read all about it HERE, but you'll need to be a Fan Club member. So I won't tell you what the challenge is, but I will tell you a bit about the card.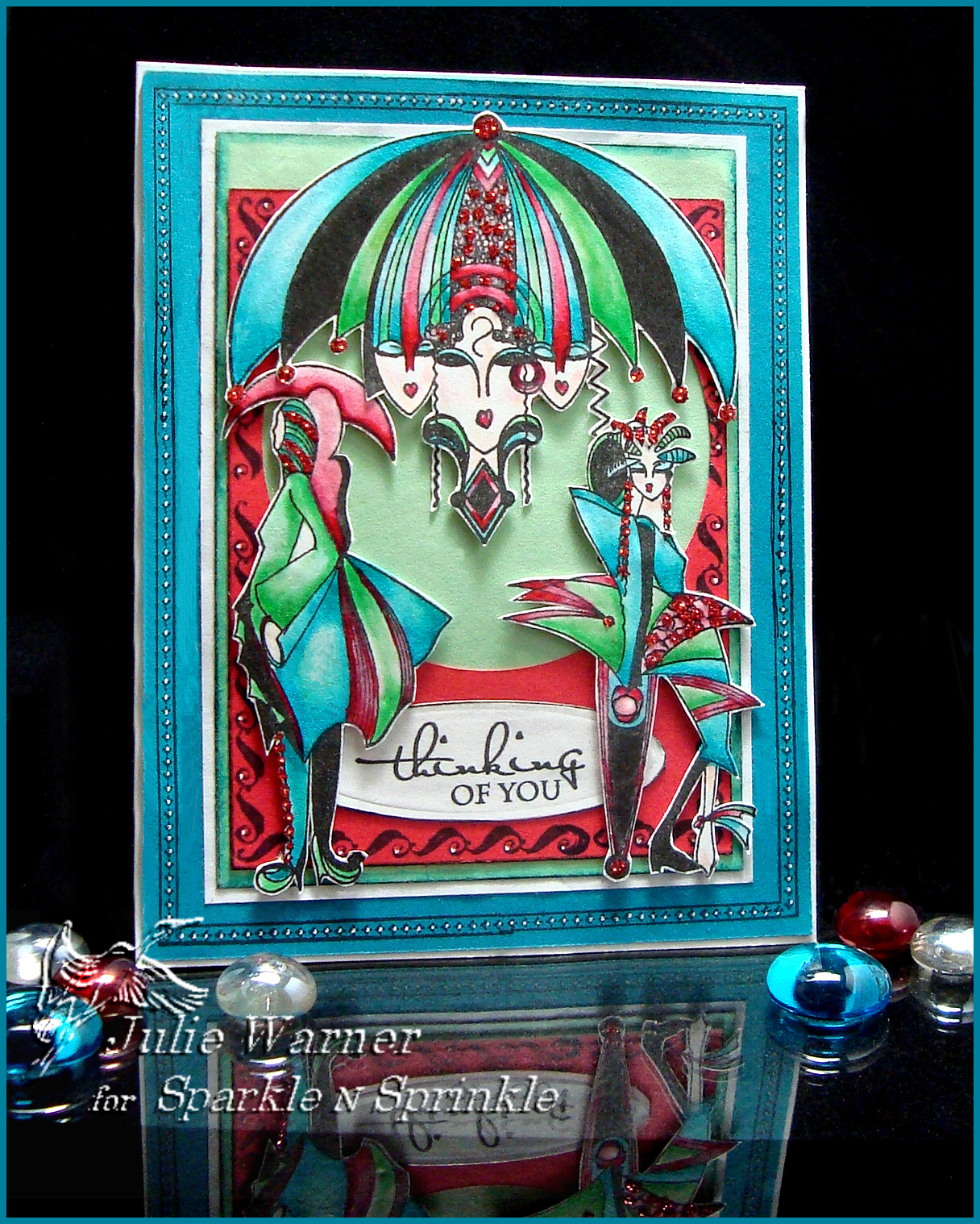 All images are Sparkle N Sprinkle. I just love these art deco images and I couldn't decide which to use, so I used all three. There is one more on the sheet, but I think I worked as many in as I could, lol. They were all stamped, colored w/ markers and cut out. I added a little sparkle w/ some fire engine red glitter just in a few places. The frames on the red layer and the turquoise layer are actually much smaller but I used a stamp positioner to extend them and added some highlights w/ a white gel pen. The sentiment was die cut w/ a ribbon tag then I trimmed off the ends of the tag. The finished card measures 4.25 x 5.5.
While I'm on the DTGD challenges, here is another sample card I made for Suzanne Dean's DTGD challenge on 8/3/11. I promised to post it here, then totally forgot. It also features images by Sparkle N Sprinkle.

For this one, I stamped the fall image twice on water color paper w/o reinking. I used the fainter image for my inside oval and stamped the greeting above it. I used the largest oval die to cut just the top and went out of the box for the rest. The center oval was stamped w/ the frame using the Kpad.The strip down the left side was punched and pierced and a little flourish was added behind the butterscotch colored scallop oval. The finished card measures 5.5 x 4.25.
Thanks so much for stopping by! Besides being a lot of fun, there are some serious prizes involved if you participate in the DTGD challenges. So check it out!

Supplies for Deco Faces:
Stamps: Sparkle N Sprinkle – Mon Ami set 430, Thoughtful Frames set 436
Paper: white, red, mint, turquoise
Ink: VersaFine onyx
Accessories: Spellbinders circle & ribbon tag dies, Tombow markers, white gel pen, SAMJ (stamp-a-ma-jig), Quickie glue pen, Fire Engine Red glitter
Supplies for Autumn Smile:
Stamps: Sparkle N Sprinkle – Harvest Pumpkins set 228, Autumn Swirl set 410, Thoughtful Frames set 436
Paper: vanilla, butterscotch, dp (leaf bg is Basic Grey Indian Summer, sm print is SEI Moonrise)
Ink: Archival sepia, Kaleidacolor Creole Spice
Accessories: gold rhinestones, Fiskars leaf border punch, Spellbinders classic oval, scallop ovals & Symbology dies, Tombow markers, paper piercer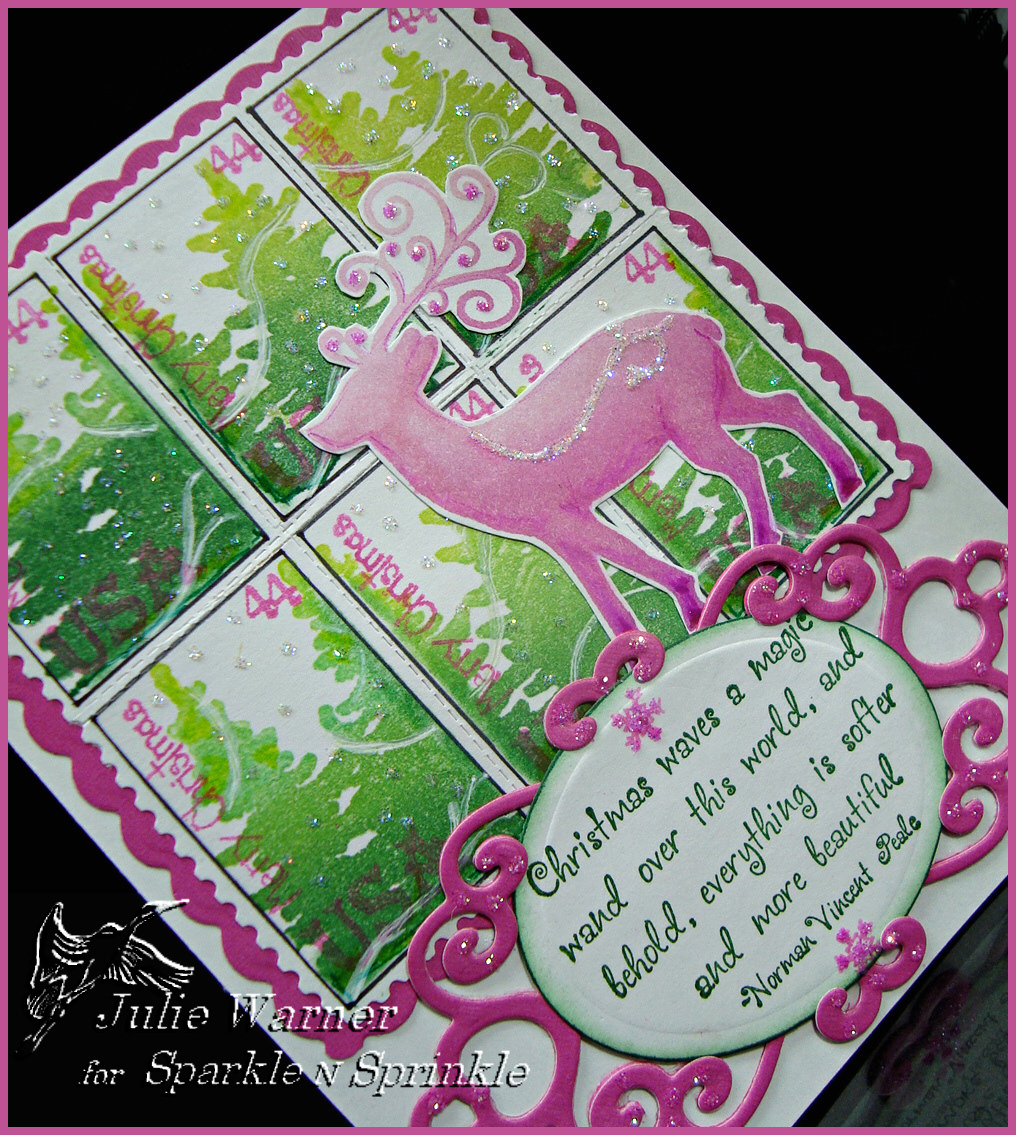 Welcome to the Sparkle N Sprinkle "Sparkling Wintry Sensations" blog hop!
For my sparkling wintry card, I created a sheet of faux postage stamps using the pine forest image and a small, rectangular cut out (or reverse mask). I inked the forest w/ several colors of green pigment inks then stamped it inside the mask. I just moved the mask and repeated 5 more times. The wording and numbers were inked w/ a dk pink marker and stamped on top to complete the "stamp" look. I used a perforating blade in between the stamps and cut the outside w/ postage stamp scissors.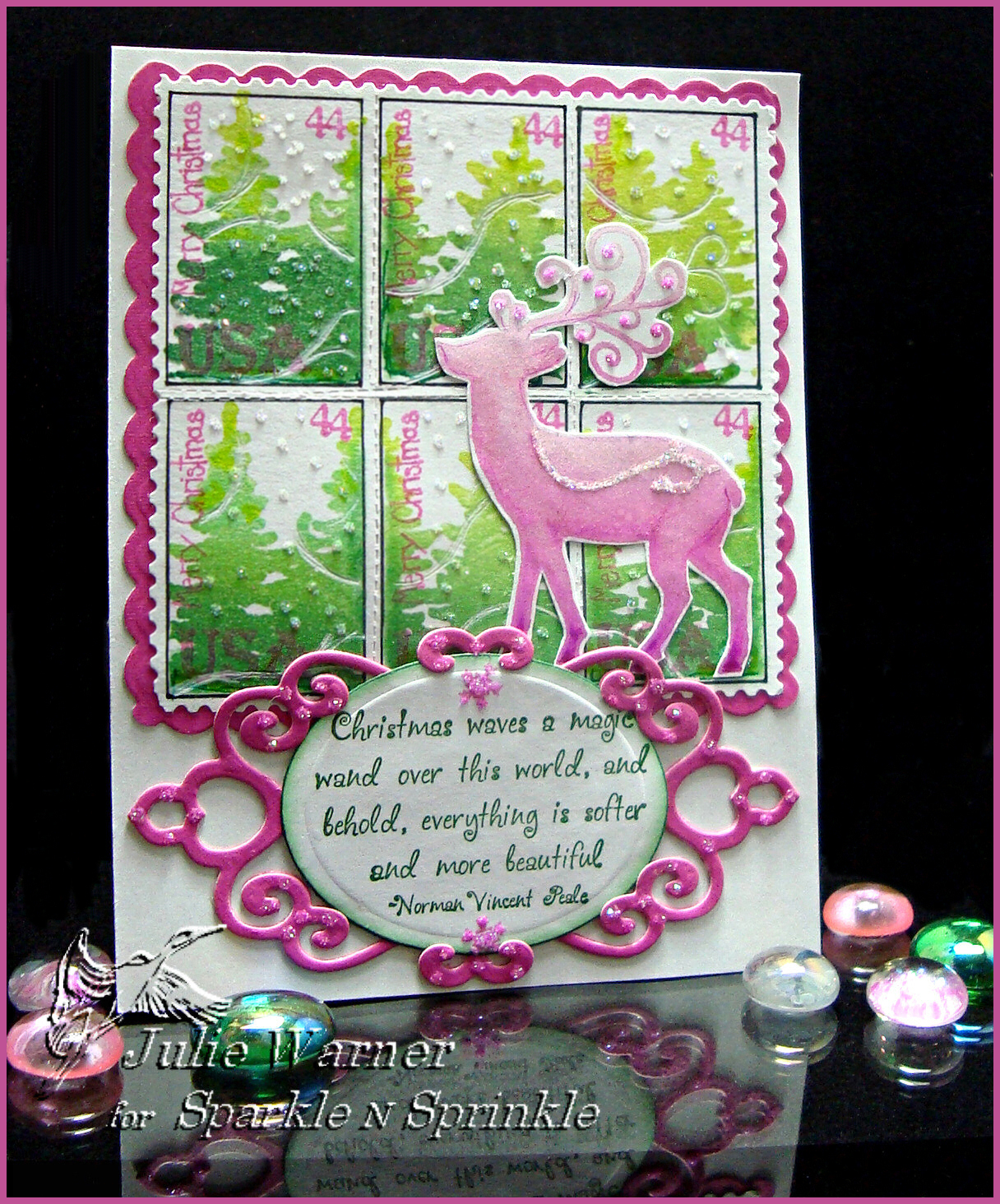 The sentiment was die cut and attached to a fancy tag die cut. (Cutting this die is super easy w/ the Grand Calibur!) The reindeer was inked w/ the pink pigment inks, stamped an cut out. I used a glue pen and Sparkling Snow glitter on the reindeer and to add snowflakes to my postage stamps. I used the Mauvelous glitter on the fancy tag and reindeer antlers. The peony colored layer behind the postage was die cut using a scallop border die. The finished card measures 4.25 x 5.5.
Thanks so much for stopping by!

Supplies:
Stamps: Sparkle N Sprinkle- Pine Forest, Swirly Reindeer, Christmas Magic & snowflakes from set #414; USA & July 4 from set #433; Merry Christmas from set #385
Paper: Neenah white, textured peony
Ink: VersaColor rainforest, Colorbox evergreen, moss green, razzberry & peony pigment inks
Accessories:  Sparkle N Sprinkle glitters in Sparkling Snow & Mauvelous, Tombow Markers, 1/2 " Double Sided "Tear-ific" Tape SAT04, Spellbinders classic ovals & Fancy Tags 2 dies, Quickutz scallop border die, Fiskars
postage stamp scissors, perforating blade, Stamp-a-ma-jig, Grand Calibur