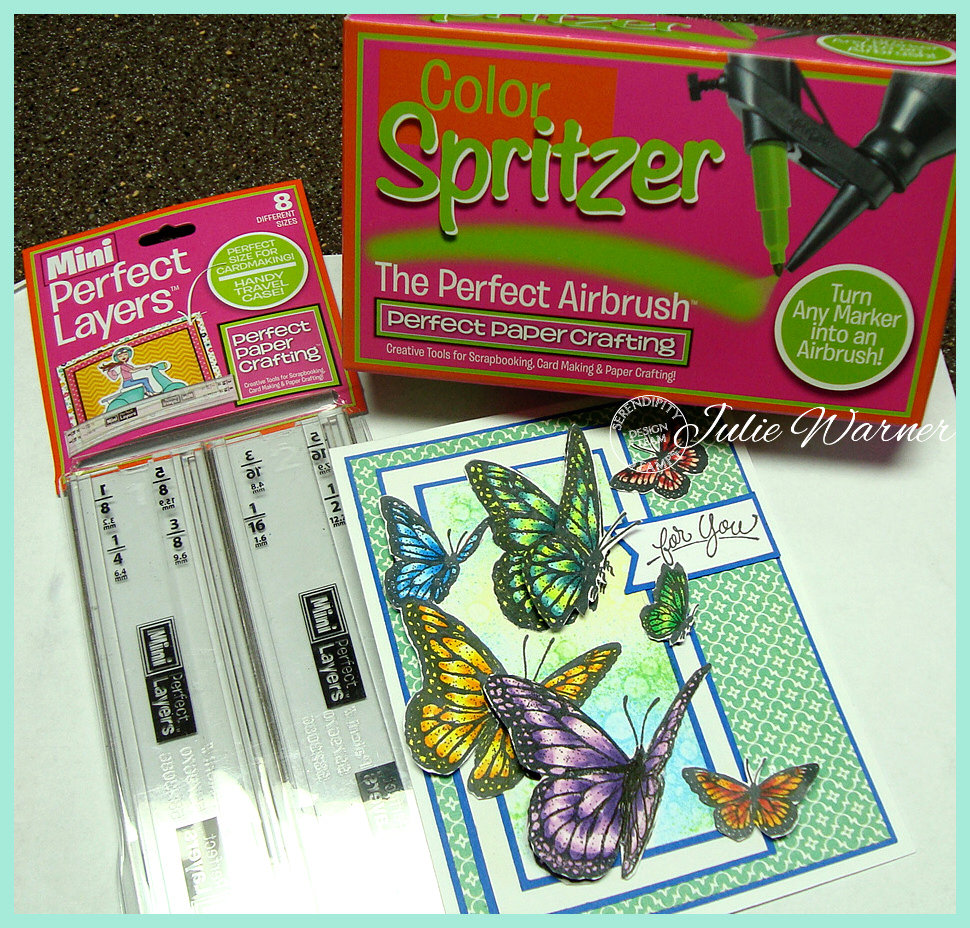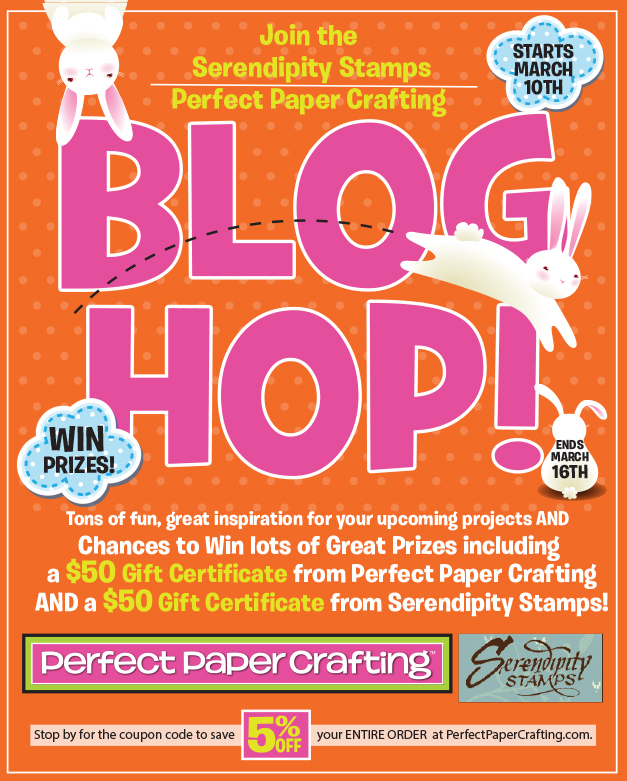 Welcome to the Serendipity Stamps & Perfect Paper Crafting Blog Hop! We have some fabulous projects from both Design Teams and some fabulous prizes to go along with them!  Our blog hop will start on Monday, March 10, 9:00 AM Pacific time (noon EDT) and go through Sunday, March 16, Midnight Pacific time (3/17/14, 3:00 AM EDT).
Winners will be announced on each companies blog for the $50 Gift Certificates on Monday, March 17. Winners will be randomly selected from those that leave comments on all the blog hop stops.In addition both companies have these specials for you:
Perfect Paper Crafting: Use the code, serendipity5%, shoppers will get a discount on their order on at checkout.
Serendipity Stamps: Everything in our Easter Category is 20% off until Wednesday March 12, 2014.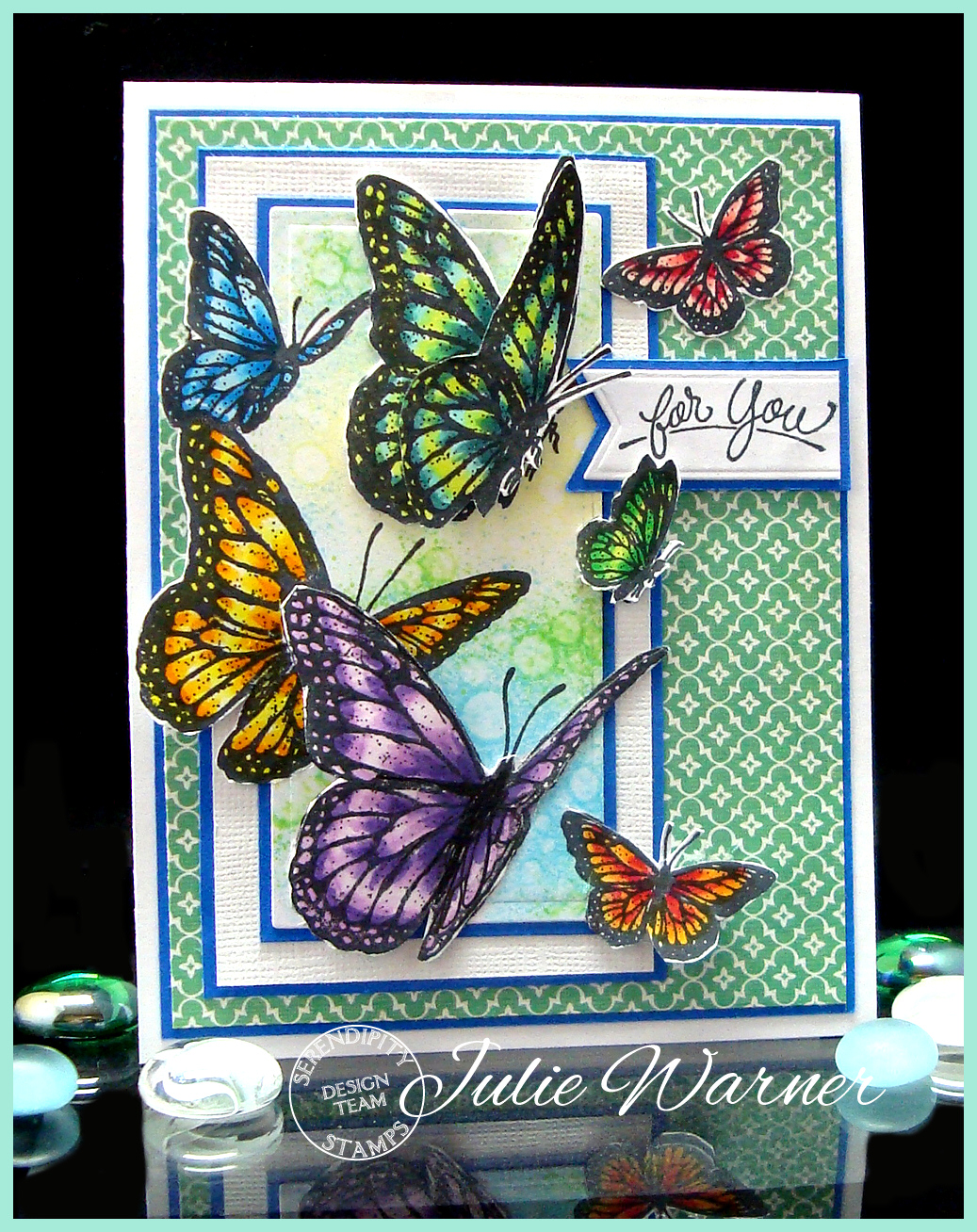 On my first card, I used this beautiful Serendipity Butterflies in Flight 442L, and the fabulous new Perfect Paper Crafting Layers Mini set! I stamped the butterflies twice, colored both with Copics and set aside one for later. On the other, I did a very tricky out of the box Nestie technique on it using a long rectangle die. Normally, it's not this involved but I had so many points that were out of the box, including two little butterflies on the right that were almost entirely out of the box, that it was more complicated than usual. But it worked! Since I couldn't line up the PPC mini ruler against the edge, I die cut another the same size and used it for the template to cut the cobalt blue layer using the ruler to create a 1/16 border. The textured white has a 1/4 inch border, followed by another 1/16 inch cobalt border. I used the same 1/16 inch border for the largest cobalt layer as well.
Since I also have the PPC Perfect Airbrush Color Spritzer, I wanted to try it out and see if I really could use my Copic markers with it. It worked great! By removing the insert my sketch markers fit and worked wonderfully. By varying the amount of pressure, I was able to have a soft airbrush look or a more splattered look by squeezing harder. So I masked the butterflies and used the spritzer with several colors using a light mist. Then I used a small acrylic paintbrush dipped in blender solution to splatter the background and the result is the watercolor like look you see here.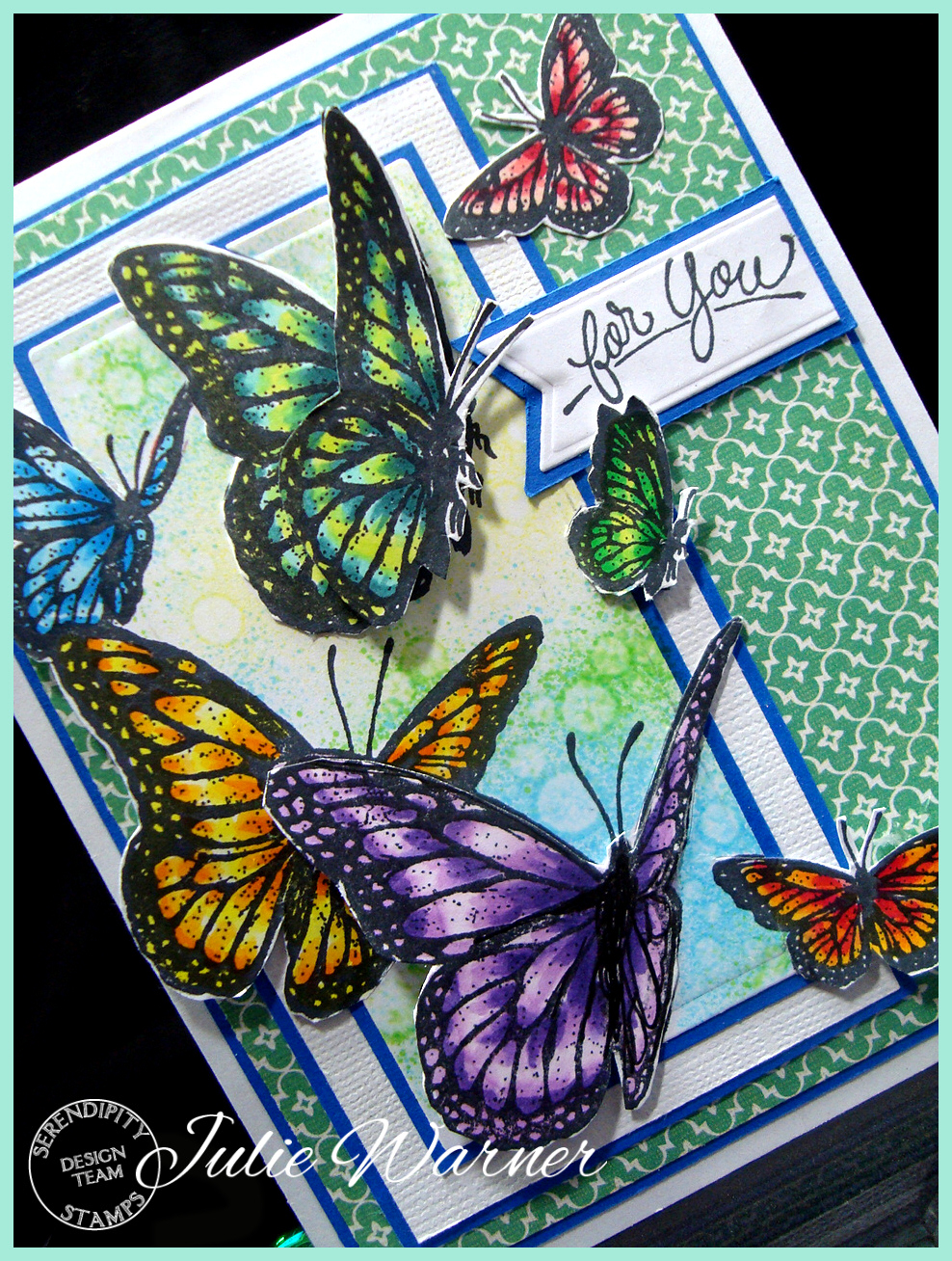 The fishtail banner die cut sentiment also has a 1/16 inch cobalt layer created with the PPC Layer Mini and by using just the end of the ruler jutted up against the inside indentation, I was able to use the ruler all the way around. I cut out a few of the extra butterflies and attached them with foam tape for extra dimension. The finished card is 4.25 x 5.50 and these are the Copics I used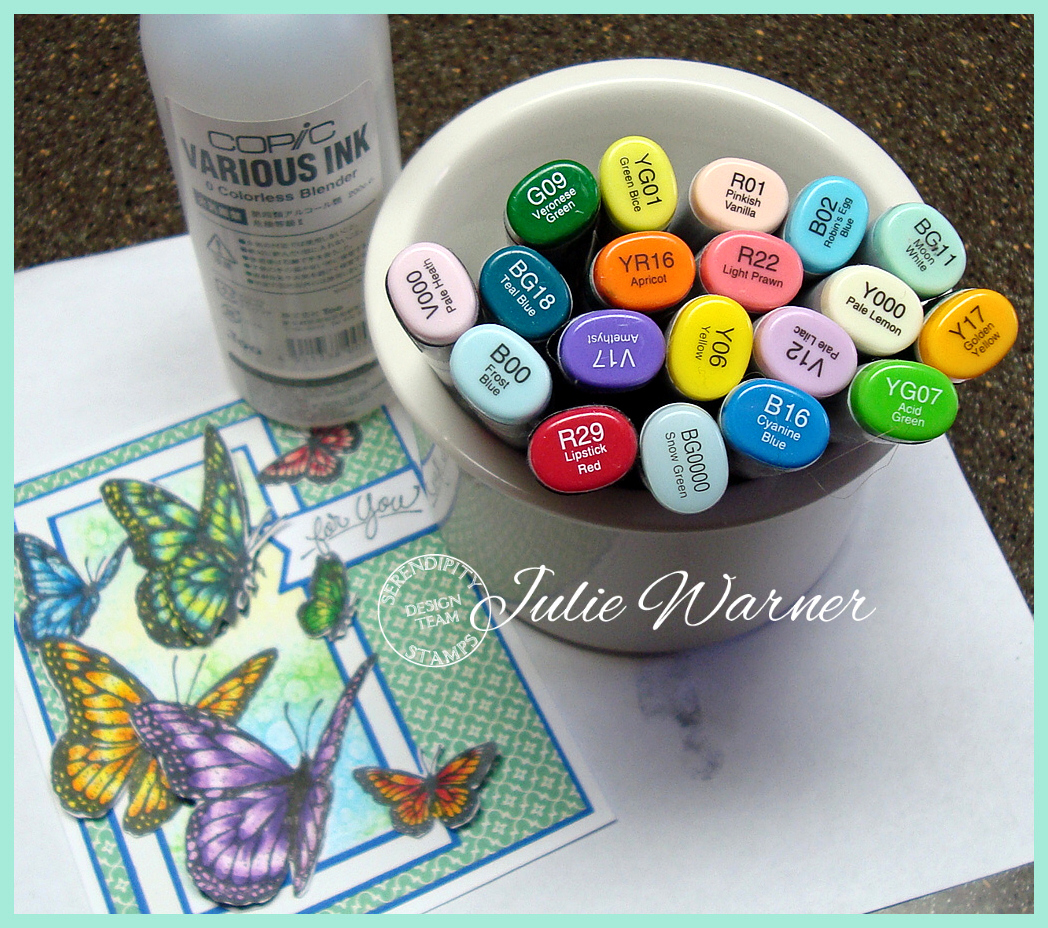 Supplies: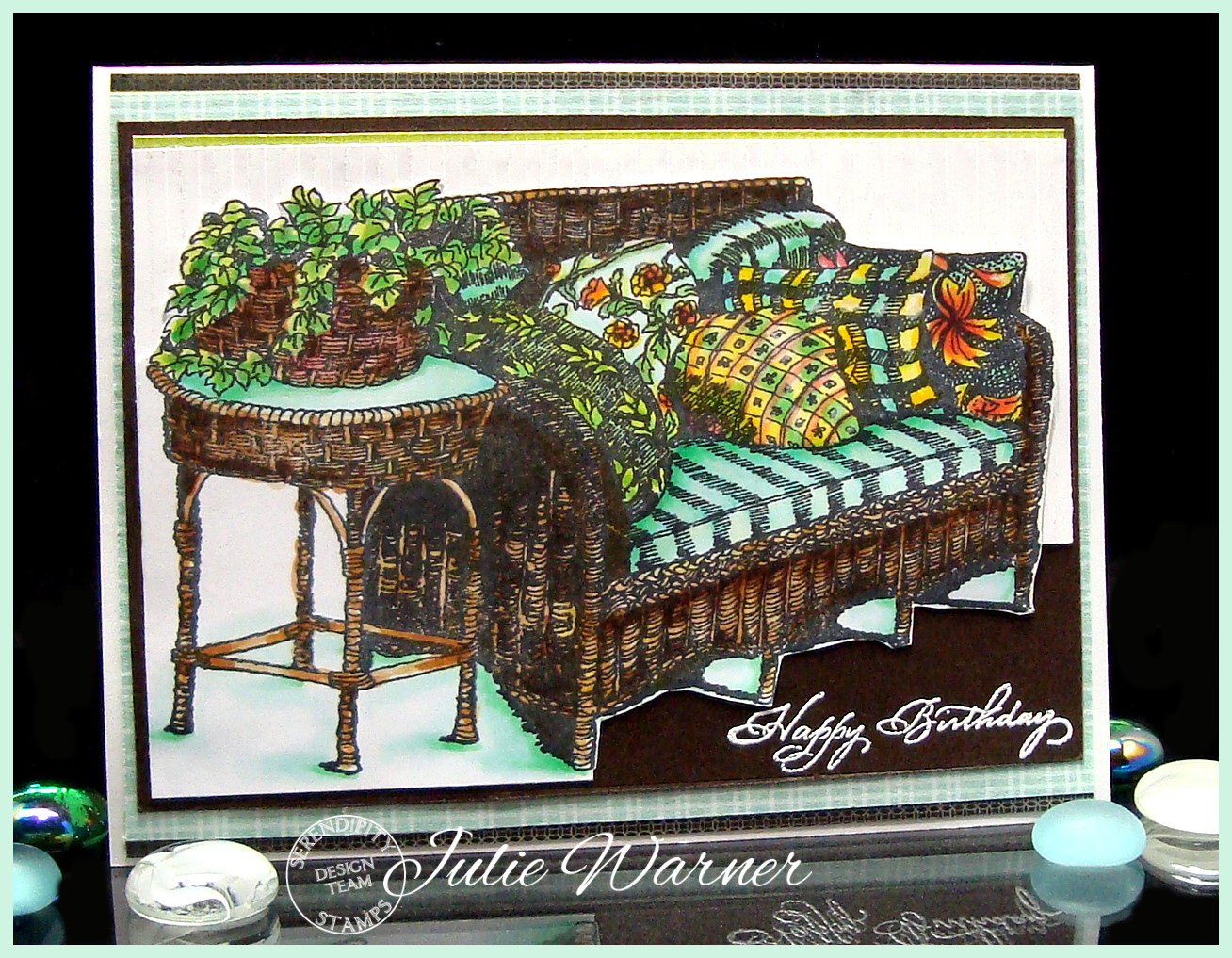 My second card is much simpler! After stamping the sofa and coloring, I trimmed around the top, right and lower right edges, leaving only a small section around the left side. I added a strip embossed white panel behind the couch and used the PPC Layers Mini to created a lime green 1/16 inch strip on top before attaching it to a larger chocolate brown layer w/ the greeting white embossed in the lower right. I used the PPC Layer Minis to create a 1/4 inch border on top & bottom with a 1/16 inch border on left & right on the pale aqua checked paper. I attached two strips on top and bottom w/ the chocolate stripe showing and again used the ruler to create the 1/16 inch borders. The finished card is 5.50 x 4.25 and these are the Copics I used.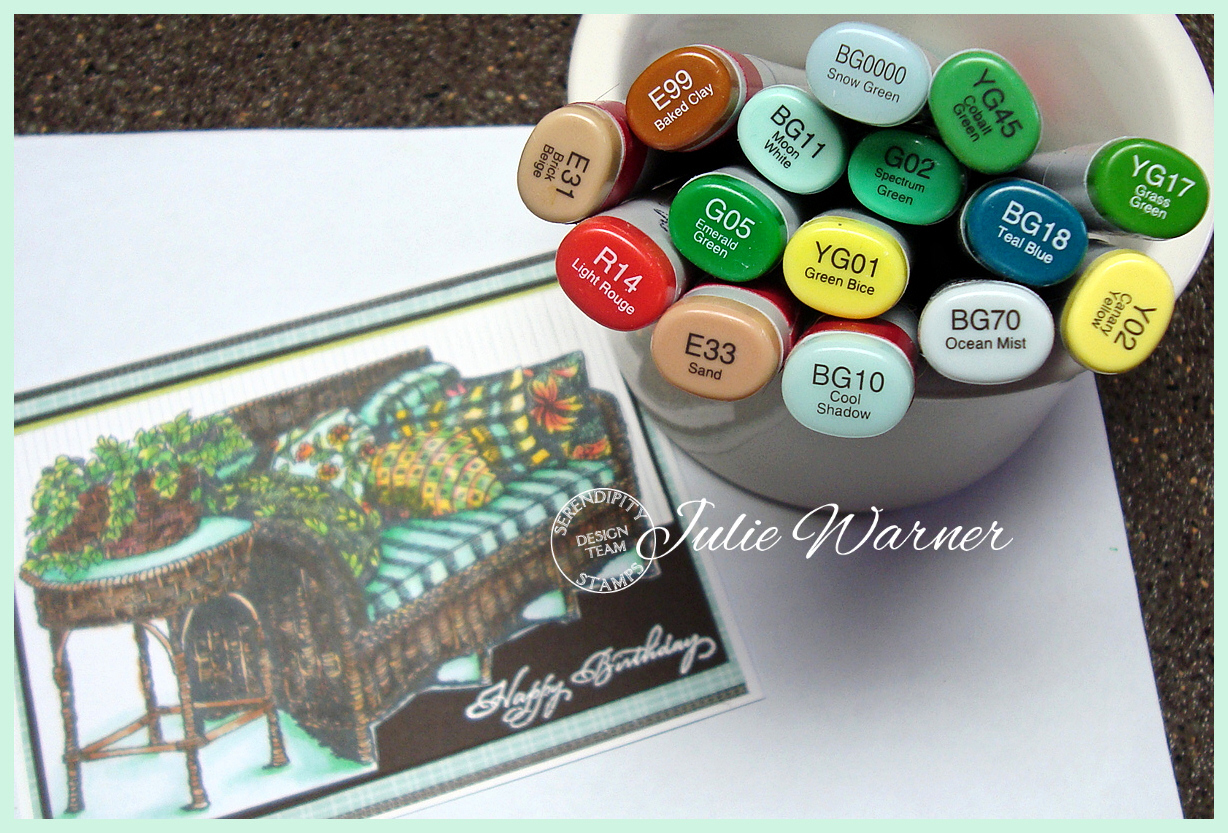 Supplies:
Thanks so much for stopping by!


This is the Hop order in case you lose your place:
Serendipty Stamps
Perfect Paper Crafting & Laura Lynn
Anya Schrier
Jenny Gropp
Marybeth Lopez
Pam Sparks
Julie Warner (you are here!)
Jenn Cochran
Vickie Zimmer
Roxie Glaza
Jeanne Jachna
Dana Joy
Karen Amidon
Miriam Napier
30 Responses to "Serendipity & Perfect Paper Crafting Hop!"
Your comments are so appreciated!