Archive for October 1st, 2010

Welcome to Our Daily Bread designs' October Release Blog Hop!
For my card, I used the new Randi's Song set. I love the leaf block and beautiful script. I had some left over background from long ago projects and the colors just said Fall to me. I stamped the leaf block image 6 times onto an alcohol ink background (polished stone technique) and cut out three of the leaves to pop them up on the base image.  On the marigold layer, I stamped the script multiple times with the gold ink. I also stamped the shadow leaf with gold ink and the leaf veins using a Kpad. It's attached to another background I call Gilded Rainbow (here's the tutorial for this technique). The dk redwood brown layer was cut with deckle scissors and all layers were edged with a gold leafing pen. I wrapped some gold thread around the brown layer then attached it to a 8.5 x 4 (fits a #9 business envelope) card. The card was also marigold in color, but since I couldn't find just the right color of rich paprika, I sponged it with color until I liked it.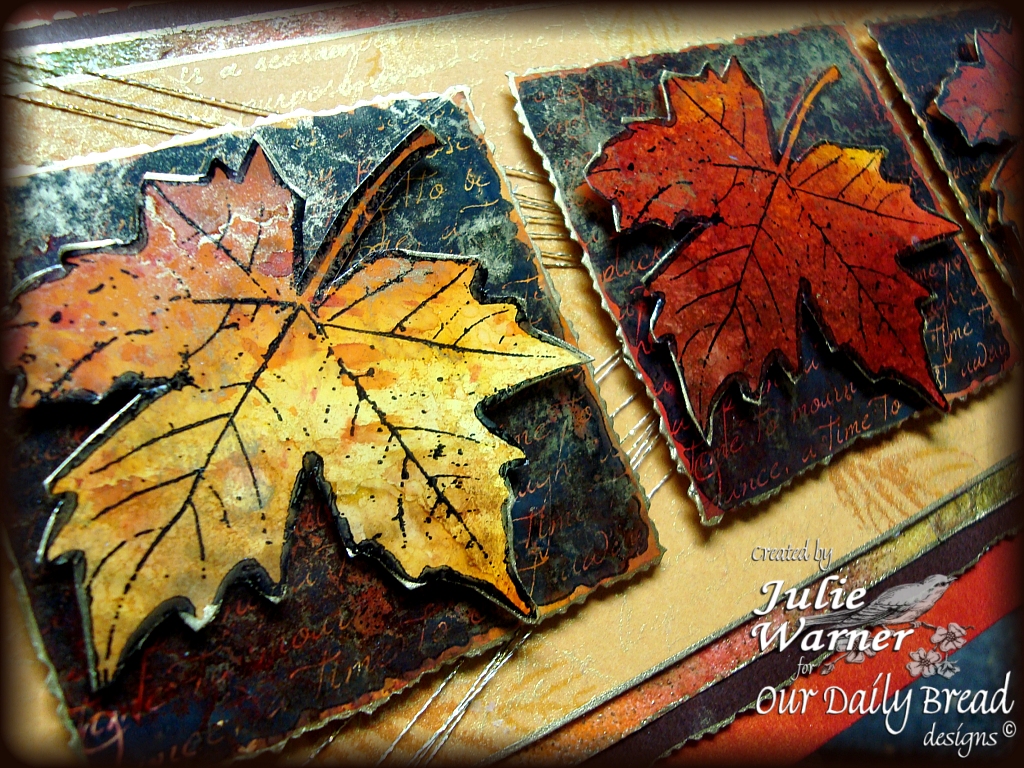 Thanks so much for stopping by!

Supplies:
stamps: ODBD – Randi's Song
paper: marigold, redwood brown, alcohol ink background & gilded rainbow background
ink: Kaleidacolor Autumn Leaves, Brilliance Galaxy Gold, Ancient Page coal
accessories: deckle edge scissors, Krylon gold leafing pen, gold thread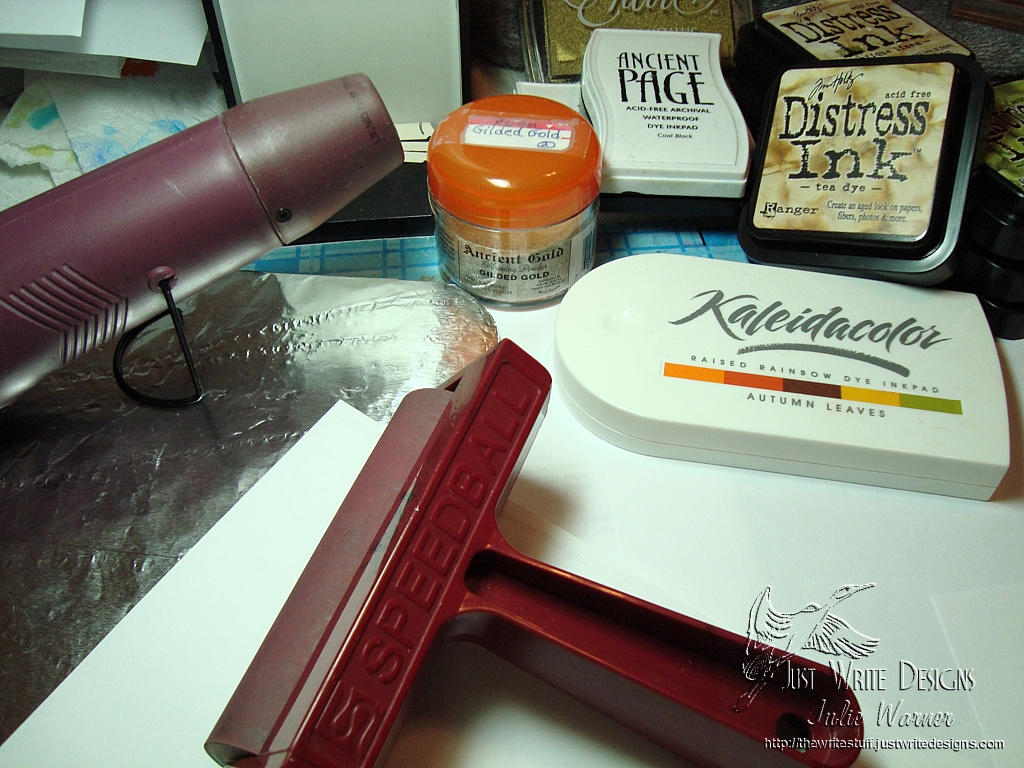 Click on any picture to enlarge.
Supplies Needed:
Text weight paper (copy paper)

Rainbow ink pad (I used a Kaleidacolor Autumn Leaves ink pad)

Embossing Powder ( I used Ranger's Gilded Gold, it's mostly clear with flecks of gold; try using a mix of clear & a little gold as a substitute)
Other Ink Pads ( I used Ancient Page Sienna, Distress Tea Dye & Fired Brick,  Encore Ultimate Metallic Gold and Hero Arts Soft Wheat)

Heat Gun
Step One:
Brayer the entire piece of paper using the rainbow ink pad.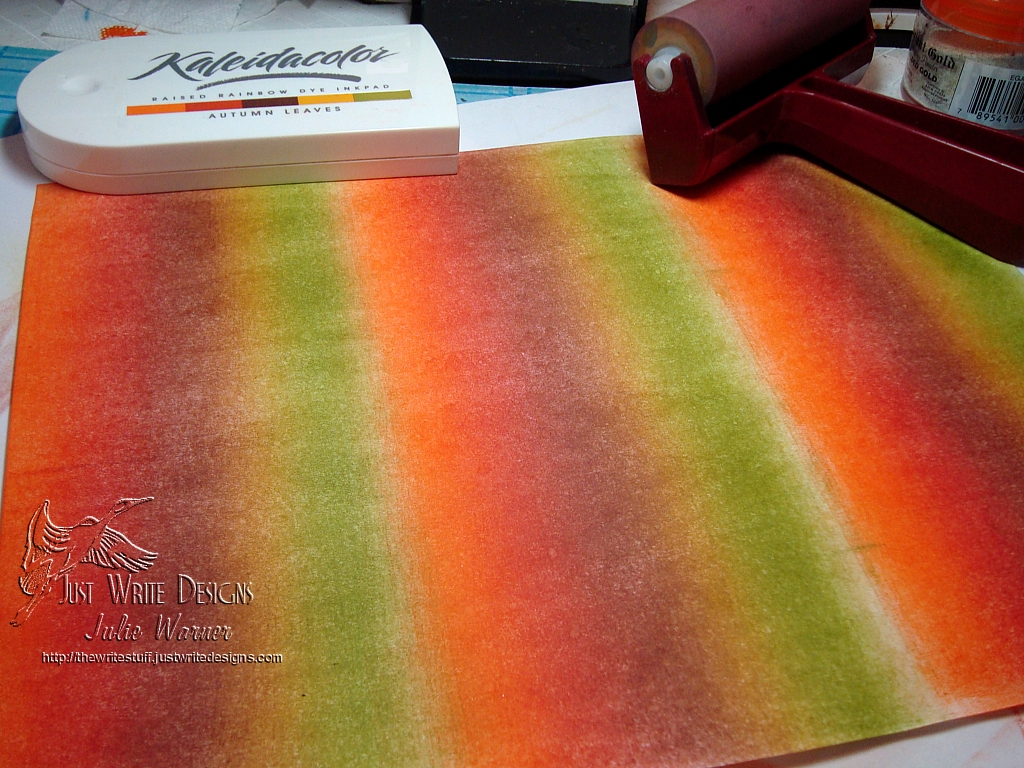 Step Two:
Crumple the piece of brayered paper into a ball.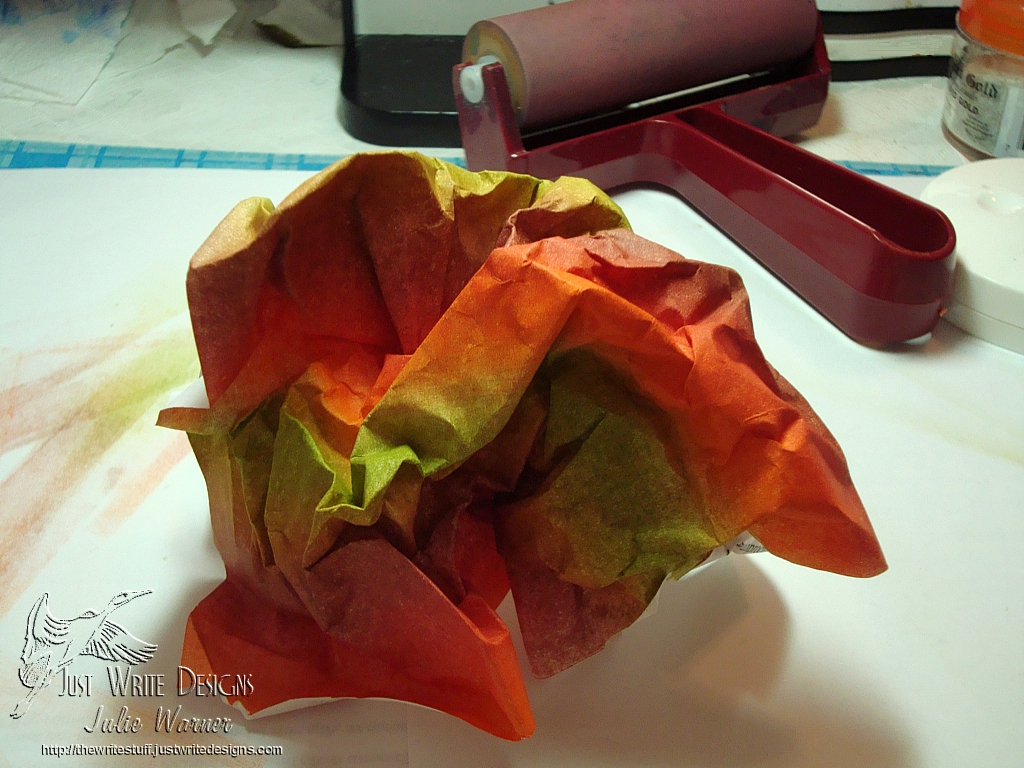 Step Three:
Flatten out the paper and ink the creases using the direct to paper (DTP) technique. I'm using Tea Dye Distress ink.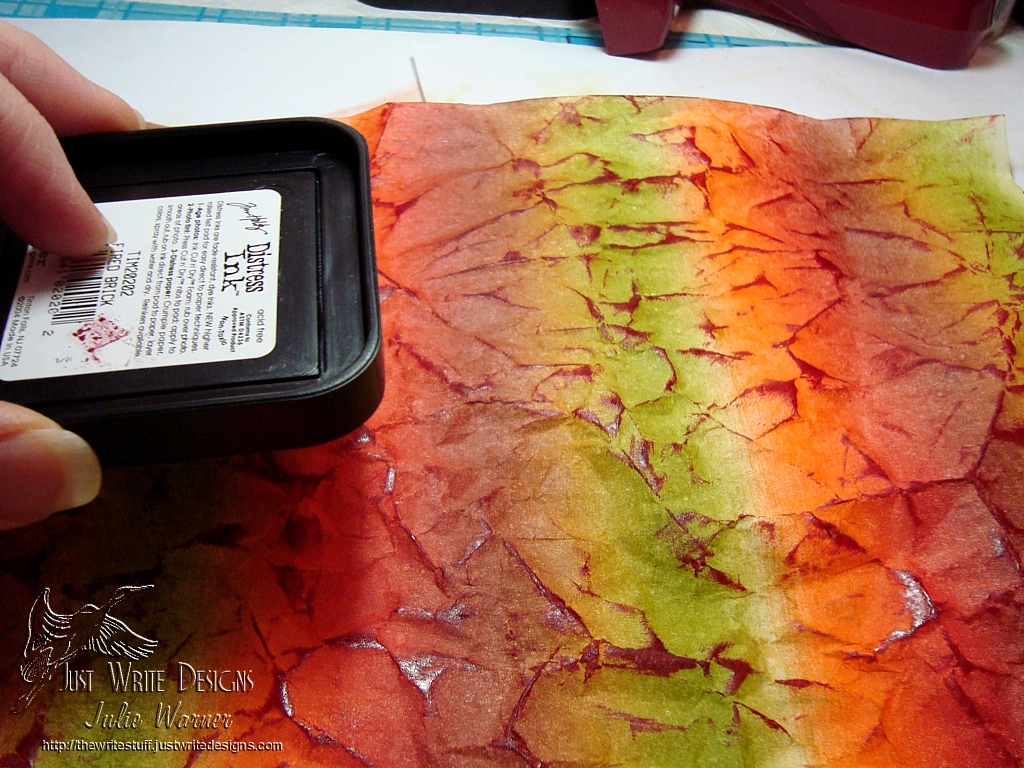 Step Four:
Crumple the paper once again, flatten out and ink the creases with a darker ink. I'm using Ancient Page Sienna ink. Repeat steps 3 & 4 with a different ink color. I'm using the Distress Fired Brick ink.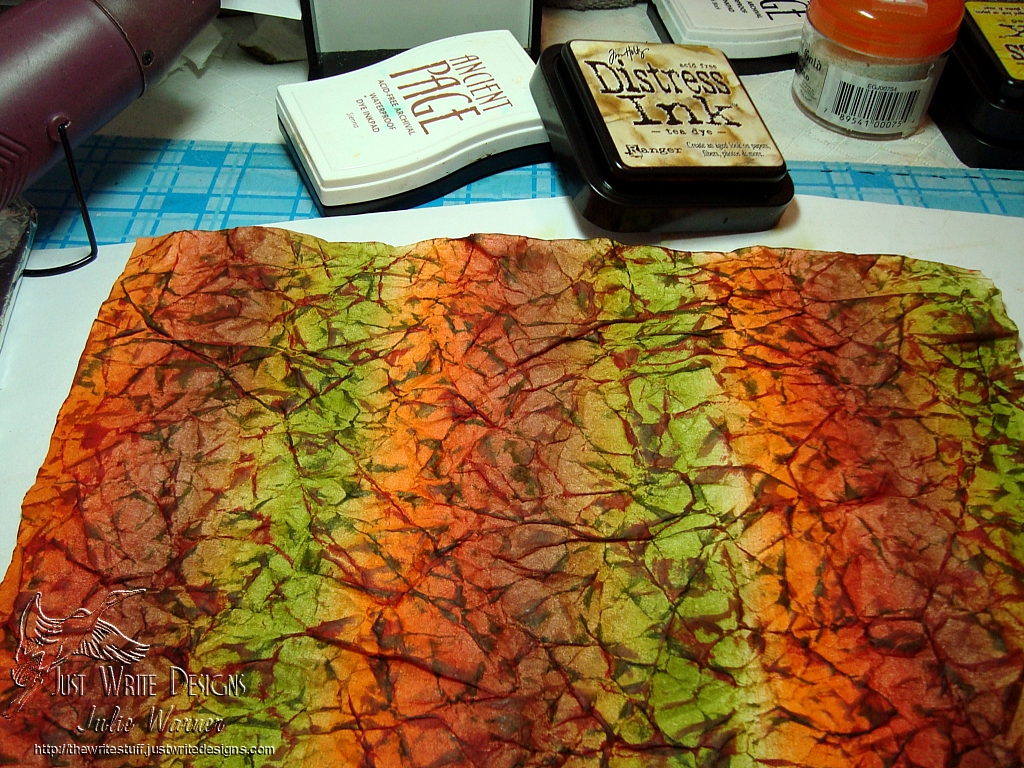 Step Five: (Optional)
I wanted to tone the color down a little, so I used the Soft Wheat ink all over the paper.
Step Six:
Crumple the paper a final time, smooth out and ink the creases with the metallic gold pigment ink. I'm using the Encore Ultimate Metallic Gold ink.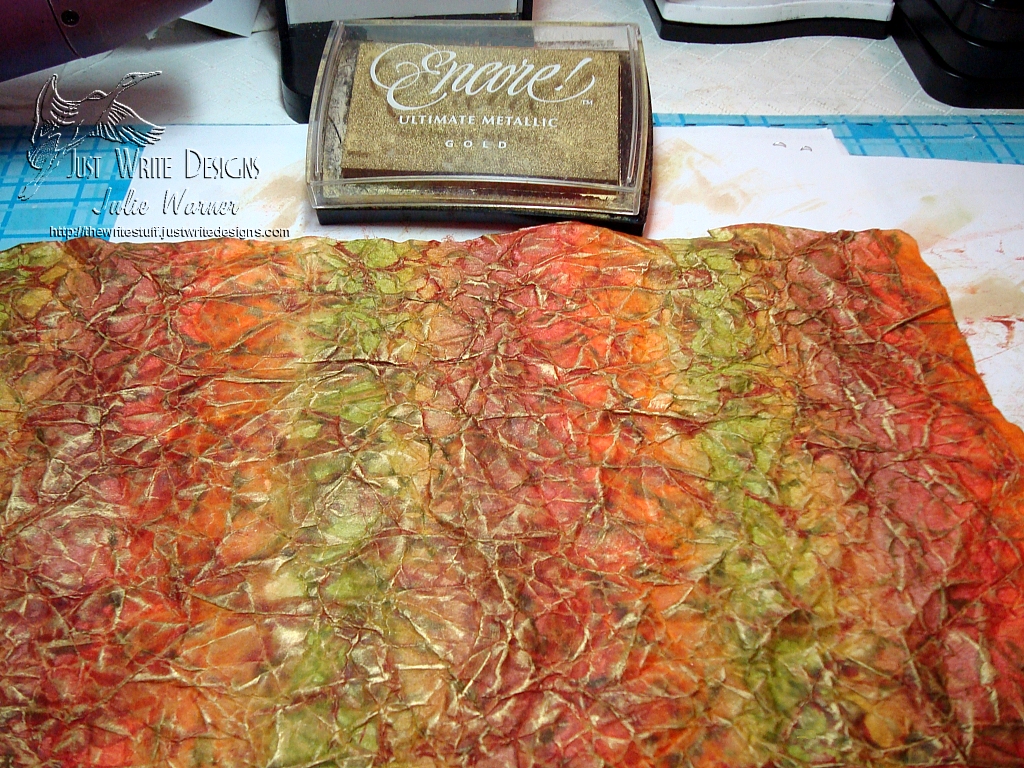 Step Seven:
Sprinkle on the embossing powder. Do not cover the entire paper. I used a little measuring spoon to drop the powder here and there. Tap off the excess and return to the jar. Heat the powder until melted and until any non coated areas are dry.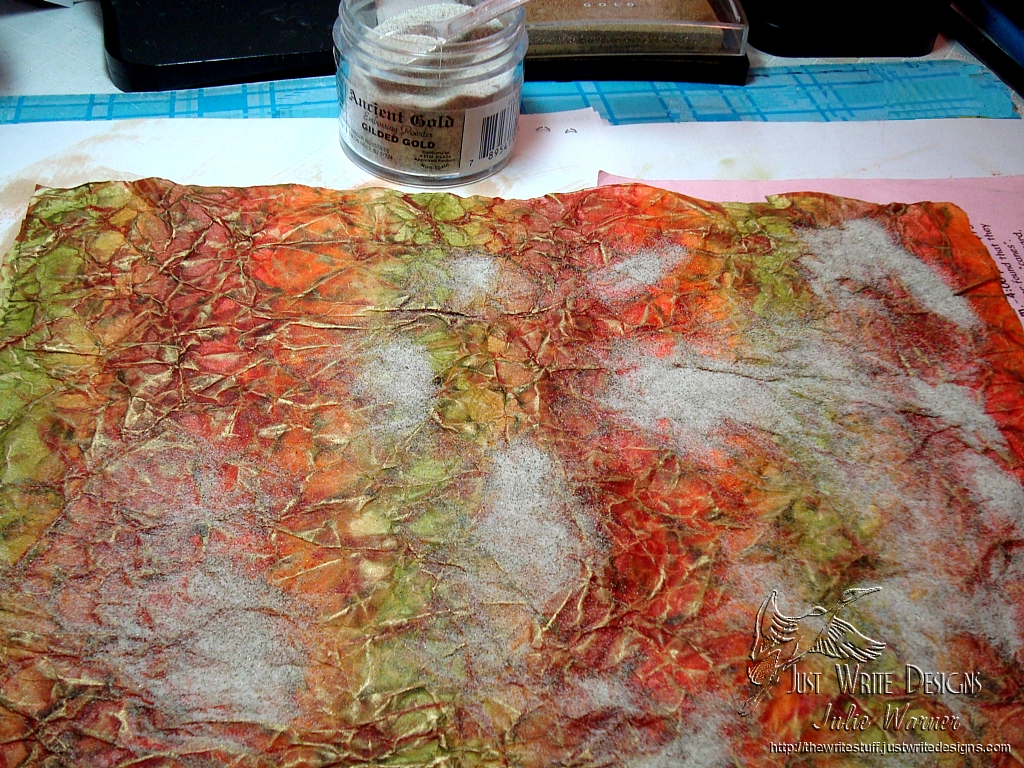 Step Eight:
Enjoy your finished background! Here's a card example using a piece of this finished background. I used it for a backing layer for some color behind the leaves on the marigold panel.