There are only three more days to get in on the DRS Designs Stamp a Day Giveaway! It's my day to post and I'd love for you to drop by and leave a comment. That's all you have to do to be in the drawing. Just click on over to the DRS Designs Blog , leave a comment and you're in! Hope to see you there and good luck!
Ever find yourself in awe of Butterflies?
Take Flight, is just mesmerizing, it was designed to give your project or card a 3D effect! We were encouraged by Betsy to use the wooden-frame from ISC Fruitful sheet or create our own on the design below.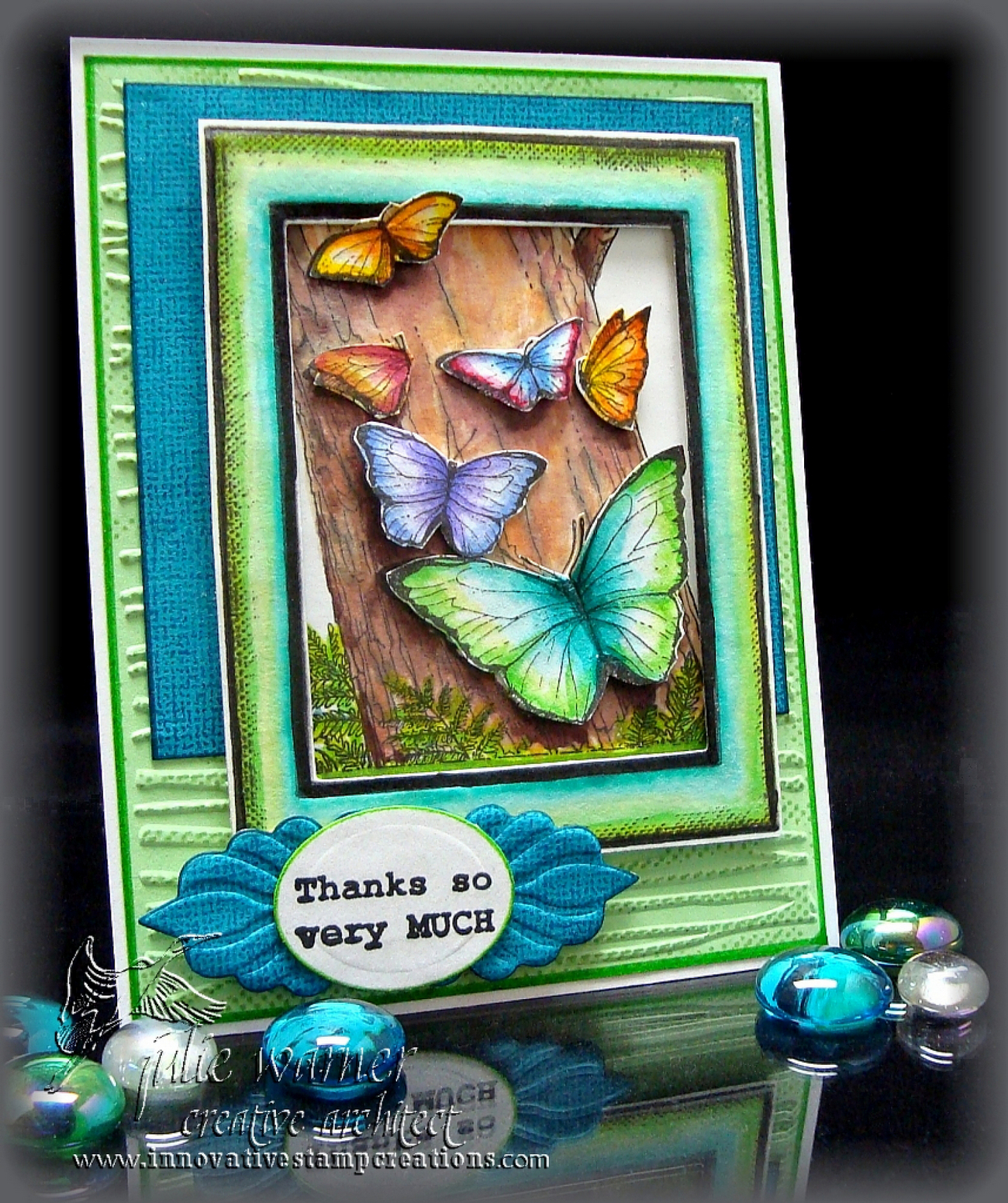 Isn't this a beautiful image? I love the tree trunk with all the butterflies and it fits so perfectly inside the frame. After stamping the image, I colored it with a combination of reinkers and markers. I stamped the butterflies again, colored them, cut them out and attached them on top of the originals with foam tape under one wing for a little lift. The frame was done on a separate piece of c/s, colored the same way and cut out. I wanted the picture to be a little recessed so I  made two more card board frames, cut them out and attached my frame on top.
For the teal half layer, I stamped it with the Canvas Background and the calypso ink. For the lt green layer, I used a cuttlebug folder first, then stamped Little Specks background with leaf ink. Since it was already embossed, the image is mostly on the raised portions only. After cutting out the sentiment with an oval die, I attached it to two pieces I cut using one element of the Symbology 1 die. I used markers to edge all the layers.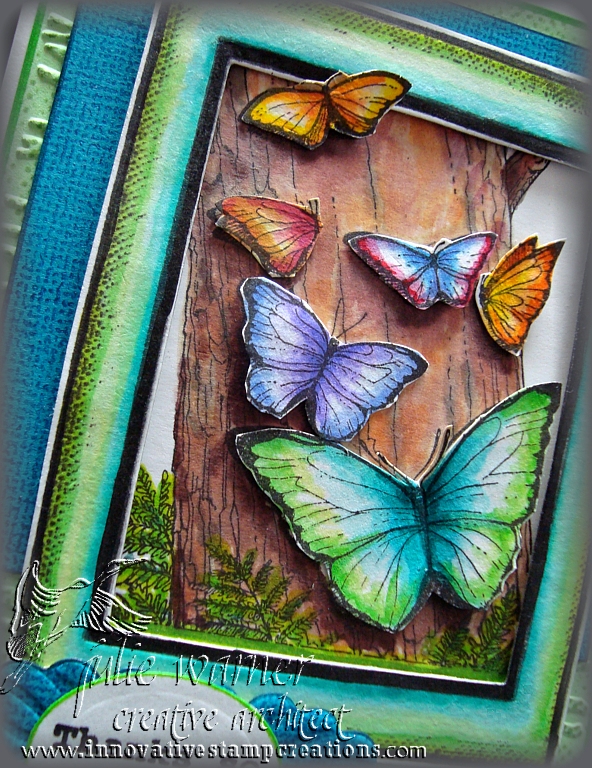 Please be sure to visit all of the ISC Architects. You'll be amazed at what they've come up with!
Thanks so much for stopping by! Your comments are always read and much appreciated!
Supplies:
stamps: Innovative Stamp Creations

paper: white, teal, lt green


ink: VersaFine onyx, Ancient Page calypso blue & leaf green, various dye reinkers

accessories:  black Permapaque marker, Spellbinders classic oval & Symbology 1 dies,  Tombow markers, card board, foam tape, Cuttlebug forest branches folder
Pin It
All images are Our Daily Bread designs and are a new June release. This is one of those that turned out way different than I envisioned.  It also looks much better in person. I always forget how hard it is to get a good picture when using metallic card stock and metallic embossing.
I had this idea of using the scripture to form a cross and I wanted to put some fancy die cut or punched shape behind it. Nothing really looked the way I wanted, so I opted to just cut some graduated sizes of circles/rings in three different colors of metallic card stock.  I added a somewhat fancy die cut at the base of the cross. The cross itself was formed by first embossing the entire passage using a combination of silver and gold powders. I stamped the first part only on either side then used my Spellbinders long rectangles to cut away each side, one at a time, to form the cross.
The ivory background was embossed and it and the cross were edged with a gold Krylon pen.
Thanks so much for stopping by! Your comments are always read and much appreciated!
Supplies:
stamps: ODBD – Scripture Series I
paper: ivory, white, metallic gold, silver & bronze
ink: Encore Ultimate Metallic gold
accessories: gold & silver embossing powders, Spellbinders lg & sm circle sets and long rectangles, Cuttlebug Ornamental Iron combo folder/die,  Krylon gold leafing pen