Happy Friday!
Today I'd like share a card and a quick little mini tutorial. The images are all from DRS Designs. The otters and seals were stamped on white c/s and the seals were cut out. For the bubble frame, I decided where to put the circles in the turquoise c/s and die cut them. Then I stamped the sentiment. Now this is where the mini tutorial comes in. I wanted to use an embossing folder on the turquoise but I also wanted to NOT emboss the sentiment. In case you've ever wanted to do this and don't know how, here's the skinny on the technique. Honestly, it's sooo easy!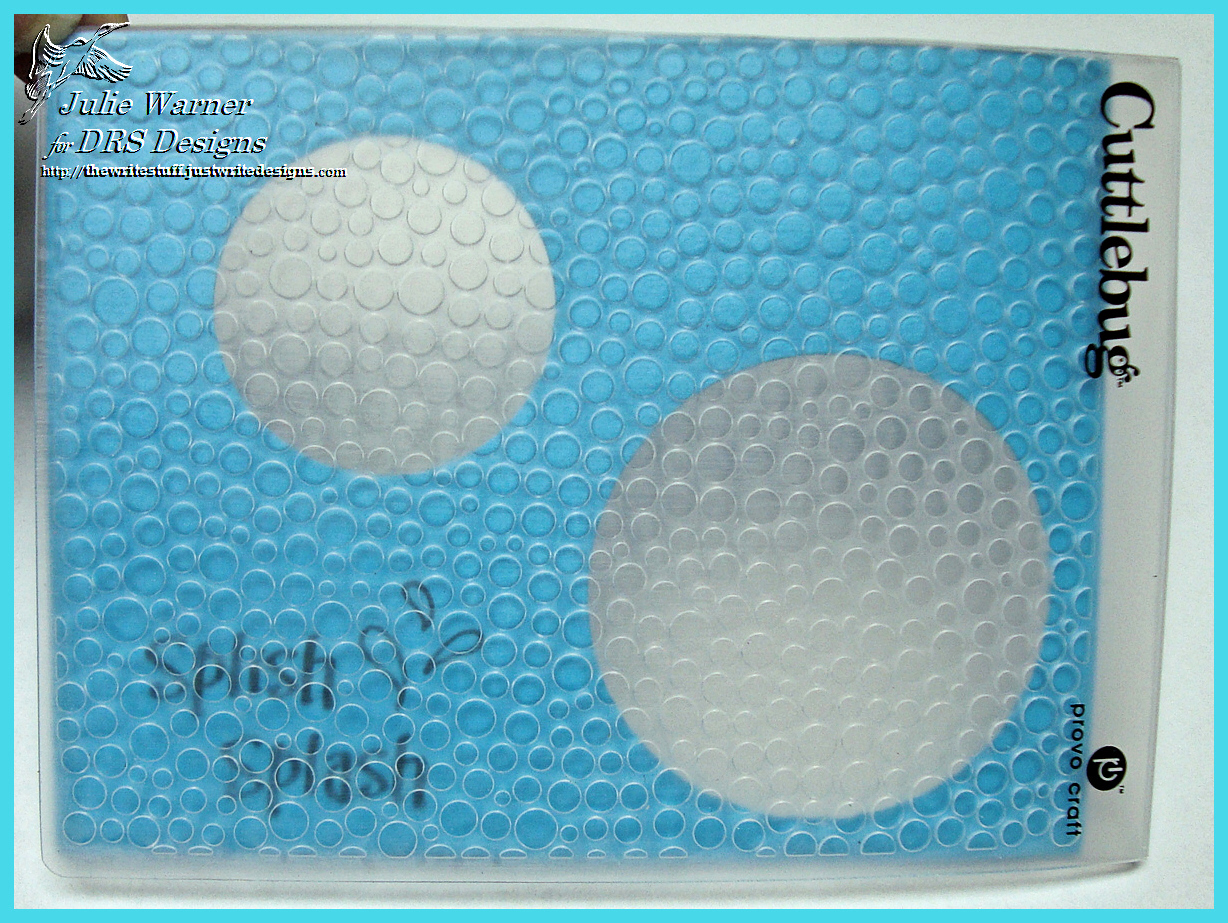 First, place the card stock you want to emboss in the folder the way you want it, but don't emboss yet.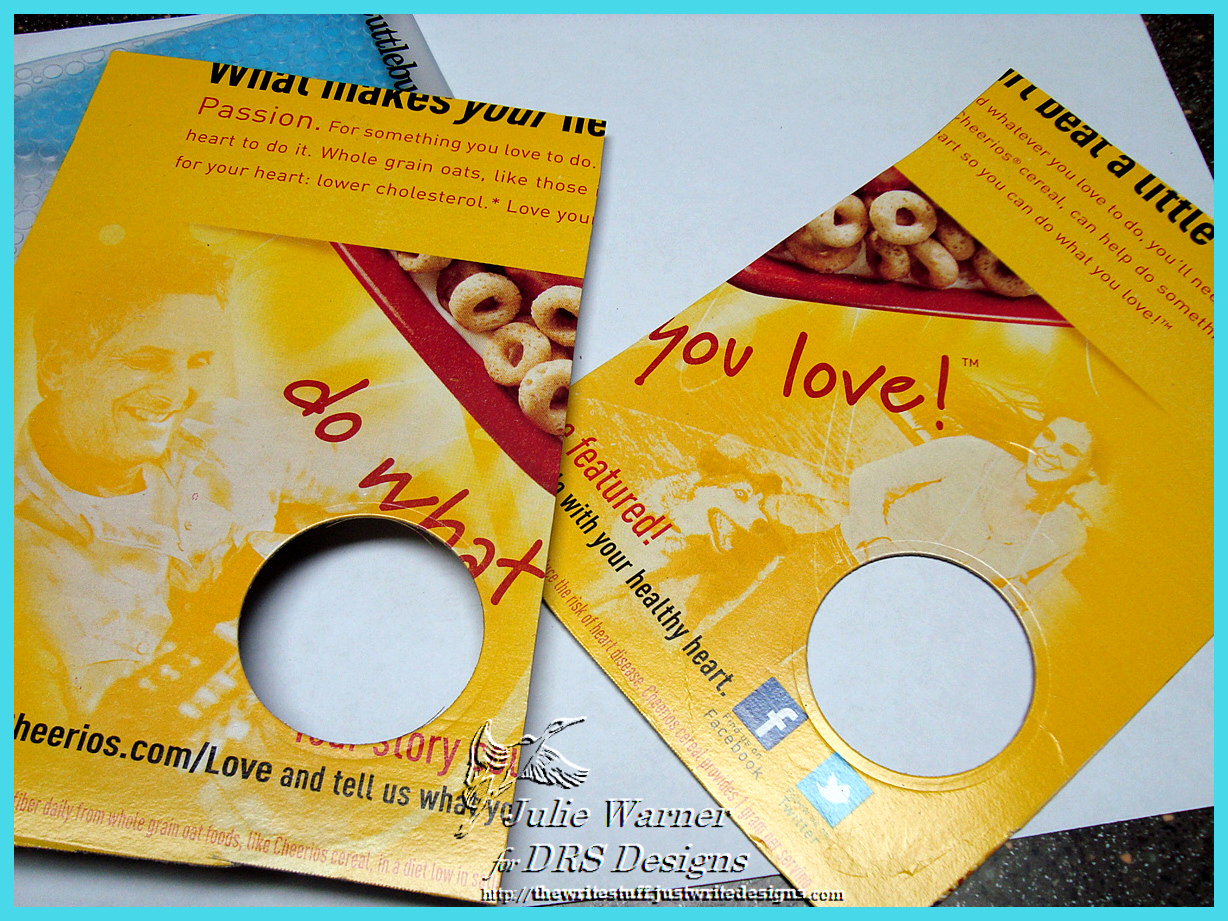 Next, take two pieces of cardboard (I'm using a cereal box) and die cut the size opening you need to fit around your sentiment… it can be any shape, mine just happens to be a circle. Make sure to try and line these up in the same place on both so that the cardboard will cover everything except the area around the sentiment (or where you want the blank spot).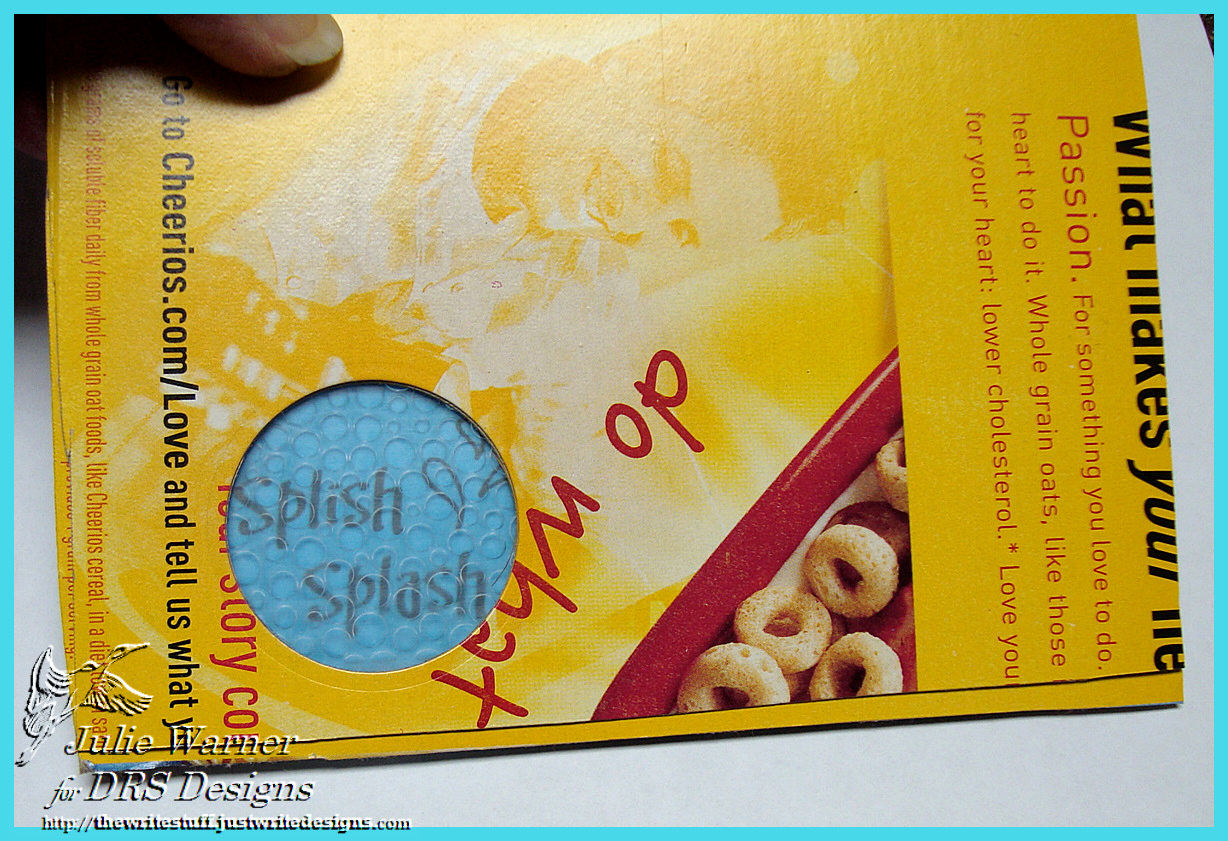 Line up and stack your 2 pieces of cardboard on top of each other and position them as shown on top of the closed embossing folder, so that only the sentiment shows through. You shouldn't be able to see anything else. Run this sandwich through your embossing machine. Note: I use an original Sizzix so I went with 2 pieces of cardboard. If you use a different machine, you may be able to only use 1 piece. Try it and see 🙂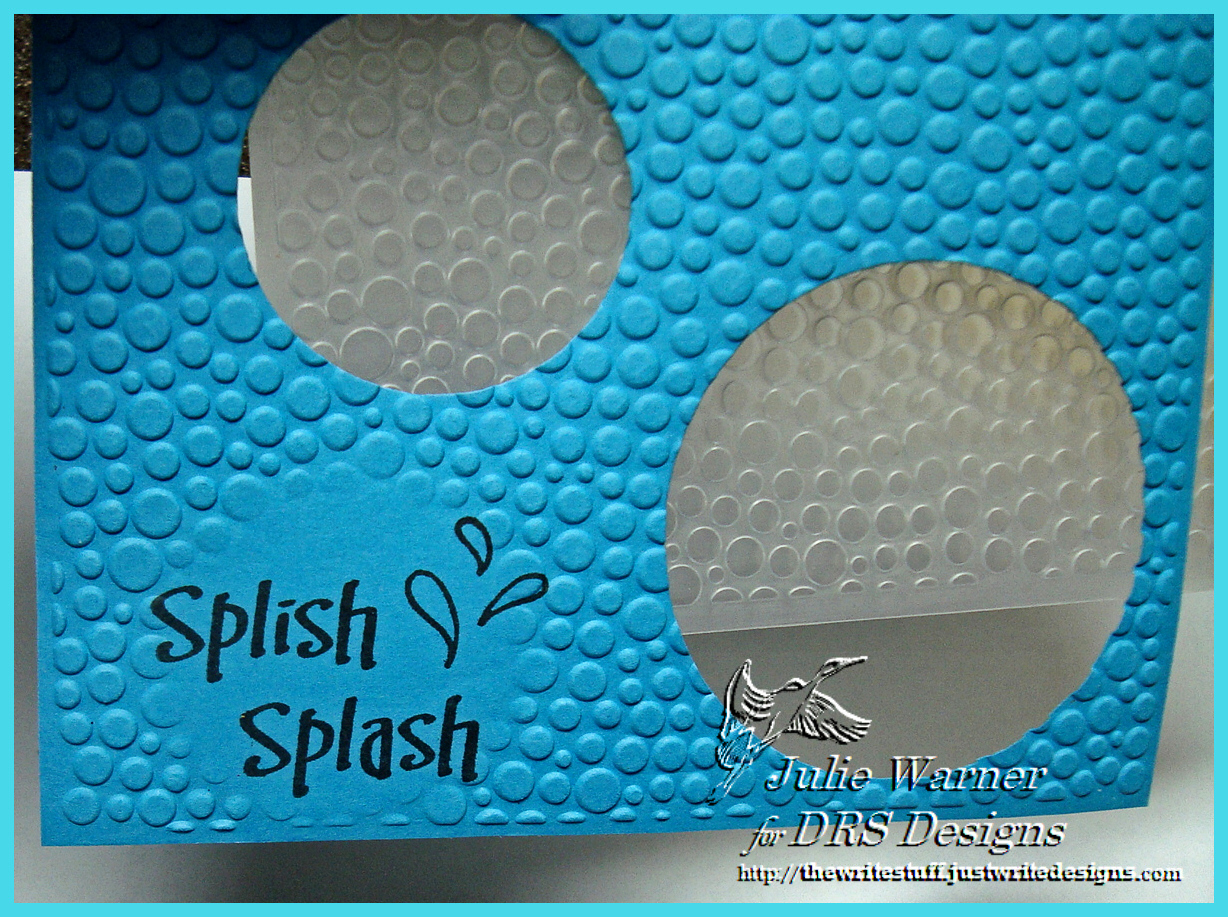 Success! Here is my turquoise card stock, just the way I wanted.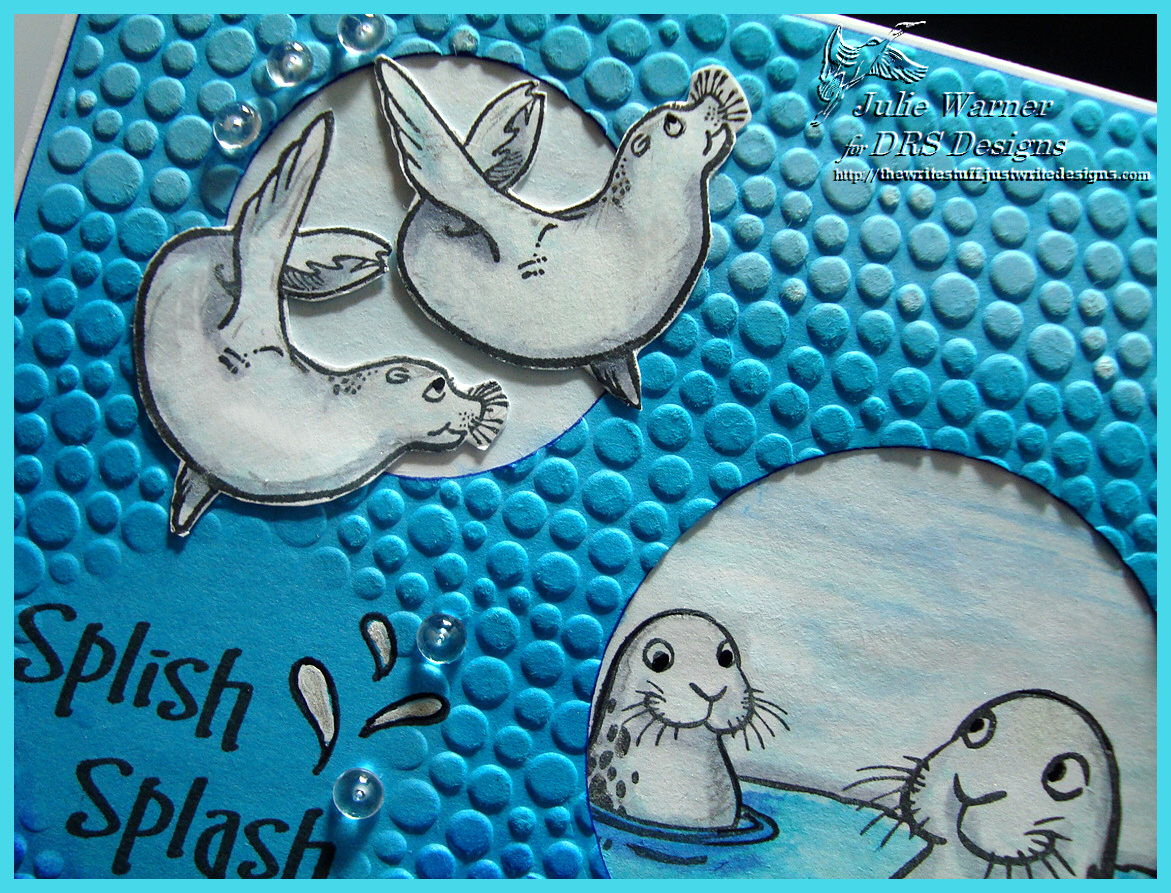 A little close up of the finished card. After I embossed, I used a blue rainbow ink pad and a white pigment pad and sponged on a little more color in bands. Then I placed it over the background w/ the otters and positioned my cut out seals in the upper circle. The finished card is 5.50 x 4.25.
Thanks so much for stopping by! Have a great weekend!


Supplies:
Stamps: DRS Designs
Paper: Neenah white, turquoise
Ink: Ancient Page coal, Kaleidacolor blue breeze, Colorbox frost white pigment
Accessories: Spellbinders circle dies, Cuttlebug tiny bubbles embossing folders, Tombow markers, white gel pen, tiny dew drops (aka: floral filler from craft store), cardboard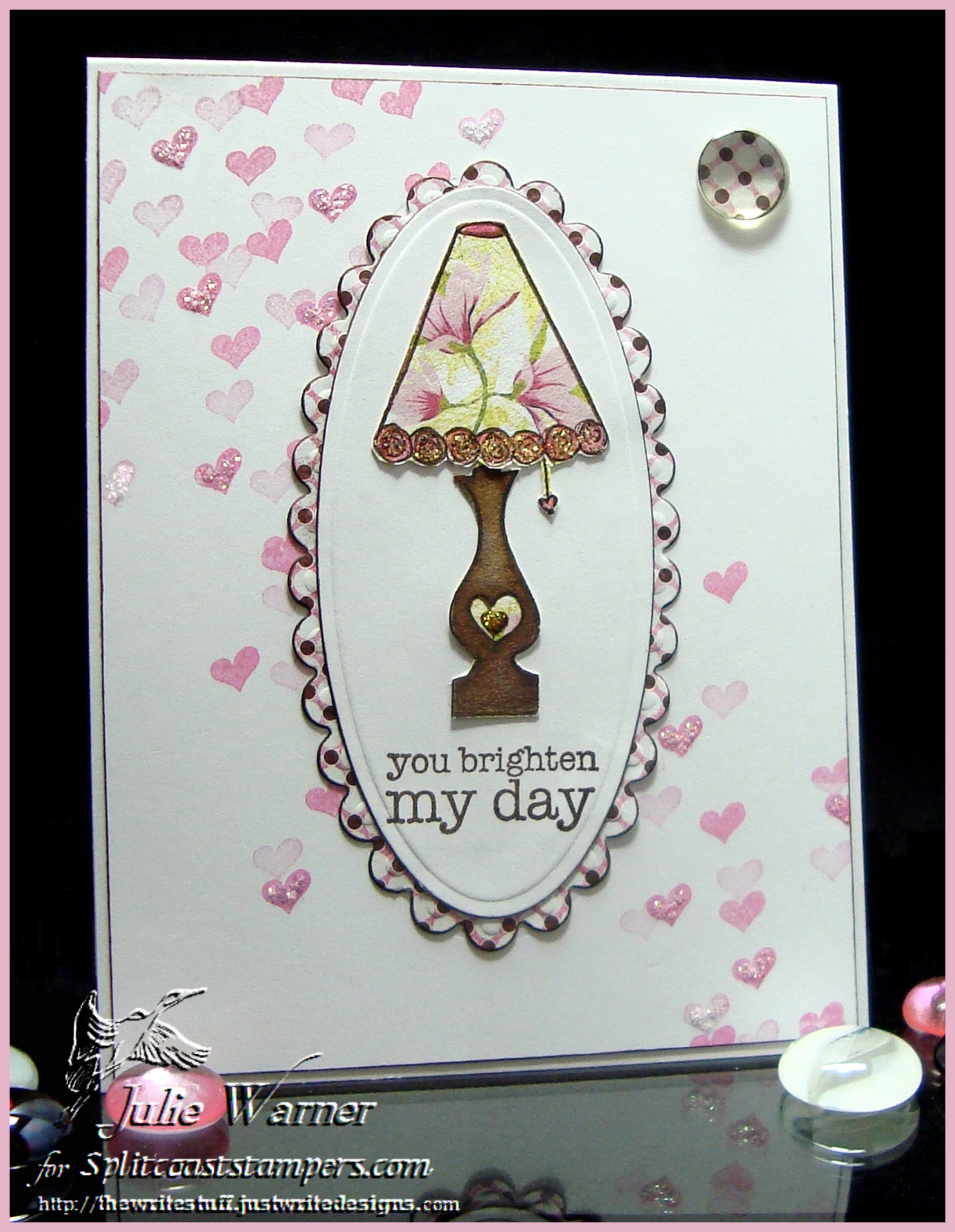 For today's Featured Stamper (FS285), on this first card, I chose Sophie's Bridal Shower Hearts. I just love the little falling hearts, so I kept them along with the CAS layout, but changed the images and shape of the main panels from squares to ovals.
The images are from Avocado Arts. I picked them up at a convention a couple of weeks ago where I met up w/ friends, Sandee (stampersandee) & Penny (Pawallen). (Hi Sandee, hi Penny!!) The finished card is 4.25 x 5.50 and is pretty CAS. The lampshade was paper pieced from some long hoarded Basic Grey Sultry paper. You know years ago when I first joined Splitcoast, I noticed I had the moniker "Cardstock Collector" under my name. I was floored!! How did they know?? Really, I looked over my shoulder! Not much has changed, lol. I still collect!
Supplies:
Stamps: Avocado Arts
Paper: Neenah white, dp (Basic Grey – Sultry collection)
Ink: Ancient Page chocolate, Memento angel pink, Colorbox rouge chalk ink
Accessories: stickles, Spellbinders mega oval & scallop mega oval dies, epoxy sticker, 1/2 inch circle punch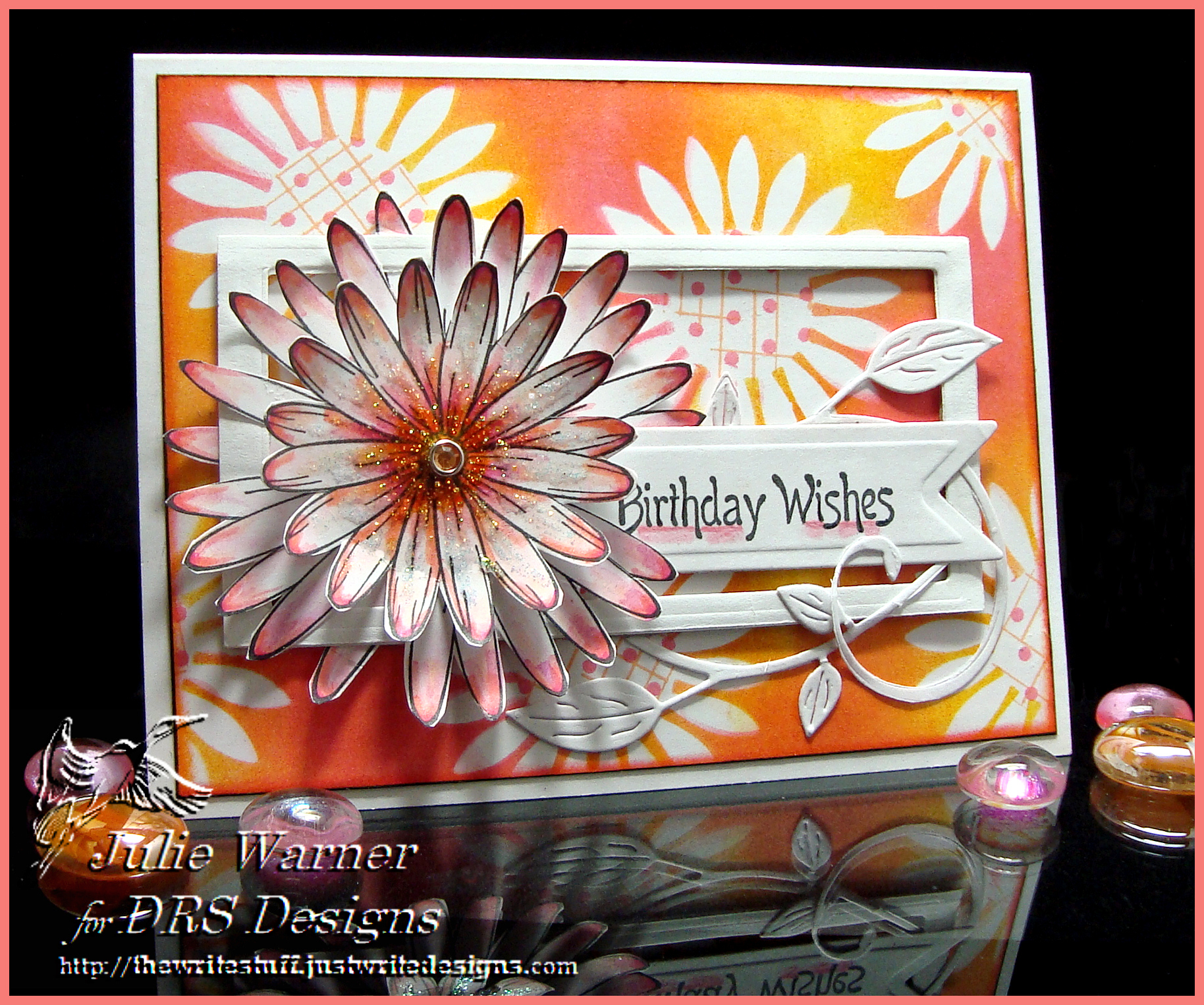 For my second card, I chose Sophie's Hello Pink Flowers to case. I kept the flower theme and general layout, but changed the images, colors and turned it on its side.
The images are from DRS Designs and the background was done with a masking/reverse masking using a Cheery Lynn sunflower die and a Spellbinders circle die and sponging on the colors. I had a little white frame left over from something and arranged my flowers in and out of the frame. A little stickles was added to the flower center and the finished card is 5.50 x 4.25.
Supplies:
Stamps:
DRS Designs
Paper: Neenah white
Ink: Distress Inks – Worn Lipstick, Wild Honey, Spiced Marmalade, Scattered Straw, Ancient Page Coal
Accessories: Spellbinders rectangle & circle dies, Cheery Lynn sunflower die, stickles, Tombow markers
Thanks so much for stopping by!

Welcome to Our Daily Bread Designs  Alumni Team's bi-monthly For the Love Blog Hop.   You may want to start at the ODBD Blog so you won't miss a thing! This week the Alumni team along with some of the ODBD designers are featuring a hop
For the Love of ODBD  embossing plates!
Embossing plates are a little different from embossing folders, but there are a number of techniques to really show them off. I love distressing the embossed card stock with a sanding block to bring out the little embossed fish. I made sure to use a white core card stock so that when embossed and sanded, the embossed fish would really show up. Before I embossed it, I also added a little ink to the c/s and afterwards, I really roughed up the edges.
I paired the embossed fish panel with this wonderful new ship from

Surging Sea

and sentiment from

Smooth Sailing

. Water colors were used on thin water color paper (think kid's w/c pad), then the image was stamped and bleached. Since I was into distressing, I continued on w/ roughing up the edges and even tore a bit off one corner. The sentiment was die cut w/ a little pennant die and also distressed. The white x's on the orange dp were added w/ a white gel pen. The finished card is 5.50 x 4.25.
Thanks so much for stopping by!

Supplies:
Stamps:
ODBD –

Surging Sea

,

Smooth Sailing
Paper: thin water color paper, blue textured (DCWV mat stack), teal, orange dp (Basic Grey -Lauderdale collection)
Ink: Ancient Page coal & calypso blue
Accessories: Spellbinders nested pennants die,

ODBD Fish embossing plate

, Peerless water colors, bleach & acrylic paint brush, Tombow markers, water brush, sanding block, Grand Calibur, white gel pen