Archive for February 1st, 2012
Welcome to the Our Daily Bread designs February Release Blog Hop! If you came here from ODBD Blog , you are in the right place. If not you might want to start at the Our Daily Bread designs Blog and start from the beginning. If you get lost along the way, simply return there, where the entire hop is listed with links.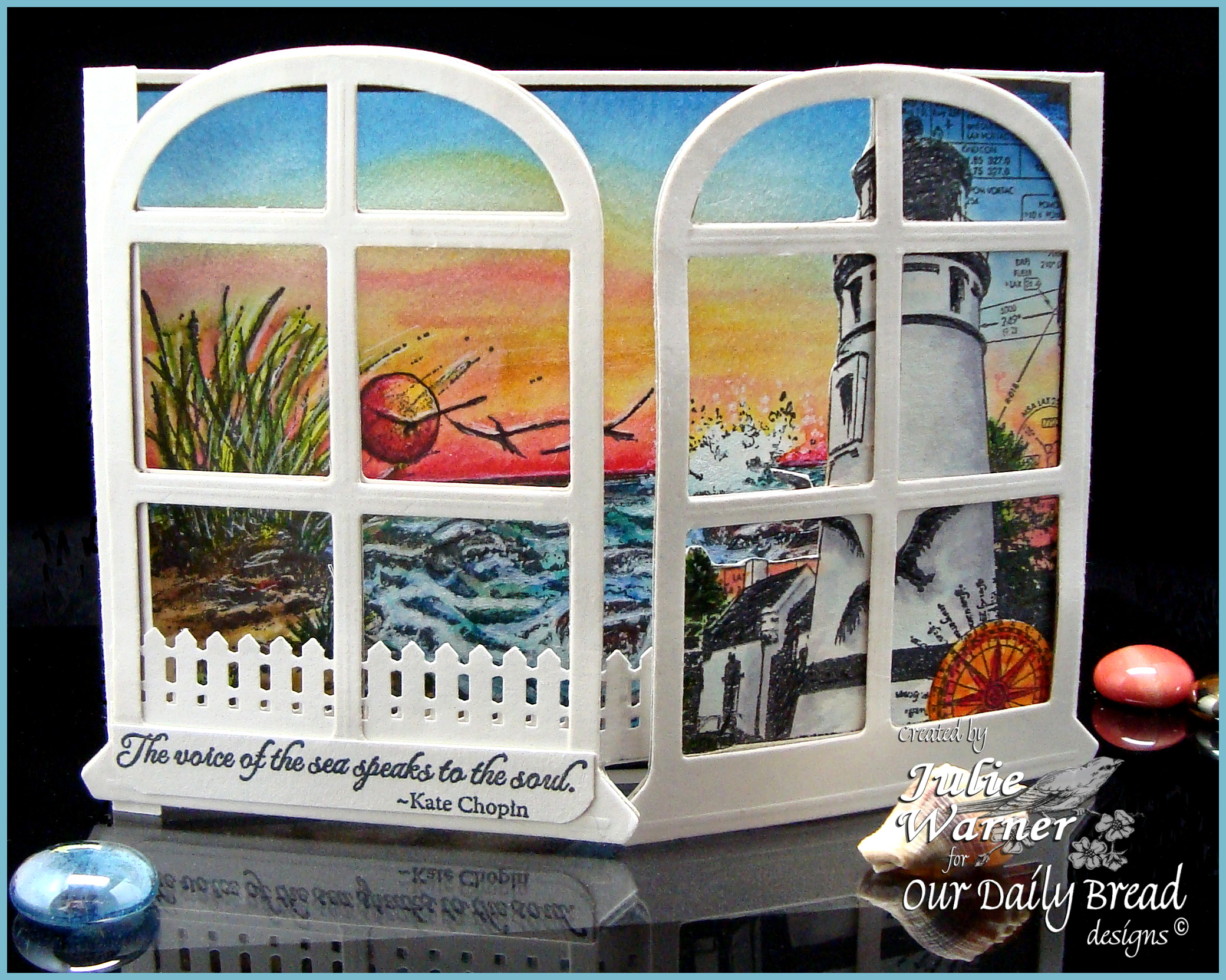 Isn't this a wonderful seascape? When I first saw it, I knew right away I wanted to water color it and pair is somehow w/ this lovely lighthouse image I have. I stamped the Mighty Sea onto water color paper, masked the right side and stamped a partial right side of it again. It still wasn't quite long enough for my 6.25 x 4.50 (A6) card size, so I used some black and gray drawing pens to extend the scene on the right side by about another inch. It was painted using Peerless water colors and a couple of water brushes. The lighthouse image was done the same way on a separate piece of w/c paper and I trimmed it to fit. I used a white gel pen to add highlights and spray from the surf to the rocks.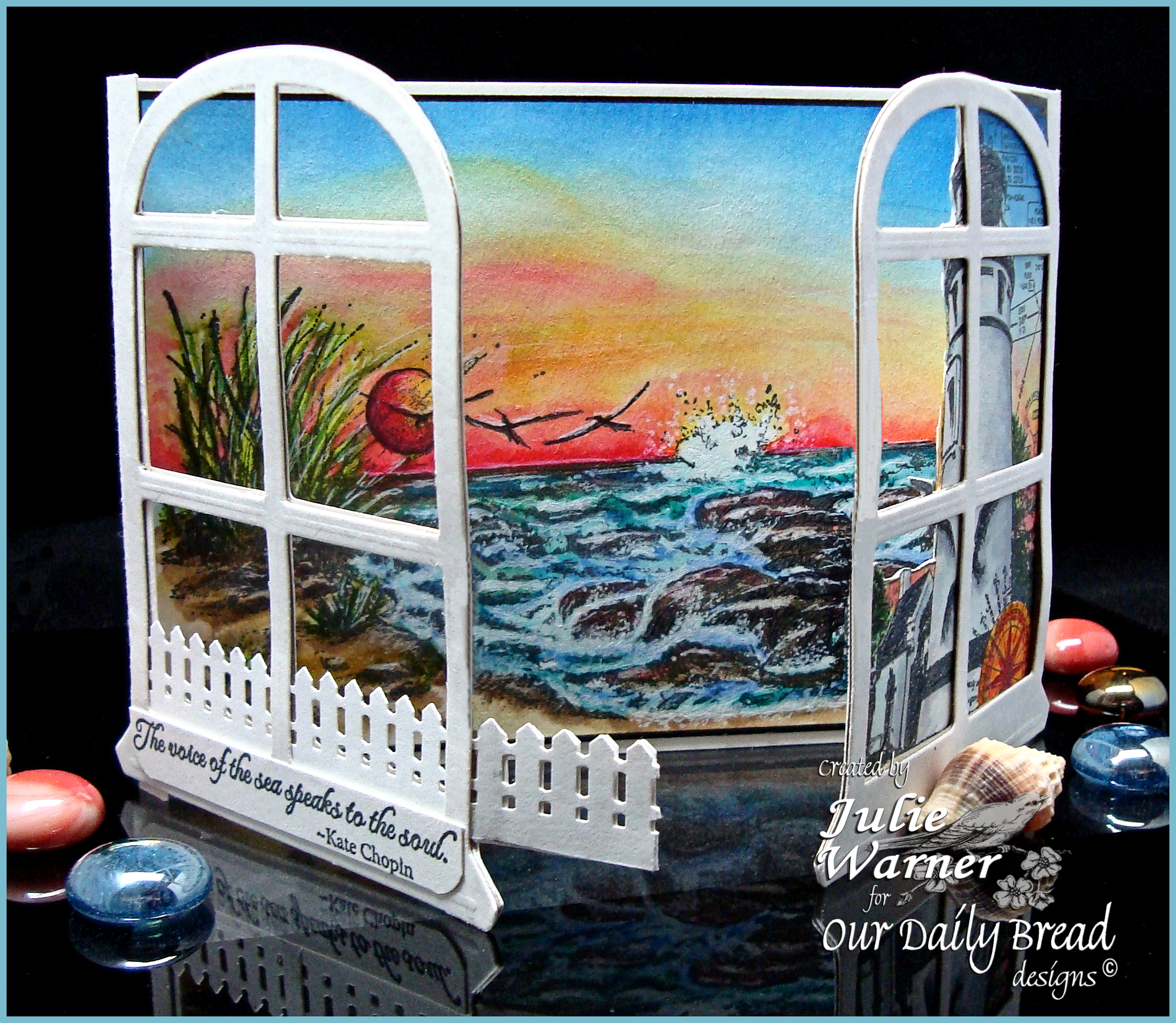 For the window segments, I die cut 4 windows out of the same water color paper. I used w/c paper since it's a little heavier than c/s and the open windows would need all the support they could get. I also die cut 2 pieces of cardboard for the windows. The cardboard was used to sandwich in between the other two layers to give a little more stability. Since I knew I wanted to make a trifold card, I determined that with the windows on either end, I could make my card base out of a regular piece of 8.50 wide piece of c/s. I cut the height  to 4.50 then scored in 1.25 from each end along the 8.50 width. The top pair of windows were attached to their matching pieces of cardboard. On the right I attached this on top of the lighthouse then attached one of the two single windows on the back side. Since the lighthouse is a pretty symmetrical image, I stamped, colored and cut out a second image and attached it on top of the inside window.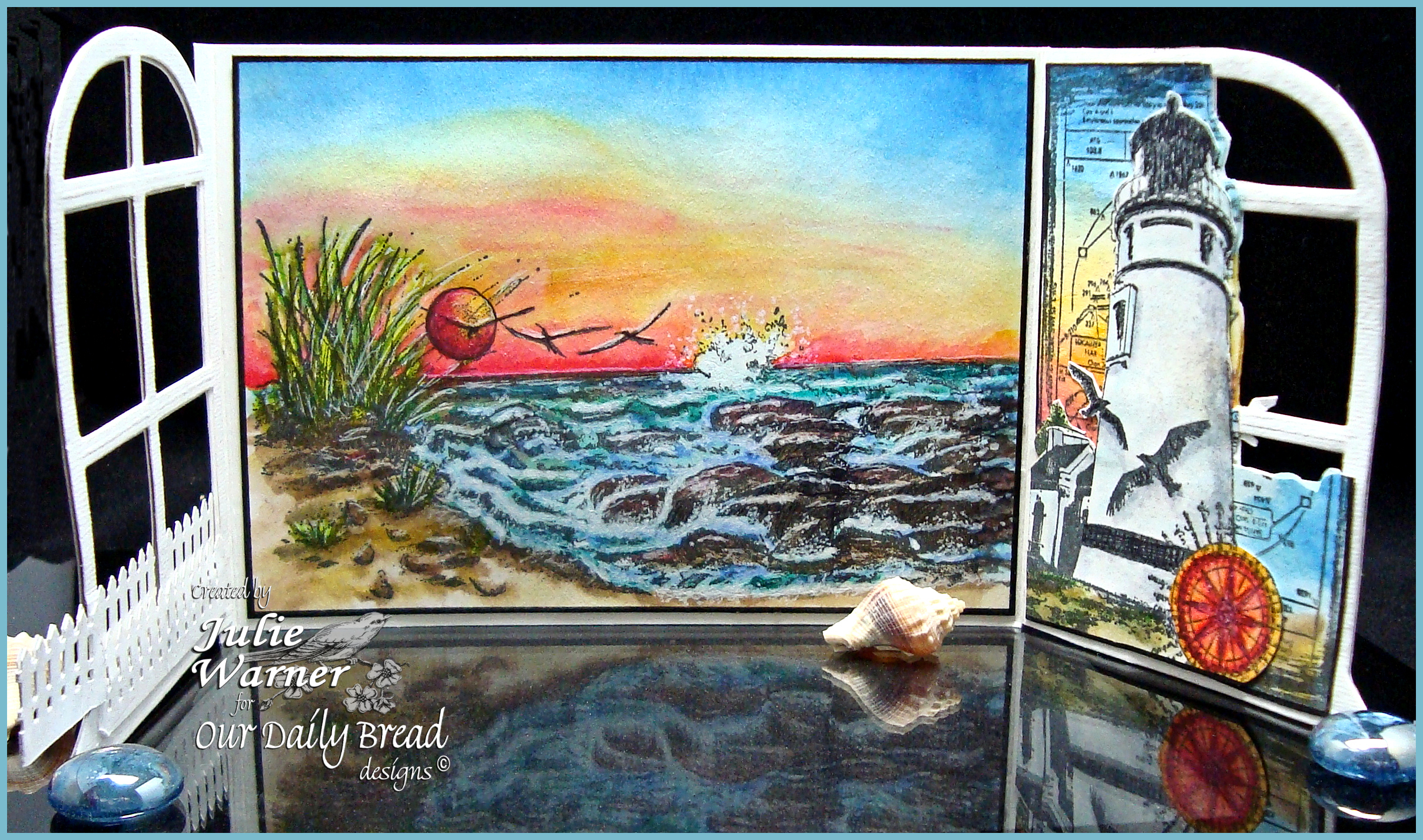 On the left, I trimmed off a little of the hinge before I added a punched fence between the window layers. I left a little tab of fence because it helps to keep the trifold card closed when it's tucked behind the right side window. The sentiment was trimmed and added on top of the window frame.
Now I'll send you on your way to the next stop…the Fabulous Dawn Lusk! I know she'll have something amazing to share!
Thanks so much for stopping by!

Supplies:
Stamps: ODBD – The Mighty Sea, The Sea,  Keep My Lamp Burning
Paper: water color
Ink: Ancient Page coal
Accessories: Peerless water colors, water brushes, ODBD Window die (by Spellbinders),  Martha Stewart fence border punch, small corner rounder, white gel pen