Congrats again, Lydia, our Featured Stamper (FS238) at Splitcoast.! I really love her gallery and I also have a thing for birds, so I did another using For Beedubya. I kept the colors and bird theme, but changed the images and moved things around a bit.
I did the spotlighting because it looked so cute on Lydia's card. I'm not so in love w/ it on my version. It looked great w/ the little cage lightly stamped in front of the birds. Not such a good idea w/ a birdhouse image. So had to put it behind and then there was no point in making it lighter, lol. I moved the owl just because it fit better where he is. Then I started to leave the other little birds off but then the Tweet sentiment looked a little silly w/ the only the owl. Oh well. All images and adhesives are Sparkle N Sprinkle.
Thanks so much for stopping by!


Supplies:
Stamps: Sparkle N Sprinkle – Bird Swirl
Paper: white, kraft, red
Ink: VersaFine onyx, red & blue chalk inks
Accessories: ribbon, Spellbinders lacy circles, corner rounder, brad (was white but I still have that red Sharpie), white gel pen

Today, we're showing Background Series:  This n That! I stamped the background onto the chartreuse c/s, then added just a hint of color by stamping the postage marks from the Nesting II set using the Memento inks. I used this again on my Eiffel Tower postage stamps after I stamped the frame (from Odd Findings) and masked it and stamped the Eiffel Tower (from ATC Elements II).  I also added the large numbers (from Nesting). I inked the shadow postage stamp (from Odd Findings) w/ the Memento ink and stamped it off once before stamping over the postage stamps. These were all cut out using the stamp scissors. The postage marks were stamped in the Memento inks on the Travel rectangle as well. The Fly circle is a sticker I had in my stash. It was yellow, but I changed the color using a Sharpie. The finished card measures 5.5 x 4.25.
This is also for today's Inspiration Challenge at Splitcoast (IC299). This is the pic I chose and I think you can see why!
Stamp sheet size: 6 x 8 ½, This n That stamp size; 5 1/2 x 6 1/4,
When you purchase this sheet the following word Stamps are FREE:
Travel
Dream
Thanks
Journey
Discover
Art Inspires
Thanks so much for stopping by!

Supplies:
Stamps: ISC – Background Series This n That, Nesting, Nesting II, Odd Findings, ATC Elements II
Paper: white, chartreuse sparkle fiber, black
Ink: VersaFine Onyx, Memento angel pink, pear tart & summer sky
Accessories: postage stamp scissors, fly sticker & chartreuse sharpie marker
Pin It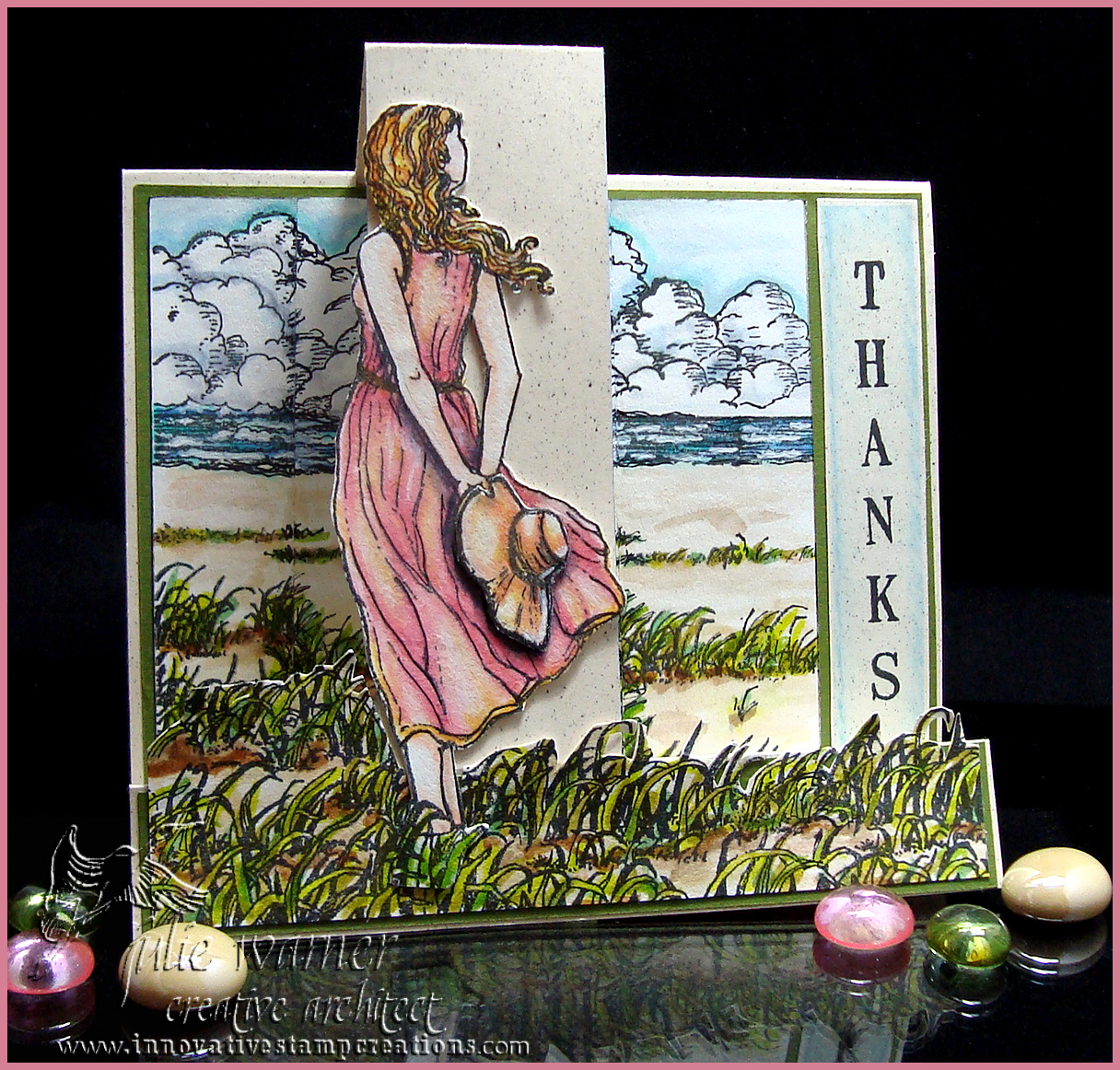 Today, we're featuring  Friendship II . What a lovely image! Originally, she was part of the beach background, but I cut her out and pieced the scene behind her to make it bigger.  I patterned my card on a Center Step Card but I made a few changes. Mine is not directly in the center- it's offset to the left. And the center pop out section has another fold at the same place the rest of the card folds. I had to add this because the beach scene covers up the opening behind the girl.  I also added more of the foreground beach grass to the bottom "step". Everything was colored w/ markers. The finished card measures 5.5 x 5.5 (at the tallest point).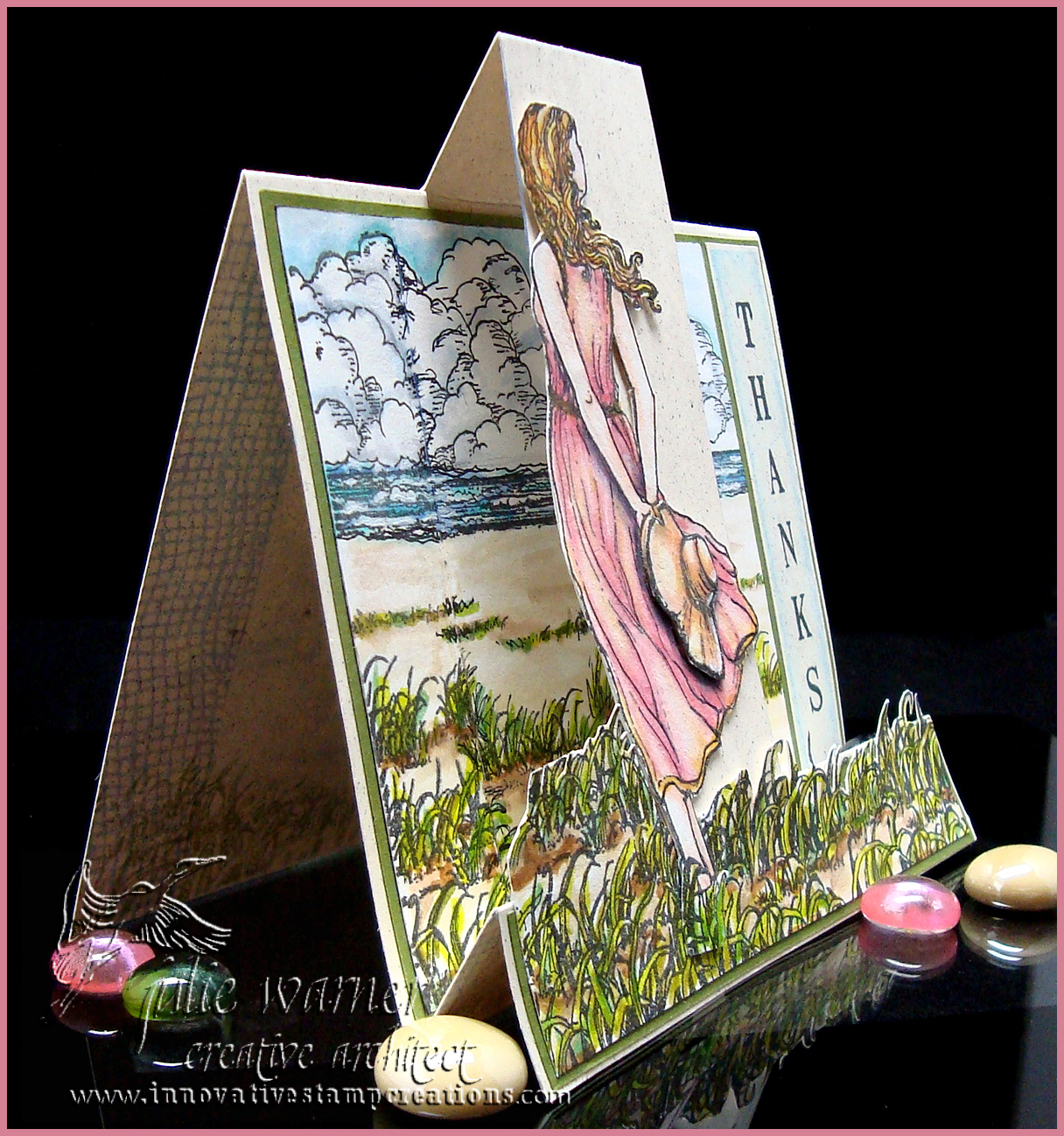 stamp sheet size: 8 1/2 x 5,  Lady on the beach size: 4 x 5
Sayings on Friendship II sheet:
Best Wishes
Thanks
Hello
Just for you
Moments of friendship make a beautiful day
Thanks so much for stopping by!

Supplies:
Stamps: ISC – Friendship II
Paper: water color, oatmeal speck, olive
Ink: VersaFine Onyx, Memories sky
Accessories: Tombow markers, Scor Buddy
Pin It