Archive for the 'Water Soluble Oil Pastels' Category
You should be! It's been Dare to Get Dirty Challenge week all week long on Splitcoast and there's still time to play along. Come on, wouldn't you love to play in the dirt pile with some of the Dirty Dozen current and Alumni? Take the challenge!
Last year, I hosted a couple of challenges, but this year I provided some samples for a couple of the challenges. This card is for Karen Barber's DTGD11 challenge for 8/5/11. You can read all about it HERE, but you'll need to be a Fan Club member. So I won't tell you what the challenge is, but I will tell you a bit about the card.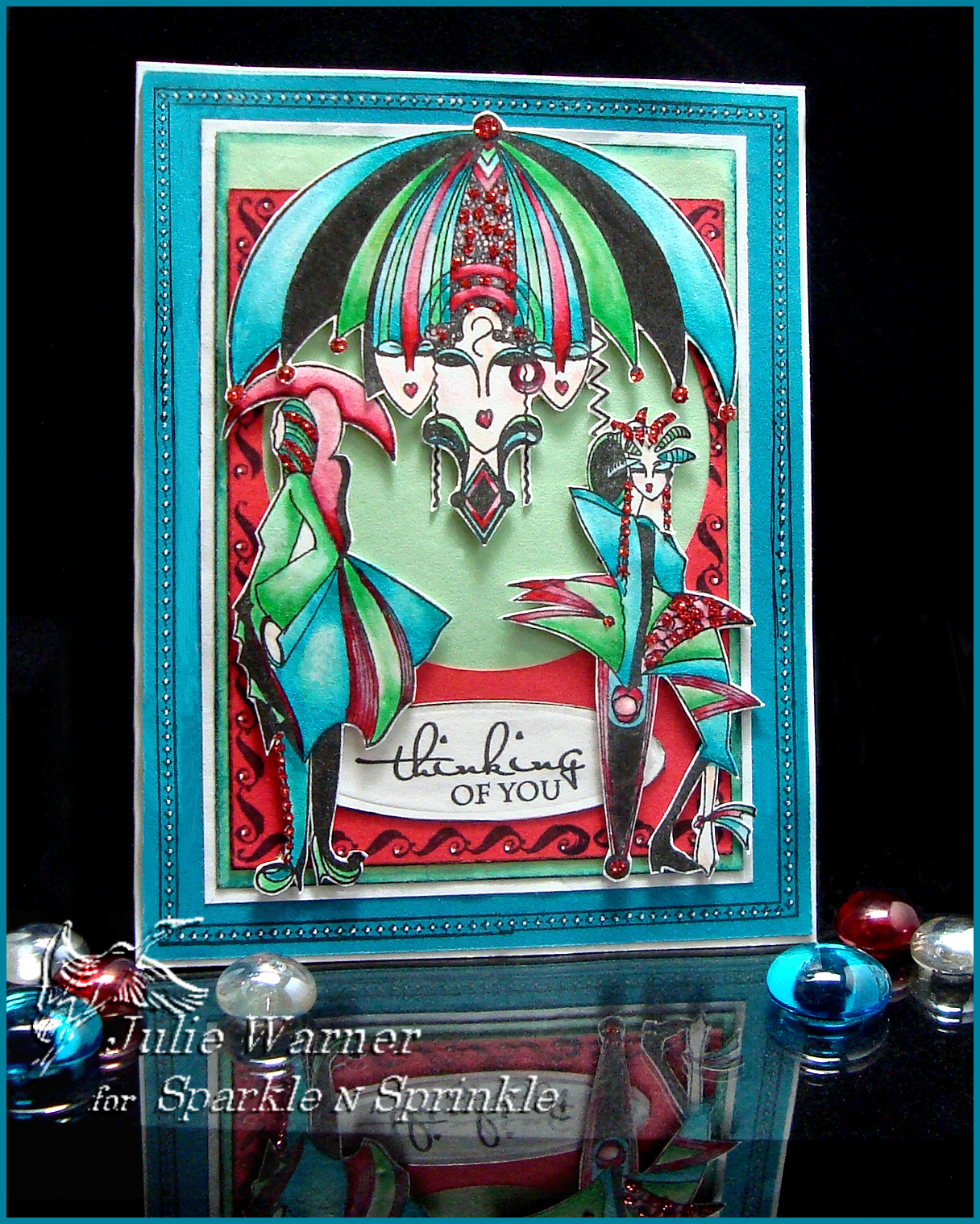 DECO FACES
All images are Sparkle N Sprinkle. I just love these art deco images and I couldn't decide which to use, so I used all three. There is one more on the sheet, but I think I worked as many in as I could, lol. They were all stamped, colored w/ markers and cut out. I added a little sparkle w/ some fire engine red glitter just in a few places. The frames on the red layer and the turquoise layer are actually much smaller but I used a stamp positioner to extend them and added some highlights w/ a white gel pen. The sentiment was die cut w/ a ribbon tag then I trimmed off the ends of the tag. The finished card measures 4.25 x 5.5.
While I'm on the DTGD challenges, here is another sample card I made for Suzanne Dean's DTGD challenge on 8/3/11. I promised to post it here, then totally forgot. It also features images by Sparkle N Sprinkle.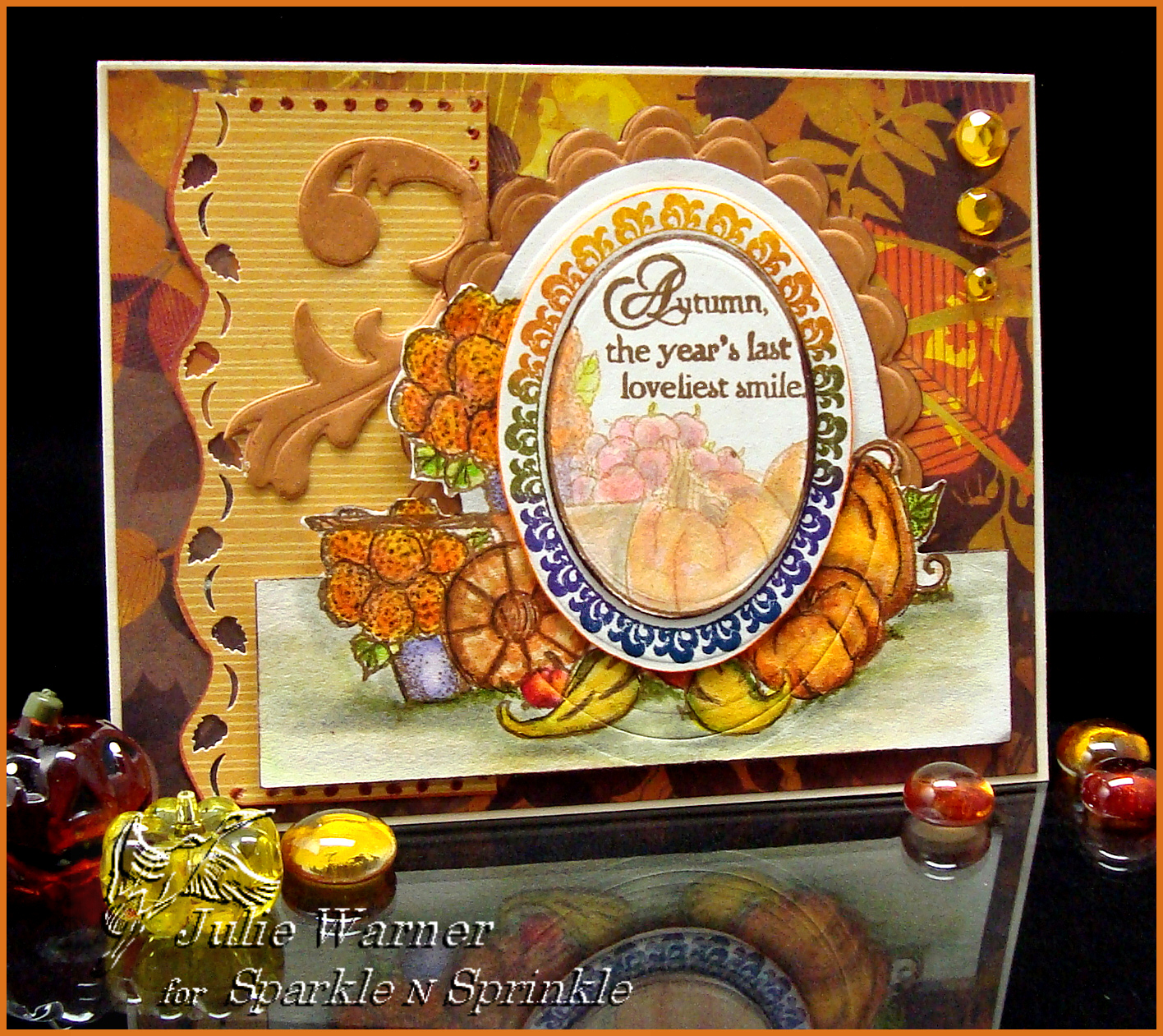 AUTUMN SMILE

For this one, I stamped the fall image twice on water color paper w/o reinking. I used the fainter image for my inside oval and stamped the greeting above it. I used the largest oval die to cut just the top and went out of the box for the rest. The center oval was stamped w/ the frame using the Kpad.The strip down the left side was punched and pierced and a little flourish was added behind the butterscotch colored scallop oval. The finished card measures 5.5 x 4.25.
Thanks so much for stopping by! Besides being a lot of fun, there are some serious prizes involved if you participate in the DTGD challenges. So check it out!
Supplies for Deco Faces:
Stamps: Sparkle N Sprinkle – Mon Ami set 430, Thoughtful Frames set 436
Paper: white, red, mint, turquoise
Ink: VersaFine onyx
Accessories: Spellbinders circle & ribbon tag dies, Tombow markers, white gel pen, SAMJ (stamp-a-ma-jig), Quickie glue pen, Fire Engine Red glitter
Supplies for Autumn Smile:
Stamps: Sparkle N Sprinkle – Harvest Pumpkins set 228, Autumn Swirl set 410, Thoughtful Frames set 436
Paper: vanilla, butterscotch, dp (leaf bg is Basic Grey Indian Summer, sm print is SEI Moonrise)
Ink: Archival sepia, Kaleidacolor Creole Spice
Accessories: gold rhinestones, Fiskars leaf border punch, Spellbinders classic oval, scallop ovals & Symbology dies, Tombow markers, paper piercer
Pin It
My first SCS challenge card on my new blog! I don't know about y'all, but when I've been gone or not making cards for more that a few days, it takes me a while to get back in the swing.
This is for today's SCS Limited Supplies challenge #LSC182. We are supposed to use images and supplies we haven't used for a long time. I love this pomegranate image from what was Anita's but is now Inque. I haven't used it in ages. It's colored in with water soluble oil pastels, which have also been sorely neglected and the background dp is from Basic Grey's Aged & Confused Sublime collection which I've had for at least a couple of years. So I think this fits the bill.
When I got out the Aged & Confused dp, it gave me the idea to distress the edges. Since I don't have one of those fancy distressing tools, I just used the edge of my scissors to really rough up the edges. I tore the bottom edge of the green panel then attached both pieces to the dp. It still looked like it needed something, so I got out the thread and a needle and did a quick cross stitch to kind of connect them back together. When it still looked needy, I fell back on the old "add the dots" thing. Anyway, I don't think it turned out too badly for feeling so rusty.
Supplies used:
Pomegranate by Anita's (now Inque Boutique)
Old Writing by Hero Arts
Water Soluble Oil Pastels by Portrait (a Crayola brand, I believe I got these at Staples)
Ancient Page Coal ink
Tea Dye Distress ink
Basic Grey dp- Aged & Confused Sublime
metallic gold sewing thread & needle
metallic gold gel pen – Sakura
water brush