Archive for November, 2009
Congrats to Birgit, the Featured Stamper today at SCS!  What a wonderful gallery she has. Lots of inspiration, but I finally picked one way back on page 9,  Peace.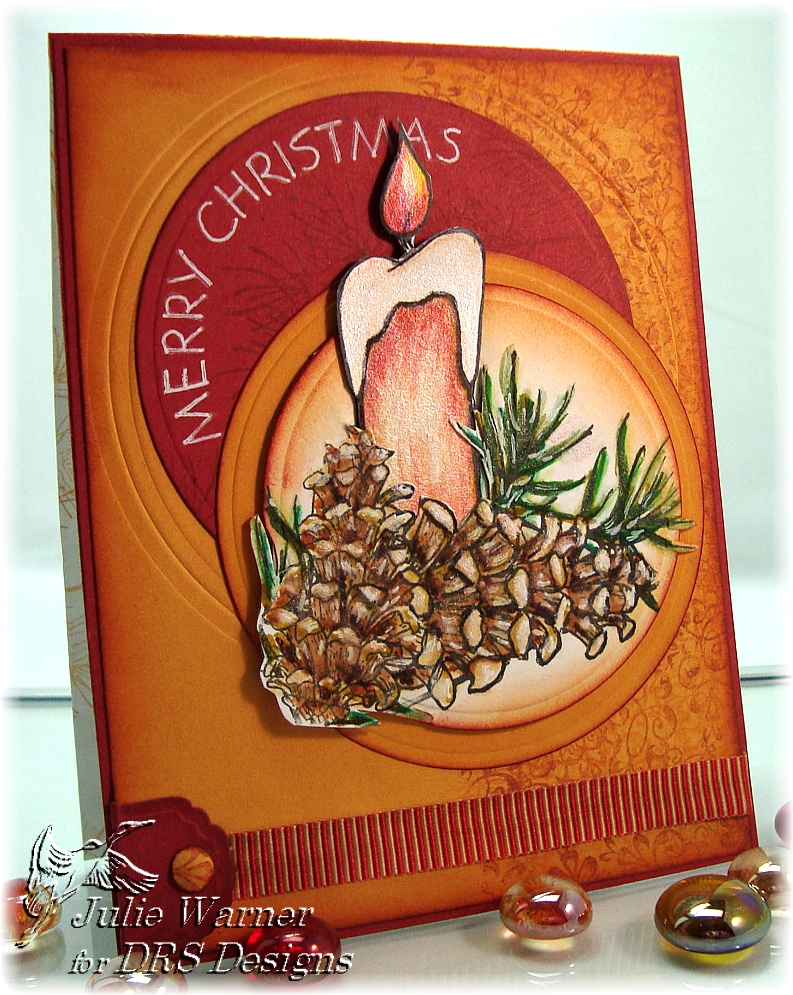 I liked the candle, the layout and the warm colors, so I kept those. I changed the images, left off the embossing and used twinkling H2O's to add a little sparkle to my centerpiece.
All images are DRS Designs. I stamped the candle and the pinecone square (didn't ink the square part, just the pine cone) and the candle on separate pieces of white c/s, colored them w/ markers then added some Twinkling H2O's on top. I used the Out of the Box Nestie Tech to cut out the pine cone. The edges were sponged then  I cut around the top part of the pine cone and inserted the cut out candle.  It's attached to a larger mustard circle.
I stamped the greeting using alabaster chalk ink around the edge of a dk red confetti circle and the pine bough image w/ redwood ink. I embossed a larger Nestie circle offcenter on a piece of mustard c/s. I sponged the edges and stamped a filigree snowflake repeatedly w/ the different ink colors.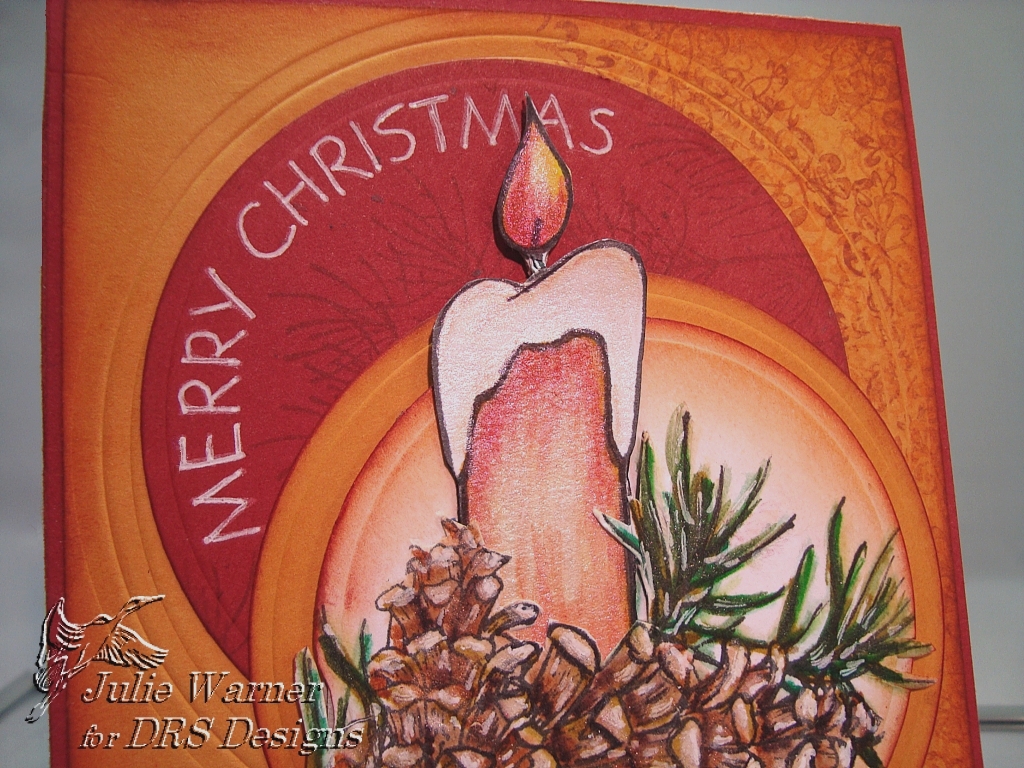 I didn't have the right color ribbon, so took this red/white ribbed ribbon and colored it w/ a dk ochre marker. I used a small Labels 4 shape folded in half for the tab and punched a faux brad to add on top.
Thanks so much for stopping by!
Supplies:
stamps: DRS Designs
paper: white, mustard, dk red confetti
ink: Ancient Page coal, sunburst, redwood, Fluid Chalk alabaster
accessories: Twinkling H2O's, markers, blender, Spellbinders circle and Labels 4 Nesties, 1/4 inch hole punch, ribbon
Pin It
I had a lot of fun with this one. After I found my white puffy paint. I think that took the longest. I'm pretty sure I have some sparkly snow puffy paint, too, but still haven't remembered where I put it. I know it was somewhere so I'd be able to find it easily. Yeah, right!
So this is for today's IC207 challenge and Friday's LSC247 at Splitcoast. All images are DRS Designs.
I wanted to use this funny greeting but I didn't have any stocking images to go w/ it. I drew a stocking pattern and cut out 3 of them, then traced it on to the back of some wide red velveteen ribbon and cut them out. I traced the top part onto some white c/s and painted it w/ the white puffy paint. The bottle says it's mainly for fabric and to let it dry for about 4 hrs. Sure thing. Not a chance. I let it dry maybe 10 min before I caved. Watching paint dry is right up there on my list of activities to sleep by. So after the excruciating 10 min. I hit it w/ the heat gun. Very carefully. I actually had to do 4 of the tops. Apparently there's a fine line between puffy and toasted.
Put the stockings together, added little punched snowflakes. Made the little candy canes. The canes are actually made w/ a small J punch that I drew the little stripes on.  The bigger candy canes, I drew and cut out.
I used Spellbinders rectangle Nesties to cut out the sentiment and the next two layers. The green layer was also embossed w/ a Cuttlebug candy cane folder.

The white layer behind the stockings was punched down both sides w/ a small EK Success punch. I'm not sure what it's supposed to be, but to me it kind of looks like a striped candy cane. I layered everything onto two pieces of Christmas dp and then onto a 4 1/8 x 9 1/2 inch white card (fits a #10 business envelope).
Thanks so much for stopping by!
Supplies:
stamps: DRS Designs
paper: white, red, green, dp (DCWV Christmas stack from a few yrs ago)
ink: Ancient Page coal
accessories: red velveteen ribbon, white puffy paint (Tulip), markers, narrow striped ribbon, small J punch, small rope or candy cane like punch, foam tape, stickles, Spellbinders rectangle Nesties, Cuttlebug candy cane embossing folder
Happy Friday! Thanksgiving is almost here! Please follow me over to the DRS Blog to find out what this little cutie is cooking up for the feast.