Congrats to Michelle, our Featured Stamper today at SCS! I love her work and I can always pick out her cards in the gallery. I chose to case Mojo55 New Brayering.
I changed the colors, the images and theme, but I kept the brayered bg and general layout.
All images are Sparkle N Sprinkle- Cocktail Set. To begin, I brayered the pinks onto white c/s and let it dry a little while before stamping my images w/ black waterproof ink.
Using a small, synthetic paintbrush, I bleached out all of the images. I had to wait for the bleach to dry because if it's not dry, any color I add would just continue to bleach. When dry, I colored it back in w/ markers. The sentiment I cut w/ a Nestie tag and just made it smaller. I layered everything w/ black c/s and assembled.
I used the Quickie glue pen to fill in a few areas and added the different colors of glitter. I did this one color at a time so the glitter wouldn't mix.
Supplies:
Stamps: Sparkle N Sprinkle (Cocktail Set)
Paper: white, black
Ink: AP coal & pink pizzaz, baby pink, Printworks primrose pink
Accessories: brayer, markers, bleach,  glitters (Sparkle N Sprinkle) in Spirit Green, Black Ice, Raspberry Soda and Sparkling Snow, Quickie glue pen, foam tape, Spellbinders tag set
Thanks for stopping by!
SaveSave
Pin It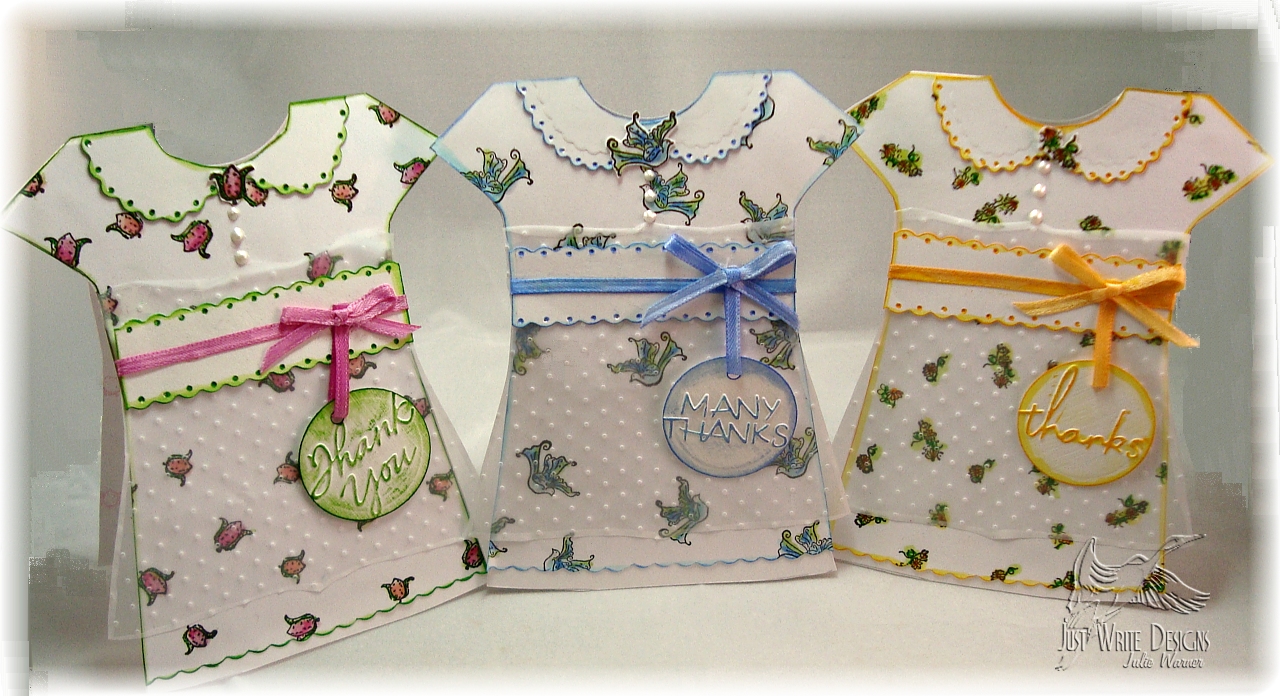 To me, nothing says spring like a little girl's flower print dress! Those who celebrate Easter will surely remember being excited about putting on that pretty, frilly Easter dress. A lot of us dressed our daughters in their Easter finery.
Pamela at FireCracker Designs came up with 4 beautiful, brand new Spring and Easter sets of images. For my little dress cards, I used the Easter Blessings set. The precious little flowers in this set were perfect for my springy little dresses. To celebrate the wonderful spring season, FCD is having a Spring Fling Blog Hop! Not only will you see lots of great ideas for these wonderful images, you will have a chance to win some terrfic Blog Candy! How cool is that? You follow the trail, view all the super art work and enter to win. Easy peasy! And you don't need to worry that you'll miss it if you're busy on Saturday (March 28) because we're giving you until Wednesday, April 1 at 8:00pm EDT to enter.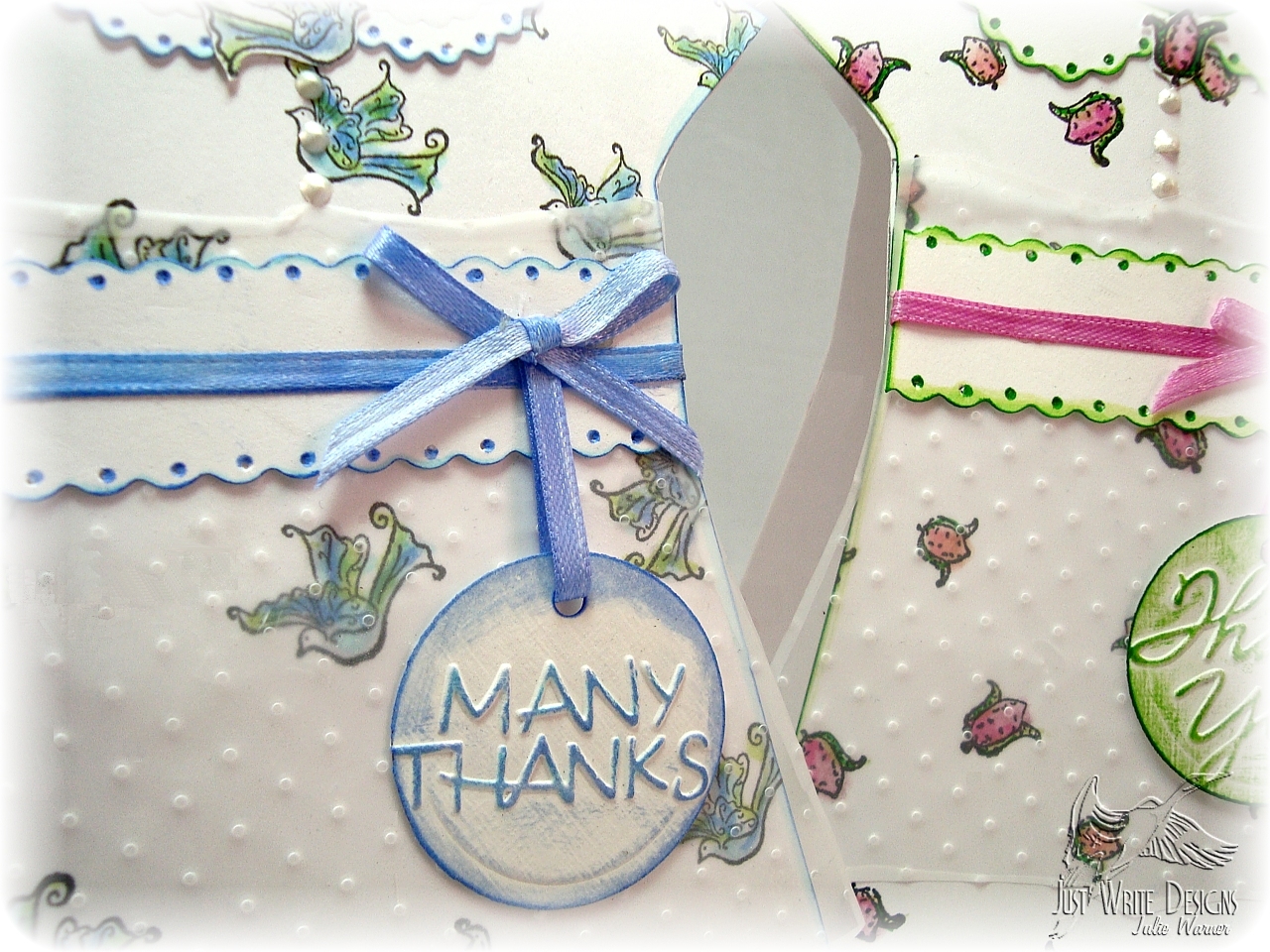 For my little dresses, I used a free template dress pattern from Paper Crafts Magazine.  I cut the card in the dress shape, then cut the main dress from white paper. I stamped the little flowers and birds and colored them in with markers and a blender pen. The little bands were cut with scallop scissors and edged with the markers. For the translucent aprons, I did a little recycling/repurposing. They may look like vellum, but my aprons are actually made from translucent shopping bags. A scrapbooking store I shop in has these great bags. They are translucent/transparent like vellum, they cut like a dream and when used with the Cuttlebug embossing folders they really look like vellum. Big difference? They are much tougher than vellum and won't rip. They're also easier to attach as they take the glue tape much better than vellum.
The aprons are attached on top of the dresses, the the bands are on top of the aprons. I used markers to dye my thin ribbon to match each dress, tied little bows then attached on top of the aprons and wrapped the ends to the back side.  The round tags were first cut with a Nestabilities circle die then embossed with a Cuttlebug word folder. A small hole was punched in the top and ink was slightly sponged over the top. Then the dress was attached to the dress card. I used a Spellbinders Nestabilities scallop oval to make my little collars by cutting the the ovals out of white cardstock, then cutting a collar shape out of the bottom and top part of the oval. I used a piercing tool around the scallops on the collar and band.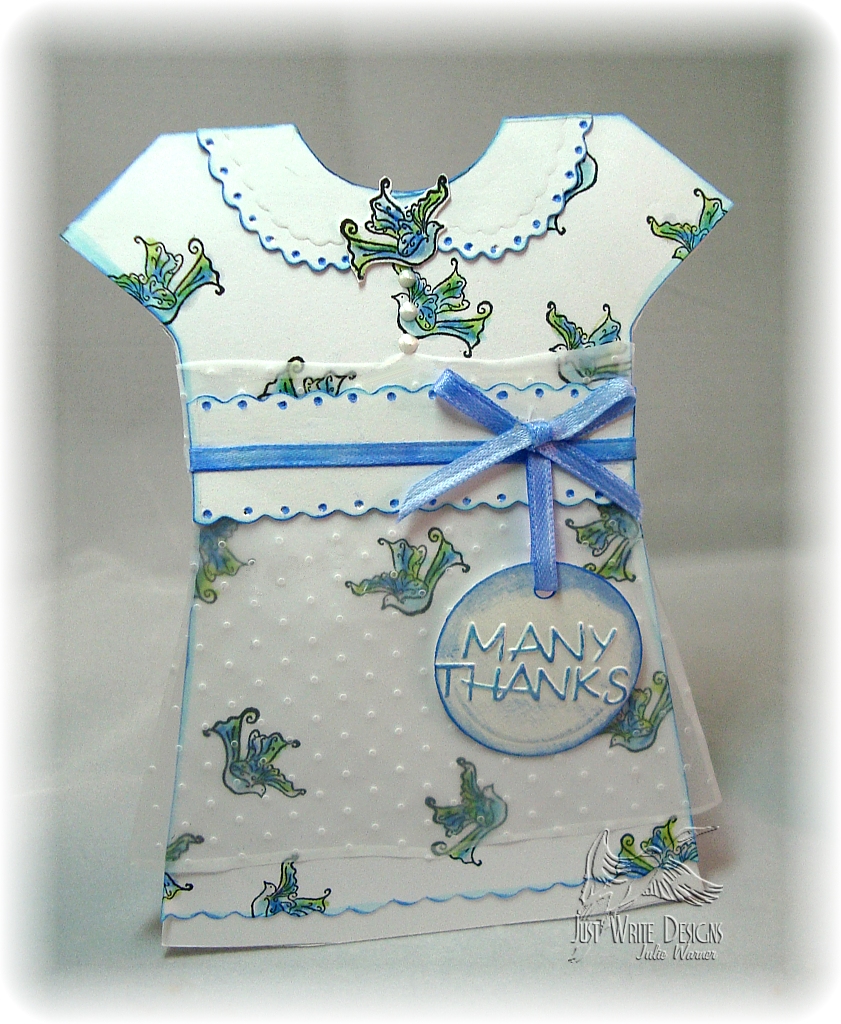 I hope you enjoyed seeing these little dresses. Actually, I made 6 of these for Pamela. She loves to send thank you cards out with the orders. So don't be surprised if you receive one with your order! To continue the hop to even more fun and ideas, click on this link to go to Melissa's blog.

Supplies:
Stamps: Easter Blessings by FireCracker Designs by Pamela
Paper: white cardstock, white paper, translucent shopping bag
Ink: Ancient Page coal, soft baby blue, baby pink, soft yellow, soft green
Other supplies: Markers and blender (Tombow). narrow satin ribbon, scallop scissors, Nestie circles and ovals sets, Cuttlebug Swiss Dots and Thank You embossing folders, piercing tool, hole punch

SaveSave
Pin It
With this LSC challenge being just black & white, I thought it would be a good combo w/ Monday's CAS challenge. And I'm trying to improve on CAS cards. I really like CAS, I just have a very hard time achieving the look.
So, everything is black and white, per the LSC. I stamped some of the squares w/ black ink on white c/s, and others w/ white ink on black c/s. I used a 1″ circle punch on the two argyle squares and reversed the centers in a split neg sort of way. The narrow black over white strip down the left side was bugged using the Argyle folder. Unfortunately, it's only visible here on the white one.
I layered the sentiment square on top of two offset squares and stamped the fleur de lis border underneath. With a hole punch, I punched out a little circle from one of the unused squares and attached it in the upper right corner.
My main panel is attached to a black layer, then onto the white card using foam tape. TFL and please come visit tomorrow. The FireCracker Designs team is having a wonderful Spring Fling blog hop! There will be lots of fun creations and super blog candy at the end. Everyone's invited!
Supplies:
Stamps: Impression Obsession
Paper: white, black
Ink: AP coal, Brilliance Moonlight White
Accessories: foam tape, 1″ circle punch, cb argyle folder, 1/4″ hole punch